 INDIANAPOLIS – Readers of Colts.com may submit questions during the week and have a chance to have them answered during the middle of each week.  **Submit your question here.**
Here are responses to some of the questions received recently.  We thank you for your interest in the Colts.
JEFF F. (from Syracuse, IN) In your opinion do Marvin Harrison and Edge have Hall of Fame type numbers and when would they be eligible?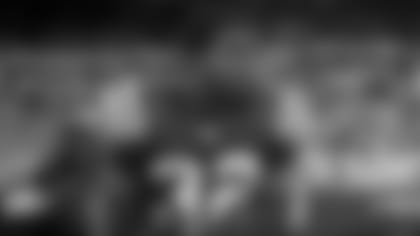 A:  I'm a bit biased, but I think they both have the numbers to get there.  Each would have been great no matter what team he played with and in whatever NFL era there has been.  They were brought together here and helped create an outstanding attack that was a nightmare to defend.  Marvin's numbers rank at the top of his counterparts, and EJ is almost there.  If I had to guess, I'd say Marvin would have a markedly better chance of getting in than EJ.  I don't know that Edge can quite cross the hump.  I know Mike Chappell will do a tremendous job when Marvin is eligible this year.  He's very fond of Edge as well and will pound the drum next year for him.  If this were left to football people, I'd like both of their chances.  EJ opened his career with two rushing titles (**1999** and **2000**, see respective videos), a near impossible feat done by only four others (**Eric Dickerson**, **Earl Campbell**, **Jim Brown**  (see videos of Dickerson, Campball and Brown) and Bill Paschal).  Edge is one of 11 players with consecutive rushing titles.  When he departed from us after the 2005 season, he had 100-yard games more than 50 percent of the time (49-of-96 games, 51%), the best mark of any player with more than 35 100-yard games.  His 125.7 scrimmage yard/game average at that time was the best, ahead of Jim Brown (125.5).  I'd pound the drum for both, and I know Mike will (plus for Tony Dungy).  I doubt any Colts fans were anything but thrilled with their accomplishments.
RON R. (from Canada) You spend half the answer thanking the person that sent the question and very seldom answer the question, and usually your comments are very vanilla.  It seems you, as a spokesman for the Colts, are very leery of saying controversial (things).  After reading your column for the past months I will be going to Vegas and bet the farm on the Colts.  Show some jam and say something for once, but I guess you want to keep your job.  Thanks.
A:  "Jam" is not my style in life or in the mailbag, even upon request.  Sorry, but have fun in Vegas.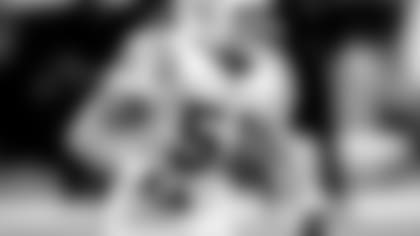 LEVI F. (from Grand Ridge, FL) Since Pat Angerer got hurt before last season got started he didn't get any playing time that I know of, what do you think his impact will be this season coming off the injury?  The Colts have not really had a good reliable run game since Edge.  How do you think we'll do this season now having (Ahmad) Bradshaw and (Vick) Ballard and a new offensive scheme brought in by Pep Hamilton?
A:  Pat got some playing time last year (11 games, three starts), but he had to fight through the foot injury.  He's worked hard all off-season and is on PUP in camp.  He can come off at any time.  Part of the reason we've not had the prominent rushing attack since Edge is because of the player he was and the attack was skewed more toward the pass.  From 1998-2010, we threw nearly 60 percent of the time.  Last year, we were effective when we tried, but we ran only about 40 percent of the time, too.  Every indication for this year is a blend in production (if not percentages).  Chuck Pagano said we would look more like an AFC North team when he arrived.  You saw some free agency spending done this year to reinforce that.  With the addition of Pep Hamilton, I expect to see it this year.  I would expect doses of Bradshaw, Ballard and Donald Brown to get most of it done.  We'd like Delone Carter to make a push.
BOB B. (from Deltona, FL) I'd like to comment regarding David H's issue of being the Colts regarded as one of the highest valued teams according to Forbes.  The main reason is that is starts at the top.  Jim Irsay is one of the classiest owners.  He's involved in the community.  He CARES about his players.  He treats them like family and professionals.  The entire organization reflects that.
A:  Well put, Bob, and it does start from the top, as I mentioned last week, too.  Jim is invested wholly in his team, his city and his league.  You want him as your owner, if you're a Colts fan.  I didn't take David's comments last week in a questioning way.  I think he was pleased, too.
BRAEDEN H. (from Paris, KY) I plan on attending college, and I aspire to become a sports analyst.  I feel I have a good knowledge of sports in general, mainly football and basketball.  My dream is to analyze and keep player stats for the Colts and maybe become a recruiter.  What kind of college work or courses should I take to achieve my dream?
A:  The best way is to work in the athletic department of your school, either in operations area of the sport you want to pursue, or in the sports information office.  Getting to know the deadlines, pressures and planning involved, plus the ability to answer to a coach or know media needs is a learned ability.  I would do it the first day you hit campus.  As for studies, communications, writing and business courses won't steer you wrong.  Get a good business background in case you don't pursue sports.  Good luck.   
JORDAN L. (from Indianapolis) We have had one full season of Coach Pagano's defense, which differed in both scheme and philosophy compared to the old Tampa-2. Most of us fans are still learning the new style of play.  Are there any other defensive adjustments, from last season to this new one that you think we should anticipate? Also, I'd like to take this opportunity to say what a fan of Pat Angerer I am, and that I hope the ILBs enjoy their battle for those two starting spots.  Thanks to the Shoe, for all it does for the sport and the community.
A:  I don't think you will see any measurable change in the philosophy, but adding new personnel might allow for an implemented wrinkle or two.  Having Erik Walden and Bjoern Werner along with Robert Mathis should create fun possibilities, plus our line this year is steeped more in 3-4 experience than last year.  There are a ton of Pat Angerer fans, and we get questions about him weekly.  His hopeful return to form is on the minds of many fans, and they should see some spirited work by the corps in camp.  Glad you like the Horseshoe.  We aim for a great product.  The bar is set high, and management and coaches want excellence from the players.
STEVE W. (from Ruskin, FL) Will we see the Colts wear their blue pants this year or ever again?  Just one game would do.
A:  You're showing your age, my man.  Those were worn three times in 1995 (we were 1-2).  They were retired at that point.  I don't see it happening again.  I think they are consigned to memory lane.
KERVENS F. (from Fort Pierce, FL) I was wondering who will be the starting running back?  I really like Vick Ballard from last year.  I also want to know is Kerwynn Williams going to get snaps this season?
A:  Vick stands a real chance to continue making an impact.  He has matured a bit physically and still has his head on straight.  How he competes with Ahmad Bradshaw and Donald Brown will be a camp focus.  Any committee approach will include him.  As for Kerwynn, he's a solid prospect.  We hope he shows the explosiveness that his collegiate career held.  All our players will be asked to do multiple things in the offense.  Where and how much he fits in is still to be determined in training camp. 
LARRY D. (from Gloucester, VA) Having been a long-time Colts fan (even when they were in Baltimore), I've seen many a game and have read many a comment.  I didn't know there were that many out of work coaches and general managers that were Colt fans.  Everyone seems to know what is best for the Colts.  If I were that smart, I'd be working in football, not just watching it.  Having said that, I like Reggie Wayne and I'm so glad he stayed with the team.  He seems to be ageless and has he or the team given any indication if he will be back after his contract is up in 2014? Personally, I think he could play another five years.
A:  I'll never complain about the voices out there.  As a team and league, we're lucky to be so popular.  Tex Schramm used to say, "Love us or hate us, just don't ignore us."  It's fun to hear opinions, and we will control what can be controlled.  Reggie has been one of the franchise's all-time bests, and I say that with no hyperbole and knowing the greats who have worn the Horseshoe.  I hope he goes a loooong time, and I do avoid contract discussions in the mailbag.  Reggie being a Colt and a New Orleans native makes him 2-for-2 in my book.
BOB B. (from Deltona, FL) I just watched ESPN and guess who was spewing his venom against the Colts?  I'll give you three guesses, and the first two don't count.  Mark "I hate the Colts" Schlereth.  In his infinite wisdom, he says the Colts will be an 8-8 team for 2013, and in his report he stated, "A lot of Colts fans are going to hate me."  Guess what Mark?  They already do.
A:  C'mon, Bob.  Hate is a bad word.  I saw it, too, and just laughed.  I wondered how long and which dedicated reader would erupt.  It was you and your emailed response hit at 6:50 p.m. ET.  Mark hadn't even gotten off the air yet.  Hope it didn't ruin your dinner, and some readers like you hope Mark eats crow when it's over.  I saw he picked the Steelers to get the playoff spot we had.   
JEREMY M. (from Nairobi, Kenya) First and foremost, (I) really appreciate the weekly mailbag.  I would like to express my pride in Daniel Adongo for getting signed.  I know he's a long-shot to make the final 53 or the PS for that matter, but I'm still happy that he has made it.  Could you say hi to him for me and let him know that there is a fellow Kenyan staunch Colts fan watching him and cheering him on.  Wish the Colts great success this season and hopefully we will get to win both our games at MetLife Stadium this season. #COLTSTRONG #BTM.  PS – (I) could teach you some few local greetings only a native would know that could get Adongo off-guard. LOL.
A:  Jeremy, great letter.  Glad you read the mailbag.  Daniel will get a lot of attention, and I never would handicap his, or anyone's chances.  Athleticism comes in all forms, and maybe it's his ticket here.  I'll pass the message along and hope you keep up with us.  From the content of your letter, it's easy to see you're a fan.  Let's win two in Metlife!  Stay strong. 
KYLE N. (from Colorado) The first thing to say is "COLTSTRONG" all day!!!!  I'm proud to be a Colts fan I live sleep Colts football but the big question is how do you feel about the Broncos visiting the Colts?  I'm definitely hoping the Colts come through with a victory!!!
A:  There's a subplot to every week it seems.  Denver's visit will bring a huge one.  It will be an emotional day at Lucas Oil Stadium, and there's no reason to explain why.  We'll observe the obvious respects, then shoot to win.  NBC has had quite a few dramatic Colts games.  This will be another. 
COLBY W. (from Martinsville, VA) What exactly is Matt Hasselbeck's role on the team?  Did we bring him in to show Andrew Luck a few tips, or are we scared Andrew could get hurt?
A:  Matt is Andrew's backup.  He provides a very nice insurance policy, and you hope it doesn't come into play.  Matt also can be a very valuable resource for Andrew in meetings, practice, etc.  It's good to have experience where Matt is.
DEREK H. (from Sebring, FL) With all the linemen Ryan Grigson has brought in, if they can pass protect and run block it should help from every team going after Andrew Luck.  If Ahmad Bradshaw and Vick Ballard can run effectively, it should stop teams from focusing on Luck.  They would have to focus on the running game and take pressure off him.
A:  That is the theory behind the moves, and we now have to apply that theory.  Being diverse in the attack and protecting one of the game's true talents is our objective.
SHERRY E. (from Indianapolis) Our grandson is a huge Colts fan so much so that he is flying in by himself from Denver so we can take him to the Colts training camp hoping to get an autograph from one of the players on Wednesday, July 31.  Is there any way to contact someone that can help Sean get an autograph?  It means that much to him.  He is hoping to become a quarterback himself and play for the Colts.  Thank you.
A:  The best way in camp is to be down by the ropes at the end of practice, which should be around 4:30 p.m.  We do not guarantee it will happen, but it could.  Players are asked to do it after every practice.  I wish you and Sean the best.  Great to have a Colts fan in Denver.
MATT C. (from Indianapolis) Last year the Colts wore white jerseys at home against the Rams in preseason.  Are they going to wear white jerseys in preseason home opener again against the Bills?
A:  You bet.  We're going to do that again to give our fans a little different look than what they'll see the rest of the year.  We hope they like it and after the Buffalo game, it's blue the rest of the way.
PATRICK M. (from Mount Vernon, MO) I really enjoy the action photos of camp and games but I do have a suggestion.  Please put captions under the pictures so we know who we are looking at. Thanks!
A:  We've had this request before and, believe me, we wish we could.  Doing so, however, would dramatically alter how quickly we could provide the photo service to our fans.  The other day, our photographer Matt Bowen posted 80 images from walk-through and 200 from the full practice session.  I hope you and others can understand, and we hope you are enjoying a look at the action.  Having a training camp-sized roster of 90 players can make it a challenge out there.
ENRIQUE H. (from Bakersfield, CA) Is Ahmad Bradshaw now practicing, or is he still on the PUP list?
A:  Ahmad has not been cleared yet from PUP.  He was on the field yesterday without a boot.  He is eligible to be cleared at any point in camp.