 ](http://careyindiana.com)
INDIANAPOLIS – Readers of Colts.com may submit questions during the week and have a chance to have them answered during the middle of each week.  **Submit your question here**.
Here are responses to some of the questions received recently.  We thank you for your interest in the Colts.  Please make an effort to be concise when submitting a question.
KERVENS P. (from Atlanta, GA) Are Reggie Wayne and Greg Toler fully healed for 19 games?  I don't want them to return now because they want to play.  I'd rather see them later in the season fully healed than now and they aren't 100 percent.  They are important keys in our offense and defense.
A:  We always err on the side of caution with our players.  It always has been that way, and both Reggie and Greg look ready to go.  We will work all players appropriately in training camp when practices start tomorrow.  It's always fun to hear you and others count beyond 16 regular-season games.  We want our fans to think that way, but we'll take games only as they come.  Just be sure we work our players appropriately so they will be ready for games.  Of all accomplishments, I think most players really find being available for their buddies is the most important thing.
RICHARD W. (from Tulsa, OK) Do players use the same uniforms throughout the year, or do they wear new ones each game?  We have a good corps of wide outs.  How many do you think the team will carry on the opening roster?
A:  A player typically wears a uniform as long as it meets game standards.  As you might imagine, certain positions have different stress levels on uniforms (ie:  backs and receivers, compared to kickers).  Those uniforms might have a shorter shelf life.  Uniforms may be swapped out quickly also if a performance merits it.  If a player sets a major NFL or club milestone, the uniform, or some items from it, could be set aside for posterity (either for a club exhibit or sent to the Pro Football Hall of Fame).  It's good to have questions like this because fans always want to know things behind the scenes.  As for the WRs, I think a usual number for the group is five.  I think that's where we'll be, and how it's constructed will be choice viewing in camp, starting tomorrow.
JUSTIN C. (from Carmel, IN) I know when the Colts losing starting RBs, they traded for Trent Richardson.  I wondered why him specifically?  Did Ryan Grigson like Trent from the 2012 draft class, but never had the chance to take him since he was taking Andrew Luck?  Cleveland took Trent two picks later.
A:  While we knew Andrew would be our pick, our evaluators did their due diligence on Trent and others in that draft (including RGIII).  While time was spent looking at Trent, Ryan said it was not a great amount of time but it was enough to know that the team getting him was going to "get a stud."  We were not shy about making the trade, and Trent has the traits we like in players.  Time will be the judge of this trade, though many are trying to draw more immediate conclusions.  Let's see how this off-season and training camp impacts Trent's play.  He thrived in a big-time collegiate atmosphere.  He's in some active competition here (as it always should be in this league), and he's risen to every occasion to this point. 
RYAN C. (from Dayton, OH) How does the Colts staff determine who makes the team, by watching them play preseason or training camp?  What is the practice squad, and how is that determined?
A:  It's a combination of factors.  We have about 40 training camp practices plus those four games.  We also had spring work that had 10 practices and a mini-camp.  Pads are not worn until training camp, and the game setting allows coaches and the personnel staff to see how players perform under the lights and in live, outside competition.  Everything is used as a barometer by them (including conditioning and classroom habits).  The practice squad is formed after the 53-man roster is set.  It's typical to have recently-released Colts players on the practice squad since they have been through our culture and know what we've practiced.  A team also can get a player it may have eyed in the evaluation process but who it could not get immediately.  That was the case years back with Ryan Lilja, who we liked but who Kansas City got.  When the Chiefs tried to maneuver Ryan to their practice squad, we nabbed him and he played for years.  Practice squads run as high as eight players.  If you take a practice squad player from another team, he must go to your active roster.  Hope that explains the process. 
IVAN S. (from Terre Haute, IN) I know training camp is open to the public, but will it be televised at all?
A:  While there will be extensive camp coverage, no practices will be televised.  I know it's a bit of a hike for you compared to when it was held at the Rose-Hulman Institute of Technology from 1999-2009, but I hope you can make it over to see us.  If not, check Colts.com for extensive camp coverage.
MATT C. (from Indianapolis) How many season tickets are left for 2014?  Is any home game likely sold out?
A:  There still are about 250 season tickets available for purchase.  There are less than 2,000 single-game tickets that are on sale for various games starting this week.  There are group ticket packages available for every game, and tickets still remain for all 10 games.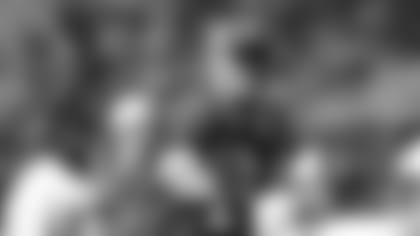 GEORGE P. (from Indianapolis) I am taking my grandson to training camp on Thursday.  He has saved up and purchased an Andrew Luck official football and is asking me if he can take it to have it signed.  I told him I don't think players can do that anymore because of their contracts.  What is the correct answer to his question?
A:  We urge players to sign items for fans after practices, but we do not guarantee fans anything is possible.  Players sign as long as they are able, but there is no specific place to ensure a targeted player (sounds like Andrew in your case) will walk to the spot where you are standing.  I would say take the ball to camp knowing there is a possibility, but please don't portray it to your grandson that it absolutely will happen for him with Andrew.  We hope fans understand, and we do urge our players to be accommodating (though they already understand this on their own).  I wish you and your grandson a great time on Thursday.
WYSE F. (from Indianapolis) How good of a third year do you think Andrew Luck will have this coming season?  What's the word on our special teams?  Solid special teams can give us great field position on either side of the ball.  I bleed the Blue.  Go Colts!
A:  There is nothing to hold Andrew back from climbing even higher among the league's elite.  In my opinion he's already there, and firmly.  There are QBs in this league who have complete command of their attack, and Andrew is one of them.  You really pinch yourself when you see him perform, and that comes without having the benefit of watching him in teamwork in practice.  I saw Peyton do that for years, and his performance for the duration of practice was amazing (you could never pick off his audibles, though, he was too smart).  I can only think Andrew is the same way.  He's an information piranha, and he's more than scratched the surface of his ability.  That's one big, big reason why we've won like we have the last two years (**click here for a story on Luck**).  Given health and that of teammates around him (you know that's never a given), you could see Andrew take us to great heights again.  You don't want to overload expectations, but our aspirations for him and the team are great.  Sit back and watch a master at work.  As for the special teams, you want us to find that difference-maker in the return game that can help the offense.  We have two in our kickers, so that element and physical coverage are musts.  We want that half court (for the offense)-full court (for the defense) effect as often as possible.  I don't think Tom McMahon thinks of anything else.
NATHAN L. (from Chino Hills, CA) I have been reading the mailbag for about a year now and absolutely love it, especially since I can read it on the train ride to and from school.  I admire the way you communicate with our fans week-to-week, especially the questions or statements which could sometimes be quite ridiculous.  I will be flying to Indianapolis December 14th to see the matchup against Houston.  It will be my first game at Lucas Oil Stadium!  I very much appreciate you and the whole Colts organization!**
A:  It's very nice for you to make the effort to put this into words.  We hope you have a great time when you visit in December.  It could be cool, but the game could sizzle.  Let's hope the only way this game doesn't matter in divisional terms would be if we have taken care of business prior to then.  You do get the feel this game could matter for something.  Thanks for reading this forum on your daily commute.  I hope it's a staple of your entertainment.  I really enjoy conversing with fans like this.  There are great stories like you out there, and we love hearing from them.  I hope it's informative, not sugar-coated like one recent reader alleged.  I think we have a lot going for us this year and provide you and all fans with 16 games of great entertainment.  Enjoy the season until you see us in person.  BTW, you'll love our stadium.  It rocks and is beautiful.
DAVE H. (from Sebring, FL) I read that Pat McAfee is the NFL's sixth- or seventh-best punter.  If he could increase his hang-time and add five-to-six yards more and also get more touchbacks, he could be the league's leading punter.  I did not know he was that good, and I hope he gets better.  I know he is a beast at tackling runners.
A:  Pat is one of the best, but don't lose sight of the importance of net average.  Pat is particularly good at kicks inside the 20 and while that could shorten his overall average, it puts opponents in tough field positions.  His six kicks inside the 20 against Denver helped trigger a huge win, and 19 of the club's 39 points came in relation to his accuracy.  That's so much more important than individual stats like gross average, and Pat would be the first to say that.  He tied the club seasonal mark with 26 kicks inside the 20 in 2012, then set the record with 27 last year.  His most recent seasonal averages (48.2, 2012; 46.6, 2011; 46.0, 2013) are the three best marks in franchise history.  He beat averages of Rohn Stark, who won three NFL puntint titles.  Pat should keep doing what he's doing, and we'll be good to roll. 
BRAEDEN H. (from Paris, KY) I keep a document on my computer with the Colts' roster.  To make sure it stays up-to-date, may I get the dates for the mandatory roster cuts?
A:  We report today with 90 players, as you know, and the cut to 75 is by 4:00 p.m. (ET) on August 26.  That's just after our third preseason game against New Orleans.  The cut to 53 is by 6:00 p.m. (ET) on August 30.  Clubs may form practice squads on August 31.  I know how seriously you take this, and I know you're excited like the rest of us.
ISAK H. (from Mexico City, Mexico) Now that LaVon Brazill is gone, is Griff Whalen in for more WR snaps and full-time PR/KR reps to also avoid T. Y. Hilton from getting too exhausted?
A:  Don't worry about T.Y. getting winded.  He'll be just fine, and we'll find the correct return mix.  LaVon's departure could impact others.  Griff could be in line for a little more action, but there is a deep WR field that will be evaluated.  I know you're a Griff loyalist to the extreme, and I can see why his style of play appeals to you.  Griff used camp last year to his advantage as well as anyone did.  I don't expect anything differently from him this year.
RANDY P. (from Anderson, IN) I have a great idea, if the Colts were willing to do it. How about signing Tim Tebow?  It makes sense.  The number 15 isn't being used.  It is preseason, and it wouldn't hurt to have another QB to work out.  If he doesn't prove worthy to be a backup, then cut him.
A:  While no one regards Tim Tebow as a person more than I, I just don't agree that having him with us in camp would accomplish anything.  You're talking about introducing a newcomer who isn't versed in our system and having him get key time in a crunch time.  We're fortunate to have Chandler Harnish in the third role and Matt Hasselbeck as the backup.  I don't see any change in having them get work behind Andrew.  I hope Tim gets to continue his career.  At this point, I see no value in having him here this year.  We're in your backyard now.  I expect to see you here.
KIEFFER G. (from Miami, FL) You're right, I'm really attentive to the WR position because there is a lot of talent there.  I feel comfortable with how the team managed the other positions so far (especially defensive).  Now I'm stuck on the safety position.  Will I be seeing Delano Howell starting at the camp or Mike Adams?  I saw some promise in Howell when he played last year.
A:  A lot of people will be stuck on the safety position when we start practice on Thursday.  I'm high on Delano and find him one of the more intriguing guys on roster.  Mike Adams came in during mini-camp and you could feel his savvy.  It's open competition, and in pads.  Don't discount others who could battle into the mix.  We'll provide you looks at the guys as camp gets going.