 ](http://careyindiana.com)
INDIANAPOLIS – Readers of Colts.com may submit questions during the week and have a chance to have them answered during the middle of each week.  **Submit your question here**.
Here are responses to some of the questions received recently.  We thank you for your interest in the Colts.
DALTON J. (from Bridgeport, IL) Which FA players does Ryan Grigson plan on bringing back next year?  Antoine Bethea, Vontae Davis, Donald Brown and Adam Vinatieri NEED to come back.
A:  Ryan and Chuck have not said publicly at this point.  They spoke at the conclusion of the season and were using the next few weeks to wade through the process.  The free agency period starts in early March, and I wouldn't expect much news until then.  If something does pop, we'll let you know.  The four players you mention and a few others have worn the Horseshoe very well, and seeing them finish with us would be a good thing.  I hope it's possible.  Thanks for offering your support for these guys.  I know why you did.
TED H. (from Alamogordo, NM) A lot of questions submitted deal with acquiring free agents, and the Colts really got in the mix in 2013.  However, I don't think many people understand how much the business end affects free agency.  Joe Flacco received a huge new contract after the Ravens won the last Super Bowl.  The money spent on him is most likely the reason several Ravens quality players ended up as FAs.  The Ravens didn't have enough cap space to keep them, and couldn't manage to make the playoffs this year.  Tony Romo got big money from Dallas, and look where they are!  I know the front office is looking ahead to re-signing Andrew Luck and juggling the financial books to handle it.  I hope Andrew has enough sense to realize that the more he demands, the less team support will be available.  A lot hinges on the QB, but every position on the team is critical to the overall success of the team, and trips to the Super Bowl.  The Colts have done very well managing money and cap space to have the continual yearly success.  You also have to appreciate how well coaching has done with constant personnel changes.  As fans, we would all like to have a team with Pro Bowl talent at all positions, but cap space and the business end will never allow that to happen.  All that being said, GO COLTS!
A:  Yes, long-gone are the days you can stock your roster to your wallet's desire.  With Andrew, we'll cross that bridge when we get there, and concerning him and all matters like this with players, we'll comment appropriately.  Ryan and his staff will do everything possible to be cap-smart as we move along.  The last thing we want is to be restricted like he was in his first season here.  We all know the need to keep the house in order.  Thanks for your comments also on the coaches and the jobs they did.  We had to identify personnel all year long, and coaches had to make it work on game days.  They were able to do so quite well, and fans like you enjoyed a pretty good run.  Thanks for a good letter.  Keep them coming. 
TED S. (from Kansas City, KS) I know for a long time the Colts did all their own college scouting.  I was wondering if, since Ryan Grigson became the GM, the Colts have joined with BLESTO or National to assist with college scouting since that is the system he is familiar with from the Rams and Eagles?**
A:  We belong to National Football Scouting (NFS).  I don't know if we joined them when Ryan came on board, but it seems we did.
BRIAN S. (from Austin, TX) The Colts could use some help in the running game.  They might want to think about Knowshon Moreno.  And help Robert Mathis on the defense as pass rusher, like with Greg Hardy, who also is a free agent.
A:  I know you're aware how our RB group shapes up is to be determined.  Vick Ballard still is rehabilitating his knee and is doing well.  Trent Richardson will get a full immersion in a Colts off-season.  That will be a key time for him.  How we go from there with retaining/adding talent is a lively topic.  Thanks for your thoughts on directions to take.  We'll have a lot of speculation on all fronts until early March.  I won't be able to add as much to it as I get from fans like you, and I hope people keep providing their thoughts like you did.  As for Robert, we loved his output in 2014.  I know he didn't get the defensive player of the year award, but he certainly was worthy.  We could stand to help supplement pressure from more parties.  You get the feeling we're still a work in progress for what Chuck and staff wants to have.
WAYNE W. (from Massachusetts) I have been reading from people about signing or drafting new WRs.  This surprises me a little.  We have top-notch talent in Hilton and a returning Wayne, and great young potential in Rogers, Brazill and Whalen.  I think we are solid and would love to see moves in strengthening the trenches – adding skill/depth on the lines, along with focusing on the secondary.
A:  I'm with you in feeling good with what we have on the receiving corps.  You never want to get totally comfortable, but I think we have more pressing needs out there.  That said, you would like to see growth demonstrated like we did with T.Y. Hilton.  While others may not take the leap he did, there is room for development.  So many people target the offensive and defensive lines for off-season attention.  I'm sure our moves will reflect that if the coaches and personnel staff agrees.  There are some players mending who could help.  What is out there in free agency will be interesting.  As for the secondary, Antoine Bethea and Vontae Davis are two decisions the club must make.  The positions they play are critical if we want to keep moving forward.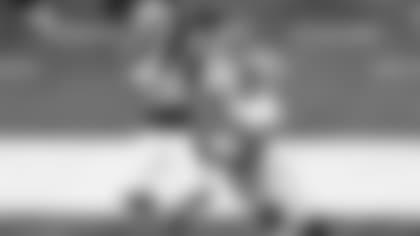 *JOHN B. (from Fishers, IN) I've been to over 285 Colts games over the last 30 years.  It's been a great ride so far, and I'm looking forward to the next 30 years.  What team has played the fewest times/games in Indy?  In the early days I had a good bead on it, but have lost track.  I want to say it's either Dallas or Oakland. *
A:  We love fans like you.  In the regular season, Carolina, Chicago, Minnesota, New Orleans, the New York Giants and Philadelphia have played here three times.  Arizona, Atlanta, Dallas, Detroit, Green Bay, Oakland, St. Louis, San Francisco, Seattle and Tampa Bay have played here four times.  The first regular season visiting team was the New York Jets.  The first home win came over Buffalo.  The first visiting team in Lucas Oil Stadium (2008) was Chicago.  The first win there came over Baltimore.  Baltimore (0-5), Green Bay (0-4), Houston (0-12) and Minnesota (0-3) are the only teams that never have won a regular-season game in Indianapolis.  Let's keep it that way.  Thanks for your long-time support and hope you remain a vibrant part of the 12th Man.
ISAK H. (from Mexico City, Mexico) I read Dominic Rhodes wants to come back.  As a tribute to his legacy, will the team consider bringing him back at least as a reserve?
A:  I would love to see Dom back (ceremoniously) in Indy so he could be honored by our fans like we've done with a number of former Colts.  I'm not sure we would see him again in our uniform, though.  No one will forget how Dom busted out when Edge was hurt in 2001.  Additionally, his Super Bowl play was great in XLI, and he provided a late-year burst in 2010.  I know fans always will have a fondness for Dom.  He had no real big-league experience until he was thrown into action, and he played big-time.  At 35, though, that is not the typical age where you do something of that nature at RB.  While we have business to address there, I don't think that's the business we'll undertake.