 ](http://careyindiana.com)
INDIANAPOLIS – Readers of Colts.com may submit questions during the week and have a chance to have them answered during the middle of each week.  **Submit your question here**.  Here are responses to some of the questions received recently.  We thank you for your interest in the Colts.
PATRICK C. (from Elnora, IN) This is my first letter.  I have more a statement than a question.  First, to all the people that think they could coach an NFL team please just stop.  They know what they are doing and will get us where we need to be.  Secondly, our players would not be in the NFL if they could not give solid performances in a sport that they love.  Thirdly, I love to watch every game even if it is a blowout loss.  That is what a true fan is, someone that supports his team and trusts the people in charge.  Also, please be quiet about Trent Richardson and Donald Brown and the rotation.  Let Coach Pagano figure out how best to use them.  He is getting paid to lead this team, not you the armchair coaches of the world.  Thank you, GO COLTS!!!
A:  Thanks for the first-time letter and words to our readers.  I would not have said it like you, but it's your work.  Coaches know there always are going to be outside opinions.  They will be there regardless of wins or losses, and Chuck Pagano learned it 30 years ago.  We have a good bunch of coaches here.  They are responsible for a large part of us going 19-9 since 2012.  Thanks for the support of players.  Some games will be better than others, but we have a committed group that is working hard, and we've gotten to 8-4.  There is a lot to play for (a ton this Sunday).  We will continue to look at every avenue for how best to use the players.  Donald and Trent both can contribute, and we need them to.  We know we've clinched nothing so far, and so much can change quickly.  What we can promise is a dedicated effort every Sunday.  Feel free to write occasionally like many do.
KEVIN S. (from Fort Wayne, IN) Do you think it would be prudent for the coaching staff to give Boom Herron a shot at the running game, or is the main fault for a poor running attack on the offensive line?
A:  Boom suffered a torn pectoral last Sunday that needs surgery, and he is out for the year.  Chuck was very praiseworthy for the way Boom approached everything.  He was doing a great job on special teams and should be healthy next year.  As for the running game, we still are averaging 4.4 yards per carry and we've topped 100 yards eight times.  It has been too sporadic.  We wish it were more consistent, and we're doing everything we can to be successful.  We functioned well late against Tennessee, and it helped make the difference.  We need a different level of play across the unit, not just on the offensive line.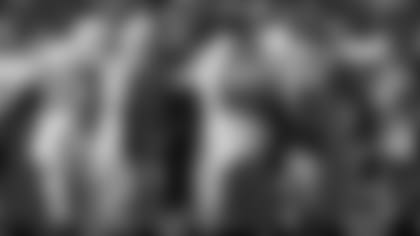 LAURIE T. (from Greenwood, IN) At home games do the Colts announce the starting defensive lineup the first half of the season and the starting offensive lineup the last half of the season?
A:  Every coach has his own way.  Prior to Chuck Pagano, we rotated introducing offense one week and defense the next, plus we'd work in special teams once a year.  This year, we've done a little of everything – individual intros, announcing full units, the full team, etc.  It's really just what Chuck decides on a particular week.  The only formula involved is the visitors always are introduced as a team.  That is a rule started by the NFL this year. 
LUCAS P. (from Plymouth, IN) I'd like to see us to open the playbook up, start throwing more in the beginning to get an early start, then use a power running game.  I like how they have things set up now, but it's playoff time.  Got to get busy and things fixed!
A:  We're not done dabbling with our approach.  Last week's first half was better, but we got too many field goals in place of touchdowns (sorry, Adam V.).  There's no reason we can't mix in both, and we still need a player or two beyond T.Y. Hilton and Coby Fleener to emerge.  That would help so many things.
RICK G. (from Suffolk, VA) I firmly believe that Trent Richardson is a great player but not behind the offensive line he is trying to break through.  When he is in open field he is awesome and is able to get yards.  If I can see this on TV, why can't coaches and management see this as an opportunity for other positions?  Could it be possible to move Trent to TE and/or special teams for kick and punt returns?  Those positions would give him the room to get running and get the yards he is expected to get.
A:  I agree that Trent is very good in open spaces, but we need to focus on using him from where he is – as a runner and receiver from the backfield.  Going to TE or the return game is not something you want to do at this level with Trent.  It is not his defined skill set, nor could he adapt quickly to a playbook in that regard.  The answer is better execution by the offense.  He will have moments.  Hopefully those come this year.  Certainly they will in 2014, when he has the benefit of an off-season program.  The value of that cannot be overstated.  Thanks for the suggestion, though.  I know you want him to see do well.
JON M. (from Liverpool, NY) Having lived in South Africa and Kenya, I am excited about Daniel Odongo.  When do you think he will get a chance to play?  He looks like a beast!  I am hoping he will put fear into opposing QBs.  I think he could also be good as a fullback in short-yardage situations the way he can move a pile of bodies.
A:  Daniel has been moved to the active roster with an injury to another player.  While this does not guarantee that he will play Sunday, it is possible.  I think you'll see him on special teams before anything else.  You and a bunch of people will be keeping their eyes peeled for what he can do over four games.  What a great story this is coming from the highest level of rugby in the world to the NFL.  Use him in the backfield?  You never know.  If the **Fridge (click here)** could do it……
MICHAEL D. (from Indianapolis) More power to Pep.  This style of offense is designed to start slow, dominate late and be effective in all types of venues and weather conditions.  The Colts just need injured players to return and another mauler or two up front to become dominant.  Championship football is like Ali-Frazier I.  Taking body shots for 14 rounds made Ali vulnerable to Frazier's thunderous left hook in the 15th round.  The Colts are building the 'Joe Frazier Offense,' – pound, pound, pound, wear down the pass rush, get those safeties up close and then knock 'em out with play-action.  Can't those who say the Colts need to let 'Luck be Luck' see he's getting nailed way too often when they go pass-heavy?  Even if the Colts struggle to win the rest of the year stay the course.  This is championship football for the long term.
A:  We aren't designed to start slowly, it's just happened to be a recent problem.  We want to be effective from the get-go and be even more dominant later in games.  It's no secret that first halves of the last five games have not been what we are seeking.  You are right in the fight analogy with football.  You have to survive the body blows to win a game.  Players commented after the Tennessee game that it was more of a street brawl than championship fight.  You have to win those, and we did – and the last drive we **pounded like Smokin' Joe (click here)**.  Andrew will be Andrew, and we'll mix the pass and run.  We do have an eye for the long-term, and we have the QB to run the show. 
ISAK H. (from Mexico City, Mexico) How do you feel about Samson Satele being the NFL's worst statistical center?  Jim Irsay has demanded protection for Andrew Luck and while Hugh Thornton has been the only interior OL who can block, Satele is making Mike McGlynn's good blocks hard and also makes McGlynn's game look bad even if it is decent.
A:  I don't know where you get your data, nor am I too concerned.  What matters is how we play from here on in.  We know the whole unit could play better, and they are capable.  We're working to reach a 60-minute effort that has been elusive.  We'll see how Jeff Linkenbach's injury impacts this Sunday.  We have added tackle Xavier Nixon and fullback Robert Hughes.  How we've had to juggle an offense through personnel moves and injuries seems to be discounted by some observers.  Those affect the whole offense, not just a position group.
ROBBIE E. (from Peoria, IL) Why don't the Colts get Marvin Harrison back? **
A:  The Marvin Harrison days will have to be a fond memory.  In 2010 in Philly, Marvin swung by the locker room and Bill Polian kiddingly asked how many plays he had in him if we needed him.  Marvin's reply was a very small number.  He was in the press box the other day and just chuckled when I asked him the same question.  Marvin is happily retired and is a semi-finalist for the Hall of Fame.  Let's hope his next post pattern gets him to Canton.  It won't be run on a playing field.  I can't fault you for loving **Marvin's contributions (click here)** and remembering the thrills he provided. 
MICHELE E. (from Hellertown, PA) Do the members of the Colts get to attend worship services on game day Sundays?  Is there a team chaplain?  Thank you.
A:  Yes, our players, coaches and football staff are provided services of all types for both home and away games.  We make all the necessary worship arrangements and have done so for years.  It is a common practice throughout the league, and we do take a chaplain on the road with the team.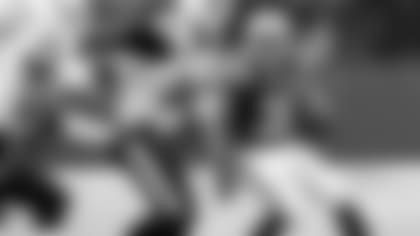 MIKE H. (from undisclosed) I was glad to see Donald Brown get the start this week.  I think it helped get things going at the beginning of the game.  Although everyone is saying we were still struggling on offense, it was a positive sign.  We were moving the ball and gave ourselves chances to score in the first half.  Also, I wanted say great job by our defense.  They stepped up big-time!
A:  We had a number of positive things to take from last Sunday.  We have more work to do.  We'll have a few more personnel jugglings to work through this week, but Donald will not be among them.  It was good to get a first half lead and stay in front most of the way.  It's a success formula we haven't had enough of lately.  The defense hung tough early in the second half when Tennessee had the lead and was moving deep.  Two straight takeaways turned the day.  Thanks for having a glass half full.  We'll try to keep it filled. 
M. P. (from Charlotte, NC) Good win by Vinny and Donald.  Nice interceptions by the defense.  Hopefully, the defense gets better.  Since it's no secret that DHB and Trent Richardson are no good for our system, any plans on shopping them around during the offseason, especially Trent?
A:  This is your ninth letter this year and the fifth straight week I've published one (though this one I debated).  The last nice thing you said was back on October 2 when you complimented our Jacksonville win, but you then said we were going to face a real team in Seattle.  You even invoked a 'C'mon Man' on us when we were 1-0.  We've gotten to 8-4.  It's been a gritty year like every year is.  We've not played our best ball at times.  Players have had high moments (Donald, Vinny and others last week), and there have been times where guys struggled.  You don accept it, but it happens.  They don't like when it does, nor do we, but we keep working to overcome those times.  You identified yourself in your September 18 letter as "Colts fan here."  I don't doubt it in the least, and I want you to keep writing.  I respect and like all our fans.  We'd be in trouble with them.  We'll keep trying to win for all our fans.  I know you take things very seriously.  We do, too.  Just try to enjoy things a little more.
MICHAEL P. (from Dayton, OH) The national media continues to underestimate and count out the Colts.  Should the team continue to use all of this negative media publicity as motivation?
A:  Our guys really don't listen to it that much.  You do hear it, but you have to listen to the voices in the building much more.  You also have to rely on the brotherhood in the locker room, and we have a good one.  Our motivation is to be the best we can.  It's done by controlling what you can control.  Thanks for being a contributor.  We need to get one just down the road from you this Sunday.  If you're not there, I know you'll be watching on TV.
JOHN W. (from Nashville, TN) I know you're probably getting a bunch of comments similar to mine, but I thought I'd throw out my thoughts.  First, Pep Hamilton's play call improved drastically this week.  He saw what was working and was willing to lean towards the pass.  I did see someone just criticize him for abandoning the run early.  It must be hard to be a play-caller, because no matter how he calls the plays, he is constantly scrutinized.  He did a great job, along with Donald and our defense. Great win.
A:  We're still getting harsh comments along with nicer ones.  Pep did a good job, and the offense did a great job on the late TD drive.  We still need to protect better and convert on third downs.  Pep always will get criticism because it's part of the deal.  We're going to keep on keeping on.  We're close to a division title and playoff berth.  No time to exhale (according to Chuck Pagano, and he's right), and we are doing some good things.  Thanks for following from a worthy foe's backyard.  Our shade of blue can't be too popular down there.
JON D. (from Phoenix, AZ) There were a few things that I liked seeing out of the Tennessee game.  There were a good number of different run plays.  One in particular was when we had a pulling (lineman) and then pushed out a 12-yard gain.   Still, a little troubled with lack of third-down conversions, but field goals instead of punts is a step in the right direction.  By the way, I'm all for Trent and what he brings to the team but I must say after seeing Donald start off, it seemed like we excelled early on. Is this what we are to expect for the rest of the season while Trent continues to learn?  Thanks again for doing this Mailbag.  It's nice to know all us fans can get our questions answered.
A:  Thanks for your question and well-reasoned approach, though I had to shorten it a little.  Chuck said Monday that Donald will start again.  It was the fourth time he has been our leading rusher and the first time he started.  Trent will be in the mix, too, and we did seem to run a few different things.  At this time of year, you play to the hot hand.  Your comments tactfully mixed in compliments along with some things you would like us to do better.  You're right on all accounts and thanks for writing.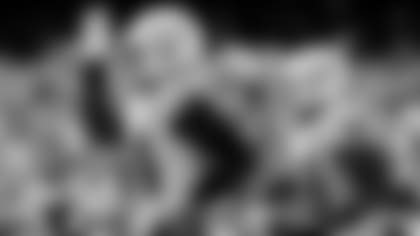 CHIP E. (from Cumberland, MD) I can understand why people have been calling for Donald Brown to get more touches.  However, I am not totally convinced Richardson is a bust as most media types have labeled him.  I personally thought Sunday he looked to be running with a purpose, and had some very nice looking efforts.  Why is it he only received five carries for the whole game when it appeared he was having one of his better efforts?  Are the powers that be still considering him to be a back we will keep for the long term?  I hope so, because I still think he is a beast and has nothing but upward potential.  Thank you for accepting my question and GO COLTS!!!
A:  A lot of people have called out Trent.  Some seem to have it as a hobby.  We've not soured on Trent in the least.  Last week was the first time Donald got the call.  There were some games when he didn't that he only had about five carries.  It's been an adaptation process for Trent.  It's been an unusual season for us in personnel terms with injuries.  Trent has long-term value here.  He'll show it.
RICO W. (from Tulsa, OK) Can you submit this inspirational writing in the locker room? – The Man Who Thinks He Can:  'If you think you are beaten, you are; If you think you dare not, you don't! If you'd like to win, but think you can't, It's almost a cinch that you won't. If you think you'll lose, you're lost; For out in the world we find success begins with a fellow's Will; It's all in the state of mind! If you think you're outclassed, you are; You've got to be sure of yourself Before you can win the prize. Life's battles don't always go to the strongest or fastest man; But sooner or later the man who wins is the man who thinks he can!'
A:  Very well put and there's a place for it in the mailbag.  I don't have the latitude to put in on the locker room wall, but I know those who can do read the mailbag.  Thanks.  You submitted a second question about Da'Rick Rogers only getting a small amount of playing time last Sunday.  It was not because he does not know the playbook.  He could be in line for bigger contributions since we only have four receivers.  He's closer than he has been.  Stay tuned.  He could be a spark.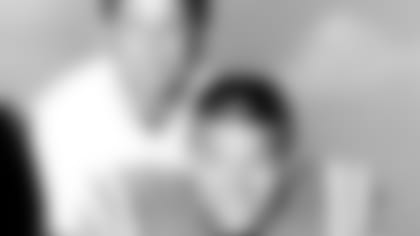 DONALD P. (from Chester, VA) Love the Colts and have been a fan since days of Mr. Unitas & Co.  First time submitting a question, does Andrew have the green light to run or is it up to Pep?  Have seen all the games this year and when Andrew runs, it seems to add another twist to our offense which we need now more than ever.  I am concerned this may lead to an injury, but he is getting killed in the pocket.  Keep up the great job, and, as always, I will root for MY COLTS until the day I die!
A:  Let's hope you get to root for Andrew for at least as many years as we had Peyton, and then you can root for his successor.  Andrew has the latitude to do a number of things.  He has the skills and sense to make the right decisions.  He decided on the keeper for 24 yards last week when he could have thrown.  He does feel it's in the best interests of the team to be passing the ball.  While he could add a dimension like Bert Jones did, you don't want to see injuries because of it come into play.  Andrew is well beyond his two years as a pro with his grasp of the offense and opposing defenses.  I bet you'll have a number of fun years watching him.  Thanks for decades of support.  Enjoy the throwback picture I included just for you.
TIM M. (from New Jersey) In my opinion, the benching of Trent last week was the right move.  It's upsetting to see so many articles stating that it was the wrong move to replace him with Brown as the starter.  These guys are men – the players, coaches and GM, and I can't stand reading about hurt feelings.  I think it was the perfect move and in good timing because Pagano can use the excuse that Brown was a better matchup against the Titans.  I'd like to hear your thoughts on what happens with Trent in the coming weeks.  I think they need to go back to Trent against the Bengals and hope that his benching lit a fire under him.  Go Colts!
A:  I think it was the right call, but I didn't hear any complaints from our people.  There were a couple of new starters in addition to Donald, but everyone handled things professionally.  It is a fastball league, and coaches have to make tough decisions.  I think you give great credit for how Chuck did it, how the team responded and how players handled things well.  Trent will be in the mix.  In no way, though, did he need a fire lit under him.  I see him having a chance to contribute the rest of the way, perhaps against a talented Bengals defense.  We have a good record this year (6-2) when we top 100 rushing yards.  Trent's fingerprints are on that achievement, and they will continue to be.  It's a two-back offense.  
JOHN C. (from Bellerose, NY) I love to see the Colts win but as coach said, this rollercoaster has to stop.  DHB is dropping too many passes.  You were right about Coby.  He has come on nicely.  We should win the division.  When we clinch, do we sit Luck?  He looks like he's holding onto the ball too long as if he is now shell-shocked.  A little rest might recharge him and his body.
A:  Let's get there first and maybe our uneven play has subsided.  We still face a number of tough teams, and we're battling injuries.  Should we clinch, I don't think you'll see us resting players.  I don't get the sense it's our approach in the least.  It's been a tough/fun year with a lot to play for.  Andrew will be fine, but thanks for the concern.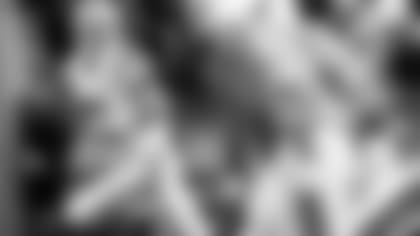 JAMES H. (from Pittsford, NY) I questioned the pocket passing of Luck recently, saying that they should design more plays for him to throw on the run.  As I continue to witness his beating in the pocket, I am now beginning to worry not only that he may bet seriously injured, but that he might turn out to be another David Carr.  He was so battered that he never was able to fulfill his potential.  Watching Luck in his second year is beginning to look more and more like Carr's career.  Has this 'run first, beat up the QB' style of offense going to spell the demise of our best player?  Why, he hasn't thrown a TD pass in weeks.
A:  We know it's incumbent to protect Andrew better.  Chuck Pagano has said it's always been the first priority.  We're still overcoming the loss of Reggie.  We still have a lot of young players in the mix.  Some of this is a natural maturation process, but there are issues beyond that, too.  There's no question David Carr had a rough road.  How/if it affected him, you'd have to ask him.  I don't get the sense you floated as it relates to Andrew.  Whatever challenges we are facing, we'll get corrected.  Thanks again for contributing in our forum.   
KERVENS F. (from Port St. Lucie, FL) Da'Rick Rogers on the first play was open.  He easily creates separation.  Why don't we use him instead of DHB?
A:  I think we will use him with DHB.  We have four receivers on roster.  Chuck thought Da'Rick showed some burst along with some other new players.  I think you will see more of him, and that first scrimmage play he had was ripe with potential.
CHRIS G. (from New Whiteland, IN) Since Daniel Adongo is on the active roster, will he be on the field against the Bengals?  He looks to be a beast.  I have a friend who is a Rugby referee and is familiar with Adongo.  He said he can definitely bring it.
A:  Congrats on submitting the first Adongo letter since the news was public.  You got the letter in in less than 10 minutes.  We think your friend is right, too, but I won't guarantee he's active this Sunday.  When Daniel does get out there, it will be a great moment.  I would caution not to expect too much too soon.  (As Peyton Manning said in 2010 after Blair White had a great game in Denver and whipped up some frenzy, "Let's not put him in the Hall of Fame yet.")  I bet his main ticket to the field will be on specialty units.