 ](http://careyindiana.com)
INDIANAPOLIS – Readers of Colts.com may submit questions during the week and have a chance to have them answered during the middle of each week.  **Submit your question here**.  Here are responses to some of the questions received recently.  We thank you for your interest in the Colts.
GRAYSEN A. (from New Meadows, ID) What is the difference between a 3-4 DE and 4-3 DE?  Specifically in the case of Bjoern Werner, he played 4-3 DE at FSU.  Does that at all translate to 3-4 DE?  Don't get me wrong, I love the way he plays, but I'm just wondering.  Also, great job of opening up the offense after Stanley Havili left.  I love what he brings to the table, but the Colts don't have the horses to pull off a strict power-run game.  Opening it up is a great look and puts up points.  I love this team.  Sometimes I'm a bit confused by certain things.  I'm just a couch-coach and all the other criticizers are the same thing.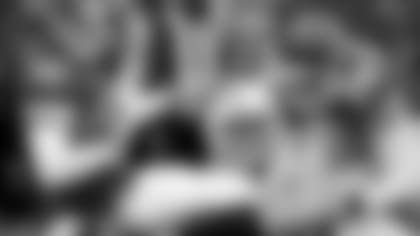 A:  Bjoern told me the biggest change for him going to our scheme is about footwork and weight shift.  How he initially moves at the snap has been an adjustment, that and the fact everyone is a bit quicker on this level.  Some guys get used to a down stance and how to attack, while some have to relearn things when lined up differently.  It even was an adjustment to Dwight Freeney and Robert Mathis in 2011.  Bjoern will do fine.  I don't buy your assessment of Stanley Havili.  I think we've done some good things with him and how we operated against Houston (you wrote before the KC game) by going up tempo had nothing to do with his absence.  He was back against the Chiefs, and we had a pretty dominant game.  Pep will put guys in positions to succeed, and we've done it well in the last two games.      
MATT S. (from Indianapolis) I sent in a question last week about Khaled Holmes.  My question is how does he not get any consideration for playing time in the Houston game?  They chose to go with a newly-signed player (Xavier Nixon, who played well) who has never played or practiced in the guard spot over someone who has been in the system all year?  If they are prepping him for center, why not give him a few snaps in clean-up time?
A:  That week we ran a Thursday version of the mailbag due to volume, and I answered it there, but you may have missed it.  Khaled has been on the active game day roster a handful of times, but his chance for extended play really hasn't come yet.  He was on the field at Kansas City for a number of plays in a jumbo package.  Khaled is a great person and will keep working.  There's no reason to believe he couldn't be in the mix at some point.
WILLIE G. (from Richmond, VA) With all the RBs we have Vick Ballard, Trent Richardson, Donald Brown, Ahmad Bradshaw and now Tashard Choice, what's going to happen next season?  I would like to see Vick and T-Rich be the two backs, then Brown.  Thanks.
A:  This isn't a nagging question, it's intriguing and becoming more so as games go by.  **Donald Brown  (click here)** continues to put up yards and TDs and a rushing average that ranks among the best in franchise history.  Vick Ballard is bursting with talent.  **Trent Richardson (click here)** is showing more comfort, pop and versatile value as the playoffs approach, and he's only going to get better.  Ahmad is more than halfway through his neck fusion rehab, and you get the feeling he wants to come back.  Tashard Choice is a veteran player.  We know it will be a 1-2 approach going forward.  Among off-season topics, this will be one of the more lively ones.  I don't really want to speculate because of health and financial matters that are for our personnel and coaching staff to decide.  This is far from a dilemma, and you hope it's a strength that's even greater next year.
WAYNE W. (from Massachusetts) I really love Robert Mathis, and I've read some recent articles about his personality and leadership.  We've always had such great high character personalities on this team which has really made me proud to be a fan.  What are the chances that a few years from now, Mr. Irsay decides to bring Mathis and Dwight Freeney back together to retire their numbers on the same day, like Marshall Faulk and Eric Dickerson?  I'm pretty confident both will go into the Colts' Ring of Honor. **
A:  First off, we did not retire Marshall's and Eric's numbers.  We put them in the Ring of Honor.  There's a big difference.  The club has not retired a jersey number since well before moving to Indianapolis in 1984.  The only jersey number we've said for the record that is out of commission is 18.  As for the Ring, both Dwight and Robert would be outstanding choices.  There would be great symmetry in doing them together, just like Marshall and Eric.  Whoever the opposing QB would be that day, he'd probably duck.  You are spot on about Robert's personality and leadership.  Both qualities are top notch, and he has been a true leader for us the past few years and in 2012 and 2013 in particular.  His 2003 draft selection, in my opinion, is in the top three or four since we've been in Indianapolis.
RAY S. (from Canyon Country, CA) I know this is a tad early, since the season isn't over yet, but I just had a thought on what I think would be a great free agent pick up next year.  He's eligible for next year, shouldn't be too expensive and would definitely fit into the Colts' game plan perfectly.  He actually was a Heisman Trophy finalist a few years back, and doesn't get the recognition when he does get to play in relief.  His name is Toby Gerhart, and being a Stanford grad, knows the system inside and out.  What do you think?
A:  Unless I am mistaken, you sent this same letter a while back but in riddle form.  If it weren't you, someone else did.  Commenting on another team's player is not allowed per the league.  Even at the right time, we typically do not discuss plans publicly.  I wanted to run your letter because I appreciate contributors.  People usually sent their opinions in about productive players.  You might have expected my answer, and thanks for writing.  Just curious, was that you the first time a while back on Gerhart?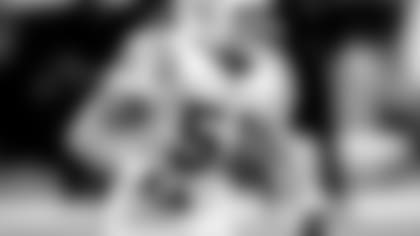 DAVONTE W. (from Des Moines, IA) Pat Angerer has been put on IR, for what reasons?  No one is being honest about the situation.  He has performed quite well this season, especially in big games like Denver and Houston.  Everyone has off days.  I personally think this is a poor decision.  He's a leader and has the potential to be great.  This will have major consequences when leadership and experience are needed (in the playoffs).  I also want to applaud you for constantly answering the same questions about Trent.  He's doing great and will be a great Colt.
A:  Pat has been battling as hard as he can this year, but evidently a knee issue caused enough problems that a move was made last week.  I did speak with Pat in passing the other day because I'm very fond of him, and he felt it was a good thing to do.  Pat's heart is as big as any player I've seen here in 29 years.  I hope he gets things right because of his love for the game, and he is one of the most respected guys I've ever met.  I hope that clears up things on your end.  Thanks also for supporting Trent and reading the mailbag.  We both appreciate it. 
MICHAEL L. (from Columbus, IN) I'm going to pitch an idea.  Why not make Tarik Glenn our O-line Coach, Bob Sanders our FS/DB Coach, Marvin Harrison our WR Coach, Booger McFarland our D-line Coach, Mike Singletary our LB Coach and Dallas Clark our TE Coach?  Not only will we be better but the team would be the best.  What do you think?
A:  First of all, we have coaches in those positions.  Second, wasn't there a former Colts LB who would have made your list (nothing against Singletary)?  Seriously, those guys you mentioned were wonderful players, and it's fun to think about them.  As for coaching aspirations, I don't remember any of our guys talking about it.  They'll likely remain in the category of great former players and in each case other than Singletary, a World Champion from Super Bowl XLI.  Fun letter, though.
ISAK H. (from Mexico City, Mexico) Why have the Colts given such little importance to the sixth and seventh rounds in the draft?  The last three drafts have brought a total of nine players in those rounds and only LaVon Brazill is still with the team.**
A:  We don't take any round lightly, never have.  No team ever is perfect in its choices.  You probably noticed those choices come around 200 picks into each draft.  Drafting is not a science and even the best personnel staffs miss a decent percentage of the time.  (Bill Polian once put a great batting average in drafting around .550.)  You want to be perfect, but that's never the case, and it's never the case that we take any draft opportunity lightly.  We hope LaVon keeps making a push.  Maybe another one or two of those guys will have another chance here.
DAVID L. (from Vermont) The debate this week will be how bad do the Colts want to win the game this Sunday?  We will most likely be playing the Chiefs in the playoffs!  My argument is if we play defense the way we did against Houston, get positive run yards, catch passes and we use Andrew Luck in some designed run plays we can beat any team in the league.  Hopefully, we do not see designed Luck runs and save them for the post-season.
A:  You wrote before the KC game and see now how badly we wanted to win.  We did everything you listed, and that is a prescription to succeed.  Andrew had a handful of carries, and half were kneel downs.  I like it when he does those.  The focus is not who we are playing against Jacksonville, it's getting as high a seed as we can.  There's still a chance to get to two.  Just be assured, Chuck Pagano wants to win every time he's out there.
ERIC V. (from Bloomington, IN) Although the Colts have clinched a playoff spot, how much do you play the starters in Week 17?  Do you imagine Matt Hasselbeck playing at all, or even starting?  While Hasselbeck may not be a Hall of Famer, he's still been serviceable.  It may not hurt us to let him play a quarter.
A:  We've said before that we're all in for 16 games.  We still can get to the second seed.  We would need help from Cincinnati and New England to get there.  Cincinnati will be playing in the same time slot as we are, but New England's game has been moved to late afternoon.  There could be a little scoreboard watching.  Matt Hasselbeck is more than just a 'serviceable' guy, and I know you did not mean that in a derogatory manner.  He's started 11 playoff games, including a Super Bowl.  If a scenario arises where that is the best move, Chuck will be on it.  Thanks for the note.  Hope you've enjoyed the last two wins.
RUSS J. (from Omaha, NE) Our defense is back!  It looks like we are catching fire at the right time.  I applaud the effort of the coaching staff and players.  We have had an injury-filled year and have won 10 games.  What a feat.  THANK YOU COLTS.
A:  Any time a team gets to 10 wins, it's a great accomplishment.  We've gotten to double digits in consecutive years and right now, only 10 of our 43 active players were here from the previous regime.  We've almost completely overhauled the roster and have won 11 and 10 in the last two years.  I don't think our fans ever have gotten jaded with our records.  I think they realize, like you do, what it takes to get there.  Let's get to 11 and go from there.
LARRY B. (from Louisville, KY) I realize the Colts are banged up, but is the special teams coach hurt, too?
A:  By playing Thomas Austin Sunday, we've played a league-high 72 players.  A good number of them have rotated through special teams, and continuity has been tough.  We've missed some key guys like Sergio Brown for the past two games, and those show up at tough times.  Credit Kansas City also, they have four kick return TDs this year.  You emailed during the game, so something must have touched a nerve.  Maybe it was Pat McAfee's tackle.  Just don't underestimate how personnel rotations off the units can create problems.  Thanks for being engaged.  You were watching.
PHIL D. (from Los Angeles, CA) Sitting here watching my Colts do their thing against Kansas City, I'm thinking two things.  It seems like my Colts play better when challenged.  That's what Super champs are made of.  I used to think Donald Brown ran like a robot.  I thought he was a little stiff.  What makes him effective is that he trusts his blockers and hits the hole with speed.  That's what Trent needs to learn and execute.  This is not college, he can't run over everybody.  With that said he has be improving greatly!
A:  Donald has had a tremendous year, and his professionalism has been on display this year.  He's running well and made a big play in the passing game.  It's been fun to see an approach like his be rewarded this season.  Trent has his head on correctly.  He's better for us now than ever before, plus he's a bit healthier.  He knows how to play, and execution is an 11-man thing.  It does not just fall on him.
MARK M. (from Springville, NY) I hope we don't cut Griff Whalen anymore.  One of these times someone is going to pick him up and we will lose him.  He's a long way off, but he reminds me of Wes Welker when he came into the league.  He has great hands, runs good routes and is always open.  Also, I never knew Donald Brown had as much speed as he does.  He really showed it against KC.  It's going to be tough next year with the other backs coming back.  Which ones do you let go?  The depth will be great next year with the receivers and offensive line getting that experience.
A:  Griff has made some definite contributions on offense and special teams.  At this point, you should be seeing him the rest of the way.  We'll let next year take care of itself with him, Donald and others.  One thing this year showed, though, is guys who make themselves useful through their approach (conditioning, practice, class room) usually get rewarded.  Thanks for the note.
BOB M. (from Milwaukee, WI) 0-Line, just super.  Robert Mathis, what can you say? Donald Brown, no quit in that guy.  Andrew...well he's just Andrew!  But the largest cheers are for DHB.  Talk about a man.  Seventh pick in the draft playing (staring) on special teams?  Unheard of in this age of look-at-me-athletes.  This dude gets it. Run like the wind DHB, we're all with you.
A:  Bob, you're a dude who gets it.  Thanks for the great words on DHB.  People have been all over him this year, and he probably hasn't played to the level he wanted, but he is looking to help the team any way he can.  DHB put it best the other saying he'd been a leading receiver before but never was a part of a team that had a winning record.  He was not disparaging Oakland, he was pointing out how much fun winning can be.  He asked Chuck Pagano with playing time going down if he could get on special teams to make contributions.  You saw him do it at Kansas City, and I hope people saw how positively the bench reacted to DHB's play.  He's a good presence in the locker room.  He wants to win and do what he can.  Thanks for sending in a thoughtful letter for a player who is selfless and is willing to take any role to help the team.  As for the others you mentioned, their play is speaking volumes and helping us win, too.  I always appreciate your contributions.
M. P. (from Charlotte, NC) Good back-to-back wins.  I'm still a little concerned about the defense.  Granted we beat the five teams everyone pick to go to the Super Bowl (Denver, Seattle, San Francisco, Kansas City and Houston), but we still seem a bit shaky.  Are there any new plans for this defense when the playoffs begin?  Good to see the offense clicking better than before.
A:  I don't think it's shaky when you force six turnovers and have eight sacks and a safety in the last two games, while holding opponents to six-of-23 third-down conversions.  We've held consecutive opponents in single-digits, something we've done twice this year.  We pitched shutout ball against the Chiefs for the last 56 minutes last week and led for all but six minutes against Houston two weeks.  We have had some up-and-downs and while we're not perfect, you might need a magnifying glass to find big issues with our last two defensive performances.  We want more of the same this week to close the season.  If we play the same way during the playoffs, it could be a fun time.  You're a tough judge, but don't stop writing.  Maybe in 2014 you'll provide us your first name. 
DANIEL W. (from Indianapolis) In the third quarter of the Chiefs game, Robert Mathis hit Alex Smith's arm and caused what was ruled an interception by Jerrell Freeman. After looking at the replay, it appeared that the play should have been ruled a sack/fumble recovered by Freeman, as the ball rolled off Smith's arm.  Will the NFL review this and change the stat if or when the Colts send the video to the league office?  I'd love it if Mathis could win the league sack title.
A:  The play you mentioned has been overturned and ruled a sack for Robert.  Plays of this nature sometimes are ruled one way on a Sunday and amended later in the week.  There are a number of plays each week that fall into that category, and a number of them are related to sacks.  Sacks became official stats in 1982 and with it being such a hotly-monitored category (you'd be amazed how this plays into contract matters, and some players (not Colts) have been known to call themselves to plead their cases – a former Houston Oiler was notorious in the early 1990s for that), league office officials and the Elias Sports Bureau review some each week.  Robert now has 17.5 sacks, while Jerrell gets an interception taken away but gets a fumble recovered added to his stats.  It's no surprise this was overturned.  Typically when a ball leaves a QB's hand because of contact behind the line and with his arm not in forward motion, it is a sack.  Don't tell Jerrell, but it was the right call.