 ](http://careyindiana.com)
INDIANAPOLIS – Readers of Colts.com may submit questions during the week and have a chance to have them answered during the middle of each week.  **Submit your question here. ** Here are responses to some of the questions received recently.  We thank you for your interest in the Colts.
JOHN H. (from Indiana) It seems like if you watch the Tennessee tape you can tell our corners are much more solid in press coverage.  Where we get in trouble is when we play eight yards off the receiver.  Why don't we play more press coverage?
A:  We had a good day against Tennessee and struggled in Cincinnati.  Robert Mathis said afterward is a matter of the whole defense being sharper, and he said it starts with pressure (and with himself).  There's no question we've had ups and downs.  Injuries have hit the secondary like everywhere else.  We need to get to a consistent level of play, and that comes from a number of sources here.  We need to hit that peak efficiency in multiple areas now like we had earlier in the year.  It will have to come from within.
AL O. (from Crossville, TN) I've been a Colts fan for almost 50 years and understand the season is a marathon.  I also remember the year we won the Super Bowl and played so poorly before the playoffs.  Chuck has acknowledged there are still problems that need to be corrected.  The question is how?  It seems rather obvious that the offensive line needs help both with the run and the pass, however the last drive (against Tennessee) looked real good.  How do we sustain that type of consistency? Consistency on the defensive side would also help.  How do we repair the problems and maintain consistent good play in order to make it through the playoffs?
A:  Players just need again to manage their techniques and fundamentals, do their job and trust 52 other teammates are doing the same.  It sounds elementary, but some easy-sounding things can be hard to do.  We have proven to have the ability to do what we set out to, but we've struggled with consistency.  You've seen Colts teams do that in the past and the 2006 team you reference was a dramatic example of playing the best when it counted the most.  That's what we're trying to do again.
KEVIN K. (from Fort Wayne, IN) I love reading this mailbag every week.  Some of the things I see on here crack me up!  We've had more injuries this year than any I can remember, significant ones, too.  Pep is in his first year and there's going to be a learning curve as with anything else in life.  Trent has plenty of talent and will be a much improved player for us next year.  Giving up on him shouldn't be on any Colts fans mind at this stage.  Being 8-4 and leading the division is impressive, and they've done it while facing a ton of adversity! That's exactly what good teams do, and I'm proud to be a fan!  Da'Rick Rogers, what are the chances he hauls one in Sunday when I travel to Cincinnati to root the Colts on to win the division?  Another receiver needs to step up and I'm hopeful it's him.
A:  Pep came here with a solid background.  While it's his first year, he's anything but a neophyte (and I know you were not insinuating that in the least).  Your letter shows others you wrote before we played.  We've won the division now, but not in the style we preferred.  We've had better results than what you witnessed in Cincinnati (BTW, thanks for going a long way in bad weather), and we all had long rides home.  We'll try to bounce back.  As for Da'Rick, you got what you wanted from him, and LaVon Brazill, too.  We need all four WRs to keep it up.    
REGINALD R. (from New Jersey) What kind of team are my Indianapolis Colts?  Some teams are known to air it out, others are known for their defense, some are a run-first team, but what is the Colts' identity?
A:  For one, we're a team with integrity and that buys into what coaches are doing.  We went 11-5 in the first year of a new program with a host of new players.  We've won our division and aim to make some post-season noise.  We want the ability to put pressure on defenses in every way possible, plus have the ability to run the ball in key times to close out games.  If you remember the defenses Chuck Pagano helped coach in Baltimore, picture that here (and we are building toward it).  We know the value of special teams and have two solid kickers.  We haven't lost consecutive games in two years.  Only two first-time head coaches in franchise history have pulled that off.  There have been ups and downs, but we've responded.  I would think, given the personnel challenges this year, people could see that.  I also bet a number of teams would like to be in our position.  Can we be better?  Yep, and we're doing all we can to get there.  One identity we have earned is a division champion.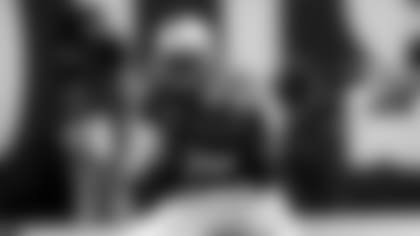 JOHN K. (from Syracuse, NY) I am a lifelong Colts fan from the Bert Jones era.  I am very happy we are in (the playoffs) this year.  With Andrew Luck being pressured more often, why are we not using a few quick slant routes to allow him to get rid of the ball faster?  Also, maybe using cleanout routes to allow underneath crossing patterns?  I have always been a fan of Donald Brown.  I think he should be the starter the rest of the year, thoughts?  Also, I still believe in Trent Richardson, don't give up on him.  Maybe some zone blocking to allow him better avenues to run through, or potentially hire Edgerrin James as a RB consultant.  I think Trent could learn a lot from Edge, thoughts?
A:  Your input is appreciated, and your heart has been with us longer than some mailbag readers have been alive.  I left your thoughts on the passing concepts in.  You may have seen some of that in Cincinnati.  The Luck-Rogers TD connection was a quick slant, and Andrew was not sacked at all in the game.  I'm sure we'll have weekly nuances, but the overall philosophy is good.  Donald has earned the right to start, but we didn't do well last Sunday.  Trent remains a big part of what we'll do.  We'll find a way to use both since it's a core principle.  Trent does have a relationship with EJ, but we have the proper coaching here.  (If EJ could coach players to play exactly like he did, he would be one of the highest paid coaches in the game.)
DANIEL F. (from Los Angeles, CA) Thank you for your mailbag.  It is the only forum that allows us armchair QBs to get answers the questions fans really want to know. It seems to me the Colts do not play their best players.  In my opinion, the Colts will take a significant step forward by – Pat Angerer should be replaced at ILB.  I am inclined to think it is a matter of scheme change but whatever the case, I have seen others (Kavell Connor) have a better feel for the position; We have to give T.Y. Hilton help.  DHB will always be a single-cover receiver, and that has to change.  If Da'Rick can stretch the field, then he needs to play.  How many times has DHB caught the ball beyond 20 yards this year; Trent Richardson, statistically has to be used less.  Trent is too slow to the handoff.  Donald Brown is good with the same.  We need more burst in the backfield.  Thank you for the forum.  We all bleed blue and appreciate everyone working their tails off at the Colts.  They sure give us armchair QBs something to cheer about, even if it at times it sounds like we are complaining.
A:  Daniel, I had to shorten your letter a bit.  I appreciate you expressing what you did.  I may not agree with you, but this is the forum for fans to speak, as you noted.  I'll stick up for both Pat and Kavell.  It's easy sometimes to use stats to present a case (I do it all the time), but I think they both play good roles for us.  We do need to have someone emerge to take some pressure off T.Y. Hilton.  Hopefully, DHB will be one of those guys.  He had two receptions last week that converted first downs.  Da'Rick (his fan base is huge in the mailbag) was targeted nine times in 41 snaps, and we saw LaVon and him contribute big-time last week.  We need those three to help.  It would be a mistake, in my opinion, to neglect Trent.  Donald is starting right now, so let's just let things play out.  We respect our armchair QBs (I'm using the term you used affectionately).  Keep engaged with us.
BRETT R. (from Los Angeles, CA) I'm headed to Indy for Christmas this year and will be lucky enough to attend my first game Colts game against Jacksonville.  What are some things that a first-timer can look out for at the stadium?  Any special menu items?  Thanks!
A:  Brett, we're looking forward to welcoming you for your first Colts game.  Check out Colts.com for information on parking, pre-game fun and more (just go to the FanZone drop down menu and select Gameday).  We suggest stopping by the American Family Insurance Touchdown Town, located outside the north end of the stadium, for pre-game fun.  Touchdown Town is open from 10 a.m. until 12:30 p.m.  We will have a special "Cheering Fan Card" passout for the first 30,000 fans inside the gates, so get to your seat early!  Former Colt Ben Utecht is singing the anthem, and cheerleaders are doing a holiday show.  If you're staying downtown, you will have a short walk to all of this.  We hope you enjoy your first Colts game.
SUNIL A. (from Houston, TX) I don't have a question but wanted to give my heartfelt thanks to you for making the video of induction of Marvin Harrison on your last mailbag.  As an old Colts fan who attended games at the Hoosier/RCA Dome during Harrison's prime, I became extremely emotional watching the video and wished he was still playing in the Colts' uniform.
A:  You are welcome and glad you enjoyed it.  We hope fans enjoy video elements on the site, and guys like Marvin provided years of memories.  Glad we stirred a few for you.  He was a special, special player.
PATRICK C. (from Elnora, IN) I was wondering about the offensive line it was brought up in this latest mailbag about needing a couple more maulers on the offensive line.  It could be too far in the future to really ask this question, but could the Colts be looking to pick up a player that could fit in at a guard spot that has a history of being a much better blocker for the run game?  I think that Trent Richardson is going to be a great RB and that he has the size/strength to run inside.  The times that I have seen him have a decent run have been more to the outside, but I could be missing something. I'm very glad to hear about Daniel Adongo getting a chance to play. I think we will be a huge asset.
A:  It is too early to talk about next year and when we do talk about personnel, we'll let Ryan Grigson lead the way.  He will do what it takes for us to be the best we can.  As for Trent, he's only getting started and there will be some bright days ahead.  Daniel got 22 special teams snaps last week, the fifth-most among guys on the units.  Let's hope it keeps growing (his fan base in this forum is through the roof). 
TIMMY H. (from Ohio) Is Andrew Luck only going through a cold stretch, or is he having the sophomore slump?  I am worried seeing his last couple games.
A:  The sophomore slump notion is a myth.  We are fighting our way through a tough stretch, but Andrew is fine.  It's been a challenging season for the offense on the health front, but I see no issues with Andrew.  His game in Cincinnati showed that (and you wrote before we played).  He threw 16 times to WRs other than T.Y., and they had 11 receptions and 4 four TDs, some very needed production.  The best thing we could do for him is run the ball the way we did earlier this year.  If we can get consistent production from multiple targets and have rush:pass mix to keep defenses at bay, you'll see the Andrew you know.
TOM S. (from Plymouth, IN) Has a release been sent out to the media for the kids named as Indiana High School Academic All-Stars at last weekend's game?  The Elkhart Truth hasn't run anything on Steven Gattman.
A:  Yes, we have put out the release, and we congratulate Steven and the 23 others who won.  This is a program Bill Polian and I originated in 2000, and the IFCA and IHSAA have been huge helps in finding some of the brightest prep football players for years.  The club loves honoring this group every year, and I hope it goes for many more years.  Again, congratulations to this year's honorees.  Some of the original members of this team no doubt are leading productive lives in Indiana and beyond.
DAVE N. (from Miami Beach, FL) Why is DHB still playing with all the dropped footballs?  Why isn't Da'Rick Rogers not playing more?
A:  If every NFL player who failed to make a play were put on the bench never to return, there would be no players on a field anywhere.  No one feels worse than the guy who doesn't make a play.  A true pro bounces back.  I bet DHB bounces back.  Da'Rick had 13 plays in his first game and had 41 at Cincinnati.  You'll see him out there.
ADAM V. (from Fort Wayne, IN) Daniel Adongo, do you think that he could play a big role.  I know he is only expected to play on special teams but as he gets to know the game better, is it possible he could actually play outside linebacker?
A:  As with a few young players, temper your early expectations for Daniel.  He has come a long way in a very, very short time.  He's a worker and exceptionally bright.  He will have an impact, but I would urge patience.  Special teams are the early avenue for him.  Any time in the defense likely comes down the line.
JOSH H. (from Evansville, IN) After seeing all of the Bud Light commercials, I too have found that I have a superstition.  Every game I have ever been to, Colts, St. Louis Cardinals, etc. the team I am there to see has never lost.  Even the Colts season where Manning was out for the season, I came home from leave to a Colts game and they won.  It's only weird if it doesn't work, right?  If I buy season tickets, does that mean they will win every home game?  I think I may have to do it for the sake of my Colts!
A:  Hey, why ask why?  I love hearing things like this from fans.  We all do our part for the cause.  When we won 11 straight in 1999 (the first time I was lucky enough to go through something like that), my wife kept fixing the same dinner every Monday night afterward (black-eyed peas over cabbage).  The winning streak ended but we had done our part, and it's still a favorite meal.  If other fans want to share their superstitions, go ahead.  I would urge you to attend every game we play.
TRE H. (from Dayton, OH) How conceivable is it to bring back both Ahmad Bradshaw and Donald Brown?  With the idea that Vick will be healthy, I think we would have an amazing offense if we had those four backs, and not Stanley Havili.  Don't get me wrong, I love what Havili provides, but I don't think this "traditional" power run game is all that beneficial.  Even in two-back sets, we could have one of those backs pose as a FB, or H-back (like we did with Dwayne Allen last season).  I think a key component to success is to keep the defense guessing and having those four at our disposal, we could really do some creative things.  Does this not sound like a good idea?
A:  While you would love as many players at every position as you can, having four might be a little beyond reach.  Each of the four you mention provides something different from what Stanley Havili does, and the RB/FB roles don't interchange that well.  How we're constructed next year will be a lively off-season topic.  Let's hope Ahmad returns to full health.  He's about halfway through recovery on his neck fusion procedure, and getting Dwayne Allen back will be huge.  I don't fault you for dreaming.  It would be a rushing team's dream to have so many bodies.  What you laid out also would rob from other position groups, plus Dwayne has his role, too.
DON B. (from Valparaiso, IN) I am with the Boy Scouts.  We are looking for a speaker.  I was told the Colts have great speakers who speak at these types of dinners.  Thanks and good luck from a guy from Baltimore.
A:  It would be best for you to reach the club directly on this matter.  You may do so at the following email address:  coltscommunity@colts.nfl.net.  Thank you for your interest in the Colts.
JOHN C. (from Bellerose, NY) Do you think a guy like Daniel Adongo can be useful in the backfield to block for Luck since he is used to hitting from rugby instead of putting him on special teams?
A:  Interesting concept, but I'm not sure we'll place that many eggs in his basket yet.  I don't doubt he could do it if given the chance, but I'm not sure he should be learning any more aspects than we need him to perform this year.  Physically, I think he could do it.  Mentally, I think he's quite bright, but let's let him get his feet wet a little more.  He's a veteran of 22 plays in a new sport.
PAUL M. (from Pittston, PA) With the Colts playing the Bengals with their very good D-line, Andrew Luck is probably going to take another beating.  My worries are he is going to turn into David Carr.  Thoughts?
A:  Your letter showed, too, that you wrote before the game.  Andrew was not sacked, and the Bengals were only credited (unofficially) with as many hits as touchdown passes that he threw.  This premise was floated last week by another contributor.  I don't buy it in the least, and I think someone would have to ask David Carr if there were any correlation with hits and his career path.
ED K. (from Wisconsin) In the Cincinnati game, the first half was as usual – no offense or defense.  I would like an answer to how Coach Pagano fixes the mistakes from the past weeks.  It doesn't look like anything is fixed because the same things occur every game.  A few good things came out of the game.  I think and hope we found a wide receiver who has speed and can catch the ball.  Rogers looked good from what I was watching.
A:  The defense held the Bengals to one score until just before halftime.  We had the same execution issues in the first half with the offense.  We've been up and down, but Chuck referenced after the game that he knows we can do things because we've all seen it.  We need to see it consistently going forward.  Da'Rick, as you said, stepped up.  LaVon did, too, and that was a welcomed sight.
DENNIS E. (from Marion, IN) I know this is way too early in Andrew's career, but has any quarterback in NFL history ever taken his team to playoff appearances every year of his career?
A:  It would be hard to chart before the Super Bowl era but after that era started, here's the answer.  Joe Flacco (Baltimore) is five-for-five and has a chance to go six-for-six.  Pretty impressive.  Andy Dalton (Cincinnati) has a chance to go three-for-three.  Ditto.  Dan Marino and Bernie Kosar did it their first three years with Miami and Cleveland.  Andrew and Russell Wilson (Seattle) have done it twice, and they join Shaun King (Tampa Bay), Ben Roethlisberger (Pittsburgh) and Mark Sanchez (NY Jets).  This stat is contingent on these current players making the playoffs and starting the first playoff game.  Great question.  I had to scramble for the answer.  For readers, though, it was worth the effort, if the answer is possible to get.
JERROD F. (from Watertown, NY) That Bengals loss was tough.  There was success with short passes to the backs late in the game, and that seemed to be something that we weren't doing so much in the earlier.  Should we look to establish more of that kind of offense to stretch the field and help open up running lanes?  Also, Da'Rick Rogers and LaVon Brazill both looked very impressive.  Just wanted to say that my confidence (along with many other Colts fans, I'm sure) in our passing game is much higher after seeing those two perform the way they did.**
A:  It was good to see the receivers do well.  I also am a proponent of using the backs in the passing game.  Maybe not quite the moving pocket from the Hank Stram days, but our backs can catch (my opinion).  Da'Rick and LaVon were a needed boost.  Thanks for the support and no doubt speaking for a lot of fans.   
MICHELLE M. (from Fort Wayne, IN) I know we have a lot of starters on IR.  I love my (team) so much, but it hurts to see them play like this.  Could you please address the weakness in the backfield?  I say the club's first draft pick (next year) should be a safety or shutdown corner.  Trent Richardson will come through for us in time.  When we had Peyton Manning, they relied too much on him and didn't give us a strong defense.  I sure hope they don't do that with Luck, because he can only do so much.  Any help you see for him next year?
A:  You're expressing what a lot of readers are feeling.  We have the talent to play better.  We just have to do it.  Last Sunday was not the effort we wanted.  Some members of the secondary said they could have played better.  One member of the line said it was incumbent on his group to create pressure.  We made game-changing defensive plays at Tennessee, but we have not duplicated that effort weekly.  Also, we are not constructing the team the same way now as we did in the past.  We've been clear about that business model.  We've made playoffs now twice with this regime, but we know we have to play better to get farther in the playoffs than we got last year. 
MARK M. (from Springville, NY) I have been a Colts fan since 1976, and I have never seen such an undisciplined Colts team.  The unsportsmanlike penalties have come often and at very bad times.  They are killing us at times when we can't afford to have them.  Is anything being done to show the players that this will not be allowed? On a bright point, the young receivers stepped up this week and look promising, and Ryan Grigson is still doing a great job of finding unknown players that turn out to have real talent.
A:  Really the only two times we've had the issue came against Tennessee and Cincinnati, but those are too many times.  Games are officiated more tightly in this regard than in past seasons, and that's a good thing.  Chuck has drilled into players the need for composure, and we still rank among the least penalized team in the league.  Last Sunday's penalties hurt, but I don't think you'll see repetitive cases.  Those things do help lose games.
M. P. (from Charlotte, NC) RODGERS!  Finally, D.R. got a chance to shine.  And Brazill, oh yes, this is what Luck needed.  That's what you call 'Next Man Up.'  Any chance they will see more action on the field?  Pat McAfee did a great job.  I know his leg is tired from all that punting.  Give him a raise.  Will the coaching staff do something with that secondary?  Andy Dalton had his way with us.
A:  Da'Rick got 41 snaps, LaVon got 42.  If they keep playing that way, you'll see them.  Pat did nicely, and his leg's not tired.  He and Sergio Brown have something good going.  As for the secondary, we need them to perform like they did against Tennessee.  As for Greg Toler, see below.
BOB B. (from Deltona, FL) I think Greg Toler is actually Bob Sanders in disguise.
A:  Since you left this to interpretation, I'll go positive.  Bob came back in 2006 and made a huge difference in a playoff run.  Let's hope that's the case this year with Greg.  If there's any other interpretation to your question, I'll leave it alone.  A groin injury is a very difficult injury to heal.
JOHN B. (from Fishers, IN) Finally, Joe Reitz given his spot back!  I hope he keeps it this season and next.  Yes, it's only one game, but I think shows why moving him out should never have happened.  You play your best players.  He was one of teams best five lineman in July, and still is.  Glad he is playing where he should have on opening day.  Now Colts can get back to COLTS football.  Just wish it had been sooner!  Also, Brown needs more touches.  Hope we see at least 23 touches for him this next game!
A:  I knew you'd write and be happy.  The line played very well at Cincinnati against a pretty good defense (no sacks, only four credited hits).  How we go this week, we'll see.  Getting Donald 23 touches would be a very good thing, even splitting numbers in that volume between two guys likely means a game is going well and the offense is executing.   
ROBERT J. (from Chicago, IL) Like other Colts fans, I'm upset with the overturned non-touchdown last Sunday.  In light of this call and the overturned turnover in Houston, I'm wondering if the NFL changed its official replay policy?  We're used to hearing the phrase 'indisputable visual evidence' as the standard for reversing a call on the field.  In contrast, in an email on Monday to the USA Today, NFL spokesman Greg Aiello claimed that the referee made a 'judgment call.'  Is that standard sufficient by rule, or is this a movement in the direction of disregarding the ruling on the field during video review?A:  I doubt there will be any comment from the club, but the NFL's officiating chief Dean Blandino said on the NFL Network Tuesday night the wrong call was made to reverse the play.  "It wasn't a correct call.  We made a mistake," said Blandino.  He said it was difficult to determine if Josh Chapman tripped BenJarvus Green-Ellis but said, "there was not enough evidence to overturn the ruling on the field. … When we look at these angles, it's close.  Don't think it's definitive either way.  And when it's not definitive either way, that means the call on the field should stand.  We made a mistake here.  This should not have been overturned.  This should have been Indianapolis' ball . . . at the one-yard line."  The overturned call moved Cincinnati's advantage from 7-0 to 14-0.  Thanks for writing in. 
BRIAN D. (from Avon, IN) Maybe we should pretend the first half is the second half! The third quarter was great to watch.  Glad to see Brazill and Rogers get in and make plays.  We just need to protect our QB.  I am a believer we can turn this first half deal around and make a deep run in the post-season.  From starters to the bench, these guys are pros for a reason.  We just need to get out there and grind it out, focus on plays and bring it home!
A:  Your letter is good reading with a fun premise.  Our people here appreciate the support.  We've reached our first goal.  There are others.  Better play over three games will get us ready to attack our second goal.