 ](http://careyindiana.com)
INDIANAPOLIS – Readers of Colts.com may submit questions during the week and have a chance to have them answered during the middle of each week.  **Submit your question here**.
Here are responses to some of the questions received recently.  We thank you for your interest in the Colts.  Please make an effort to be concise when submitting a question.
STEPHEN J. (from South Bend, IN) I am happy with the FA signings and the way it was handled this year.  With all the returning players, I think we can be a powerhouse.  I do have concerns with safety and the health of the CBs.  I'm a fan of Vontae Davis, Greg Toler and Darius Butler.  The trio can make (a good) tandem.  If they aren't healthy or leave eventually, we don't have many quality backups.  If we could somehow pull off grabbing Deone Bucannon and one the three (Kyle Fuller, Terrance Mitchell or Stanley Jean-Baptiste) with first two draft picks not only would I be ecstatic, but I think our secondary could become much more improved.  Is that a possibility?  Your thoughts?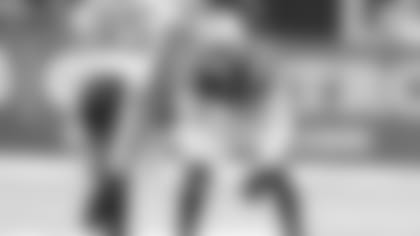 A:  I don't know that we would spend two draft picks on the unit.  You never know, so I guess it's a possibility.  Probability is another matter.  That would be 40 percent of our allotment, unless Ryan Grigson pulls off a maneuver or two.  Just hang in there with us, and I would caution assuming against the health of the three veterans you mentioned.  The four draft hopefuls should contribute somewhere in the league. 
JAEMIN R. (from Dekalb, IL) I know one day there will be a statue of Peyton Manning outside Lucas Oil Stadium, but I would love to see one of Johnny U. as well.  Is that possible?
A:  How about both having busts together in Canton?  I feel the same way as you about Peyton, and the statue of Johnny U. outside the stadium in Baltimore is something I've looked at with full admiration on more than one occasion.  I don't know that you will see one of him here ever, and maybe it's best that it doesn't happen.  I know the regard Peyton had for Johnny.  He spoke of it often and wanted to wear black hightops in 2002 when Unitas passed away.  I know members of the Unitas family personally, and they all share the affinity for Peyton that John felt, too.  In my opinion, they are two of the top four QBs in history in any conversation – and they cannot be removed.  I'm sure others feel differently, and I don't demean other QBs who have played.  We have a great franchise QB heritage, and here's hoping Andrew Luck has the type of career that puts him in everyone's conversation about the all-time greats.  Thanks for a unique letter, and congrats on your tastes in QBs.  
MIKEY N. (from Springdale, AR) How likely are we to trade up in the draft since we don't have a first-round pick?  Who do you think will be harder to stop, Jadeveon Clowney or Johnny Manziel (assuming the Texans draft one of them)? Thanks for the awesome mailbag!  It's really fun to read, and I always look forward to when it comes out.
A:  Thanks for your dedication to the mailbag.  I don't get the sense we will move up in the draft.  We have five choices, so that's not a ton of currency.  I think any movement is more likely to be down for additional picks.  You see some people say there is great value in the 20-to-50 slots and we're at 59th.  I just don't think we'll make that major jump up into the opening round.  As for facing Clowney or Manziel, I predict Houston will take Jadeveon with its top choice.  I think he could be the impact type of player a team at the top of the draft hopes to get.  One thing for sure, all three division foes will look much different this year.
JORDAN L. (from Indianapolis) I wondered if Coach Pagano or Mr. Grigson or players had any interesting pre-game rituals or superstitions?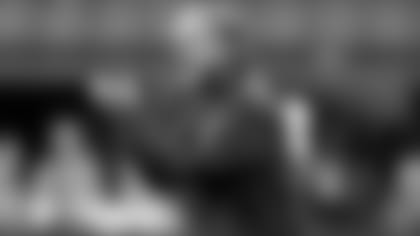 A:  Over the past couple of years, I have asked that question to a number of our coaches and players to use in game program content.  It's funny that 99 percent of them say superstitions are not part of their mindset and that anything they do on a regular basis before a game is considered routine or preparation.  Some guys make sure to call family members, listen to certain music, get to the stadium and on the field at the same time or be prepared by the same athletic trainer each week, but nothing of true note has been mentioned as a superstition.  I thought that question could have turned up something interesting, but it didn't.  Ask again maybe later in the year should something crop up as new players enter the program.  
LOGAN N. (from Indiana) Chuck Pagano was at Marcus Martin's Pro Day.  If the Colts are aiming to get a starting center by getting Martin, shall management consider why Khaled Holmes was the starter when Martin was his backup and instead look for a center who is not as raw?  This year has at least four centers not called Marcus Martin who could help better.  As we know Joe Gilbert likes his players to be able to step in at other positions.
A:  I never address why we cover collegiate workouts.  A portion of outside assumptions can be spot on, but there also is a lot of leg work that goes on this time of year with our coaches and personnel officials.  We shape up at center right now with Khaled and Thomas Austin.  As you know, Phil Costa has been placed on the Reserve/Retired list.  How the position plays out is anyone's guess, and getting more help at center in the draft would not be a huge surprise.  We have a long, long way until training camp and the season.  The next month could answer a question or two, but how we line up is something far down the line. 
ROBERTO S. (from California) Do you think there's a chance that the Colts trade down to get Justin Gilbert, or even Darqueze Dennard?
A:  We're at 59th right now.  I'm not sure they will be on the board when our time comes.  Thanks for being in the number of a large group asking questions (and likely hoping) we bulk up on the secondary in the draft.  My hunch is the two you mentioned will be gone at 59th.
ANTONIO A. (from Hammond, IN) Reggie Wayne hosted an event for the American Cancer Society?  What events took place?  I thought it was a great thing for Reggie to do, and wish I could have attended.
A:  Reggie held a fund-raiser last Friday in downtown Indianapolis for the American Cancer Society.  There were a number of Colts players and coaches in attendance, and the event was in honor of Ava Parker, a two-year old who lost her battle with cancer.  There was a silent auction, with the proceeds going to help the society's youth programs.  It is a cause dear to Reggie.  He has lost several friends and an aunt to the disease.  Reggie's heart is as big (or bigger) than his talent.  When Chuck Pagano contracted leukemia in 2012, Reggie shaved his head (along with other teammates) in support of a stricken coach.  I hope that helps you understand Reggie's event.
PAYTN C. (from Citrus Heights, CA) I saw (observers) mentioned the Colts need an inside linebacker for the long term.  What are your thoughts were on Ryan Shazier?  Do you think he would be gone by the time we pick?  He's a very athletic inside backer that could play all over the field.  Only 19 more Sundays until football!
A:  There is no shortage of opinions out there but with Jerrell Freeman and D'Qwell Jackson appearing to headline our inside mix, we look to be alright.  I think Shazier can be a pretty good player, but I'm not sure he will be around when our first choice comes around.  If he is, he might be a consideration.  I don't know your sources proclaiming our needs.  With the wide array of voices, you're bound to hear us needing a QB from one of them.  You know I'm kidding there, but don't get swept up in all that you hear this time of year.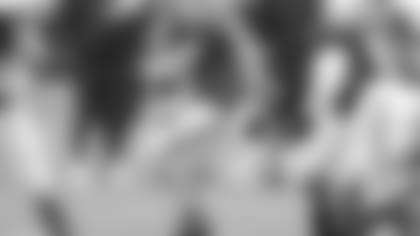 GARY G. (from Terre Haute, IN) I am a huge Colts fan.  So are my best friend and brother.  Every year, we take a trip to Colts camp.  I recently found out that I will not be able to make the trip this year because of military obligations.  I am serving U.S. Air Force and will be unable to attend Colts camp this year.  My brother is also very upset.  Is there anything we can do?
A:  Thank you very much for your service to our nation, and I am sorry to hear you will not be able to get to training camp.  At the moment, we do not have a spring workout open to the public set.  Should that change, we certainly will promote it in the mailbag and on our website.  I am sorry your schedule has a conflict with camp.  I hope your brother and friend still will be able to attend.  Thank you again for your service.    
DySHAWN T. (from Des Moines, IA) Phil Costa retired, surprising.  Can the Colts please avoid Marcus Martin at any price?  He is way overrated and not versatile.  He failed at the guard position.  Ryan Grigson could get a center in a late pick that plays better and who can also help at G/T if needed.  Also, why did a newcomer retire? Didn't Costa feel like a Colt?  At least his place was taken by a guy actually called Colt (safety Colt Anderson), right?
A:  I don't know why the criticism of Marcus Martin.  You're the second one this week.  Marcus is viewed favorably by some prominent draft analysts.  Maybe they're seeing something you aren't.  Phil made the decision that is right for him.  There never is a good time for a team to hear retirement news like that, but we wish Phil the best.  How/if this affects our draft plans, I'm sure we'll find out from Ryan Grigson on May 1 when he previews the draft.  He could not be faulted if this decision sways thinking.  Whatever Phil's reason, our culture would not be the issue.  Too many players credit our process and have thrived.  It's a top priority of Ryan and Chuck.  As for the addition of S-Colt Anderson, we'll look for him to contribute in spring/summer work.  If you don't mind, I'll look past the humor, but thanks for caring.
*DAN R. (deployed in Middle East) I have been a huge fans of the team for years.  How does Hakeem Nicks like playing for my favorite coach?  *
A:  Hakeem played for Chuck Pagano at North Carolina in 2007.  Chuck was his defensive coordinator, so the relationship from the past certainly helped.  I suspect Hakeem will enjoy playing under Chuck as much as he has under any other coach and in New York, he had a good one.  Hakeem likes the direction of the team.  He's in his third day of the off-season program.  He was in a great mood Monday, and I bet he'll carry that forward for some time.  As with Gary above, thank you for service, too.  Your deployment means we will keep you in our prayers, and we wish a safe and speedy return home for your and your buddies.   
ENRIQUE H. (from Bakersfield, CA) Since Phil Costa retired, what are our chances of drafting a center in the second or third round?
A:  Phil's decision does leave a bit of a void, but we have time to adjust accordingly.  With Ryan at the throttles, he'll do what needs to be done.  He's been to three Super Bowls and had centers each time that were college free agents.  If the draft is a source, that's great.  If not, we'll find guys and coach them up.