 ](http://careyindiana.com)
INDIANAPOLIS – Readers of Colts.com may submit questions during the week and have a chance to have them answered during the middle of each week. **Submit your question here**.
Here are responses to some of the questions received recently.  We thank you for your interest in the Colts.  Please make an effort to be concise when submitting a question.
BILL N. (from Hickory, NC) Do you think that if Indy makes it through the conference championship game that the Patriots and Broncos would see the old guard and the window of opportunity closed?  That is assuming those three teams are the major players for the coming season at this point in time.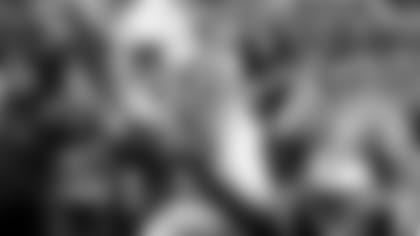 A:  Assuming anything beyond 16 games is something I wouldn't want to do.  I hope we have that kind of season, but we have too many things to worry about before then.  Players are just reporting for off-season work.  I also could not speak for any other organization, but I doubt any are focusing any farther than we are and if they get to that championship point, I don't think they would believe a loss is the end of an era.  New England has been there too long to do so, and I think Denver is the same way, too.  (Pittsburgh, Baltimore and maybe some others could argue their 'old guard' status under your premise.)  You did couch things as an assumption yourself.  We'll just assume we have 15 teams to beat, with three of those hoping to knock us off the divisional perch. 
BOB B. (from Deltona, FL) I'm not knocking Bill Polian, it's just the fact in a lot of cases he didn't go after a free agent or agents that could have helped the team in certain areas.  The one thing I'm impressed with is that the owner has backed up each and every decision that Ryan Grigson has made and supported his choices fully. If you don't have an owner that supports his GM, you won't be successful and so far, things have worked out well.
A:  I didn't take your last letter as a slight meant for another era, and it's best to separate each program we've had.  One thing about Jim Irsay that you mentioned, he does support his people and give them the tools to win.  Without that support, as you said, it's tough to operate in this league.  We're gearing up for another run, and it's full steam ahead.
BRANDON G. (from Indianapolis) Do you think a zone blocking scheme would benefit Trent Richardson more and if Hakeem Nicks gets back to form, do you think the Colts will give him a long-term contract or will they let him walk?
A:  I think every team has some concepts you mentioned.  How much we go that route is to be seen, but we will design schemes to best accentuate our talent.  Trent, as I've said repeatedly, will be a different player for us this year.  I think he'll be much more along the production lines of what he did as a rookie.  He will be more comfortable with the offense and his blockers.  I think fans will like what they see, but it will be an off-season program where he needs to immerse himself.  As for Hakeem, yes, he's the third straight veteran WR imported in free agency – following Donnie Avery and DHB.  Let's let this year take care of itself.  We have far too many concerns to be thinking past the challenge ahead of us in 2014.  I do think he's a terrific addition.
ERICK D. (from East Chicago, IN) Since the Colts signed Hakeem Nicks and now has to address the defense, there are a lot of analysts saying that they will likely go with a DB in the second round.  The whole defense needs to be upgraded, what position do you think the Colts are going to go with in the draft?**
A:  I have no knowledge of our thinking, but I would not be surprised to see the secondary addressed early in the process by us.  I think we are relatively set in some other areas.  As for the defense, we've kept assembling players who fit the scheme.  We're at work now in our third spring program under Ryan and Chuck.  We want and need to be more formidable defensively, but I'd be careful to overlook some of the talent we have already.  Some of the natural maturation of people we have will be big, along with the additions of D'Qwell Jackson and Arthur Jones.  Don't be surprised either if Vontae Davis has a great season.
CHRIS C. (from Norman, OK) I've been a Colts fan for 16 years now.  I was watching one of the Sooners' games earlier this year, when they played Bama and I recalled when the Colts drafted Brandon Burlsworth.  Because the Sooners' center plays impressively like him, do you think the Colts would scoop him up in the third or fifth round in May's draft?
A:  You're talking about Gabe Ikard, who had a great career at Oklahoma just like Brandon Burlsworth had at Arkansas.  With Gabe's play and academic excellence I can see how you drew the parallel to Brandon, who was the club's third-round pick in 1999, but who perished in a tragic car accident 11 days after joining the Colts.  Brandon was the same type of successful performer in a big-time program – a walk-on who became an All-American.  He was ticketed for what could have been a great career here.  Gabe seems to have the same NFL prospects, and he was a true stalwart with the Sooners.  I think we could add a lineman in the draft.  I am glad you would want someone like Gabe to move from Norman to Indianapolis.  If it comes true, we heard it from you in the mailbag first.
ROY P. (from Pennsylvania) The Colts will have to face the only coach hired from college this year, Bill O'Brien.  As a Pennsylvania resident, I was able to see how he developed players.  Do you like any PSU player to be a future Colt?
A:  I don't want to single any players out in particular.  What I will say about Penn State is that in my 29 years with the Colts (plus the 1984 season with the Saints), I've rarely (if ever) come across a Penn State product that isn't a solid guy.  My first two exposures to their alumni were Bruce Clark and Rich Mauti while I was with the Saints.  They were the first in a long line of Nittany Lions who I've had the pleasure of working with.  Coach O'Brien has done some great work, and it will be a challenge facing him.  I'm sure he helped bring along some Penn State players he either will compete with or against this season.
ISAK H. (from Mexico City, Mexico) Could the Colts draft FCS, Division II or Division III players this year?  We learned Hakeem Nicks is wearing #14.  Could you provide the list of new jersey numbers for 2014?
A:  We have no boundaries for where we look for players and in fact added two fullbacks last week who participated in regional combines.  Ryan Grigson and his staff cover everything, and they have shown there is a wide path to reach the NFL.  If they've identified talent in those leagues, they'll get it if they can.  As for other jersey numbers, read on. 
BRAEDEN H. (from Paris, KY) I saw that Hakeem Nicks will be wearing #14.  That's cool.  What about D'Qwell Jackson?  He wore #52 in Cleveland, but Kelvin Sheppard wears it here.  What will D'Qwell's number be?  Also what about jersey numbers for Lance Louis, Jack Breckner, Arthur Jones, Aaron Morgan, Henoc Muamba, David Sims and Carson Wiggs?
A:  It looks like D'Qwell will be 52, while Kelvin goes to 53.  Lance Louis is 60, Jack Breckner is 73, Arthur Jones is 97, Aaron Morgan is 48, Henoc Muamba is 51, David Sims is 21 and Carson Wiggs is 3.  I hope that helps you and other readers when you check Colts.com for our photo galleries during the spring.
DAVE H. (from Sebring, FL) I get sick of people always bringing up the Wildcat offense for the Colts.  I believe in using trick plays, but stop bringing up that offense.  I never liked it and considered it college kid ball, not NFL football.  If the Colts keep Mario Harvey, will they want him to drop his weight?  I (thought) last year he was unable to make plays.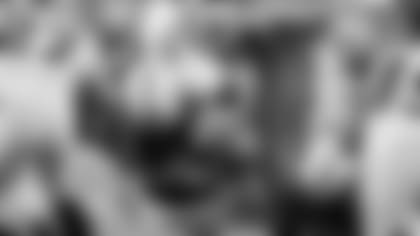 A:  I'll let you take a swipe at the Wildcat, but not Mario.  We used Mario in some different roles last year, and he's a solid and unselfish guy who does so many important things for us.  Like every player, he'll be in the weight range prescribed by our coaches for best performance.  I don't think you have any worries about the Wildcat.  We have one of the NFL's great talents and an offense to fit Andrew's abilities.  Who knows what the shelf life will be for those offenses.  The game does change, but how we're doing things is traditional – and effective.  Don't let that outside noise get you.
KERVENS P. (from Atlanta, GA) I know this is off-season now, but isn't it best (especially on the offensive side) if now they start gelling (QB and WRs)?  Like Dwayne Wade and LeBron did after they lost to the Mavs in the finals.  That will help greatly.
A:  That's what our off-season program is for, and it started this past Monday.  We go through a nine-week conditioning/practice period for that reason, and last year almost 65 percent of the veterans had a participation rate exceeding 90 percent.  You're right, this is the time of year to gel, and we've always used the off-season program effectively.  I remember Bob Knight telling our team in an April camp about 15 years ago that this is the time of year that champions are forged.  That type of work and bonding cannot be put off until training camp.  He was right, and we've always prepared as such.  We want to hoise multiple Lombardi Trophies.  Getting them back-to-back like the duo you mentioned did would be a great thing.
DANIEL D. (from Mexicali, Mexico) I love the way the monster is building.  I remember two years ago nobody even imagined we would be here right now.  We just need to fill a few holes with the draft and stay healthy.  Love being part of the family and can't wait to see the monster play.  Go Colts!
A:  Love your passion, and it's been an amazing transformation since 2011.  We only have seven players left who played that season.  If that total holds up to start this year, it would represent only 13 percent of our roster.  As we concluded Ryan's and Chuck's first season at Baltimore in the 2013 playoffs (2012 season), I think only 16 players that day pre-dated their arrival.  We were given up for road-kill prior to that season, and we've won 23 times since then.  Thanks for being on board and for checking in from your area.
MICHAEL L. (from Columbus, IN) I believe we need more pass rush.  With Robert Mathis we have it.  Without him we don't.  Everyone else is trying, but it seems they're too small and get man-handled.  Our LBs are nowhere to be found.  I believe we need a WR because when Reggie Wayne is done, that's it.  We need size and a replacement for Mathis (because of) his age.**
A:  There is no doubt we need to generate pressure from more directions than Robert, but I would not insinuate he's on the decline.  I think you'll see some pop from Erik Walden this year, and overall I really believe the entire defense will make a jump this year.  While we liked Robert's numbers, having one player get 40 percent of the team's total is not a desired result.  Arthur Jones and D'Qwell Jackson should help.  Josh Chapman continues to mature, and I think we can surprise some people.  We do have some younger talent among the WRs, and don't for a second discount Reggie and what he will do.  I also think you're selling short what T.Y. has accomplished.  He's not a star to-be, he's a star.  I think we're in good shape there, but don't think for a moment that we're not on the prowl to have the best unit possible.  Thanks for the concern.