The Colts Mailbag is back! Colts.com readers can submit their questions to have a chance of them being answered in our Mailbag series.
Let's get after this week's questions: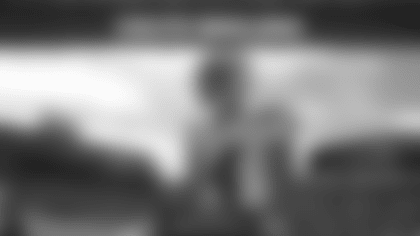 Daryl LaBar, Fishers, Ind.: How do we know that Sam Ehlinger is not looking good just because of who he is playing against? How do we know that he is worth holding onto for another year at the cost of a roster spot?
JJ Stankevitz: You're not wrong that Ehlinger tore up mostly second/third/fourth-string defenses during the preseason – but you play the competition in front of you and, as head coach Frank Reich said: "It's hard to imagine having a better preseason than he's had."
But Ehlinger didn't earn his spot on the 53-man roster only because he went 24 of 29 for 289 yards with five total touchdowns and a passer rating of 147.8 in three preseason games. The Colts gave him a list of things to work on after his rookie season ended, and he attacked those – like improving his arm strength with quarterback guru Tom House – in a way that impressed coaches and front office staff. His knowledge of Reich's offense is deep and thorough, too, to the point that he helped get backup Nick Foles up to speed after the former Super Bowl MVP signed with the Colts in the spring.
"I mean you can get better, you can get more accurate. Sam has certainly done that," Reich said. "... But what I'm really more impressed at is how hard he is working on his body, on his delivery, on his upper body, his mechanics. And it was really all self-imposed. I mean he really, I just think, left last year saying, 'I'm going to figure out how to get better in every way.' ... He deserves all the credit in what he's done to improve physically in that way. Really excited for him and what he's done this preseason."
And then, again, the evaluation of Ehlinger stretched beyond those three preseason games. All the work Ehlinger put in on the practice field and in meetings during training camp solidified his status as someone deserving of a spot on the 53-man roster, even as a third-string quarterback.
Dylan Durnal, Lebanon, Ind.: Hello JJ, do you know if the Colts plan to sign a veteran WR or are they confident with our young guys to get it done this season?
JJ Stankevitz: Right now, Dylan, they're confident in the group they have. Here's what GM Chris Ballard said about it on Wednesday:
"(Michael) Pittman Jr. is Pittman Jr. We thought (Alec) Pierce did some really good things and he's going to have to grow up in a hurry, but we think he will. He's mature, he's smart and he's very talented. We thought Parris (Campbell) had a really good camp also, and so did Ashton (Dulin). We feel really good about them. 
"(Dezmon) Patmon came on there at the end and we like (Mike) Strachan's talent. Coming off the knee, only having a few days of real work – when he came back and you get three or four days work and then you start really cranking it up and playing, that's tough. But we like Mike's talent. So, we feel good about the group."
And as for a certain veteran wide receiver folks keep asking about, Ballard said: 
"As for T.Y. (Hilton), do I think T.Y. can still play? Absolutely I do. I'm never going to shut the door on it, but right now I like our group and we like our group."
Tony Carroll, Charleston, S.C.: How will the Colts handle the kickoffs now that Sanchez is out? Looking at his avg (63 yds) to Blankenship's avg (52 yds), that should change the kickoff coverage team dramatically.
JJ Stankevitz: So you were looking at Rodrigo Blankenship's kickoff average in 2021, which was 52.0 yards and came on four kicks. He averaged 63.4 yards on 20 kickoffs in 2020, with about two-thirds of those going for touchbacks. 
The Colts valued Rigoberto Sanchez's ability to handle kickoffs, but believe Blankenship can step in for him (as he did in 2020). Last year, opposing teams started drives on their own 24.8 yard line, which was a half-yard better than the league average (25.3-yard line). And on those kickoffs, opponents started drives inside their own 10-yard line as many times as they started in Colts territory (twice). 
Part of the challenge here will be replacing Sanchez with Blankenship, but the Colts are confident in the latter's ability to handle kickoffs. The other part is changing over a number of guys who were core special teamers over the last few years – gone are Matthew Adams, Jordan Glasgow and George Odum; in are guys like Grant Stuard and JoJo Domann.
"I was talking with (Director of Team Development) Brian Decker, and he said this is the most coaching I've had to do since 2018 when we had Matt Adams, Zaire (Franklin) and George and all those young guys," special teams coordinator Bubba Ventrone said. "There's a lot of young guys out there, so you've got to bring those guys along as fast as you can. Every rep is important, the walk-thru reps, team reps, pre-practice reps. We're trying to get those guys as many looks and put them in a position to succeed, and to be able to play in as many spots as we can depending on how the roster shakes out."
René Bugner, Mainz, Germany: Hey JJ. Just saw the news about the initial practice squad and noticed that there was not given any reference to the IPP exemption of Marcel Dabo. Was that just not mentioned or did the Colts sign him to a standard practice squad contract and he counts against the 16-man limit? Thanks, René.
JJ Stankevitz: Good question. Dabo indeed has an International Player Pathway exemption to be on the Colts' practice squad – so the Colts can carry 17 players, including Dabo, on their practice squad. As of Thursday morning, the Colts have 14 players – including Dabo – on their practice squad, so they can sign three more.
"One thing that people overlook is the practice squad and how important it is," Ballard said. "That's (17) extra players that you get, they're important and they're playing for you. To sit here and act like those guys aren't playing, that's not realistic. They're playing. At some point during the season, they're coming up and they're playing. So, making sure we got the right guys on the practice squad that we have a good, really 70-man roster because we get the international exemption this year."
*Dave Lyon, Greenwood, Ind.: The saying "as the line goes, the team will go." My question is, why don't the top draft choices be used to get the quality lineman so that an everyday back can always look like a hero? *
JJ Stankevitz: The Colts have a top-10 pick (Quenton Nelson), a top-20 pick (Ryan Kelly) and a top-40 pick (Braden Smith) anchoring their offensive line. Danny Pinter and Matt Pryor are former Day 3 picks, sure, but Bernhard Raimann was a top-80 pick in 2022. I'm not sure I see the same purely-based-on-draft-position talent deficiency you're hinting at. 
Also, when you have a strong offensive line and a tremendous talent at running back, you get a season like Jonathan Taylor had in 2021.