INDIANAPOLIS — Each week, Colts.com readers can submit their questions to have a chance of them being answered in our Mailbag series.
Missed out on the party this week? Not a problem — you can submit your question(s) for next time by clicking here.
Let's jump right into this week's questions:
Garry B. (Crowley, Texas): "Hello, I am a fan of your rookie EJ Speed. He is not only a great player but also an example of what the NFL needs as a representative of a professional athlete. He has an outstanding personality and I would love to see him on the field again next season. I am wondering will he be signed again for the next season? Thanks"
Walker: E.J. Speed was a 2019 draft pick by the Colts, which means he gets a four-year contract. So Speed's rookie deal will be up after the 2022 season — which is great news for the team, which is really high on him as a developing linebacker and special teams contributor. Speed played in 12 games as a rookie and had six tackles (one for a loss) and one special teams stop. "E.J. Speed, even though we didn't see a bunch of him just because he's young and raw, it'll be fun to watch him develop and see if he can become what we think he can become," Colts general manager Chris Ballard said after the end of the season.
Wayne P. (Middletown, Conn.): "Hi Andrew, I really appreciate the mail bag questions that you respond to for us colt fans. It really keeps us in the loop during the off season. For years and years now, even through all the Harbaugh & Manning years, I continue to say that we need to improve our defense to a top 5 level rating. My belief is that if we improve our defense to one of the best in the NFL then that gives the ball back to our offense for more possessions. The more offensive possessions we get the more opportunities we can score. I think Jacobby Brisset can be a darn good QB for us but we need to give him more possessions then we gave Luck & Manning. What do you think we need to do to get our defense to become a top 5 defense in, not just the AFC, but in the entire NFL? I do think that 1 of our goals for next year should be for our defense to lead the AFC or the NFL in the most 3 and outs. Can you tell us where we ranked in the entire NFL on 3 and Out? Thanks in advance for your reply."
Walker: Thanks for reading, and for the question, Wayne. I think any team would tell you that they want to have a top-five defense, for all the reasons you stated. The Colts this past season got into the Top 10 in total defense by around the halfway mark, but would finish smack dab in the middle of the pack in 16th place, allowing 346.8 yards per game, and 17th in defensive DVOA. So how does this Colts defense make vast improvements heading into 2020? General manager Chris Ballard laid it out pretty well in his end-of-season press conference, and while some of this will sound obvious, it is undoubtedly going to be a point of emphasis this offseason: the team needs a more consistent pass rush, which will help the back end. The back end, meanwhile, needs to communicate better and not allow receivers to get behind them and make huge chunk plays through the air. And, in general, the Colts need more takeaways; Indy wasn't terrible in this area in 2019, logging 1.4 takeaways per game, which ranked 11th in the league. But seven of the top 10 teams in terms of takeaways made the playoffs this season, so averaging even a half a takeaway more per game would push the Colts into the top five in this category and really help give its offense more chances to put points on the board. And, to your point, Wayne, the Colts need to be better at forcing three and outs; they ranked 28th in the league in this category in 2019, forcing three and outs on just 17 percent of opposing drives. For better reference, the Philadelphia Eagles led the league with a 27.6-percent three-and-out rate.
Joe A. (North Vernon, Ind.): "Hey Andrew! I've been watching some of the college bowl games. Surprised to see how many top players have chosen not to play in order to "prepare for their NFL career". I'd be interested in your thoughts on that, but would especially like to know what Chris Ballard thinks of a player who would turn his back on his teammates like that. Thanks! Oh, by the way, nice job on the TruCar TV commercials. 😉"
Walker: Joe, first off, believe it or not, you're not the first person to make that TruCar commercial reference to me. I've even had young family members see that on TV and think it's me. What do you think, folks?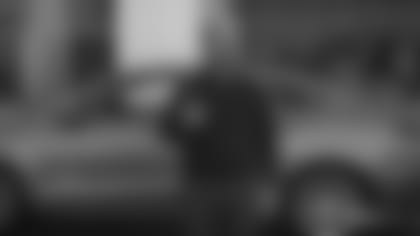 Anyway, my personal thoughts on players skipping out on bowl games in order to prepare for their NFL careers? Good for them. I get the "turning your back on your teammates" stigma, but if you have a legitimate shot at being a top NFL prospect — and the life-changing opportunities that come with that — then who am I to judge someone for making that decision? As for Chris Ballard's opinion on the matter — that's a good question, and one that I'll definitely run by him in the next couple months as we talk with him at the Senior Bowl and at the NFL Scouting Combine.
Lucas N. (Unadilla, N.Y.): "Hey Mr. Walker, first I would like to say that I really enjoy your opinions and point of view on every email you answer. On the topic of opinions, I have one that I would like your opinion on as well. While there are so many options the colts can go with on their first round pick, they also sit very early in the second round. Everyone knows this is a business, so from a business perspective, my opinion is taking a quarterback with pick 34. Personally, I think Jacob Eason has all of the intangibles the colts would look for in a franchise quarterback and would greatly benefit from sitting behind Brissett for the final year of Jacoby's contract. I'm curious what your opinion is on drafting a quarterback, if so, how soon and how urgent do you believe drafting a quarterback of the future is? "
Walker: Thanks, Lucas. The grind doesn't stop even though the season is over, so I'm very appreciative to have you tuning in. As for specific quarterback prospects — you referred to Jacob Eason, for example — I'm still just starting to dive into their individual strengths and weaknesses. But with several "quarterback-needy" teams in line ahead of the Colts in the first round of this year's draft, it'll be interesting to see how many of those organizations actually take a quarterback that early, and how many take a chance and wait until the second or third round. It's clear at this point Joe Burrow, Tua Tagovailoa and Justin Herbert are considered by many experts to be the cream of the crop in this year's quarterback class, but where do you go from there? Can another quarterback impress enough over the next few months for a team to fall in love and take them early in the first round? Will there be any mid- or late-round gems when all is said and done? And I wouldn't be surprised at all to see the Colts take a quarterback in this year's draft. Whether he's taken early and considered someone to compete with Jacoby Brissett for the starting job or taken later and is considered to be more of a project, I think it'd be very interesting to see what a guy like Frank Reich can do with a blank canvas of sorts like that in his hands.
Roger M. (El Paso, Texas): "Just a commet: I grew up in Indianapolis and was a 2 year season ticket holder. I am now a dis-abled vet living in El Paso. I have been very proud to say I am a Colts fan. The organization from ownership through GM through Coaching staff through Players always act as true pros should. There of coarse have been a few speed bumps along the way, but I think the Colts can hold their heads up high on the way they conduct themselves. Even though 2019 did not end with the results we all wanted I feel like we are headed on the right direction of great things to come. My advice to the Indianapolis Colts is STAY THE PATH AND GREAT THINGS WILL COME. Thank you to evreyone in the orgnazation for their hard work!!! Roger"
Walker: Here here, Roger.
Dan R. (Moses Lake, Wash.): "Here is my issue with Jacoby Brissett: He simply can't make his reads fast enough. I used to think that he held onto the ball so long because he was too worried about making mistakes. After watching him for a full season, I'm convinced that he just goes through his progressions too slowly for an NFL starter. Do you agree? Can this be fixed? At what point do you think the Colts need to get serious about signing/drafting their QB of the future? As much as I love Jacoby and his intangibles, I just don't think he's the long term answer. Thanks."
Walker: Jacoby Brissett had an average time-to-throw (snap to throw) of 2.93 seconds in 2019; only Kirk Cousins, at 3.01 seconds, had a longer average time-to-throw among qualified quarterbacks. For reference, anything in the 2.5 to 2.7-second range was among the top-10 quickest snap-to-throw times this season. Our only other point of reference in Frank Reich's Colts offense is Andrew Luck, who had a 2.63 average time-to-throw figure in 2018, ranking as the ninth-quickest time among qualifying QBs. But I'm not entirely sold on your argument that Brissett is struggling to get through his reads just because he holds on to the football a little longer; Cousins this season had a solid 26-to-6 touchdown-to-interception ratio, but averaged 8.1 yards per attempt, so clearly holding on to the ball paid off for him. To me, there can be a balance struck between getting the ball out quickly — and throwing to your receivers with anticipation — and also having an ability to let things develop and/or make plays on the fly. I would imagine Brissett is already exploring how he can improve in both areas heading into the start of the offseason workout program in April.
Bill E. (Cambridge, Wis.): "As a lifetime Colt fan, back to #19 days, I have tried to be a realist about my team. So, after a 5-2 start , things went south. The injury excuse is not valid so what happened? Where are our weaknesses? What, if any, "tough love" is to be addressed? Thanks in advance for your response!"
Walker: I can appreciate a realistic approach, Bill. And you can look at the numbers all you want, but to me, Chris Ballard addressed an area in which he'd like to see improvement moving forward that has little to do with where the team ranks in certain categories: holding each other accountable. "Coaches, we're going to give you direction, we're going to give you where you need to go, but the locker room, we're going to go as they go. And there's got to be a little more friction within it and pure accountability, and they have to be willing to challenge each other," Ballard said at the end of the season. "They do, to an extent. They practice hard, but there's got to be a little bit more challenging aspect to each other, that when things aren't going right, when things aren't getting done the right way, they've got to be able to challenge each other to do it the right way." So I think a little bit more "tough love" on the practice field and in the locker room is just what could be headed the Colts' way.
Shirley W. (Summerville, S.C.): "I love the Colts and we are from Indy. This year has been a stressful year for all fans but we hope that you can find a quarterback that is strong, dedicated and fight for his position as Andrew Luck and Payton Manning did. We miss them so much. My son is a very good football player and his dream is to play for the Colts. He going to be a freshman a Pinewood Prep and he is at the top of his game. Next weekend he will be playing at the Carolina Bowl for South Carolina 8th grade team. He watches TY Hilton and hopes to follow his success. We wish we could have Andrew Luck back but that's a long shot. The fans wants a quarterback that wants to win, not afraid to make decisions and be apart of Indy. Sincerely Shirley"
Walker: The Colts have had two generational talents at quarterback in the last 20 years — do you know how many other fanbases across the league would've loved to have even one during that span? Or even ever? In my opinion: let's just enjoy the Peyton Manning and Andrew Luck eras for what they were, and not use them as a measuring stick for current and future quarterbacks.
Michael C. (Indianapolis): "No one likes looking in the past or rear view mirror. Mine isn't so much a question but an opinion. I know the draft isn't an exact science , but how do we miss on a WR like Metcalf , and draft a slow CB like Rock Ya Sin? With only a handful of draft picks you just can't make that mistake!!!"
Walker: I've touched on the whole "Why didn't the Colts take D.K. Metcalf?" question before, Michael, and I'll add this: not only does no one like looking in the rear view mirror, in your words, but what's the point? Some more context: the Colts not only signed a big-body receiver like Metcalf, Devin Funchess, in free agency last offseason, but they used a second-round pick on a young receiver they were very high on in Parris Campbell. Had Campbell not suffered four — four — unfortunate injuries his rookie season, don't you think this narrative could've been much different? It's easy to look back now and compare stats, but I'm still convinced Campbell can come back and make a major impact on the Colts' offense just like Metcalf has been able to do in Seattle. And over the final half of the 2019 season, Rock Ya-Sin allowed a passer rating of just 67.7, and he was among the better-tackling cornerbacks in the entire league as a rookie. Yes, he had his struggles at times, but I think Ya-Sin's upside is crystal clear.