Colts.com readers can submit their questions to have a chance of them being answered in our Mailbag series.
Let's get after this week's questions:
Ben Bruhschwein, Fargo, N.D.: With Eric Fisher back and hopefully Braden can go, what do you think we can expect from the offensive line this week? If we do see improved offensive line play do you think we can expect the offense to take more shots down the field?
JJ Stankevitz: So first off, we'll see about the availabilities of Fisher and Smith. As of writing this Friday morning, Fisher (Achilles) has been a limited participant in practice this week while Smith (foot) hasn't practiced. Check back with us Friday afternoon for each player's game designations (none/questionable/doubtful/out).
But I mostly want to look at the part of Ben's question about taking shots downfield. The Rams' defense is built to take those away, starting last year with ex-defensive coordinator Brandon Staley and continuing this year with defensive coordinator Raheem Morris.
Since the start of the 2020 season - so covering the last 17 regular season games - the Rams rank first in the NFL in:
Fewest explosive plays (25+ yards) allowed (39)
Fewest explosive touchdowns allowed (2)
Fewest explosive rushing plays allowed (3)
Fewest explosive passing plays allowed (36)
And most of those aren't particularly close. The next-lowest total of explosive plays allowed is 49; every other team in the NFL has allowed at least five touchdowns of 25 or more yards in the same span (the Colts are actually close in explosive runs allowed with five).
This is what the Rams' defense can make an offense look like: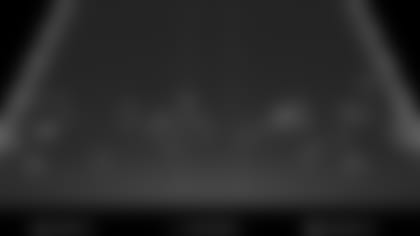 (That's Chicago Bears quarterback Andy Dalton's Week 1 passing chart from NFL Next Gen Stats. The red dot - his only throw that traveled more than 15 yards beyond the line of scrimmage - was intercepted.)
So taking those shots downfield may be difficult this week. But there are a couple encouraging things here: First, the Colts were pleased with Carson Wentz's decision-making after the snap against Seattle, since those deep shots weren't there.
"We did have shots called down the field, and they're playing a coverage that they took it away," coach Frank Reich said. "They took away the shot and so, I thought Carson two or three times did a good job of not forcing the shot. It's not there, take the checkdown.
"... We're going to continue to call our shots. We knew going into it, that defense was one of the leading defenses in the NFL last year at stopping the big play, the real big play. We were trying to call some to get them down there but they were just playing deep in coverage."
Second, an emphasis for the Colts coming out of Week 1 was to generate explosive plays on screen passes, especially since the Seahawks took away those downfield throws.
"All of our screens were very productive, but if you wanted to talk about having more chunk plays – we came out of that game saying, we lacked getting chunk plays," Reich said. "Whatever the six screens – two of those screens needed to be 20-(yard)-plus plays and there was opportunity for them to be 20-plus plays. We didn't get that done in the screen game. They were good, but we needed a couple of them to be big, bigger than they were."
There's certainly going to be a challenge for Reich, Marcus Brady, Wentz and the Colts' offense to scheme and execute those chunk plays this week against the Rams. But if it doesn't come from deep throws, it's not because the Colts don't want to take those shots - it just might be more because the Rams are so good at playing coverage to take those away.
JJ Stankevitz: We'll see how the gameplan shakes out. But the Colts are going to be a team that spreads it around on offense, as evidenced by Week 1's distribution of wide receiver targets:
Zach Pascal (4)
Michael Pittman Jr. (3)
Parris Campbell (2)
Mike Strachan (2)
Running backs Jonathan Taylor (seven targets) and Nyheim Hines (six targets) combined for more targets than the four receivers combined, which was based on how the flow of the game went. But Reich likes to ride the hot hand when it comes to playcalling; if Campbell becomes that guy on Sunday, he definitely could become more involved.
"We just kind of keep playing the hot hand, somebody gets momentum and all of a sudden teams start adjusting to them, then boom we adjust, and we got the personnel to do that," Reich said. "I think our guys know that and we just tell them be patient. The ball's going to come their way."
JJ Stankevitz: I couldn't tell you what exactly the Colts will do to Donald other than, obviously, No. 99 is going to be a focus on Sunday.
"Aaron Donald is an elite defender, very good at what he does, his ability to beat o-linemen," Brady said. "Just like any other team, you figure out what their strengths are and obviously he's one of their strengths on defense and then you try to game plan around it where potentially you try to get some double teams when you can. Sometimes the front calls it where you can't, but you try to as much as you can."
As Brady mentioned, though, it's not necessarily as easy as just saying let's double team him on every play. But he does force teams to try to minimize the number of snaps he's one-on-one against an offensive lineman.
"If you leave him one-on-one it's an issue. It's an issue," Colts defensive coordinator Matt Eberflus said. "What teams will do with him is they'll do different things with him – they'll put two guys on him, bring in the center, bring in different guys to him. That's just who he is. He's done that for a long time and he's a special, special guy."
Tyler Heavin, Pocahontas, Ark.: Will Mike Strachan see more snaps this week? The man is a monster. Need to give him his reps. He could definitely be a starter if given the opportunity.
JJ Stankevitz: The Colts used Strachan situationally in his NFL debut - both his targets came on third down - but he did an impressive job with the work he got over 18 snaps.
"(He showed) that he can be relied upon, that he's growing and that he can contribute to the offense and I thought he did a great job with his opportunities," Brady said. "He had the early third down conversion, then he had a nice big one on third-and-long while we were backed up. He's just going to continue to grow and we're looking forward to that."
And I go back to what Reich told me in that preseason Q&A I linked in the question about Campbell - the Colts will ride the hot hand as much as they can. If Strachan continues to show he can make plays and be relied upon, he absolutely could get into that hot hand discussion.
Douglas Podgorny, Lyons, Ill.: Why didn't Marlon Mack get any touches vs. the Seahawks?
JJ Stankevitz: I got a few questions this week about Mack, who was active but didn't get on the field in Week 1.
"We planned to get Marlon involved, it just didn't go that way this past game and it was game one," Brady said. "We do plan on getting him involved and we'll see how the plan shakes out this week."
Hines ran the ball well when Taylor was on the sideline, for what it's worth. We'll see if Mack gets on the field in Week 2.