Colts.com readers can submit their questions to have a chance of them being answered in our Mailbag series.
Let's get after this week's questions:
Andy Held, Indianapolis, Ind.: This is more of a comment. I am a die hard Colts fan, not a fair weather fan. I have been a Colts fan sine the late 1960s. When they moved to Indy I got season tickets. I've lived through a lot of bad football through the years.
Here's my comment. Everyone needs to remember that our starting offense has never played together this year. It takes time for the players to get used to one another and how they play. We started off last year bad. The only difference was that we were playing bad teams, so we won a few. After the Cleveland game last year everybody wanted to run Rivers out of town on a rail. I think everybody needs to have some patience and give this team some time to jell and quit bad-mouthing them.
JJ Stankevitz: Andy brings up a good point to kick off this week's mailbag. Let's check out how Philip Rivers compared to Carson Wentz early in each season:
Rivers (2020, through five games): 70.1 completion percentage, 8.0 yards/attempt, 4 TDs, 5 INTs, 89.4 passer rating
Wentz (2021, through four games): 63.8 completion percentage, 6.7 yards/attempt, 5 TDs, 1 INT, 92.1 passer rating
Both quarterbacks have taken different paths to roughly the same passer rating – Rivers was maybe more aggressive but turnover-prone; Wentz has done a tremendous job taking care of the ball, especially given he led the NFL with 24 turnover-worthy plays (as rated by Pro Football Focus) in 2020.
For Wentz, the foundation he's built early in the season has been one of ball security; the Colts hope to build more explosive plays on top of that foundation as the season goes on.
"He's playing the position in a good manner (with ball security)," coach Frank Reich said. "Now it's just a question of continuing to make the kind of plays we know he's capable of making – plays that are big plays in games. But now you have to pick the pace up on that without giving back too much on the other side because it's risk, reward. You take chances to make plays and there's always a chance that you're putting things at risk. So, it's that fine balance.
"I think Carson is at a spot right now in his career in this specific season where I think he has the right mindset. I think he's got a very mature mindset on it. He understands what his role is and what he has to do for us to play winning football on offense."
The Colts went 6-2 in the second half of the 2020 season; in 2018, of course, this team started 1-5 and wound up ripping off nine wins in 10 games to make the playoffs. Yes, the Colts are 1-3; but as Andy said, it's far too early to count them out of anything.
Don Bruner, Indianapolis, Ind.: Will T.Y. be available for Monday Night Football?
JJ Stankevitz: I got a few questions about T.Y. Hilton this week. The update is coach Frank Reich said Monday Hilton is "closer" but added there's "nothing worth reporting at this point." Hilton is on injured reserve; when he returns to practice, the Colts will have a three-week window during which he can be activated to the 53-man roster. 
With Hilton out, though, Reich said he's been pleased with how the Colts' receivers have played. 
"We try to spread the ball around, Reich said." "Pitt (Michael Pittman Jr.) has continued to make plays for us. We're happy about that. Zach (Pascal) is a nifty route-runner and tough guy, he can do all those things. Parris (Campbell) had a couple nice plays this last game. We need to continue to get him involved. We were able to throw him a deep ball with his speed. We didn't connect on it but came close. Ashton (Dulin), we have a lot of confidence in. He stepped up big time – Carson (Wentz) stepped up in the pocket, that was a big-time play. Then Mike Strachan, we only got him a couple plays, but promising. Then DeMichael (Harris) – so a good young group.
"I think they've stepped up in T.Y.'s (Hilton) absence. We miss T.Y. He's our leader, but I think the guys have stepped up strong."
Ben Bruhschwein, Fargo, N.D.: Why do you think Nyheim Hines has seen up and down touches all season when he's one of the offense's most explosive weapons? On the other side of the ball, how do you think we'll stop the Baltimore offense as they have been able to run and throw the ball effectively?
JJ Stankevitz: Reich said his initial starting point for dividing up carries in a given week is Jonathan Taylor with 20, Nyheim Hines with five and Marlon Mack with five, but that of course can change based on the flow of the game. Hines has had up-and-down touches, certainly – 26 of his 32 touches came in Weeks 1 and 3 – but that depends, again, on the flow of the game. The good news is Hines is averaging 6.1 yards per touch and continues his steady year-to-year improvement with the ball in his hands:
2018: 5.0 yards/touch
2019: 5.4 yards/touch
2020: 5.7 yards/touch
2021: 6.1 yards/touch
As for the second part of the question, a few things that go beyond the kind of assignment discipline and strong technique needed to slow down the Ravens' offense:
First, Baltimore's offense stresses opposing defensive ends to make the correct reads on a high volume of plays each game.
"Mainly with the d-ends, when they leave them unblocked, knowing when you got the dive, knowing when you got the quarterback and playing fast so that the linebackers can come over the top and get in their fits fast as well," defensive tackle DeForest Buckner said. "It's really going to be off the d-ends this week and knowing their keys and knowing when they've got quarterback and knowing when they've got dive."
So this'll be an important game for Al-Quadin Muhammad (who's, maybe quietly, having a rock-solid start to the season), Tyquan Lewis (who had an impressive TFL in Week 4), Kemoko Turay (who had two sacks in Week 4) and the rest of the Colts' defensive ends to play at a disciplined, high level. We'll see if Kwity Paye gets in that mix, too – he didn't play in Week 4 with a hamstring injury and did not practice Thursday.
"The majority of the runs are pretty much an option," Buckner said. "That makes a lot of defenses be a little hesitant in their run fits and little things like that. You never know when he's going to pull it. So, if you've got the quarterback, get the quarterback. If you've got the dive, get the dive."
That's the schematic emphasis; from a statistical standpoint, the Colts need to win on first and second down to force Baltimore into some favorable third-and-long downs. All three of Lamar Jackson's interceptions have come on third down this season; the Ravens are 26th in the NFL with a 34 percent third down conversion rate. That might be where the Colts can be opportunistic on defense; the Ravens, interestingly, enter Week 5 with a minus-one turnover differential (the Colts are plus-four).
Richard Jones, Peoria, Ill.: With the baseball playoffs in full swing I often reminisce on the great Deion Sanders' ability to play 2 sports at the professional level. If you had to pick 1 Indianapolis Colts player who could have even moderate success in the MLB who would it be? Obvious answer being a QB who can pitch so flex those creative muscles!
JJ Stankevitz: Let's start here. Carson Wentz was a three-year starter at first base on the Bismarck (N.D.) Century High School baseball team. And also in the Colts' quarterback room:
Defensive end Taylor Stallworth and practice squad linebacker Malik Jefferson also played baseball in high school. And Isaiah Rodgers can pull off a Tampa Bay Rays jersey: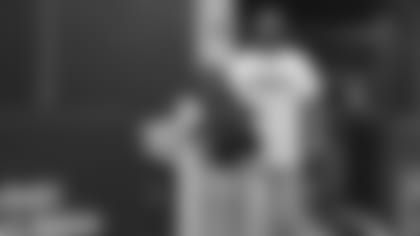 But since you're asking for some creativity, I do have a few thoughts:
Julian Blackmon would make a tremendous center fielder with his range and speed.
5-foot-9 Nyheim Hines reminds me of 5-foot-6 Houston Astros second baseman (and former AL MVP) Jose Altuve.
I'm a White Sox fan who looks at center fielder Luis Robert (6-foot-2, 210 pounds) and sees a guy who could probably have been a great wide receiver if he grew up with football in the United States. So give me 6-foot-2, 214 pound wide receiver Zach Pascal as a guy who could hit 30 dingers and steal 30 bases.
Would anyone doubt Quenton Nelson's ability to slug 40 home runs? I wouldn't.
Bobby Okereke's favorite sports team growing up was the Phillies and he literally plays MLB.
Megan Turtu, Kadena Air Base, Okinawa, Japan: Hello, I need your help. You see my husband is an Eagles fan. Back when the Eagles and Patriots faced off in the Super Bowl, I told my husband if the Eagles won he'd have exclusive naming rights to our first born. So anyways now we have a four month old named Carson. But obviously I can't have my son growing up thinking he's doomed to be an Eagles fan. Could y'all help a sista out with this household dilemma? His dad may have won the battle but not the war.
I'm hoping to solidify your support in this time. My husband is active duty Air Force and we're living in Okinawa, Japan. I've gotta make sure we have more Colts fans on island and that starts with baby Carson. Thank you kindly.
JJ Stankevitz: This is my favorite question I've got since I started doing these mailbags. Thank you for your husband's service, Megan, and I will say I don't see anything wrong with being both an Eagles and Colts fan. We're only guaranteed to play the Eagles once every four years and the pipeline between Indianapolis and Philadelphia brought us Frank Reich and Wentz here, and brought Nick Sirianni to the Eagles. Good luck and hopefully you can not only convince Carson to be a Colts fan, but more folks overseas in Japan.