 INDIANAPOLIS – Readers of Colts.com may submit questions during the week and have a chance to have them answered during the middle of each week.  **Submit your question here. ** Here are responses to some of the questions received recently.  We thank you for your interest in the Colts.
SETH S. (from Worthington, IN) What would I have to do just to dress up in a Colts uniform for one game only?  That is all I'm asking.  My dream has always been wanting to play for the Indianapolis Colts, but I think a good opportunity would be to dress up in a Colts uniform for one game only.  I know that would be the best thing to ever happen to me in my life!!  I AM #COLTSTRONG.
A:  Sounds like you're a distant relative of **George Plimpton (click here)**.  I certainly understand your dream.  It's shared by many.  I don't think this one could be done, but it never hurts to ask.
BLAKE E. (from Lansing, MI) Does Andrew Luck feel comfortable with the center he has snapping him the ball?  Thanks.  GO COLTS!
A:  Absolutely, he and Samson Satele are on the same page.  It's an essential synergy to have.  We're solid on a lot of fronts, and that's one of them.
BRUCE C. (from Windsor, VA) What happened to the 'Sounds of the Game?'  That is the only plays of the game I get living here.  They won't show Colts football, even if it's the main game.  They will show any game but the Colts.  I really counted on (that feature).  If Willis McGahee is still available, he is still a stud on short yardage and a good backfield blocker.  I know he isn't 26 or 28 years old, but neither is Ahmad Bradshaw.
A:  It is on www.colts.com, and it's the Klipsch Sounds of the Game.  It posts either Monday night or Tuesday morning, which may be a bit different than last year.  Cory Redding![](/team/roster/cory-redding/7600b43d-3f85-4927-909b-694d56f3dd51/ "Cory Redding") (click here) was week one, Darrius Heyward-Bey was week two.  Wish you got to see us more.  You're a victim of the Redskins and Ravens.  Thanks for the mention of McGahee, you're not alone in the mailbag.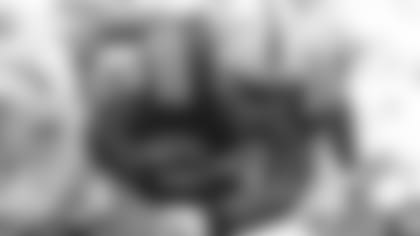 JEFF P. (from Bristol, CT) The heck with balance.  Andrew Luck is our best player, 23 passes (against Oakland)?  Not enough!  We need to pass more!  Dump passes to our RBs.  More T.Y. Hilton and DHB!  We have two very good TEs.  Reggie Wayne is a beast, and with pass-first it will open our run game!  Enough said!
A:  A pass-happy attack is an unbalanced one and likely would lead to more harm than good.  We're running the ball for a good average, and that augments the passing game.  I agree we have talented receivers, but we can't get too tilted.  This past Sunday was 46 pass calls, 26 rushes.  We've rushed 25 or more times seven times in the last eight games and won six times.  We had better than a 4.5 average four of those times.  There were a couple of runs we could have converted last Sunday that would have helped, but the approach you favor might not do us favors.  You'll see our receivers get their share over 16 games. 
BOB B. (from Deltona, FL) So far Ryan G. has pushed the right buttons.  He's made some very wise decisions regarding the building of this team, and I hope he continues making upgrades to make this team better.
A:  We love Ryan's batting average, and in a very difficult job.  His challenges are daily, and he's a great person having in the catbird seat.  I know he appreciates your support.
CARL H. (from Bloomington, IN) Are the Colts going to wear the alternative jerseys this season?  I would love to see them wear the throwbacks again like the team did in 2010 at Philadelphia.  Is this true the team will be wearing the old uniforms sometime this season? **
A:  No truth to it.  We have no plans for throwback uniforms this year.  I loved that style we wore in Philly, too.  I hope it makes a return, but next year would be the earliest.
RUSSELL J. (from Omaha, NE) I believe in this offensive line.  Let them work out any little problems they had.  I did hate to see Andrew Luck take those hits, but we are making progress.  Will we making any line changes if this continues?
A:  The loss of Donald Thomas hurts.  Hugh Thornton played pretty well in a moment's notice.  Thomas' long-time absence means time for others, but we want stability and not the constant interruptions we saw last year.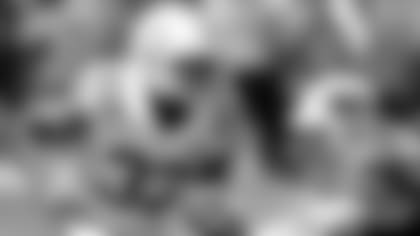 BRUCE C. (from Windsor, VA) I hate that Vick Ballard is hurt, but this is about the possibility of Willis McGahee.  I think Kevin Smith is a good option.  He hasn't been used much recently and he's young.  We already have Kerwin Williams.  I just have no faith with the injury record of Ahmad Bradshaw and Donald Brown.  I think these guys should all be brought in and evaluated, even Delone Carter could be brought back and evaluated with the rest of them.  The best option though I think is Kevin Smith.
A:  Quite a list there, Bruce, and I had to edit out Beanie Wells because of the length of your comments/questions.  You've provided a roll call of possibilities.  How we proceed is anyone's guess.  These are matters that concern Ryan Grigson daily.  This area could be one of them.  Then again, it may not be.    
MICHAEL L. (from Columbus, IN) Why do our linebackers play so deep, and they wonder why they run all over us?  With all the upgrades we got, how come when the d-line plays they get no push?  Why don't we take more chances on fourth-and-one or shorter?  I mean Andrew can run that.
A:  Take Terrell Pryor away, and opposing rushers are getting 3.4 yards a clip over 47 rushes.  We didn't get the pressure we wanted in week one, but we had five sacks against Miami.  Are we perfect?  No, but we're making some plays and the takeaway rate is showing signs.  As for Andrew running, you sure you want that in short yardage?  If it happens, it's likely not by design. 
EWOTHA G. (from Columbus, OH) I see a lot of similar traits in Andrew Luck that Bert Jones had leading the Colts.  Luck's running ability and accurate passing really stand out as Jones' did back in the 70's.  How do you compare the two QBs?  I'm a bit concerned about Colts facing read-option teams with the 49ers and Seahawks on the schedule.  What are the Colts doing to prepare for these teams?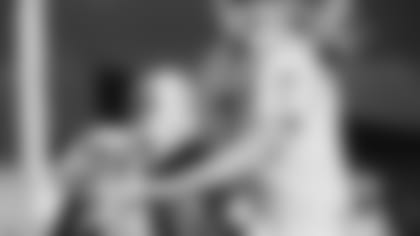 A:  Andrew reminds me a great deal of **Bert (click here for Jones footage)**.  Both are tremendous leaders, though Bert may have been one more outwardly so.  Andrew and Bert could carry teams on their shoulders when needed.  Both have great arms and are mobile enough to provide a difficult dimension when the pocket is not clean.  Their cerebral abilities are terrific, plus both had winning intangibles.  I think you're right in what you say.  They were not the staunch pocket passers more like John Unitas and Peyton Manning.  Injuries may have curtailed Jones after eight seasons.  Let's hope for longevity to tip in Andrew's favor there.  One thing – Bert is tremendously high on Andrew.  He loves watching him play.  As for being ready for the read-option, the coaching staff worked on it in the off-season.  We feel good and certainly need to execute.
KATIE S. (from Valparaiso, IN) Is there anything that can be done about getting networks to show Colts games in Indiana?  I live in Northwest Indiana and there never seems to be a problem with them getting every Bears game regardless of where they are playing, but we only get Colts games if they are not playing on the same day of the Bears!  Help!  I need my Colt fix!
A:  Katie, thanks for a great letter.  We certainly claim the state of Indiana for ourselves, but how the NFL and the networks view it is a bit different.  As the crow flies, Valparaiso is closer to Soldier Field than Lucas Oil Stadium.  In terms not created by us, Valparaiso is not a "primary market" for the Colts.  I would suggest you create momentum with others who feel the same way and write your network affiliate and/or the NFL headquarters.  If so, do it tactfully.  Thanks for the support.  One other option would be the NFL Sunday Ticket.
DEREK H. (from Sebring, FL) Do you think Chuck Pagano has the same attitude that Bill Belichick has?  He says if he believes that his team can make a first down on fourth down, he will go for it to beat another good team.  There will be (consequences) to pay if they don't make it.  I do like that he is willing to risk things to beat teams.
A:  I wouldn't want to compare Chuck with any other coach, and I do have an appreciation for the quality of coach Bill Belichick is.  As we saw here a couple of years ago, Belichick had faith in his team in a clutch moment to go for it on fourth-and-short **(click here for photo montage of 2009 Patriots-Colts game)**.  While that did not work and the game turned dramatically, he showed faith in his players and was trying to win a hard-fought game with one play.  I thought he made the right call.  I think Chuck has demonstrated belief in his players and measures moments like that on an individual basis.  People forget that coaches have the true pulse of their teams.  They know in the fishbowl in which they live that every decision is open for endless debate/praise/criticism.  Chuck will do what his gut tells him to do, and I don't think Colts fans ever have to worry about his decision prowess or faith in his players.  He had a great mentor in his father, Sam, and he has years of experience on which to draw.  As for last Sunday and trying a 52-yard field goal early in the game, I thought it was the right call.  Adam had plenty of leg, and points early could have been big.
MARTY M. (from Chicago, IL) If I was offensive coordinator, I would mix it up like Bill Parcells.  Though the run is paramount to be successful in the playoffs, why not air it out one week and then run it the following week, fake some punts, go for it on fourth at midfield at home?  With the crazy talent at WRs, I would go no-huddle against teams like Miami.  Terrelle Pryor tired us out last week, and we should give that medicine to Miami.  Cleveland played a slow tempo, and Miami defense took advantage.  I hope the Colts don't do that.
A:  We had a pretty good plan against Miami, but just didn't make enough plays.  Also, our second half production was not quite what we wanted.  Still, we're running the ball well **(click here for Ahmad Bradshaw TD run)**.  Mostly solid protection was altered by a few errors and a good Miami defense.  I think Chuck has a flair that fits this team well.  Players respond to him, and that's critical in any coach.  In turn, he shows faith in them.  As 16 games play out, I think you will like his approach.
BOB M. (from Milwaukee, WI) Considering the entire game and not individual plays, I thought Miami won the battle up front on both sides of the ball.  Tough for the Colts to win under those circumstances, and give credit where credit is due – Coby Fleener had his best game as a Colt; LaRon Landry is the real deal.  Looking forward to the matchups with SF.  (Where does the league fine money go?)
A:  It was a game where both lines (and teams) had their moments.  It was maddening to make plays, but not enough.  There were times Miami just got the edge.  Still, we're 1-1 and have a lot for which to play.  Back-to-back road games will be a test.  As for league fine money, 50 percent that is collected by the NFL goes to the Player's Assistance Trust.  The other half goes to charitable associations selected by the league and the NFLPA.  Team fine monies collected go to charities selected by the Colts.  Well-reasoned letter, Bob.  Some had emotions more raw (see below).
ROB E. (from Ocala, FL) It (stinks) being a Colts fan, almost lose to the Raiders, lose to the Dolphins, going to lose to the 49ers and Seahawks and go 1-3.  Are we ever going to try to WIN games and play not to lose games?  We were up 20-17 and went three-and-out?! C'mon, every other team in the NFL plays to win, why don't we?  I will start researching draft picks because that's the only thing we can look forward to now (4-12 prediction).
A:  Rob, I edited some of the words that you mailed in 11 minutes after the final gun.  Coach Pagano was addressing the team right then, and it was pure disappointment in the locker room.  No one was happy.  Not to sweep things under the rug that need correcting (and have been), but we're 1-1, just like last year.  Sure, the losses of Vick Ballard and Donald Thomas hurt.  Sure, we should have made more plays, but we'll get things ironed out.  Don't know how long you've followed the team, but we have won more than our share when you go through the years.  I bet about 29 other teams would take our accomplishments over an extended period.  We'll win again, and I hope you calm down.
JACKIE W. (from Kokomo, IN) How do you apply for a slot in the gymnastic side of the cheerleading squad?**
A:  The Blue Stampede is a new game day entertainment piece that includes professional male and female tumblers and stunters.  The 2013 squad has been finalized.  At the end of this season, we will post information on applications for the 2014 squad on www.colts.com 
M. P. (from Charlotte, NC) Colts fan here.  This is not good.  We barely beat the Raiders and we just lost to the Dolphins.  We have the 49ers next.  Where and when are we going to see the 3-4 hybrid defense?  Was that just a ploy by the coach just to say that we would have a strong defense?
A:  We've had some pretty good moments so far.  Oakland's offense was a bit different than we'll see with San Francisco and Seattle.  It was a good test.  We gave up four scoring drives Sunday where Miami ran 22 plays and only hit third down twice.  That was a problem.  Otherwise, the defense began and ended the Oakland game with takeaways, and it had one Sunday in the second half to set up a go-ahead score.  Consistency is the key.  We're in the hunt, and I think it will be a successful season on that side of the ball.  It has been already in some areas. 
MATT E. (from Cumberland, MD) Why did the Colts choose to throw four straight passes to end out their drive against the Dolphins?  Ahmad Bradshaw was averaging 4.3 yards per carry.  Why not run the ball?  We had two time outs as well, so going with a run or two did not seem like a stretch.  If we pick up a first down, that forces Miami to burn a timeout or both so they would be left with no timeouts.  Seems to me our OC cost us that game late.
A:  I won't fault your thinking, but I won't fault our people either.  They are in jobs where observers can do it, however.  A number of guys in the locker room pointed fingers at themselves and an extremely tough moment was made better by players doing that instead of doing so at others.  We've never had that internally, and it is not part of our nature.  Teams with that culture can't win consistently.  You're among a few people who have brought this up, and that goes with the turf in this business.  It's part of what makes our game so interesting.  **Andrew Luck (click here**) was self-analyzing and thought shorter routes on first or second down might have helped.  Glad you wrote, and I'm sure you'll stay behind us.
TODD J. (from Indianapolis) I love reading the mailbag, you always put in a great perspective for us fans.  I had a few questions.  How is Cam Johnson doing?  Unless I missed him he did not play Sunday against the Dolphins, and I didn't know if he was going to be worked into the scheme soon, it would be great to see if he can produce. Also, do you know what round the conditional draft picks are that we have from Caesar Rayford and Johnson and A.Q. Shipley?  It was great to see Hugh Thornton do well on Sunday.  I just wish it could have been with Donald Thomas getting injured. Thanks.
A:  Cam has been in on 29 special teams plays in the first two games (18 against Miami), but has not been on the field defensively.  He will keep developing.  Remember, Cam joined us late.  As for the conditional picks, I cannot shed any light on them for you.  Teams rarely identify publicly the rounds involved and almost never what the trade conditions are.  Many times conditions are not achieved.  Sorry, but you'll have to wait.  Hugh's developmental process will be sped up a bit with the tough injury to Donald Thomas.  In a perfect world this doesn't happen to a solid veteran like Thomas (who Colts fans probably don't know all that well yet).  The NFL is far from a perfect world, though, and we hope Donald recovers quickly and completely.  Donald's loss is a big blow.  Hugh missed a good portion of camp and two preseason games with an injury.  He is a great prospect who will learn on the job faster than planned.  How he's played so far is a credit to his approach and to the coaches.  
MICHELLE M. (from Fort Wayne, IN) I'm a huge Colts fan.  After this week's loss, I'm beginning to question Pep Hamilton.  I'm not sold on him yet.  He is so conservative with his play-calling that we rarely score.  When we were down in the red zone, he should have run the ball at least once to at least try and get some yardage instead of trying to force passes and score quickly. … Is he as good as he says he is, or is this what Colts fans should expect?  Had we scored, we would have left plenty of time on the clock for Miami to catch us.  Our defense shouldn't have gotten rid of Caesar Rayford, that was a costly mistake. … I hope something changes because it was a heartfelt loss, and we should have won!
A:  I think it's way too early to draw any conclusions on Pep, or anyone else.  We have a two-game sampling, and many times there are reasons deeper than meet the eye for what happens on the field.  There were instances where we could have done better.  I know we want to get more production in second halves, but I would not rush to any judgments.  That's hard to do for some for a loss like we just had.  We'll correct what needs to be done.  (All that said, from what I see here about Pep, I like a lot.)  As for Rayford, I still think it was a good move.  We got a draft pick for him and can build with it.  We did get five sacks the other day, and Bjoern Werner was part of the effort.  It's amazing what Caesar touched in so many fans, but we'll be fine with the trade.  Like others who have expressed their feelings, thanks for doing it, too.
HAROLD M. (from Kendallville, IN) I have been a long-time Colts fan.  I really enjoy the Mailbag each week.  I just wanted to comment about the new cheerleading squad that we have at the home games.  I really enjoy the college atmosphere that they bring to our games.  Also, are there any plans on adding a name to the Ring of Honor this year?
A:  Harold, glad you love the mailbag and the game-day atmosphere.  I think the Blue Stampede is a good look, too, and we want fans having a great time.  I'll pass along your compliments.  As for the Ring of Honor, it looks like additions are on hiatus for this year.  No plans at the moment.  There still are worthy people out there as you know, and we look forward to adding more.  People like you already are represented in our Ring of Honor by the 12th Man.  You guys have sold out 89 straight games, and Reggie Wayne is the only Colt ever to play in a game that didn't sell out (2003). 
JEFFREY B. (from New Albany, IN) I really enjoy the press conferences on Colts.com, but I'm having trouble hearing the questions from the reporters.  Is there any way we could get a microphone out to them?  I really hate having to guess what the questions are, LOL!!**
A:  You can't see it, but just to the speaker's left is a microphone pointed toward the reporters.  I'll see if we can adjust it since you likely are not alone with that issue.  I did want you to know we have that covered.  We'll try to improve the sound level if possible.