 INDIANAPOLIS – Readers of Colts.com may submit questions during the week and have a chance to have them answered during the middle of each week.  **Submit your question here**.
Here are responses to some of the questions received recently.  We thank you for your interest in the Colts.
BOB B. (from Deltona, FL) I read your reply regarding the trade of Caesar Rayford. Seeing him in preseason, this guy was impressive, and his size was amazing.  Ryan Grigson must have other plans in mind.  So far, he's hit the right buttons, and I imagine he'll hit a few more all season long to make this team stronger.
A:  Caesar touched something with Colts fans, and we all want to have a dominant defense.  The top five is a goal of Chuck Pagano. Caesar caught some eyes, as did Ryan's trade of him.  People will think what they will, but Ryan has had a nice touch and solid instinct.  I think this move is a continuation in that vein, and I hope the draft pick involved with the deal pays dividends. 
JOHN C. (from Bellerose, NY) Do you think trading Caesar Rayford was a good move? I thought he was the most promising (player) in preseason to help with defense.  Plus if Bjoern Werner is ready, it would have been a very good third-down combo to stop the pass and get us off the field.
A:  You can see my comment above.  I think we'll find the pressure we're seeking, and it's really kind of funny that of all the preseason moves this one has drawn the biggest reaction.  I don't think anyone would have predicted that in late July. 
PAUL C. (from Illinois) I was interested whether the Colts would employ any of the three recent trends/innovations from college football – the pistol formation, read- option and the up-tempo, Oregon-style offense.  I don't remember seeing any during the preseason.  I wouldn't really care to see too much of the pistol formation or read- option, but I hope they run more no-huddle.  Andrew Luck is perfect for this.  We all saw how great he was in the last two minutes of halves last year, and how well he performed no-huddle against Green Bay.  Consider this fact, during Luck's last season at Stanford, he called his own plays 28 times in 10 drives.  The offense averaged 8.9 yards per play, and scored 6 TDs, and that was as a college QB.  Pep Hamilton knows all about this, and coached against Oregon.  Does he plan on running no-huddle more?  I hope so.
A:  We have stated we prefer to have Andrew upright, in the pocket and hurling against the defense.  We want him to tuck checkdowns and not tuck and run so much.  There will be times he runs, but it should be prudently (like last Sunday for the score).  We certainly have the capability to go up-tempo.  I don't think we would refrain from anything that is a strength and applies stress on the defense.  You provided some nice numbers, and Andrew is the perfect triggerman for us.  He and the no-huddle go hand-in-hand.
TERRY M. (from Madison, WI) Big fan of the Colts since 1957.  I have watched both John Unitas and Peyton Manning play in person and on television.  I think Unitas would have been one of the top quarterbacks, if not the best, in present day pro ball. How do you feel regarding this?**
A:  You and I share a great affinity for **John Unitas (click here)**, and players like he and Peyton Manning are timeless in their styles and unsurpassed in their leadership qualities (to be fair, there could be an equal or two).  Not too many quarterbacks today call their own games.  I bet John would if he were around today.  Seeing how he handled himself with modern-day coaches would be fun to watch, and I doubt he could play any other way that he did.  Watching him with today's media scrutiny would be interesting as well.  He may have had to make a change or two, but we'll never know.  The greatest today?  That's a hypothetical I won't bite on.  I can't be penalized for thoughts, however.  I am sure you are asking this because it is the 11th anniversary of John's passing.  That was an emotional time for everyone, and it was a compelling service that brought together the greats in many avenues.  **To salute John once more, click here for a video**.   As one final opinion, John and Peyton were **Secretariats (click here)** among the hosses.
CLAYTON L. (from Melbourne, Australia) For a team that primarily runs a 3-4 scheme the team seems light on true inside linebackers.  I am really concerned about their ability to stop the run in the secondary.  If LaRon Landry or Antoine Bethea get injured, it may be the Colts of old like Moses parting the Red Sea!  Do you think Ryan Grigson will consider some early trades if we can't stop the run?
A:  Clayton, your dedication to the team is very evident with this letter, and we hope you keep up with us.  Don't fret about injuries that haven't happened.  Let's just take it as it comes.  We'll try to get Pat Angerer back out there.
GINGER M. (from Goshen, IN) Regarding Colts high school coach of the week, Tom Wogomon of Northridge High School, I thought Chuck Pagano would like to know that Coach Wogomon is a leukemia survivor.  Diagnosed in 1997 with acute promylocitic leukemia, Tom went into remission later that year, then relapsed a year and a half later.  After a bone marrow transplant, he has been free from the disease for 13 years.
A:  I will pass that along to Coach Pagano, and thank you for sharing the wonderful news of Coach Wogomon.  There are victories in life that matter far beyond the field.  We all love hearing about them, and I wish coach and his family many healthy years to come.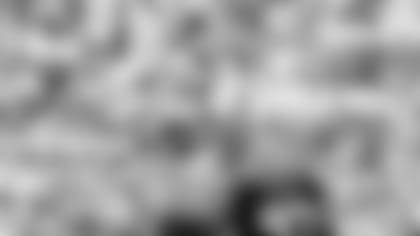 D.J. S. (from Waxahachie, TX) Will Jim Irsay ever pick up Terrell Owens?  I think he can really help us win more games.
A:  I really doubt it.  It might be that our blue pants from 1995 would make a return before that would happen, although no one has a greater regard for what Owens accomplished as a very talented player.  Owens was in that Marvin Harrison era in the NFL where there were some tremendous receivers.  With almost 16,000 reception yards and 153 TDs, his likely next location is east of Indianapolis -- in Canton, Ohio.  (This response really was made as an excuse to run a photo of the blue pants which have been asked about frequently this year.  Enjoy, if you can.)
MICAH R. (from Philadelphia, PA) I've been a Colts fan since 1998 and I've loved every minute of it.  Since the draft, I've been following the undrafted free agents and one who caught my eye was Da'Rick Rogers.  I believe he is a great asset to this team. He's a physical guy who shows flashes of greatness.  When is he joining the 53-man rotation?
A:  There is no timetable for Da'Rick or any player on the practice squad to move to the active roster.  He has a wealth of talent and just needs to listen to coaches and veterans around him as he shapes it.  This is a great chance for him, and we hope he uses it to the max.  A number of players across the league have used time on the practice squad in getting careers started. 
WYATT M. (from League City, TX) Is it possible that we could see some read-option this year with Pep Hamilton's new offense?
A:  Creating conflicts for defenses will take many forms, but I don't see the read-option happening here.  Andrew has mobility and burst, but we'd rather he inflict damage through the air.  Andrew has said the ball needs to be in playmakers' hands, and he'll put it there.  I wouldn't leave the light one while waiting for that offense to be run here.
ROBERT R. (from Stony Point, NY) I've been a big Colts fan my whole life.  I'm 47 and my favorite player back in the 70's was Bert Jones.  He was a very good quarterback. How come the Colts never honor Bert Jones?
A:  About a year ago, Jim Irsay convened a reunion of the 1975 team here in Indianapolis, and Bert was part of the gang.  It was great seeing him, and he does have a good relationship with the team.  Bert still is a Colts fan, and he is welcome here any time he wants to come.  We've a few of the Baltimore-era players attend games.  Bert's a classy guy (aren't most LSU Tigers?), and he still looks to be in playing shape.  You picked a great guy to follow, and it's too bad that injuries altered his career.  He's always been close with the Manning family, and he is very high on Andrew Luck.  **Click here for Bert Jones video.**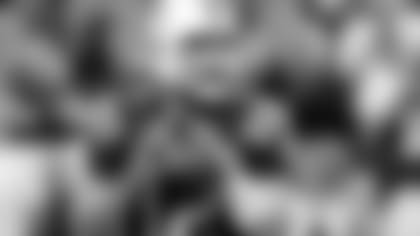 CHRIS S. (from New Jersey) Here is my game plan for the Miami game, to borrow from Doug Collins about Michael Jordan in 1989, 'Give the ball to Andrew and everyone else get out of the way.'  What do you think?
A:  Doug Collins was a pretty good judge of things, and Coach Pagano says there is no one in the league he would rather have under center with a game hanging in the balance than Andrew Luck.  Andrew didn't win it last week by himself, though.  The NFL is not that way.  The NBA maybe is a bit more styled to individual talents, but even Michael Jordan had a solid supporting cast.  I won't draw any comparisons for Andrew with Jordan or anyone else.  Just let him be himself.  It's worked so far.
BOB M. (from Milwaukee, WI) Whew, all Colt fans can exhale now!  The Cardiac Boys were at it again.  The TV booth suggested more than once that Colts fans must be disappointed that their team didn't pull away from the rebuilding Raiders.  Hogwash. I think we all know how hard it is to win any game in the NFL.  How many times are games decided by a tipped ball or crazy bounce?  Savor the win and move on.  (Hope that Dwayne Allen recovers quickly.)
A:  Bob, well put.  I've known of no team that ever throws a win back into the water.  Rich Gannon was on the broadcast and in 2000, he led a 31-7 Raiders second-half charge to come back and beat us after we had a 21-point lead.  He did so largely with his feet – three rushing TDs.  It was looking to be a rerun, but we rallied.  Coach Pagano said we didn't play our best and that we want to do better next week and be playing our best ball as the season runs its course.  All you can be is 1-0 after one game, and we're there for the first time since 2009.  (Note:  We have a local media type who is uncanny in hitting things on the head squarely and on his pre-game show he predicted a 21-13 win that was tougher than fans would think.  It struck me when he said it, and I thought about it a couple of times during the game.  Conrad, insightful call.)
DAVID H. (from Sebring, FL) After watching the game, our offensive line must do better in run blocking and pass protection.  The line did not open up any big holes and failed at giving Andrew Luck more time.  The Raiders out-rushed us and did a better job of controlling the game.  Also, we must contain these running QBs better.  We are going to face many more.
A:  I don't think any team in this league ever plays perfectly in winning.  We certainly weren't perfect Sunday, but we won.  We also accomplished a few things we set out to do, and a talented opponent showed us where there is work to be done.  Building blocks so far?  You bet.  Are there areas to address?  Sure, there always are.  Coach Pagano told the team after the game it hadn't quite played where it needed to and that this week needs to be a better performance.  We're 1-0 and will face some of this style of play again soon.  Don't underestimate the working nature of the team.  Thank you for making your point.  I don't mind when readers do so and do it reasonably.  We'll shoot for 2-0.  (This response is being crafted for a number of letters that follow and that have been included.)    
ROB P. (from Tampa, FL) How is Bjoern Werner progressing and why did he not make more of an impact in Sunday's win over the Raiders?  Is he going to be a first-round bust?
A:  A bit of a rough grading scale there, pards.  Bjoern will do fine.  He's played one game, and it was not bad.  Don't quite know where you're coming from, but hang in there.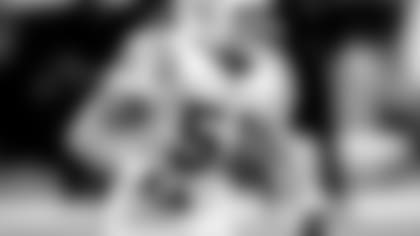 NANCY B. (from Indianapolis) I couldn't help but notice the difficulty our 'bigger' defense had against a running quarterback.  A faster, leaner defense of old would have played better against that threat.  I kept saying, "I wish we had Pat Angerer out there."  The next time we play against a fast QB, I'd like to see the Colts put a fast person on the line to 'stay home' and watch for that.  Am I right in thinking Pat being would have been that guy?
A:  Having a healthy Pat Angerer always is a good thing.  Let's hope he's out there Sunday.  As for the defense, it will acquit itself well, and there were some good things they did.  Two red zone interceptions in a game have not been a common sight in a while.  Hope you stay on board with us.
JONATHAN L. (from Los Angeles, CA) I must say how good it is to have Colts football back.  I am glad we will be playing the AFC West because it will likely mean I can watch more of the games.  What is the best way to watch Colts games without NFL Sunday Ticket?  I cannot afford the cost, and I was wondering if you knew any other way.  It can get a little frustrating for a Colts fan out here.  Secondly, I just want to say how impressed I was by our team.  LaRon Landry was a beast!  He was making plays all over the field.  I couldn't believe it.  He played his heart out.  Vick Ballard also came to play.  He had an almost five-yard average and seemed to keep picking up first downs.  There were some things I couldn't understand.  Our pass rush was almost non-existent.  Pryor is a very mobile QB, and Robert Mathis got that very clutch sack.  The offensive line was in worse shape than ours was last year.  Our line didn't do a great job protecting our QB.  I also wish I could have seen T.Y. Hilton a little more.  He is just a playmaker whenever he's on the field.  I feel as if he's not on it enough to make a big difference.  One last thing, what are the chances our organization will let the 'Hard Knocks' cameras into training camp next year?  Great way to start off the season.  Here's to many more wins on Sundays!
A:  Don't know what to tell you about viewing options, and I hope you can see us as often as you can.  You could move here.  Our interstates are far less crowded.  Thanks for the compliments on LaRon and Vick.  They really both had good games, and I think fans will really have fun watching Vick this year.  He physically seems so much more mature than last year.  I'm sure we'll be working T.Y. into the mix to accentuate his talents.  He's gotten better, too, and opponents know more about him this year.  As for your other comments on the pass rush and offensive line, it's noted and we'll shoot for 2-0.  As for Hard Knocks, it's an entertaining show, but I never have sensed we would be a part of it.
M. P. (from Charlotte, NC) Why are we playing so scared, or as the league calls it, conservative, and where is the so-called 3-4 hybrid defense?  This is very irritating to watch my team play this way.  I understand we are still building, but COME ON MAN!
A:  Rather than offering a **C'Mon, Man (click here)** back at you, I'll just refer to the answer four questions above and note your passion for the team.  Don't ever lose it, and we'll shoot for 2-0.  It's been a while since I've seen so much teeth gnashing and grousing after we won a game, but I've only been here 29 years.  Keep the letters coming.  As a fictional sheriff from classic TV show portrayed from your home area told his deputy, 'I'm only funnin' ya.'  **He also 'funned' football (click here)**.
DAVID T. (from California) Is our defense going to be better this year?  Being a Colts fan for years, it's been real tough watching our defense cost us championships (except the year we won Super Bowl 41).  That defense finally realized in the playoffs that they needed to step up.
A:  I wouldn't worry or celebrate too greatly a one-game sampling from a 16-game season.  It's not representative enough, in my opinion, and I think we'll be fine.
ISAK H. (from Mexico City, Mexico) After the whole John Boyett incident, are there any plans of Boyett coming back on a conditional status at some point of the season? Also, what has been happening to Khaled Holmes?  He has not played a lot.
A:  In the first matter, we took swift and decisive action on a case-by-case basis.  I'll let those actions speak for me, and I don't care to predict the future in matters like this.  As for Khaled, he had an ankle injury early in camp that cost him quite a bit of time.  He's been getting more practice reps and should have a good future.  Playing time on the line as a rookie sometimes is a tough thing to come back.  I think we have a good one in him, though.
STEVEN B. (from Los Angeles, CA) As I sat there and watched the game Sunday, the offense looked like they had their hands tied on the play calling!  Is this what we are going to see with Pep Hamilton as the offensive coordinator?  This is Andrew Luck, step up and throw the ball down the field.
A:  You'll see us do a wide range of things as games come around.  Again like above, it's a one-game sampling.  Stay tuned.