 ](http://careyindiana.com)
INDIANAPOLIS – Readers of Colts.com may submit questions during the week and have a chance to have them answered during the middle of each week.  **Submit your question here**.
Here are responses to some of the questions received recently.  We thank you for your interest in the Colts.
BOB M. (from Milwaukee, WI) Maybe Coby Fleener can play at this level.  Last year I thought he was somewhat intimidated, or that he just accepted his role as the second tight end.  Or maybe he was nursing an injury?  Whatever the case, he sure has stepped up his game.  I'm happy for him, as well as for Andrew, because Andrew can use the help.  It gets a little crazy back there!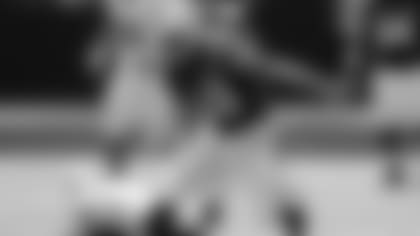 A:  Coby certainly can play at this level, and I don't buy the intimidated mention or the belief by him that he was a second-teamer.  Like all players, there has been a maturation process involved for him, and he did fight the injury bug a bit last year.  Coby is tremendously talented and has shown it this year in practice and on the field.  His contributions have come in handy and as you say, we'll need them going forward.  There are no questions about him on our end.
PATRICK M. (from Missouri) Why do the Colts insist on starting Samson Satele when everyone can see that the O-line plays better without him?
A:  It seems some offensive lineman always gets questioned in the mailbag, and now it's Samson.  Having him at center and Mike McGlynn at right guard works for us, and Mike showed again that he is capable at more than his guard spot.  Coaches do what is best for the team, and that's having Samson at center.  You're entitled to your opinion, though.  We did beat a good Seattle team this past week with Samson in the lineup.
RAY B. (from undisclosed) When will Justice Cunningham be promoted to the active roster since Dwayne Allen is out on injured reserve?  It looks like they could use someone with his strength and character.
A:  Justice is doing well and is important to us, and his ability where he is right now benefits the team.  Moves off the practice squad largely happen with health situations on the roster or when a specific need arises.  So far, that has not happened in his case.  We appreciate your interest in him and just know he is contributing, and that is the best way he can improve his chances in the future.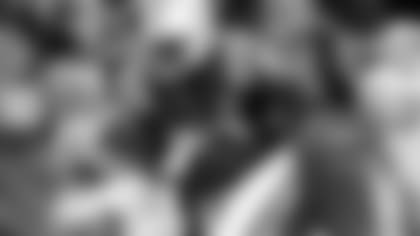 ANDY H. (from Bloomington, IN) Can you tell us how Dwayne Allen is doing?  I hated to see him hurt and out for the season, but hopefully he is healing up well.  Also, what was his injury and does everything look good for him to be back on the field next year?
A:  Dwayne is recovering well from his hip injury and is looking forward to next season.  It was a difficult setback, but he is handling it like a pro.  We hope year three for him goes like last year when he led all rookie TEs in receptions.  Dwayne is one of the most mature young players I ever have come across, and he deserves only good things.
JOE S. (from New York, NY) I am a Colts fan since the 1958 Championship Game.  I just loved Johnny U., Ray Berry, Lenny Moore, Gino M., Big Daddy, Artie Donovan, and Bob Boyd.  I just want to know why there is no one with a "C" (captain patch) since Peyton Manning?  Is this something the team is doing by having different game captains each week?  Thank you.
A:  Last year, Chuck Pagano waited until later in the season and then had the players vote on six captains, two from each phase of the game.  It was a different approach than what the team had for many years, but each coach has his own method.  We have yet to set plans for this year, so stay tuned.  At this point, they have been weekly.
R.J. E. (from Marion, IN) Just one question Craig, and a simple yes or no will suffice. Does Coach have a plan for 18's return?  It's almost time.
A:  One game at a time, partner.  Right now it's San Diego, and that's the best way we can handle our schedule for ourselves and fans.
PHIL D. (from Los Angeles, CA) I said it before, Ryan Grigson is doing a great job, but I think our offense should take more shots downfield.  Trent Richardson is doing a good job, but too many short passes.  Let's fool them with a few play-action plays.
A:  I hear you, and I'm sure you saw Andrew Luck go deep last week to T.Y. Hilton for six.  We're not opposed to taking those shots, but we're going to be smart.  I think those shots will keep coming.
RICO W. (from Tulsa, OK) Da'Rick Rogers is a great talent!  In your humble opinion do you think he will be on the active roster during the season?  Thanks, Go ColtsStrong.**
A:  Da'Rick is a very talented guy.  He was up briefly, but with LaVon Brazill now back on the active roster there may not be change for a bit.  He's working and learning, and that's not a bad place for him to be.  I don't know for this year, but the best thing he can do is be a sponge and see what other young pros like T.Y. Hilton are doing.  They can be great examples, and our locker room is full of them.
*CLAYTON W. (from Melbourne, Australia) Looks like my worries with injuries to our DB's is not affecting our ability to defend the run.  Do you think that Jerrell Freeman reminds you of Gary Brackett in his heyday?  I swear he has gained an extra yard of speed and his awareness rating is off the charts. *
A:  Delano Howell has done a really good job in place of LaRon Landry, and so has Darius Butler.  We hope to get LaRon back soon.  Last week stopping the run was a little rough in the first half against Seattle, but we were better in the second half.  Jerrell is a bit bigger than Gary, but both have mobility.  They both have smarts and great internal drive, so you are right in that regard.  You have to like how Jerrell made three key plays down the stretch last Sunday, and he has a terrific football sense.  Let's hope Jerrell has the staying power Gary did.  You have good eyes, too, from Australia. 
DAVID H. (from Sebring, FL) The Texans dominated the Seahawks in the first half, with their O-line.  Then they went to a passing attack that gave Seattle the momentum to win the game.  Will our O-line be able to play mean, nasty and physical for 60 minutes to beat Seattle?
A:  While we struggled early, we did end up running for 109 yards and having a better performance in the second half.  You don't have to worry about the physical nature of our players.  I'll take them against anybody.  That said, we always have to execute.  At halftime last Sunday, Chuck Pagano and his staff prodded both sides of the ball to do better, and we had a great win.  I don't think we have any concerns about our makeup and temperament.
R.J. E. (from Marion, IN) Please tell our newest Colt, Trent Richardson, Marion wants him to make Ryan Clark a believer.
A:  Let's just let Trent focus on his job here.  He says he sees big-yardage games ahead.  He's still getting acclimated, but he did fine last week.  Believers are only truly important when they're inside our building.
I.H. G. (from Mexico City, Mexico) With special teams captain Joe Lefeged waived, will we see long-snapper Matt Overton take over that captain spot which is empty?**
A:  Don't know yet how we'll handle captains this year.  If there is voting for permanent captains at some point, Matt would be a good choice.
GAGE M. (from Danville, IL) About Joe Lefeged, was him getting waived about what happened in Washington?  If so everyone's not perfect, but that man was excellent on special teams and a great spark off the bench.  Since the new era the Colts have been big on second chances.  I don't see why a person that was a starter after Bob Sanders left should be walked out the door.  I hope the Colts front office can re-look at the type of person he really is.
A:  I don't know that anything will change in the future.  Chuck Pagano has made it clear that every decision reached here is with the good of the team in mind and to give that team the best chance to win, and situations involving players are handled accordingly.  Chuck is steering a good course, so let's follow. 
JORGE R. (from Mexico) I want to understand why Chuck Pagano is not sharing the load between Trent Richardson and Donald Brown, but I can't.  At Jacksonville, Trent seemed to be a little bit tired in the fourth quarter.  The numbers speak for themselves – Trent 20 rushes 60 yards; Donald three attempts for 65 yards.
A:  There was a bit more of a split in duties against Seattle, and Donald continues to spell Trent very well.  Donald got into the end zone, and he has run for healthy averages each of the last three games.  I'm sure you'll see more of it, particularly with Ahmad Bradshaw now gone for the year.
ERIC H. (from Smithfield, OH) Thanks for putting my question on the online (mailbag) show.  I watch and read everything on Colts.com and was overjoyed to hear you respond to my question (although we disagree).  I would also like to say that I am a huge Donald Brown fan.  I would like to add my two cents.  Donald is explosive and runs with a full head of steam.  He is always hustling.  He busted that long run last week against the Jags (notice his ball security toward the end of the run), and I think he is capable of doing that every week.  It seems like he didn't get another carry after that big one.  I hope we see an increase of Donald's role in the coming weeks. Thanks for listening, guys.  GO COLTS!**
A:  Thanks for contributing also with an opinion of Donald Brown.  Donald is one of many very professional guys on this team.  He has a role, and he's playing it well.  It was fun seeing him score last Sunday.  Nice spike, too.  He's an even-keeled type emotionally, but that was fun spontaneous emotion.  He even said he knows how hard it is to score in the NFL.
JONATHAN L. (from Los Angeles, CA) Donald Brown is straight up beasting right now.  His stats are unbelievable.  What do you think his chances are of getting more reps in a game?  About Trent Richardson, why do you think his production hasn't been the greatest?  Is it just a transition?  I think the guy runs way harder than the stats indicate.  Sometimes I watch him run and my jaw drops from the power and explosiveness.  He makes nothing into something almost every time he runs the ball, which is why I can't figure out why he isn't getting better production.  Also, what will Vick Ballard's role look like next year when he comes back and what does that mean for Brown?
A:  Three straight letters on Donald, but I thought I would put it in to off-set the next one below.  We want to have a multi-back approach, and I bet Donald will keep it up.  As for Trent, he is running hard.  He has a great feel about the game, and he will get tough yards.  I like what you said about him running harder than what numbers say.  Well put.  Trent has the respect in the locker room that is needed.  He'll keep banging.  We certainly will keep up with our rushing philosophy.  As for Vick, he's coming along fine.  How next year shakes out for everyone is discussion for another time, and I'm sure we'll have it in the off-season.
MICHAEL L. (from Columbus, IN) Why is Donald Brown still on the team?  Yeah, he can run but he can't block for anything!  Why is Fili Moala still on the defense?  He doesn't do much, is getting old, has no push.  Why is Greg Manusky playing it safe?  Have some guts and blitz and tell the linebackers to stop playing so deep!  Thanks your thoughts on these truths.
A:  Nice letter.  I think Donald is showing why he's here.  Fili has come back from an injury and is contributing.  Greg Manusky has us playing well enough to get us to 4-1.  I think our linebackers are doing fine.  I thought Erik Walden played well last week, and Jerrell Freeman made three big plays down the stretch.  Are we the 1985 Bears?  No, but we're playing winning ball.  Don't know what set you off, but try to find some fun in our season.  We'll try, too, and please keep contributing to the mailbag.
GARY C. (from Port St. Lucie, FL) I have been a Colts fan since 1969.  I think the Colts mailbag is a great way for fans to stay up to date with the Colts.  Great job!  My question is, do you think Donnie Brown will start to get more touches?  He has always shown he can break for big yardage.  I mean look at Andrew Luck's first pass in the NFL.  While Trent Richardson is still getting used to the O-line let Brown do more work.
A:  Glad you like the forum.  It is a great way for people to express themselves, and I do try to represent all opinions.  Thanks for yours on Donald.  Maybe you, Jorge, Jonathan and Eric will have an influence on Michael (see above).  Thanks for being a fan for a long time.  By starting in 1969, you did so after a bitter end to the 1968 season.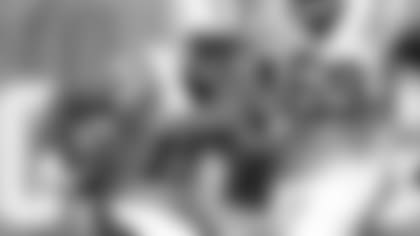 CHERIE R. (from Indianapolis) Is LaVon Brazill back with the team?
A:  LaVon had his roster exemption lifted Monday, and he is back on the active roster.  He spent the last four games doing everything here except working on the field with the team.  He seems ready to return, and let's hope it's a good one.  We can use his talents.
WILL G. (from Manchester, NH) I really like the 30th season in Indianapolis patch that the players are wearing on their uniform, but I can't seem to find it anywhere to purchase it.  Do you know if the team is planning on selling it to the public?
A:  I have not heard of a retailer out there yet who has stepped forward to sell them.  Your request is not the only one about the patch and certain merchandise.  I hope that situation changes, too.
TRACEY S. (from Lafayette, IN) With all the hype about "Building the Monster," why hasn't someone come out with a shirt with that saying on it?  Would be awesome!
A:  I could not agree more, and it relates to the question and answer above.  A vendor needs to take the matter in hand.
*BOB B. (from Deltona, FL) Great win.  What can I say?  Beating a Seahawks team, the defense made plays and came up big, the offense was excellent, our secret weapon was T.Y. Hilton, everyone contributed. *
A:  Didn't notice a question this week, Bob, but I loved your sentiments.  It was a big win over a good team.  I hope we play them twice this year.  It took every player and 60 minutes to get it done.  At 4-1, we're leading the AFC South, but it's early, very early.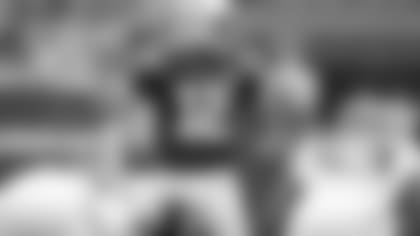 MICHELLE M. (from Fort Wayne, IN) How come Andrew Luck doesn't sit on the sideline when the defense is on the field and study plays like all the great QBs, or does he really have a photographic memory like everyone says he does?  I've just watched so many Colts games in my lifetime to see that every time Peyton Manning got off the field, he would go to the bench and look at the previous defense pictures that he just saw prior to sitting on the bench.  Just curious is all.
A:  I haven't noticed him on the sidelines, but I'll look closer.  I do know cameras spent a great deal of time on Peyton through the years, and they don't seem to be doing so to the same extent with Andrew yet.  Andrew is very cerebral, and I've heard he's really good in the meeting room.  A pro like Matt Hasselbeck really lauds Andrew approach and ability, so I hope that helps you.  I'm confident Andrew's doing whatever needs to be done.  After all, with him and the entire new regime we're 21-6.  His nine game-winning drives in the fourth quarter or overtime in a career's first two seasons tie the most by a young QB since 1970.  That's for being such a close follower.
BRIAN D. (from Indianapolis) Do the Colts already know who they are going to cut prior to a game?  This time it is Lawrence Guy who gets that call, and he made a key play in the game.  You would think results matter, but it must be a bigger formula.  Nevertheless, they make those calls and we keep on winning.  Go Colts!
A:  While there may be times that's the case, it's not always.  Probably a lot more near the end of preseason than any other time.  What happened with Lawrence likely has more to do with the return to health by Ricky Jean Francois, who we may get back this week.  Whenever a player is let go, it's a tough time for the coaches.  They know very well how hard players work and what a tough thing it is when a move is made.  In Lawrence's case, he made a big play last Sunday.  It was on tape for 31 other teams to see, and San Diego claimed him.  We could be seeing Lawrence this Sunday.
LEVI F. (from Grand Ridge, FL) I loved the way we played the fourth quarter out-scoring Seattle, 11-0, but I think we started the first part way too slow.  That worries me because if we start that way against Denver, we could go down 21-0 in the first quarter.  That would really be a big hole to climb out of.  I think if we let Andrew Luck run a read-option play or two, it would make the defenses not commit to the RB as much and could create some big runs.  GO COLTS!!
A:  We do want 60 minutes of full execution.  That's certainly how we prepare.  We got it on defense for four quarters at Jacksonville, then the offense kicked in.  Last week it was a tough first half against Seattle, but we came around.  I hear what you're saying.  I know Chuck Pagano and his staff would feel the same way.  We all would tell you, though, to worry about San Diego over anything else.  As for Andrew and the read-option, I'd rather have him throw first and run as a final resort.  It's worked so far.
RUSSELL J. (from Omaha, NE) Yes, I did write before Donald Brown's great game (at Jacksonville).  I humbly apologize to all his fans. He is truly CHUCKSTRONG.
A:  No apologies necessary.  Not in the mailbag.  Every player is going to have his moments both ways in this league.  With the interest the NFL draws, reactions by fans come with the turf.  Donald's a pro, and we'll need him.  He's had his share of attention in this week's mailbag.