 ](http://careyindiana.com)
INDIANAPOLIS – Readers of Colts.com may submit questions during the week and have a chance to have them answered during the middle of each week.  **Submit your question here**.
Here are responses to some of the questions received recently.  We thank you for your interest in the Colts.
MIKE N. (from Dubuque, IA) Congratulations on the great win against Denver.  I still can't stand Pep Hamilton's decision-making.  I understand the desire to be a balanced team, but really why do you not let Andrew Luck do his thing more when you're playing the worst pass defense in the league versus the best run defense and your offensive line does not run block (well).  I hear a lot of trashing of Trent Richardson on media sites, but honestly for what he has had to work with I think he has done fine.  He has started running hard through the small holes he gets with power.  I was wondering when we are going to see LaVon Brazill.  I think he can help the team out since DHB still can't catch a football during a game, unless it's a screen.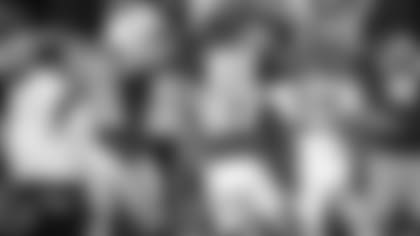 A:  You state a passionate case, but when you're facing a team that can move and score like Denver can, a balanced attack can only help your defense.  We stopped them on 11 drives and held the ball almost 32 minutes.  We had 40 pass calls to 31 runs, and you did see some creative use of DHB.  We did want more from the running game than we got (2.4 average from the backs), but I thought the game plan was fine.  I'm sure we wanted a bit of a quicker start, but I don't see any real correlation with that and the planned approach.  Trent's role in the offense still is evolving.  We now will see more of LaVon Brazill with Reggie Wayne out, and **DHB will have a chance to play a bigger role (click here for DHB's TD against Denver)**.  People in Pep's and DHB's line of work always will have detractors.  Many won't be on our side like you.  Thanks for writing and I hope we perform in a way to change your mind.  We haven't been perfect yet, and you're a tough judge. 
TYRON J. (from Temple Hills, MD) I will start off by saying I'm a diehard Colts fan and I wish Reggie a speedy recovery.  I notice we have Da'Rick Rogers on the practice squad, a player a lot of fans don't know about.  I watched him from his college days.  He's a big target, a physical specimen, I'd say.  Now that Reggie out, what's the chance of him getting to play?
A:  Da'Rick did not get the call up to the active roster.  It went to Griff Whalen, who has had more experience in the offense.  That doesn't mean Da'Rick won't factor in down the line.  You are right on his ability.  He needs to keep honing it and contributing on the practice squad.
CAROL H. (from Columbia City, IN) I'm very disappointed in Trent Richardson's performance thus far.  I think he was highly over-rated.  Let's give Donald Brown some much deserved credit for the excellent job he is doing!
A:  Donald Brown is doing a very good job for us.  His big plays have come in timely situations.  He is utterly unselfish and is appreciated for his professionalism.  It has been fun seeing Donald come up big.  Trent still is adapting to a new offense.  People undervalue tremendously the benefit of OTA and camp work.  I'm sure some are getting weary from hearing that but at 23, he is learning yet another offense in a year and a half.  It takes time.  It also takes talent, and you don't have to worry about Trent's talent.  He will make some plays for us just like Donald.  That time will come.
JUSTIN A. (from Reno, NV) Do you think it will be harder for Andrew Luck to be as effective as he's been with his favorite receiver Reggie Wayne out?
A:  That is a question on the minds of everyone.  No player on our roster has played in a game without Reggie.  He has not been out of the lineup since November of 2001.  There is no doubt he has been a great assistance to Andrew and a big component to Luck's development.  Roughly 30 percent of Andrew's completions, attempts and yards have been a result of Reggie.  Reggie's been the most targeted receiver this year, and Andrew hit him on almost 66 percent of the times Reggie was targeted.  Andrew and DHB (51.4 percent) and T.Y. Hilton (50.0 percent) have clicked a bit less frequently.  Losing Reggie as a player, leader and person cannot be looked at positively in any regard, but not having him does mean others will have to shoulder the load – backs, receivers, tight ends.  It's an adverse situation where others must prosper, including Andrew.  It will be a challenge I think he will meet.
Colts Positional Reception Totals at Time of Reggie Wayne Injury
ROBERT B. (from Indianapolis) Do you think the Colts will consider changing the logo at the 50-yard line?  I know the helmet and horseshoe has been around for years, but I think just having a horseshoe would look really good.
A:  I don't know that it has been a discussion point, even casually.  I would tend to doubt it, but I will pass it along in case it jogs a thought.  The helmet has been the look for years.  You can never go wrong with the Horseshoe.    
JORGE R. (from Mexico) There is something we take for granted that not all teams have, and that is a good owner.  We always notice good decisions of Chuck Pagano and Ryan Grigson, but who brought them to our team?  I see (other) owners making bad decisions.  Who could have imagined the team we have now in just two years?  Thank you, Jim Irsay, for being our owner.
A:  Jorge, you've said it all.  Jim has been a tremendous owner and has been the point person for so many successes here.  Along with an intuitive feel and an intense passion for the sport, he has hired outstanding people through the years, and he lets them work.  People like Chuck Pagano and Ryan Grigson know how dedicated he is to winning and how he will allocate every resource to do so.  Thanks for lauding Jim, and I hope we keep winning for fans like you.
CALEB S. (from New Palestine, IN) I was watching some film on Da'Rick Rodgers while he was at Tennessee, he looked good, and I do think that he is good. How has he been doing on the practice squad?
A:  You can see my comments above on Da'Rick.  While he is not on the active roster, this is a great chance to grow.  History has shown solid work on the practice squad can relate to future opportunity.  He is going through the on- and off-field maturation and by all accounts is doing so well.  He should just keep it up.
DANIEL F. (from Los Angeles, CA) Why do I see things on film differently than the coaches?  It is aggravating to feel like our best players are not on the field or activated on the team.  While I like him as a person, I do not believe DHB will ever catch a downfield/vertical pass.  Why is our best (hands), Griff Whalen, on the practice squad?  On the Patriots he would be Julian Edelman, on the Broncos, Wes Welker.  Do we not have a need for a receiver that never drops a pass and can carve defenses up underneath?  I scratch my head every game that Kavell Conner does not start.  He is dominant every time he plays.  I like Pat Angerer the same as I like DHB, but we have better players, better hands in one case, better size, strength, quickness, instincts in the other case.  What am I missing?  Have you ever seen Whalen drop a pass or Conner miss a tackle?  Please tell me what I am missing.  Thank you for giving Colts fans a voice.  We are all rooting for the same thing, a Colts victory.
A:  Like the first letter in the mailbag, you now see Griff on the roster.  Let's hope Griff can make some of the impact Wes Welker and Julian Edelman do.  For where he is in his career, I would hesitate to make that comparison, though, and I don't know that you would see him in the slot often.  Maybe so.  You will see DHB in a different dynamic offensively with Reggie Wayne out.  It's a big chance for him.  Kavell and **Pat (click here for Angerer's interception against Denver)** are good players, and last week's mailbag addressed why Kavell was inactive at San Diego.  I like that you keep close tabs on our guys.  Our coaches do, too.  I like giving people like you space in the mailbag.  It is a forum to express yourself tactfully, which you did (whether I agree with you/others or not).  Let's get one in Houston.
RICO W. (from Tulsa, OK) Now that Reggie is on IR, Andrew Luck should take his rightful place as leader and mature in the process!  What do you think?
A:  Andrew has been a more vocal presence with this being his second year and by nature of his position.  People on the outside don't get to see it other than during games (when it is evident readily), and those of us around here see him do it in many other ways.  He is a rightful leader along with others – Cory, Robert, Adam, Antoine – make no mistake about it.  His manner as a leader is top-notch as well.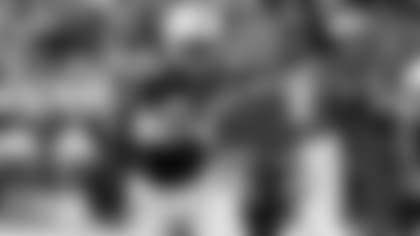 SHAWN J. (from Illinois) Why do we trade a first-round pick for RB that we refuse to use inside the five-yard line when we tried to say we have a power run game?  Why don't we trust him (Trent Richardson) to punch the ball in instead of using him as decoy to pass?
A:  Before it's over, I don't think you will have any qualms about Trent or how we use him.  He is able to convert those yards, and time will be the proof.
DAVE H. (from Sebring, FL) SportsCenter says the Colts are young and inconsistent and will not be contenders for a few years, (saying) they can beat good teams and lost to bad teams and that you never know who will show up – a power team or a college team.  Will the coaches and players get together so we can make a deep run this year?  I was looking at tape of Trent Richardson.  I know fans are unhappy with his performance, but our line is not opening up lanes for him.  When they get better, he will do good.
A:  I've cautioned you before not to take things you hear so much to heart.  I would say judge from what you see from us instead.  We block out the outside noise to a pretty good degree, and that helps get you to 5-2.  I'd never say to stop watching shows, just exercise your own opinion.  As for Trent, I think you can look for good things over the last nine games.  We've made progress and feel some big days are ahead.
SALLY G. (from Fishers, IN) How can we keep up with Reggie's recovery?
A:  Reggie has had his surgery and everything went fine.  A number of our people have spoken with Reggie, and he's resting well and already rehabbing vigorously (three times a day according to Chuck Pagano).  When Reggie is able to get back to Indianapolis (his surgery was elsewhere), he will do so and will maintain his presence about the organization.  We'll update you and others accordingly.  Thanks for asking.
ROSE R. (from Greenwood, IN) Why don't we play the no-huddle more often, especially when we are in a pinch like with the Chargers.  Watching our team play the no-huddle at times reminds me of how Peyton Manning plays, and that is what Andrew Luck is able to do.  Luck is already better than Manning was at this short time of his NFL days.  I think he needs to needs to be let go a little more.  What do you think?
A:  It's great that we are in a position to go to that attack when we choose.  The way we have approached this year, though, I don't think you will see it quite as much (maybe even less so now with Reggie's loss).  I like what we're doing.  It's helped us get to 5-2, and I think the offense will be good to watch the rest of the way.  Running the ball well equates to sustained success.  It has been a goal here for some time, and this year it is being achieved pretty well.  It's a change for some observers, but we are 5-2 with a healthy mix of play calls and good averages.  That's my opinion.
TIM S. (from Incheon, Korea) I have two questions regarding players on IR, like Vick Ballard or Lawrence Sidbury.  I know Chuck Pagano gave the whole team the week off.  Do those players stay around for rehab?  Also, during normal weeks, do they help the active players prepare, such as breaking down film?
A:  Any player needing medical attention would have to be here during the bye week.  It's unfortunate when that occurs because time away from here is a tough commodity for players during the season.  As for players on injured reserve, having them around here is no issue at all.  They still are members of the family, and being here is a good thing.  While there are some philosophies in the league where players who are hurt are not around, that is not the case here.  Lawrence really likes the inclusive nature of the organization, and he is anxious for next year.  Vick, also, is around the locker room regularly.  If guys want to help while hurt, that is good on our end.  Another good letter, my man.
ERIC S. (from Virginia) With the sad loss of Reggie Wayne, could we see another trade by the Colts for a receiver, or would they pick up a receiver via free agency?  If so, who do you think the Colts would go after?
A:  We added Griff Whalen to the active roster on Monday.  In my opinion, it makes the most sense.  Griff stands a chance to contribute the quickest.  The team also has used multiple picks in next year's draft for current players.  You don't want to dip too deeply into a future draft class, especially for a position where cohesion with a quarterback can take some time.  With nine games left, the need is for as smooth a transition from Reggie Wayne as possible.  That's tough to even write, given Reggie's greatness, but it is the dynamic with which we are faced.
WYATT M. (from League City, TX) Is there a limit to how many players can get inducted into the Colts Ring of Honor?  There are so may people from the Manning era that are worthy for induction but could they not get in because the Ring of Honor might run out of room for more names?
A:  There is no limit to the number of players who can go in.  It is at the club's discretion, and there is more room than just on the eastern façade of the stadium.  You are correct that there are worthy players from recent seasons, and there are some who preceded them who would be solid considerations, too.  The timing for inclusion is fluid.  You are seeing Eric Dickerson and Marshall Faulk going in this year after having not been here for many years, **Dickerson since 1991 and Faulk since 1998 (click here)**.  I expect you will see some players who mean a great deal to Colts fans like you go in over the next few years.
ERIC V. (from Bloomington, IN) I got to see the Colts play for the first time this year (albeit at training camp).  Griff Whalen had great hands and made some tough catches.  Do you think it would make sense to activate him against Houston?
A:  You got what you wished for from Griff.  I think he will be a boost for us in a time of need.  You kept your eyes peeled at camp.
ISAK H. (from Mexico) What do you think about draft prospects B.J. Finney, Gabe Ikard, Zach Zwinak, Xavier Su'a-Filo and Stephon Tuitt?  Also, what do you think about Griff Whalen being our new number one receiver?  He could be a great player and he deserves the shot.  Thank you.
A:  I agree that Griff deserves the shot.  I don't know that I would call him the number one receiver.  I think he can play a role for us with his intelligence and dependability.  As for draft prospects, that won't be any discussion point until our personnel people do so at the right time next year.  I do have to give it to you, though, your spelling for those five players was perfect.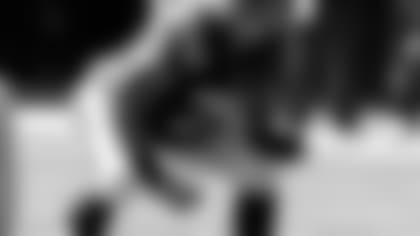 DAVID L. (from Vermont) It was great to see the Colts playing the aggressive style defense they played against Denver.  The starting unit looked great.  It was not nice to see the injuries.  Any of those starters lost for the year?  Mike McGlynn looks a step better playing center versus guard.  (I) can't picture him as a center in college, so someone has done a good job working with him.  Who would be that person who has been coaching McGlynn at center?  To switch centers in the middle of the game and not have a missed snap is a credit to the center and QB.
A:  Though Denver had some big numbers, the defense had a significant game.  Forcing turnovers was big, as was holding them scoreless on 11 possessions.  We need more of it.  Mike has been a versatile performer throughout his career.  Unless I'm mistaken, he played tackle in college, not guard or center.  Mike played at center in a time of need for Philadelphia in 2010, so some of the credit goes there.  As for playing both roles here, you have to give credit to Joe Gilbert and Hal Hunter this year, along with Harold Goodwin and Joe for last year when Mike swung inside to help us.  Mike has shown his value since coming here, and it's good having people notice.  Other than Reggie, no one else from the Denver game was lost for the year, though Delano Howell and Josh Gordy might be doubtful for Sunday.      
DEVON B. (from St. Louis, MO) I'm a major Colts fan.  Why are the Colts relying solely on Trent Richardson as a runner?  I'm not doubting him one bit.  I believe acquiring him was a very smart move.  Here's my point, Richardson, like many running backs in today's age, is a dual-threat running back.  He is just as explosive as a receiver as a running back.  Let him get involved in the passing game.  You have a great quarterback in Andrew Luck.  Use them together!
A:  I'm for seeing what you are saying and I hate to repeat myself, but it's still a learning process for him by being thrust into this offense two weeks into the season.  There are so many route concepts that he is learning (more than 200 according to RB Coach David Walker).  The run schemes here are much more in line with what Trent knew in Cleveland, and I think it's only a matter of time before you see it here.  I agree he can be a dual-threat type of player, and I think we'll see it from him.
MARY M. (from Indianapolis) How's Reggie Wayne doing?  The game isn't going to be the same without him.  We're going to miss him.
A:  You speak for so many Colts fans.  Reggie is healing and working already.  The field will look different without him there, but he wants nothing more from his teammates than to win.  Thanks for passing along your heartfelt feelings.
LORI S. (from undisclosed) How confident are you that when Peyton Manning decides to retire that he will retire as an Indianapolis Colt?
A:  I would hope it's certain.  We did that type of ceremony for Jeff Saturday, and it was the first of its kind.  If history is any indicator……..