 ](http://careyindiana.com)
INDIANAPOLIS – Readers of Colts.com may submit questions during the week and have a chance to have them answered during the middle of each week.  **Submit your question here**.
Here are responses to some of the questions received recently.  We thank you for your interest in the Colts.
TONY D. (from Dallas, TX) With Reggie Wayne being only the ninth player in NFL history to have 1,000 receptions (and eighth-place all-time), why isn't there a tribute on the website to him?
A:  Just so readers know, you submitted your question before Reggie's injury against Denver.  What Reggie has done (and will continue to do) has been portrayed very well on our site **(click here)**.  We write on Reggie regularly and like to run his quotes in duration most of the time because of the entertainment and informational content, plus we run almost, if not all, of his interviews.  You share the same affection and regard that we do for Reggie.  We admire his contributions and look forward to when he comes back.  I think we provide solid coverage of him.
BRETT R. (from Los Angeles, CA) Thanks for answering my question (from last week).  I was speaking of the horse figure with the ball.  It's a great logo and I'm glad they're using it more often.  If there is any history to it, I'd love to hear it.
A:  I know the logo dates back many years as you mentioned last week (you said to about 1961).  I don't have any more history on it than that, and we have it on some of our apparel this year.  Fans love throwback items, I guess because it can take them down memory lane a bit.  Thanks for clarifying your letter.  I'm sure others like that logo, too.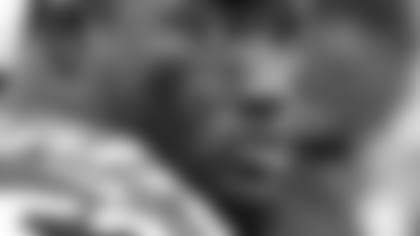 DAVE A. (from New York, NY) My favorite player growing up was Bert Jones, so I have been invested a while (with the team).  I know a lot of questions about San Diego were already addressed, but I don't get Mario Harvey playing in place of Kavell Conner.  Harvey looked lost/overmatched, and Philip Rivers targeted the advantage.  Any insight on what the coaches see in practice to justify or why Kavell is in the doghouse?  I recognize your responses are never "answers" (can't comment, don't have insight, I'm sure Grigson/Pagano, etc. - you would be a great consultant!), but I thought I would take a shot.
A:  I assure you Kavell was not in the doghouse.  He's not that type of player and never has been.  He was a healthy deactivation for the San Diego game.  Sometimes decisions are tough ones where teams anticipate personnel groupings of opponents.  Coaches and the personnel staff have to decide what is best, while keeping in mind special teams needs.  From all I gather, that was what happened with Kavell in San Diego.  No one could have known Jerrell Freeman would go down.  It's not that Mario Harvey can't play, but he was put in a role in which he was not as versed as Jerrell.  Like Mario does, he gave it everything he had.  He does have a role on offense as well as being a top special teamer.  Kavell has been active in four the last five games, including this past Sunday.  Unless I'm wrong, I think this would be the isolated instance involving Kavell.  I hope that constitutes an answer for your question.
TRISTON S. (from undisclosed) What do you think of the Broncos game?  T.Y. Hilton and Andrew Luck and Robert Mathis are beasts.  Let's go COLTS.  #Coltsstrong.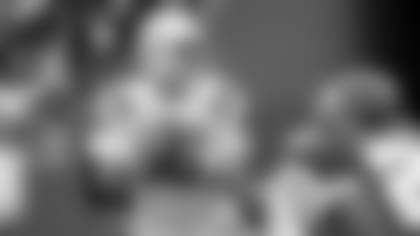 ROBERT W. (from Nashville, TN) I have been a Colts fan for 45 years.  I would like to know why Mr. Irsay made those very unflattering remarks about Peyton Manning on twitter.  They were already set to honor him during the pre-game.  You talk about adding fuel to the fire.  Peyton Manning does not need any help.
A:  I can assure you Jim Irsay has nothing but deep appreciation for Peyton Manning and all players past and present.  Those remarks were not directed at any individual, and they were things he has said previously.  Speaking in totality, he was talking about the accomplishments of the past and wishing they had yielded more titles.  That's something a number of the people (players, coaches, administration) involved in that time period wish had happened, too.  It doesn't mean what was accomplished is tarnished, and Jim was not denigrating anyone.  As a new era is in place, so is a new model for how to attack the challenges.  When an emotional game week arrived, his quotes were fanned into something far beyond the original context.  That can happen in today's media culture.  It happens elsewhere, and it happened to us last week.  Jim has called Peyton the greatest Indianapolis Colt ever.  He does so without hyperbole and in complete respect and affinity.  Peyton said after the game they had spoken and doesn't see anything from the matter "being a lasting factor."  I hope this clarifies this for your letter and others we received.  It was a fitting pre-game ceremony Sunday for a great, great player who is still active.  I bet there will be a better one at the right time in the future.  Thanks for caring about Peyton and the Colts.  I know there are a bunch of you out there.
JORDAN A. (from Evansville, IN) I am a freshman in college and I am interested in working with the Colts and I was wondering what I needed to do.
A:  The best thing is to get involved with your athletic department to see the different types of support roles that exist.  Knowing what fits your skills set and natural interest the best is something every student should answer as quickly as possible.  I would suggest mixing class duties with work outside of it.  I strongly urge a solid curriculum that has a business-based approach.  I would manage myself smartly in behavior and in social media at all times.  You should understand that competition for any job is intense and preparation is essential.  Understand not everything goes your way, but work hard at all times.  You may not start where you want and if not, keep an attitude and performance level that may get you there eventually.  It's basic advice that works.  I wish you all the best, and thanks for your interest in the Colts.
JEFF P. (from Bristol, CT) Andrew Luck is the best player on the Colts.  Why don't we throw the ball more?  With the RBs we have it will make Luck even better.  And when we do run, we will be a better running team if we open things up more.
A:  We're mixing it pretty well right now and don't want to be tilted too heavily toward one aspect of the attack.  Our rush:pass mix (45%:55%) is healthy, as is the 60.7 completion percentage and 4.5 rushing average.  When you wrote, we had endured four season-ending injuries offensively, and it's now five with Reggie Wayne.  How we attack going forward with receivers needing to step up and with Trent Richardson still getting adapted after five games is going to be interesting.  It doesn't serve us well to throw as often as we did last year.  The best approach is to follow how we set out about this year originally.  Being able to do both will only help.
TESS M. (from Princeton, NJ) Why not admit facts, there have been three seminal NFL QBs – Sid Luckman, John Unitas and Peyton Manning.  Andrew Luck has the potential to be the fourth.  Luck is the only player whose availability warranted the Manning release.  Manning is the best to ever play the position.
A:  Tess, I like how you think.  You have a short roll call for greatness that I might expand by one or two names, but no more.  To go beyond that would change your argument, taking it from 'great' to 'very good.'  Taking Andrew out of the conversation since he is only 23 games into a career budding with promise, I get stuck on **Unitas (click here for highlights)** and **Manning (click here for highlights)**.  Since I don't have to choose, I'd take either and not look back.  (I've been fortunate to spend time with both – Unitas for about six hours total over two occasions and Peyton for 13 years).  Thanks for providing your opinion.  Maybe other readers would like to chime in with their thoughts.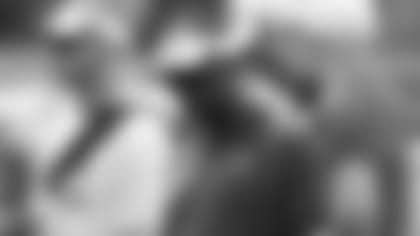 PAUL C. (from Illinois) Why does Pep Hamilton stand on the sidelines rather than sit in a coaching booth during games?  I think that most offensive coordinators coach from a booth, and I believe Hamilton coached from the booth at Stanford.  Seems to me that you can see more from up high, which would be more important for an OC than whatever feedback you get from ground level.  I feel like the Colts aren't taking enough shots downfield, and can't help but think that Hamilton's missing something that he might see if he coached from the booth.
A:  A coach is going to do what he feels is best.  Given that, a staff will be allocated accordingly so the strategy from up top is matched with the sideline.  Pep is down.  We have six coaches up, including three on offense.  It gets down to a matter of philosophy and preference.  I do remember Brian Billick being up when he was the coordinator with Minnesota.  Tom Moore was down for us for many years, and that seemed to work just fine.  Thanks for a good letter, though, and Pep is not missing a trick.  Maybe how we attacked Denver met your approval.   
CHRISTIAN L. (from Meridian, ID) Do you think it is a bit unfair how Mike Vanderjagt is judged by so many "fans" of the Colts?  For example, he is ridiculed for missing the field goal against Pittsburgh in the playoffs.  Yet, nobody mentions the offense did nothing the previous three plays to get the ball closer.  Peyton could throw interceptions and it was mostly brushed off because he is great.  If Mike missed a field goal, he was crucified.  It just seems a double standard for one of the greatest kickers in NFL history.  I still remember him hitting two field goals in the snow over 50 yards in Denver to win a crucial game.  Great kicker!  He is unfairly judged in my opinion.
A:  Mike is our leading scorer, he had a perfect season (37-for-37, 2003) and his career percentage is fourth-best in history.  Like every performer, he is judged by individuals.  I think Mike's accomplishments speak for themselves, and loudly.  I was happy to use his name the other day when Adam Vinatieri hit two from the 50-range at San Diego.  It matched what Mike and Dean Biasucci had done for us before.  Mike was a part of many wins here.  He stood up and faced the music after that tough Pittsburgh loss.  I was as proud of that interview as I have been with any I've seen here in 29 years.  I know he is proud of his career and is in private business on Marco Island, Florida.  Mike was coaching at a school there last year, and I hope he still is doing it because he can contribute to shaping our sport to young players.  I have told him he should come up and be recognized in Lucas Oil Stadium.  I bet fans would provide a very nice reception for Mike.
BRYAN D. (from Avon, IN) Great strategy by Jim Irsay.  (I) love being the underdog and knowing what gets the media going.  We are going into a bye week with momentum, this will allow time for some injuries to heal!  How will the Colts handle the bye week to not lose the success we have had these last seven weeks.
A:  Not sure I agree with your strategy angle, but our team met the challenge with Denver in great style.  The 12th Man didn't hurt either.  We are banged up and players need a break.  Counting preseason, there have been 11 games.  Nine remain, and crunch time is at hand.  Chuck Pagano is giving them the rest of the week of because "they've earned it."  He believes players are mature enough to handle it.  Veterans spoke the same way Monday, too.  Body maintenance is key heading down the stretch.  It's a good move by Chuck to let players get away and freshen their bodies and minds and meet personal obligations.
JEFF W. (from Orange County, CA) I was watching the Colts-Broncos game and watched the PAT attempt in the third quarter when Samson Satele got his knee injury. I recorded the incident in slow motion.  Kevin Vickerson clearly punches the right knee of Satele as hard as he can.  I would like somebody to have this video.  I've seen comments he has made today that he felt he was getting called out for personal fouls after the play for taking his helmet off.  He should be fined 100%.
A:  All I will say is the League Office reviews tapes and is on top of matters that pertain to the game and the safety of players.  Teams do as well and weekly submit concerns, usually competition-based, to the league for review.  If anything untoward happened, the camera does not blink.      
TAYLOR W. (from Champaign, IL) I know everyone knows the answer to this, but after such an emotional game on Sunday night I would like a little confirmation.  Will Peyton Manning retire an Indianapolis Colt?
SAM L. (from Seoul, Korea) I am a diehard Colts fan watching every down from Korea on NFL Gamepass.  I think Ryan Grigson may be the best young GM in the game, but you don't get them all right.  I was wondering if Trent Richardson displays flashes of brilliance in practice (which fans don't see) demonstrating his (third) overall draft selection.  He's played a season and a half in the NFL and five games with the Colts. Transition time is over.  Are the Browns grateful for salvaging a first-round pick for him?
A:  I think the Browns are happy, and so are we.  Even though Trent did not start his career here, that doesn't mean we didn't scout him in the process.  Five games here is not a lifetime, it's five games.  He had no benefit of OTAs or training camp.  We feel quite certain that Trent will be the player we say he will be.  It's still a new offense to him.  It's had upheavals with injuries.  Not many teams have lost two running backs in short order like we have, and we've been able to compete.  People get itchy, but we feel fine.  He can show a lot over the next nine games, and we'll need Trent's contributions.  You're a good man for watching from Seoul.  Keep hanging with us.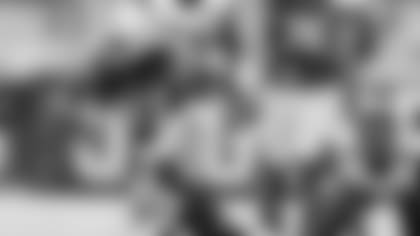 CODY H. (from Auburn, IN) Now that Reggie is out for the season do we have any plans on signing any free agent wide outs or making a trade to pick someone up?
A:  Contributions most likely will have to come from within.  LaVon Brazill needs to be a big part of the process.  Darrius Heyward-Bey was huge against Denver, and that level of play needs to be the same heading into the future.  David Reed now has a chance.  We have two guys on the practice squad – Griff Whalen and Da'Rick Rogers – who have been active at some point this season.  Remember the price we paid in next year's draft for Trent Richardson.  Depleting next year's draft class or something beyond it can be a tough thing at this position, not to mention getting a new receiver in sync with Andrew Luck.  My hunch is we go from within.  That said, Ryan Grigson is the master at manipulating the roster.  We've been aggressive, and we have an owner who supplies all the support needed to win. 
RUSS J. (from Omaha, NE) I can't begin to tell you and all our loyal fans about the loss of Reggie Wayne.  His hands are money in the bank and he is a class individual. Will we be looking for a veteran receiver and will this be a priority in the up-coming draft?  God Bless You Reggie.  Speedy Recovery!
A:  We're all feeling the pangs of his loss.  I know he loves his fans and appreciates the support.  We expect Reggie will be back.  We need for some others to rise up.
STEWART D. (from Indianapolis) A suggestion with the loss of Reggie Wayne, there is no 'Next Man Up' for him, but the Colts need a receiver who will catch the crucial tough one.  I believe it is time for Griff Whalen to appear.  He has the familiarity and trust with Andrew Luck while at Stanford and in Colts camp and from what I have seen in the pre-season, one who has the best hands next to Reggie.  The other receivers just don't make the kind of crucial catches Reggie does, but Whalen will do just that.  It's his time!
A:  Reggie has been that crucial target for years, and this represents opportunity until he can return.  There is no question that Griff is a worker and knows what is going on.  Perhaps opportunity knocks for him.  The trading deadline is near (October 29, and I put that in for information purposes and not to fan hopes).  As I said before, there is a strong chance that contributions will come from within.   
SHAWN H. (from Bloomington, IN) Where can I send my "wish you wells" to Reggie Wayne?  I am not a die-hard football fan, but Reggie is one of my favorites.  I would like for him to know I hope it doesn't hurt too much and that he heals quickly.  No one can have too many supporters! Your friend Shawn (an old gray-haired librarian).
A:  Nice note, Shawn, and you may reach Reggie at our mailing address:  P.O. Box 535000/Indianapolis, IN  46253.  Address it to him, and he will get it.  You have a big heart.