 ](http://careyindiana.com)
INDIANAPOLIS – Readers of Colts.com may submit questions during the week and have a chance to have them answered during the middle of each week.  Submit your question here.
Here are responses to some of the questions received recently.  We thank you for your interest in the Colts.  Please make an effort to be concise when submitting a question.
SHAWN M. (from Lakeland, FL) In the article you wrote about Andrew Jackson, you mentioned Ray Lewis being from the same high school.  They attended Kathleen Senior High, not Lakeland Senior High.
A:  Thank you for setting me straight.  I appreciate it, and I congratulate Kathleen Senior High.  A worthy school should get its just recognition. 
*RICHARD W. (from Tulsa, OK) In respect to the recent college draft, do any of the current players roster have any say in the selection process? *
A:  While we value the opinions of our players in many ways, the drafting process is not one where they are involved.  I know they watch carefully because they have a lot invested in the program, but it's three days of viewing for them.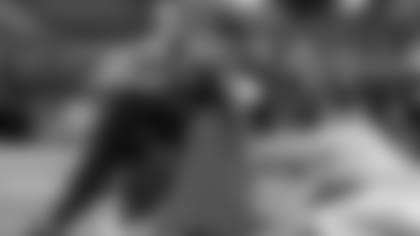 MICHAEL L. (from Columbus, IN) I really like the FA S-Dewey McDonald.  Listed at 220, he and LaRon Landry, that's thumper tag team.  I like the Jonathan Newsome pick, he seems like Robert Mathis.  I love our WR group.  Some of our FAs are big and give us size, which we need.  I hope our defense is better and our LBs play in your face.
A:  Sounds like you're keeping your usual close tabs on us.  I think McDonald is an interesting prospect.  He earned four degrees in college, if that tells you how much of a go-getter he is.  You like his size, too, as you noted.  Newsome can be a really interesting prospect for us.  There is a bit of a position change involved for him, but he is mature and willing to do whatever is asked.  I've talked about the receivers before, and it will be some terrific competition to watch.  This time of year bursts with promise, and I don't think we're selling anything that isn't legit.  Ryan and his staff have put together some talent that could blend well as OTAs arrive and training camp awaits.  You and others this week have voiced enthusiasm for a bunch of things going on here.  We appreciate it, and we're working to make it happen for our fans.
CHRIS C. (from Norman, OK) Would you like a freaky trade that would send Jonotthan Harrison and Cam Johnson to the Titans for Gabe Ikard and Akeem Ayers?  It is not so bizarre and both sides could find great benefits, as the Colts could find better depth and the Titans could find better fits.
A:  I'm not into trade speculations, but I printed this to congratulate you on spelling Harrison's first name correctly.  Seriously, let's let guys stay where they are, and I'm sure you're a huge Ikard fan.  We may see him twice this year.
MARK P. (from Indianapolis) We signed Hakeem Nicks for a year, but do you think our team would be interested in Justin Blackmon or Andre Johnson?  Reggie is getting old and so is Nicks.  From our past history, we've tried underrated people.  Why not try to get some serious names in our line-up?
A:  This week is full of personnel compliments and bizarro speculation (at least your letter and Chris' above).  We have "name" receivers.  The two you mention are members of other teams.  I'd rather keep focus our guys, and we have enough receivers to keep people entertained.
BOB M. (from Milwaukee, WI) What's the story on Erik Swoope?  Out of the hundreds of NCAA basketball athletes who will not play in the NBA, how did the Colts narrow down a choice to Swoope?  Who on the Colts' staff even thought to look for a basketball athlete?  I know there's some historical success to this procedure.  Just wondering how it happens.
A:  For years there have been examples of some college basketball players who have transitioned to this sport.  One team caught onto Erik at Miami, and he was able to demonstrate some strength and skills that related to our sport, plus he started working with a current and former NFL player to help train him for what he would encounter.  As things can happen, word got out. We pursued him through one of our national scouts who played college basketball, plus we have great connections with Miami through two coaches – Alfredo Roberts and Rob Chudzinski.  With our wiles and reputation, we were able to land Erik that way after the draft, and he looked good in our rookie camp last weekend.  Specifically, he worked with Jimmy Graham and Jonathan Vilma to prepare him for the draft, and we have had him in our hands since.  If people wonder why teams are so tight with pre-draft information and personnel information year-round, this is a great example why.  The competition to land players is quite fierce, so teams are very careful how they operate.  Erik is 6-5 and about 235 pounds.  He easily could get 20 more pounds on him, and he's working like everyone else this time of year.  He's a prospect on a 90-man roster at this point.  I'm sure he'll be a sponge and pursue this just as he did basketball.  He's just another young player our fans will be following.  Let's hope he has a career like Marcus Pollard did.  Marcus followed the same career path with us after coming out of Bradley.
ISAK H. (from Mexico City, Mexico) After I calmed down from the impact of the draft, I decided to remain a Colts fan, and I heard something interesting.  TE-Joe Don Duncan is coming for a tryout.  Why not sign him?  He is a great player who was underrated for playing in D-II, and he is better than Weslye Saunders in the system.
A:  Welcome back.  I know the draft can cause emotions to spill sometimes.  We have made ourselves better.  As for tryouts, we don't get in the business of commenting on those (see above).  We have a number of tight ends here beyond Dwayne and Coby, and don't sell short Wes.  He's a pretty versatile guy. 
MICHAEL D. (from Indianapolis) Robert Mathis can be my Sheriff or Mayor any day. Love the guy.  But I suspect he didn't check with the NFL first for a very good reason, he knew what the answer was going to be and it would have put a stand-up guy in a very tough spot – choose between adding to his family and playing all the games for his team.  So, he did what he had to do and then the NFL did what it had to do.  Colts play the Ravens in game five.  Watch out, Joe Flacco, there's bad, bad man coming after you!
A:  Robert can be any leader he wants to be for me, too.  He admitted his mistake like a pro, and he'll be back in week five.  I don't know about your take on this, but our statement calling him a "cherished" player is right on with me.  He'll be cheered back against Baltimore by our fans BOTH as a player and person. 
GRAYSEN A. (from New Meadows, ID) I think the analysts who give the Colts' draft a bad grade will be wrong.  The more I analyze the Colts' haul, the more I like it.**
A:  Whether it's the draft, free agency, the regular season or how players tie their shoes, analysts always are going to have their insights.  I tell readers to just ignore it as much as possible, but I know it's hard.  There were times years ago I knee-jerked against those opinions, too, but just let it go.  We drafted how we thought was best, and the players acquitted themselves well last weekend.  We're happy.  We're happy you're happy, and we're all about coaching everyone up as conditioning continues and OTAs start next week.
KERVENS P. (from Atlanta, GA) I'm so excited about Donte Moncrief, really excited.  I know he won't have much on his shoulders this coming season, but please let Reggie and Andrew feed him non-stop.  He will be unstoppable by next season.  How is Reggie doing?  I haven't heard an update on him in weeks now.  Also, can we be a pure balanced offense?  I wouldn't want to limit Andrew's cerebral potential.  We have to win the Super Bowl this year.  We're too good.  Let's have that mindset.
A:  All of us share the excitement about Donte.  He's going to do well.  We won't limit expectations for him, and he will have a lot on his plate.  Reggie will instruct him.  Others will as well.  Reggie is doing fine.  He's as much of a beast in rehab as he is on the field.  We want to run strongly, and we want to be balanced, too.  We won't limit Andrew in any way.  He's too special for that.  As for the Super Bowl, that's our only mindset.  It's what we point toward every day.  This year is the target, but it's a crowded field.  We'll take care of things a day (or a practice) at a time.