 ](http://www.careyindiana.com)
INDIANAPOLIS – Readers of Colts.com may submit questions during the week and have a chance to have them answered during the middle of each week. **Submit your question here**.
Here are responses to some of the questions received recently.  We thank you for your interest in the Colts.
KHALIL F. (from Camden, NJ) With Jeremy Kelley's tackling ability and size maybe we should try him out at cornerback as well as receiver?
A:  Learning one position is enough for any young player.  There is no doubt that Jeremy is a physical specimen.  He needs to focus on doing one thing, and he has been working hard.
KARL H. (from Phoenix, AZ) I have read many naysayers out there giving their predictions at 9-7 this upcoming season.  I'm sure these are the same guys saying 8-8 predictions last year.  My question is what is your prediction?  I say 13-3.  Thank you, sir.  Coltstrong in the desert.
A:  I'd sign up for 13-3 right now, but people don't realize sometimes all that has to go into winning even nine or 10 games.  I still kid one of the reporters who covers us and is a true friend about what he asked Bill Polian in 2000 when the team finished 10-6 after going 13-3 in 1999.  He asked Bill, "Who is to blame for 10-6?"  Bill was taken aback, took a moment and came to his senses and with a great response.  He raised his hand and said, "Blame me.  I'll take the blame for any 10-6 season."  He did it without getting ticked.  It's not that we can't win 11 games again, but doing that last year certainly was a feat.  We could be a better team this year and not get to 11 wins.  Let the observers say what they will.  I learned a long time ago to stay out of the prediction business.  The best approach would be like last year – do the little things and add up the math at the end.  Stay Coltstrong, but 13 wins might be a push.  You do have great aspirations, and we aspire to be great, too. 
JEFF S. (from Savannah, GA) My question is about the wide receivers.  Obviously Reggie is the number one guy but have we established a number two or a slot guy yet and how is Darrius Heyward-Bey coming along?  I know in Oakland he had a bit of a reputation of having butter fingers. Don't get me wrong, I do like him and am happy about the choice to pick him up, and I think Andrew Luck is the best player to ever throw to him.  I think his size will help Luck out a lot.  One more question, Luck reminds me a lot of Aaron Rodgers.  Do we plan on letting him get out of the pocket more to make the big plays, or do we want him to be more of a Peyton Manning-type of player?
A:  We'll answer a number of questions in training camp about the pecking order and where guys specifically will line up.  It has been an interesting spring with guys working their tails off.  **Darrius Heyward-Bey** has been one of those guys, and we like what we've seen so far.  He could be in line to have a really solid season.  I would let whatever happened in Oakland (none of it was bad) stay there because no two situations are the same, and moving on can reap results.  The anticipated Year Two jump for T.Y. Hilton and LaVon Brazill will be a thing to watch in camp.  Watching Andrew this spring has been fun.  You can see how in control of things he is at this point.  You love seeing that growth in a young player.  As for his rushing and our planning specifically for that, a number of his carries in 2012 produced yards and first downs, and he twice scored two rushing touchdowns in games.  We don't set out for that to happen, and, hopefully, there won't be times this year when it is necessitated.  Keeping him upright and protected is job one.  We will be diverse in the approach, but a pocket presence may be more in order.  Let's hope he progresses like Rodgers did.
MIKE A. (from Westhampton, NY) Not a question but a comment.  Negotiate over an 18% tip?  Really!  Pretty standard fare for a position that gets paid less than minimum wage.
A:  Mike………humor, humor.  C'mon, man, and please don't let it get lost in the translation.  It was a very nice offer that Chris made from the restaurant.  I did Google Minerva's site and it looks like a good place, and I will go there if I am in the area.  The image of a whole team piling in there – a normal travel party size is about 120 people – is a funny one to have.  I bet they could handle it, and I was having fun with my response.  I hope you were having the same fun with your comment.  Just so you and others know, we conduct our business matters appropriately along these lines.  Thanks for reading the mailbag.  Hope you keep checking in from time to time.    
TOM B. (from Muncie, IN) With all the acquisitions, via free agency, trades, or the draft, what, if any, are the Colts lacking.  What is the weakest part of the team now?
A:  We have addressed so many position groups through free agency and the draft that I think we are well-stocked for competition across the board.  Are we satisfied or complacent?  No, but I think we've done all we can to be ready for camp.  I'll refrain from talking about strengths and weaknesses and see what starts to unfold in about six weeks.  You're just up the road from training camp, and I hope you make it to some practices.
ROBERT G. (from Baltimore, MD) (I) love reading mailbag each week.  I've been a Colts fan ever since I was four years old.  The first game I ever watched was an Indianapolis Colts game, and I'll never forget it either.  Living here in Baltimore is tough being a Colts fan as you could imagine, but I bleed blue and am proud of it.  I am interested in Ahmad Bradshaw.  How is he coming along with his foot?  Think he'll be ready to play come week one?  Another question is I am worried about Andrew Luck and his protection through the offensive line.  I am aware of the off-season moves with the line and I am very happy about it.  What would your opinion be with our offensive line this year?  Thank you for your time.  Stay Coltstrong.
A:  Thanks for the support from an area where you likely get some spirited feedback for your loyalty.  We appreciate it.  Ahmad could be a good addition for us.  With the stated dedication to the run game, someone with his production could be a good fit.  We would not have signed him had there been a health issue, and we'll see how he can go in camp in the rotation.  As for the offensive line, I really like where we are.  The size difference between this group and previous lines will be noticeable to fans.  We are veteran across the front with a great mixture of youth and experience.  You can see Ryan Grigson's personnel touch throughout the roster, and, I think, in particular with this unit.  I'm looking forward to seeing them perform this year.
WYATT M. (from League City, TX) I know he will be 36 at the time, but do you see the Colts possibly resigning Reggie Wayne after his current contract runs up after the 2014 season?  He certainly hasn't shown any signs of slowing down, and I would love to see him play with the Colts as long as possible.**
A:  I have no idea, and I hope we see Reggie play only with us.  He's such a credit to the game and the organization that I hope it plays out that way.  His footprints are deep, and there are more to make.  He's one of those key guys who fans like you truly appreciate.
JUSTIN A. (from Pensacola, FL) With the addition of Ahmad Bradshaw, I am really seeing the new dedication to a power running game come to fruition.  What do you think of Vonta Leach?  As you know he is now a free agent and could really fill a much-needed hole for the Colts as a true baddie leading the way for Bradshaw and Vick Ballard.  Thanks for providing a much appreciated link between the fans and the team.  COLTS FOR LIFE!!!!!
A:  I enjoy doing the mailbag for a number of reasons and one of the best ones is engaging with fans who follow us.  It's a great thing hearing from different precincts like the area where you live.  I know there are other solid backs out there, but I have not heard anything along the lines of Vonta Leach joining us.  I know he's been a load to contend with throughout his career, but we have a number of backs already, including two fullbacks.  We'll take "baddies" in the backfield any time, but you kind of get the sense we have done about all that we can do.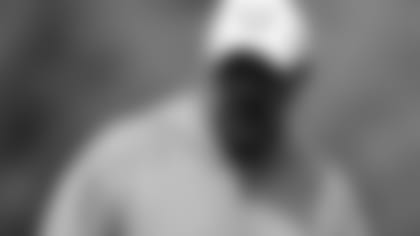 UMAR H. (from Houston, TX) I'm 19 years old and I've been a HUGE fan for as long as I can remember.  I love the Colts and watching them play over the years have helped me through some very tough times.  I love the way the new roster is looking, and I was watching a lot of tape on our cornerbacks are really good in man coverage.  Do you think we'll be playing a lot of man this year considering we'll be playing a few read-option offenses this year possibly?  On offense, I'm worried about our guards, are we looking good there?  And one more question, in the middle of our field is a helmet.  Could you guys possible change that helmet to a cooler looking helmet like the Speed Revolution helmet?  Thank you.
A:  At your age, you've seen a number of great years.  I hope you stay with us, even though you're in enemy territory.  We should be fine in the secondary.  We've done a number of things to acquire talent and develop players who are here.  To what degree we'll see things like the read-option are debatable, but Greg Manusky is a seasoned guy.  He'll have us ready.  As for our guards, I think we're good there, too.  Donald Thomas is a solid addition.  Mike McGlynn is a battler.  As for the helmet on the field, I'll pass your request along.  While we may not do that (and you offered this in jest), thanks for thinking of it for us.
KENNY L. (from Boise, ID) Why is Mark Schlereth of ESPN always negative toward the Colts?  He said the Colts wouldn't make the playoffs.  What have the Colts done to him?  I think the Colts will win 11 games this season and go deep in the playoffs.
A:  While I don't know Mark personally, I think he is a good guy who offers keen insights into the sport that both entertain and educate fans.  I have no qualms about his predictions, or those of others.  You love hearing chatter, or most of it anyway, about the sport.  People are going to have opinions, and 99 percent of those are washed away when games start being played.  We've never done anything to Mark, and to my knowledge he's never been mean-spirited toward us.  I like your prediction of 11 wins and playoff success.  Many fans of the Colts are thinking that way, and it's our goal.  Getting there is the issue.  Let the prognosticators prognosticate, we'll just pay attention to our jobs. 
DAVID H. (from Sebring, FL) Do you think the Colts will take a look at Willis McGahee now that the Broncos cut him?  He might be worth taking a look at to see if he can still perform at a high level.  Have any of the rookie RBs impressed you this year or are doing well?
A:  Just like the question above about Vonta Leach, I think we've done a number of things at the position.  Willis has been solid for many years, and we wish him the best.  The young players have done well, but camp will be a better measuring stick.  They have worked very well to this point.
MARY H. (from Martinsville, IN) In years past, Colts.com has featured articles and photo galleries from the "Tailgate Tour" and "Fan Fest" events.  Why hasn't that happened this year?
A:  Mary, you're one of the best fans we have.  We'll have some site content on those events soon so you and others can follow us around our summer events.