 ](http://careyindiana.com)
INDIANAPOLIS – Readers of Colts.com may submit questions during the week and have a chance to have them answered during the middle of each week.  **Submit your question here**.
Here are responses to some of the questions received recently.  We thank you for your interest in the Colts.  Please make an effort to be concise when submitting a question.
BOB B. (from Deltona, FL) I know on the offensive line the two positions that are solid are Anthony Castonzo and Gosder Cherilus.  Who's the best fit at this time for the other three positions?
A:  We are opening quite a bit with Donald Thomas at left guard, Khaled Holmes at center and Hugh Thornton at right guard, but there has been some shifting in the interior as we try to get guys exposed to more than one position.  Donald has worked at center and so have Jonotthan Harrison and Jack Mewhort.  We've rolled a number of guys through the middle just working on getting guys acclimated to different positions.  There is spirited competition on the interior, but my guess is this is how we will look (L-R:  Thomas-Holmes-Thornton) down the line.  I think we will be better this year, and there will be some real competition internally that will make us sharp.
RUSSELL J. (from Omaha, NE) I would be interested in the constant battle up front with our offensive line.  What happened to Ben Ijalana?  Are we looking any stronger?
A:  You can see the answer above.  Ben, to my knowledge, is with the New York Jets.  You remember Ben being taken just behind Anthony Castonzo in 2011 out of Villanova and having a couple of serious knee injuries.  We released Ben last year, and he caught on with the Jets.  Ben is a stand-up guy, a real positive-type person, and I hope he has a long career.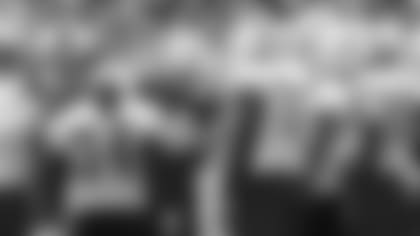 PAR M. (from Indianapolis) Do the Colts ever practice in full uniforms in Anderson?
A:  There are times we go with full gear on in practices, but it's never in game uniforms.  We practice with the offense wearing the same color jerseys we will be wearing in the upcoming game, but game uniforms are kept for showtime.  The wear and tear and dry-cleaning are but two of the issues involved in that.  It would make no sense to practice in the game wear.  I know of no team that does, but it was a good question to ask.  If people only knew the jobs equipment men have.  If we practiced in game uniform it only would add more gray hairs for them.
DAVE H. (from Sebring, FL) Who comes up with these coach power rankings lists?  Are they nuts?  I laughed when I saw they had Chuck Pagano at 17th for coaches.  I could not believe that they have other coaches with worse winning records.
A:  You seem to catch every NFL show that is on.  I know there is a vast number of people like you that follow the sport so well, but you can't let things like this get to you (I have the same problem, though).  Things like this are done sometimes just to get a rise out of people.  There are so many talking heads that you're bound to get a few wacky results.  Being ranked 17th is better than some but even if Chuck were ranked higher, what would it matter, really?  I'd encourage you to keep watching shows, but don't take them to heart so much.  Chuck and the rest of our gang will show up on game days on time and go out and compete.  However we're ranked after that, so be it.  I do love how you really follow us so closely.
WAYNE W. (from Boston, MA) My question is regarding training camp and specifically, 'Hard Knocks.'  I understand there are exemptions for teams being chosen based on making the playoffs which tends to put us out of contention to be chosen.  Obviously, as a fan, wanting to see the Colts be on the show is a dilemma – you don't want the distraction, but it would be great to see our own coaches and players behind the scenes.  Have there ever been any discussions of volunteering for the show, or does the Colts organization stay as far away from this option as possible as seemingly most teams do?
A:  I know of no substantial discussions yet for us at this point with 'Hard Knocks.'  I know it's great viewing for a lot of fans.  I don't know that it ever will feature us, but you never know.  Until it happens, just keep up with us on Colts.com.  We'll feed your appetite.  As far as the playoff stipulation and being on that show, I hope we're always exempt with that status.
BRAEDEN H. (from Paris, KY) Chuck Pagano is correct injuries are the downside to this great sport.  If the Colts sign a RB to fill in for Vick, here are some names that I found:  Delone Carter, Felix Jones, LaRod Stephens-Howling, Deji Karim, Tashard Choice.  I know it's not my decision, but these are some names that could be considered.
A:  As you know by now, we have re-signed Davin Meggett since Vick will be out for the year, and we have waived Chris Rainey.  Davin has been with us before, so he is familiar with what we do, and he's a good guy to have around.  We also added Phillip Tanner.  Guys here will have opportunity out of tough things that happened with us.  You hate to have it that way, but it has happened.  I know Vick appreciates your concern.  What a great young man he is, and we're praying for his recovery.  As for you, keep your passion and thanks for all your regular contributions.
MATT C. (from Indianapolis) What color jerseys are the Colts going to wear on August 7 at the Jets?
A:  I'm quite sure you'll see us in our road whites.  Home teams traditionally wear their colors at home.  The last time I remember us wearing blue jerseys on the road was in Miami in 1997.  We opened the season that year on August 31, and the Dolphins had us wear our darker colors for heat-related reasons.  It was good thinking and probably the decision we would have made ourselves, given the chance.  Look for us in white.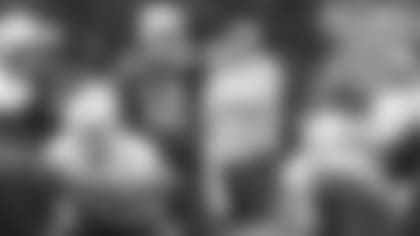 REX P. (from Fort Wayne, IN) Regarding Andrew Luck's incompletions at camp, are stats kept on whose at fault, thrower or receiver, with latter wrong pattern or drop?
A:  These are done by media attending practice, with no input from coaches.  No fault is assigned, and only the coaches really would know if wrong assignments are run.  Sometimes drops occur, and those are evident.  These are 7-on-7 or 11-on-11 drills where pressure comes from the defense, but QBs aren't hit.  They are not on par with game statistics, but you can see how sharp players are.  It's something we do to publicize about what goes on in practice.  You can debate the merit, but it does convey a legitimate bit of what is going on.  Take it for what you will, and we'll keep doing it.  I do know that when Andrew completed seven straight red zone passes, two for touchdowns, the other day that he was smoking.
FELA W. (from Indianapolis) Is there cause for concern with Vontae Davis and LaRon Landry not practicing?  What FA pickups are having a great camp?
A:  While I'm sure Chuck and Ryan wanted Vontae and LaRon out there from the get-go, both are working hard in rehab and should be back in action soon.  We certainly need their contributions, and I sense no deep concerns.  We've only had a couple of days in pads, so I don't want to draw conclusions too much on the FAs.  Jonotthan Harrison came through for some praise the other day, and he's had some time on the line's interior.  Let's wait a bit more, though, before drawing conclusions either way.
ISAK H. (from Mexico City, Mexico) Vick Ballard got into IR again, Chris Rainey was waived.  Would the Colts consider signing a player like Montario Hardesty instead of small pickups?  Who is winning for the backup C position?  I have not heard much on either Jonotthan Harrison or FN Lutz III.
A:  Vick going down was like a punch in the gut for everyone because he's so respected and had worked so hard.  Both injuries (right knee last year; left Achilles this year) happened in non-contact drills, but that has nothing to do with his toughness.  It's just unfortunate.  We've added Davin Meggett and Phillip Tanner.  I would not know of any discussion on Hardesty or other players, but Ryan keeps in tune with everything that happens.  We've mentioned a bit on Harrison in the mailbag.  I don't know that he would beat out Jack Mewhort for the number two role, or Donald Thomas either.
ZACH M. (from Detroit, MI) I know things haven't been good with the Colts' RB situation from injuries or off-the-field issues.  Can Zurlon Tipton make the rotation with Richardson and Bradshaw?
A:  I know he's from your area, and that may be the basis for the letter.  Zurlon has had a few reps with the backups.  What could come down for him and others would be special teams.  We've added two backs to replace Vick and Chris Rainey.  Zurlon has the advantage of having been here longer, but it's probably too early to make any pronouncements on how things stack up behind Trent and Ahmad.  I know it's no answer, and we'll have to wait for game weeks.  Stay in touch.
KERVENS P. (from Atlanta, GA) It stung my heart to see Vick Ballard go down again.  I would like to see him play in the Super Bowl when we get there this year.  I wish him well.  He worked so hard.  I hope if Trent doesn't run well this year, he won't blame it on lack of training camp practice.  He needs all the help practice-wise he can get.  He will not be one to slow us down to reach the Super Bowl this season.
A:  Vick's injury was a tough blow.  Colts fans really welcomed him back after the long recovery road.  We'll have to do so again next year.  As for Trent, the first five days in camp did not hold much for him on the field.  That needs to change, and I bet he's back soon.  Trent's making no excuses, and he has benefited from being here.  We want him to be out there to take some load off others.  Glad our problems at RB so far haven't dampened your SB spirits.
DC BESLER (from Washington) I read you are leaving.  Thank you for all the times you've answered our questions.  Good luck!  Will the mailbag still exist?
A:  You read correctly, but I would not have brought it up on my own.  I am exiting the Colts after 29 years, and it has been a wonderful run.  I've been lucky to be a part of a great organization for many years, and I will have memories to last a lifetime.  I've been around so many great coaches, players and administrators, and I'm serious in saying I've enjoyed doing the mailbag, too.  The pleasure has been mine.  I've said before it's important to hear the fans, give them a chance to interact with the team and have their say.  Fans are such an important part of the equation, and we'll never take them for granted.  I hope I've entertained and informed readers, and your letter (I don't ever remember you writing before, but I am glad you wrote) is a great chance to say these things.  My wife and I are headed to Florida and will tackle new pursuits.  We hope to be as blessed and fortunate there as we have been in Indianapolis.  I'm sure the mailbag will continue.  I think It's too important to let go away.  Thanks for the letter and the nice words.  I will miss all the contributors.  I'll be watching and cheering just like you on game days.