 ](http://careyindiana.com)
INDIANAPOLIS – Readers of Colts.com may submit questions during the week and have a chance to have them answered during the middle of each week.  **Submit your question here**.
Here are responses to some of the questions received recently.  We thank you for your interest in the Colts.  Please make an effort to be concise when submitting a question.
INDIANAPOLIS – Readers of Colts.com may submit questions during the week and have a chance to have them answered during the middle of each week.  Here are responses to some of the questions received recently.  We thank you for your interest in the Colts.  Please make an effort to be concise when submitting a question.
WYSE F. (from Indianapolis) How good do you think our defense will be this season?  I'm really excited about our additions with D'Qwell Jackson, Art Jones, Jonathan Newsome and some good FA pickups in the backfield.  By the way, I have us winning the Super Bowl this year.
A:  You're not alone in predicting Super Bowl success, but none of that is coming from inside our walls.  Still, it's nice our fans are so high on the team's prospects.  Don't lose sight of how competitive things will be for us in the AFC, though.  I think the defense will improve from where it's been.  We were not sturdy enough consistently against the run last year and did not meet the top five unit aspirations we had going into 2013.  Every year we have brought in talent to help with the 3-4, and D'Qwell and Art are only going to help even more.  We're really getting the interior mix we've sought.  Some young guys need to join Jonathan in making an impact, and I truly think we'll look a lot more like how Ryan and Chuck want us to than we have the last two seasons.  That's not an indictment of how we've been, but the progression to get there has taken some time.  That's normal with a lot of teams, and we haven't been immune to it.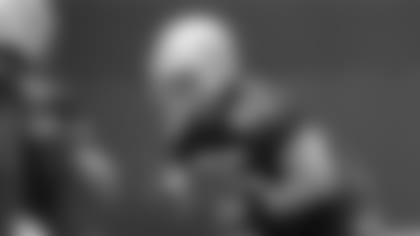 JOHN C. (from Bellerose, NY) I see the fan poll and the one we want to see most is Jack Mewhort. I'm not a big fan of rookies to come in and play great.  I feel it takes about two-to-three years.  Do we have enough players who can play side-by-side without having a lot of time together for us to make a big jump on defense?
A:  You're typically right with offensive linemen coming along on a two- or three-year developing process, but there are exceptions.  I'm not saying Jack is an exception and should/could start early, but he did have a good spring with us and shows why we had him targeted for a long time.  We love Jack's versatility (**click here for a story on Jack**).  His upbringing and ethic will suit us well for years.  Like the question above, I think we do have the defensive components here to mesh pretty well.  Sure, we have to replace Antoine Bethea.  We will, and you will see cohesion with the line and linebackers.  It was a solid off-season program and guys are ready to report next week.  I don't think there will be any issues with guys being in sync, and they already have bought into our culture and philosophies.  The full offense and defense have been installed.  Camp is our final tune up.
JOHN K. (from Syracuse, NY) Long-time Colts fan, and I enjoy the mailbag.  Since we have capable RBs, I would love to see us implement the stretch-play into the offense.  Peyton and Edgerrin used this in the past so effectively, and I only see it run a handful of times by various teams.  It was great in terms of play-action pass or audible.  I think that Andrew would love to use it and open up some deep shots.  Is our O-line capable of pulling guards and getting to the outside, or are we going to just play smash mouth?  What are your thoughts?
A:  Our style of line play has changed a bit from those days, and that approach was outstanding and helped build The Triplets (**click here to review 2003 season**) that everyone loved.  We ran well and threw deep, and it was amazing how Marvin and others could get so open when Peyton pulled the ball back from EJ's stomach (**click here to review 1999 season**).  I wouldn't be surprised to see us augment a bit to our rushing approach from last year.  We have some capable backs, a brilliant QB and a stable of receivers who could replicate some of those elements (**click here to review 2000 season**).  That's about as far as I will go with the answer, but I think this offense (however we run it) will accentuate our power (and versatile) backs, and Andrew should be able to find targets all over the field.  As a long-time fan, it will be fun to hear your observations once this 2014 unit gets a body of work this fall.  
RICHARD W. (from Tulsa, OK) Do you think the offense will display a more up-tempo style in 2014?**
A:  I think we have it in us to go at any tempo.  There were some observers last year who preferred that we do it more because there was some success.  Pep Hamilton has said he wants a 'score-first' offense this year.  Up-tempo, on the ground, mixing it?  Stay tuned.  I think we're versed enough to do what works best.  Let's hope any up-tempo we do is not the result of a tilted scoreboard.  I do know we want to perform better on third downs and in the red zone.  Avoiding first-half deficits is a key as well.  That mid-season stretch we had last year was very difficult.
ROB E. (from Ocala, FL) How is Vick Ballard doing in his recovery?  What is the thought about him being ready for training camp?  I saw a picture of him in the weight room and he looks huge (muscular)!!  With everyone rooting for TRich and Ahmad, please let him know we haven't forgotten about him and his 2012 season.  I think if he comes back healthy and plays with a chip on his shoulder, he could easily start.
A:  Vick was not able to get going in OTAs and mini-camp.  I have heard of no setback for him, and training camp should give him the chance to get some work that went to Trent and Ahmad.  You're right on Vick's build.  He does appear much bigger.  Some of that is natural maturation, but some of that is from the determination he showed in bouncing back.  Earlier in his career (pre-NFL), some may have undersold what Vick could do.  None of us here do, and he likely will play with that chip in place.  He didn't want one wasted day this off-season in his rehab (**click here for story**), and you know he's ready to roll.
KIEFFER G. (from Miami, FL) I want to know if Loucheiz Purifoy still exists on the team.  We got him undrafted and supposedly he had a lot of talent but was hindered with off-field issues.  Also with LaVon Brazill (waived), the roster of WRs is shortened.  I was thinking that Griff Whalen should return punts/kicks.  Last season he showed a lot of promise for the moments he returned kicks.  While Da'Rick should stay on as the fifth WR, even though he has starter talent, I don't make those decisions.
A:  Loucheiz is here, so keep following us.  We've traditionally kept players who earn their way on the field.  Young guys like him need to help make a difference on special teams, and he's shown the appreciation for that.  We have a long history of undrafted FAs who made it here.  Loucheiz will have that chance.  Griff has that same mindset with special teams, and his knowledge of the offense is superb.  Last camp, Chuck repeatedly noted how Griff kept impressing the coaches, and you know there is no let-up in him.  LaVon's departure certainly means expanded opportunity for those on hand.  It sounds like you'll be looking for articles on WR battles as camp ensues.  We'll try to keep you fed accordingly.  There should be some great work going on daily. 
JOHN W. (from Ohio) I know this year Colts are trying to up the defense and added some pieces in the draft and free agency.  Maybe some of the pieces that can help are Dewey McDonald, Qua Cox or Loucheiz Purifoy.
A:  All three worked well in the off-season program and showed why we brought them in here.  I know the focus on the secondary by observers will be intense starting next week in camp.  They're all workers who know we'll keep the best players.  As stated above in the mailbag, special teams contributions will be a huge part of the difference, and I bet they're enthusiastic when we get to Anderson.  There will be battles of all kinds, and how the secondary is shaped behind the starting unit will tell an important part of the story.  Dewey (**click here for story**), Qua and Loucheiz will have their chances to display their wares.
DAVE H. (from Sebring, FL) Seems like everybody from players to media has it in for the Colts!  Jadeveon Clowney says he is gunning for Andrew Luck this year.  SportsCenter says we didn't address the O-line and secondary.  Talking about Patriots-Colts, they said how can it be a rivalry because the Patriots always won.  Until the Colts can prove they can go into any stadium and beat good teams in the playoffs, then you can call them rivals.
A:  Voices, voices, voices.  Sounds like the season is at hand.  I know Bob B. from Deltona has taken exception to Clowney's comments.  I find them middle of the road as talk goes, and we'll handle that accordingly when the time comes.  What matters is beating his team, and nothing more.  As for ESPN, you could counteract that by reading The Sporting News' preseason publication that predicts us as conference champs.  Unfortunately, that opinion and those at ESPN count all the same – nothing.  It's true we haven't competed well with New England for a few years.  Each year is new, and they'll come here on November 16.  We've covered a lot of ground under Ryan and Chuck.  They've built a very nice program in two seasons, and we always want more.  We do need to compete better on the road.  I bet our guys will tell you that.  We've had two playoff losses in two years, that's more than many expected from us to start with.  Enjoy the chatter.  Don't take it to heart, just follow your Colts on our website.  That should keep your blood pressure down.
BOB M. (from Milwaukee, WI) These young Colts have already given me more thrills than I can count – the Kansas City and Green Bay comebacks, victories over Denver, Seattle and San Francisco, Vick Ballard's twisting OT touchdown, T.Y.'s late-game heroics and, of course, the beauty of watching Andrew run the show.  Colts fans have been so blessed with John Unitas, Bert Jones, Jim Harbaugh, Peyton Manning and now Luck.  To some, sports are measured in statistics and rings.  To me, it's an on-going thrill-ride.  It really is the ultimate reality show.  Can't wait for 2014.
A:  Bob, anything I add to your letter only detracts from its message (that's a Ron Meyer oldie-but-goodie expression I trot out sometimes, and it felt right here).  You nailed it, sir.  All we can do it wait for more chapters to be written so they're added to the memory bank.
KEVIN B. (Brazil, IN) When will the 2014 season tickets be mailed out?
A:  They will be sent out via overnight delivery next week.  Thank you and all season ticket holders for being engaged with us like you are.