 ](http://careyindiana.com)
INDIANAPOLIS – Readers of Colts.com may submit questions during the week and have a chance to have them answered during the middle of each week.  **Submit your question here**.  Here are responses to some of the questions received recently.  We thank you for your interest in the Colts.
CHRIS M. (from Sioux Falls, SD) Whoever said last week to bring in Terrell Owens or Chad Johnson here is out of his mind.  Our receiving corps is a very solid.  Brazill and Rogers will step up in big games just like T.Y did.  What process will the coaches use to get Trent comfortable with the offense?  Thirdly, I would like to share how big of a Colts fan I am.  I took a bet from my boss (who is a Patriots fan) that if the Colts don't win the Super Bowl next year I have to grow my beard until they win one.  Luckily, we will be in Arizona next year versus the 49ers.  I'm calling it now.
A:  Glad you agree on those two veteran WRs (they've been very productive, but have played for a number of years), but everyone has his/her chance to voice opinions in the mailbag.  I hope LaVon and **Da'Rick (click here for Da'Rick at Cincinnati)** jump up like T.Y. did, only because T.Y. is a well-established, complete receiver.  Trent will have the full disposal of our off-season work that he didn't have last year.  We won't do anything with him outside of what everyone else does, but he will benefit greatly from a full spring and summer here.  As for the beard, I hope you're right about next year.  Colts-SF would be a great Super Bowl.  I hope you're like Babe Ruth in calling your shots, and I hope you don't end up looking like Billy Gibbons.  
BOB B. (from Deltona, FL) I appreciate your feedback, but what you call harsh I call constructive criticism.  Howard Mudd is still an excellent coach.  I know you support the current people in that position, but results count a lot.  I feel Manusky's concept of defense is lacking in many areas.  I know and am happy the Colts won 23 games in two years but when you spend a lot of money on free agents to improve, I feel people didn't get their money's worth.  I've read some blogs recently and someone showed if we cut a certain amount of players the money available in cap space would increase significantly.**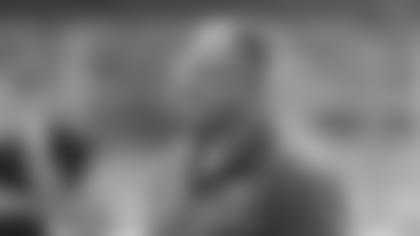 A:  Thanks for your opinions.  I agree on Howard and have a great respect and affinity for him.  He's retired north of Seattle and is loving life, from all reports.  We've moved on with Joe Gilbert and Hal Hunter, and we're just fine there (and with Greg Manusky).  For the most part, our signings last year were good.  Injuries derailed a couple that we want to get back on track.  It seems we will have around $35 million in cap space, and we'll follow the lead of Ryan and Chuck.  We've been prudent financially and will continue to do so.  They inherited a tough circumstance in that area (a tight cap with a great deal of dead money) and have done well.  We have long-range vision with that and will act accordingly.  I would be careful with what you read out there.  Among information is misinformation.  Just don't lose interest in following us.
JACKSON C. (from Bloomington, IN) With all the cap space, do you see the Colts making a big splash in free agency?  If so, who?  Thanks.
A:  You can see part of my answer above.  We should have some room to move.  Will we do so like last year?  I don't think so, but I could be wrong.  Last year, we set a franchise record for the number of guys brought in.  We'll have to see what the cap is and what the pool looks like, along with evaluating our own players.  People can speculate, but we'll wait a bit before addressing anything publicly.  What is known is there will be contracts coming up in the near future, and we want to make sure guys who are doing great things here are approached appropriately.  While the money expected to be available is a decent chunk, it doesn't go as far as one might think, and you have to plan far past just one year.
VINNY T. (from New Jersey) What are the Colts' future plans for LB Daniel Adongo.
A:  Unless I'm wrong, his contract was for two years.  **Daniel (click here for Adongo story)** is a very intriguing prospect who works like you wouldn't believe.  He has put on about 30 good pounds in our program and has a great ethic.  He's still learning.  He likes the atmosphere, so we'll just let Daniel develop.  Don't underestimate the difficulty of the jump from the highest level of one sport to another, but his instincts, maturity, competitiveness, ability and intelligence are factors that play in favor of us all.  Like Josh McNary, there is great upside, and year two will be a fun watch.  Daniel is very centered, and I know we're all excited about his prospects.
CHRIS E. (from Magnolia, DE) The Colts are my favorite team since 1970!  Why did the GM sign a very expensive, older back-up QB rather than a cheaper, younger back-up like Tim Tebow?  Tebow beat the Steelers in the playoffs and Peyton Manning never did.  What reason could possibly be given to signing Vontae Davis over Alterraun Verner?  Clearly, Verner is the better shutdown CB and should be signed by us!**
A:  Matt Hasselbeck was a tremendous addition as an insurance policy and for veteran savvy.  The offenses he's seen were a good mix for us, and he was a great asset for two young QBs (counting Chandler Harnish).  If there had been a better fit than him we would have done it, but it's hard to see anyone who could have provided us more than Matt did.  As for the shot at Peyton, c'mon.  I don't think a Colts fan of 40-plus years could have a beef for what he did.  Vontae can be a very good player for us, and he was at times.  If there is someone we prefer other than him, we'll pursue it.  Vontae, however, has a bright future.  Thanks for 40 years of support.  We both have a lot of emotion invested in this franchise.
ISRAEL R. (from Laredo, TX) What about Antoine Bethea?  Will he be re-signed?  He is one of the best safeties in the league.**
A:  I sure hope Antoine is here next year.  I'll let my personal opinion show in this case.  In my 29 years with the club, I've seen no player with a greater approach in every regard – on and off the field, as a community and locker room leader, a voice of reason and terrific talent.  I guess I have a soft spot for guys who both "get it and do it" – those are two different things, and only the best of the best achieve it.  I don't know our plans, but you hope a guy like Antoine plays his whole career in one place.  Sometimes the business side of the NFL mitigates against that.  I hope not.  He hopes not.  You hope not, and we'll have to see.   I don't think there is anything about A.B. that Colts fans don't respect.
KENNEDY C. (from Las Vegas, NV) I was wondering if we were going to draft a receiver or pick one up through free agency.  If not, what are the chances of Griff Whalen being that third receiver?  Thanks and go Colts!**
A:  Our plans will remain under lock and key, like they always do.  We do have some young, budding talent behind Reggie and T.Y.  T.Y. has emerged big-time.  I think he has arrived as a star.  We'll have to plan for that accordingly going forward, as all fans want us to do.  Reggie says he will be back.  I believe him.  Some of our younger guys show promise, and Griff is one of them.  If you're a Griff fan (and there are many), you have to love how he's taken advantage of this opportunity.  He's a grinder who has become an entity.  As far as free agency and/or the draft, it's way too early to guess.  We do have promise on hand with our current group, but we always encourage competition.  I doubt you expected a cut-and-dried answer.  There's not one really to give right now. 
LEVI F. (from Grand Ridge, FL) I understand that Jared Allen and Justin Tuck will be unrestricted free agents.  What is the possibility of signing one of them to say a one-year deal?  I think they could really help in the pass rush.  I've heard rumors that Anquan Boldin won't be re-signed.  Is it possible to get him?  Michael Oher is supposed to be a free agent, too.  He could really help in the run game and pass block.  ** 
RON K. (from Pennsburg, PA) I just read that the CB from Chicago (Charles Tillman) will test free agency.  Do you think the Colts should make him an offer?
A:  Levi and Ron, I'll lump my answers together for this one.  It's probably best to refrain from talking about specific players until the process gets a little clearer in March and then, it's best to follow the leads of Ryan and Chuck.  I know there is tremendous enthusiasm among fans of all teams as free agency gets closer.  There will be a number of names bandied about, and we just can't get into blow-by-blow responses with rumors readers may hear.  I don't want contributors to stop sending opinions in, but there will be a better time than now for responses on our end.  Just remember what was said earlier in the mailbag about our needing to be smart with our moves.  While there could be areas to address, we have to watch the purse strings smartly.  Our vision has to go beyond 2014.  Thanks for two good letters, and I hope you understand my response.