 INDIANAPOLIS – Readers of Colts.com may submit questions during the week and have a chance to have them answered during the middle of each week.  **Submit your question here**.  Here are responses to some of the questions received recently.  We thank you for your interest in the Colts.
TROIT S. (from Texas) No question.  I want to applaud the Colts for being quick to give Josh McNair an opportunity.  This man is to be greatly admired, and so is your organization for stepping up to the plate.  Thank you.
A:  One of the great letters we've ever gotten.  Josh is a really good story and a wonderful example for many of us.  He has served his country and fulfilled obligations.  Josh is working with the inside linebackers and has adapted quickly back into the football mode.  With Pat Angerer down for the moment, that spot is being played by three people.  I'm sure Colts fans, including you, are curious to see him perform on Sunday.  He seems to be mixing it up pretty well.
PATRICK K. (from Danbury, NC) Do you think that Vick Ballard has the edge on Ahmad Bradshaw now that he is getting all the reps with the first team?**
A:  Ahmad should be ready to go in about a week, according to his estimation.  Vick has been doing well, and the competition is friendly and spirited among all the backs.  I think the duration of camp will provide that answer.  We're not to the first game yet.  The winner will be the team since we will have quality backs.
KERVENS F. (from Fort Pierce, FL) What do you see the Colts record being this season?  Is Ahmad Bradshaw the starting runner back or Vick Ballard?
A:  I don't like to ever project results.  It's better to attack each week and add everything up at the end.  That's how Bruce Arians portrayed it last year while subbing for Chuck Pagano.  I overheard Dwayne Allen using the same type of wording last week, and he was being very sincere.  He and a bunch of others hated the feeling of the loss in Baltimore.  It sticks with them, because the game very much was unsettled into the fourth quarter.  Baltimore, as you know, went onto the title.  As for your question on the backs, please see the answer above.  Stay tuned during preseason.  The matter is not settled.  Preseason games take criticism from some people, but they are important in answering roster decisions.  People shouldn't forget that (see:  Gary Brackett, Melvin Bullitt).
NOAH S. (from Michigan City, IN) What do the orange and green caps in walk-throughs mean?  When do the Colts release their first official depth chart?
A:  In practice when the offense works against the offense (this is in the early stage before the defense and offense meet), players wear caps to designate the different positions across the scrimmage line.  Orange hats may mean a linebacker, red may mean defensive back, etc.  The players with the caps are part of the "look" team to help the offense identify what it is seeing.  This is the first week of preseason play, so the depth chart was issued yesterday.  We always wait until the first week to do so.  Even in the regular season it fluctuates so if you see it, don't jump to too many conclusions.
EXTON C. (from Indianapolis) It is quite custom for teams to induct former members into their Hall of Fame before the individual is eligible for the Pro Football Hall of Fame.  I believe Coach Dungy is eligible next year.  I am thinking Coach Dungy will be inducted into the Ring of Honor on Sunday Night Football against the Broncos.  Is there any way you could give a timeline on when the owner might decide who and when any Colts will go into the Ring of Honor this season?**
A:  Tony already is in the Ring of Honor.  He was inducted in 2010.  He is eligible for the Pro Football Hall of Fame in discussions at the upcoming Super Bowl.  As for our Ring of Honor this year, I have heard of no plans for an induction.  Last year when we inducted Edgerrin, we announced it before training camp.  I would not look for anything this year.  It can be an annual thing, but it doesn't have to be.  The years we have had inductees are 1996, 1997, 2001, 2006, 2007, 2008, 2010, 2011 and 2012.
BOB M. (from Milwaukee, WI) Last August, I spent some time in Denver and was lucky enough to visit the Broncos training facility.  There was Peyton lined up with the DB's getting a look at "his" offense from their perspective and tutoring the DB's between plays on their reads.  A little extra technique from the old master.  Pass that one along to Andrew, if he hasn't already done it.**
A:  Thanks for sharing.  A lot of things go on at practice.  You have to keep your eyes peeled, and there are all forms of instruction.  Guys like Andrew and Peyton are engaged in the process completely.  Those are things that fans should watch at practices.
JAMES M. (from Haslet, TX) Is Bjoern Werner going to play much this year?  At first I was hearing that he and Erik Walden would be splitting time, but now I am hearing that he has been backing up Robert Mathis, and I doubt they'd ever take out Mathis to play a rookie.
A:  Bjoern is doing well here in camp.  We're seeing multiple looks defensively, but it looks like we will leave him behind Robert Mathis at the 'rush' position.  You won't have any worries about Bjoern playing.  There will be ways to get him on the field.
CARL F. (from Tampa, FL) I think our defense is going to be one of the scariest defenses in the league this year because of the additions Ryan Grigson made this offseason.  Because of the success Darius Butler is having this camp, is it possible Coach Chuck will put him over Greg Toler to start?  Who is more likely to be starting opposite of Robert Mathis between Bjoern Werner and Erik Walden?  Are we going to keep four running backs on our because of Kerwynn Williams' special teams abilities, or are we going to cut it down to three and release Donald Brown and Delone Carter?  Is Vick Ballard looking like the starter this year after his exceptional rookie season and Ahmad Bradshaw being our power runner in some second- and third-down situations?
A:  That's a load of questions, Carl.  Darius and Greg both are having good camps.  A great number of the DBs are.  They've been doing well in drills against the offense.  I do think Greg will be the starter, unless something dramatic happens.  Just my opinion.  I answered the LB question from a previous reader.  Heading into preseason games, a lot is to be determined with the running backs.  Their coach, David Walker, termed the competition "spirited and friendly," and said no player should be comfortable in how the rotation will shake out.  Bradshaw should be healthy soon.  Whether he plays in preseason or not, we'll see.  He does not see too eager to do so, but he was kidding about it.  Vick has looked good, and so has Donald.  I think a lot of fans are eager to see how this unfolds, and we have four games to do it.  Again, that's the value of preseason games.  They get a knock from some people, but they are vital.  There have been a number of Pro Bowlers who were undrafted free agents.
MARY H. (from Martinsville, IN)Will the Colts be wearing a special 30th Anniversary patch on their jerseys this season?
A:  Yes, there will be a 30th Anniversary patch worn this season.  We did this in 1993 for our 10th season, too.   We also had a patch on the jerseys in 1997 to honor the memory of Robert Irsay.
NICK M. (from Virginia) I love reading the mailbag, so I decided to see if I could get my first question answered.  My question is the injury status of some of our players such as Brandon McKinney.  Can he come off injured reserve, or is he done?  I was really hoping he would have a comeback, and any news on Ben Ijalana impressing at camp?  (He's) my other underdog I hoped would make the 53-man roster.
A:  Brandon and the club have parted ways, and we wish him all the best.  Brandon is a quiet guy and a battler.  I was pulling for him because of that two quality.  I hope he can come back next year in the league.  Ben has been in every practice thus far.  It's great seeing him out there.  He's making his best effort to continue his career after two very tough knee injuries.  I hope he gets a big hand and some playing time on Sunday.
RON L. (from Dover, DE) I know he is not with the team anymore, but would you have any idea how I could write to Bill Polian to get an autograph?  I consider him one of the top talent appraisers in the history of the NFL.  I love what Ryan Grigson is doing and hope he can approach what Polian brought.  Looks promising!
A:  Though he is not with the team anymore, you may direct the letter to us at:  P.O. Box 535000/Indianapolis, IN/46253 and we will make sure to get it to Bill.  He had an outstanding career, and Ryan Grigson is off to a terrific start, too.  Both of them have put building blocks in place to make Sundays fun for a lot of us.
SACHIN D. (from Australia) Are there any future plans on the Colts playing Down Under?  Are there any streaming sites to watch Colts games Down Under besides Gamepass, as there are not many Colts games on?
A:  Sachin, there are no plans at the moment for the Colts to visit down there.  I never have heard of any NFL plans that relate to Australia, but everyone knows there is a hearty appetite for life and sports there.  As for games, it sounds like you are on top of what is available.  Should I hear any other options, I'll pass them along.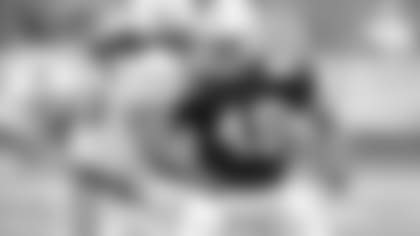 ROBERT G. (from Baltimore, MD) How is Darrius Heyward-Bey doing?  I am extremely worried about his knee, should I be?  When should Colts Nation expect a return? Do you think he will be ready for regular season?  Please ease our anxiety! Thanks, Coltstrong forever and always.
A:  Darrius has a knee sprain.   The MRI results were negative and he is day-to-day.  He viewed practice on Monday and Tuesday and stood with his teammates.  If the injury were more severe, he would not be out there.  We can't help reports that go beyond the facts.  I hope this helps you and others.  I know he wants to get back out there, too.
CHRIS M. (from Sioux Falls, SD) Now that Josh McNary is officially done with his responsibilities with the Army, will he get a shot at playing time?  I'm very excited to watch the first preseason game on Sunday.  I hope Josh is out there and can prove his toughness as a strong linebacker.  I also want to thank him for his service to our country.
A:  Josh should get a pretty good chance on Sunday against the Bills.  I talked about him earlier in the mailbag and Coach Pagano says the position for the moment will be split among Josh, Kelvin Sheppard and Kavell Conner.  It is good competition, and I know Josh would accept your thanks for his service in the military.