 INDIANAPOLIS – Readers of Colts.com may submit questions during the week and have a chance to have them answered during the middle of each week.  **Submit your question here**.  Here are responses to some of the questions received recently.  We thank you for your interest in the Colts.
CRISTY P. (from Indianapolis) I'm a den leader for a Cub Scout pack in South Indianapolis.  I was wondering who I would need to contact to maybe have a Colts player maybe visit with the pack?
A:  It would be best for you to reach the club directly on this matter.  You may do so at the following email address:  coltscommunity@colts.nfl.net.  Thank you for your interest in the Colts.
JONATHAN D. (from Phoenix, AZ) I read the mailbag and updates from training camp and I always seem to see the same names listed as having missed practice for some injury or another, how is it looking for Hugh Thornton, Khaled Holmes, Joe Reitz and Daniel Adongo?
A:  The injuries for Khaled and Hugh do not seem to be of long-term nature, but they have not returned yet.  It's unfortunate two young talents like that have missed a great deal of training camp.  Joe played against Buffalo last Sunday and Daniel returned to practice yesterday. We've been hit a bit by the injury bug in camp, but guys are hanging in there.  Some (Coach Pagano cited Allen Chapman and praised Delano Howell for his conditioning) used the Buffalo game to distinguish themselves.  Khaled and Hugh are in the plans here.  We want them back soon. 
KERVENS F. (from Fort Pierce, FL) Jerrell Freemen is starting and who is the other inside linebacker starting?  Do you think Reggie Wayne is Hall-of-Fame ready?
A:  Pat Angerer returned from PUP yesterday and will be worked back into the process in a reasonable way.  You don't want any more setbacks with a player of Pat's ability.  It's been a long road for him.  Kavell Conner and Kelvin Sheppard have gotten the bulk of the work inside.  Both played against Buffalo, and Kavell seemed to have a solid game.  Colts fans are quite familiar with Kavell and the pop he brings.  Kelvin has seen a good amount of time since coming from Buffalo.  He is being worked into some packages, and both played almost 40 percent of the defensive snaps last week.  Josh McNary is adapting to his return to the game after military service.  Josh hurt a hamstring about a week ago and missed the Buffalo game.  We have three more weeks to decide matters, and hopefully Pat gets back to 100 percent quickly.  A healthy Pat Angerer really improves this defense.  As for **Reggie (click here for photo gallery from 2012 game against Green Bay)**, let's hope he plays a number of years more so it is a tap-in putt.  Right now and as much as I want to, I wouldn't characterize it that way.  There are a few retired players with numbers equitable to Reggie, and they're waiting.  A perfect thing would be for Marvin Harrison to get in quickly and have Reggie meet or surpass those numbers to get there, too.  What a great thing that would be.
RUSSELL J. (from Omaha, NE) It is great to hear Big Ben (Ijalana) is getting reps and doing well.  My question is will we be investing in another center?**
A:  I hope we are done.  We invested heavily on the line at tackle and guard in free agency and drafted Khaled Holmes and Hugh Thornton this year, plus Samson Satele was a free agent last year.  Behind Satele is Holmes, Rick Schmeig and Thomas Austin.  Again, hope we're done there.
STEVE L. (from Indianapolis) Have you heard anything about the Colts wearing any of their throwback uniforms this year?  I know it's been awhile, the last time I can remember is on Thanksgiving in 2004, I think?  I believe the last GM we had didn't like doing that.  Thanks.
A:  There are no plans for throwback uniforms to be worn this year.  The throwbacks we wore in Detroit (2004) and Philadelphia (2010) were sweet looks.  I loved them, very historic.  We will have a 30th Anniversary patch on the uniforms this year, and we did wear white jerseys last Sunday against Buffalo, but that will be it for this season.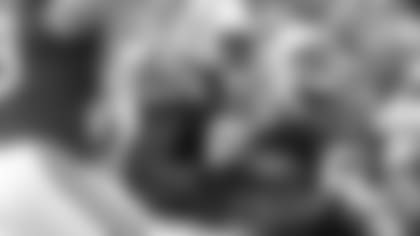 BRAEDEN H. (from Paris, KY) When does the coaching staff start making the first set of roster cuts to narrow it down to a 53-man roster?  Also, other than Andrew Luck, Griff Whalen, and Coby Fleener who know this style of offense who do you see being a potential break out star under Pep Hamilton's new offense?
A:  Rosters must be reduced from 90 to 75 players by 4:00 p.m. (ET) on August 27 and to 53 players by 6:00 p.m. (ET) on August 31.  There are a number of players who are doing very well in the offense, so I would hate to single them out by name.  I will say two rookies who were very solid last year, Dwayne Allen and T.Y. Hilton, are performing very well (even though Dwayne is banged up at the moment).  With health, their output could be outstanding.
AKEEM J. (from Atlanta, GA) Will Pat Angerer be healthy by the beginning of the regular season because we know he can be a dominant presence?  Also as for Darrius Heyward-Bey, he had a reputation of the butterfingers and I heard he's been under performing at camp before the knee injury.  I heard he's also been outplayed by the likes of Griff Whalen and Jeremy Kelley.  Is it possible that if he continues to underperform DHB will fall down depth chart?
A:  As mentioned above, Pat has been cleared off PUP and is working back toward 100 percent.  Pat would be a great presence for us again.  As for Darrius, he's been working hard in camp and has been fitting in.  Like all players, there are high points and other moments where you grind and keep working.  Darrius was slowed by the knee sprain recently, but he has been fine in camp.  All that matters now is what happens in Indianapolis, and he's been practicing well.  A number of players are having good camps, and that includes some receivers.  We look for Darrius to be among our leaders this year. 
DAVID H. (from Sebring, FL) Will Chuck Pagano play a lot of the new guys in preseason to evaluate them and to rest the starters for the season to keep them fresh.  What happened to Dwayne Allen?  I hope it is not serious.
A:  Chuck will do a great job of playing all the players he needs to in order for proper evaluations.  It's the premise of preseason and why these games are important.  Starters only got two-to-three possessions against Buffalo Sunday.  Look for that to be upped a bit this week and even more so in the Cleveland game on August 24.  The third preseason game usually finds starters playing into the third quarter.  We have some good positional battles going on in camp, so those guys will be out there.  As for Dwayne, he has a bit of a foot injury.  Doctors want him off the foot for now.  The estimation for him is to be out about two weeks, but he should be ready to roll after that.
JEFF P. (from Bristol, CT) Can you post what our defense did last year (rushing/passing yards given up)?  I think the Colts defense will be much better this year.  Josh Chapman in the middle and LaRon Landry and the rest of our new defensive players will make a big difference.  I don't believe the Colts defense has to be the best in the league.  We have such a good offense we just need to be top ten.  What are your thoughts? Thanks.
A:  In yards allowed, the defense ranked 26th at 374.3, while the rushing defense was 29th at 137.5 and the pass defense was 21st at 236.8.  Remember, those are based on yards allowed and can be skewed by a number of factors, most notably the score.  In scoring defense, the Colts ranked 21st at 24.2.  The turnover difference for the team was -12, with the club creating only 15 takeaways.  That is one statistic that cannot be argued and needs to be improved.  The club sacked quarterbacks 32 times, a -9 differential in that area.  Clearly, the goal is to improve a run defense that yielded a 5.1 average per attempt, get heat on the quarterback and shoot to have a 2 turnover ratio per game.  Our free agency additions reflected that approach, and year two in our 3-4 defense will help.  We have added players versed in the defense, and let's see where we can go.  Last Sunday against Buffalo, the starters played early.  The results were mixed.  Getting into the top 10 would be a first since 2007 in yards/game, while the club was first in 2007, seventh in 2008 and eighth in 2009 in scoring defense.  I think the jump will occur this year.  Players added to the roster match the physical and character makeup we seek.  It could be a good year, and the offense should be able to move the ball, too.  How it plays certainly influences the defense, too.
NICK M. (from Indiana) Are binoculars still allowed in the stadium (in their case)?
A:  The binoculars are allowed, but not the case.  We hope you understand the need for the league policy.  Please visit www.nfl.com/allclear for more details.
R.J. E. (from Marion, IN) Please pass this message to Dwayne Allen and any others who consider Andrew Luck as their "meal ticket."  I don't pretend to understand the X's and O's, but I know a team when I see it.  It takes 53 dudes to hoist the prize, and Colts football agrees.  As much as we appreciate The General's service, our last Lombardi wouldn't have come without that defense shutting down traffic at the line of scrimmage.  Dwayne Allen, you got skills, so does this whole team.  We have great leaders yet again.  Go get it done. #ColtsStrong
A:  Guys sometime have fun in interviews but believe me, Chuck Pagano and the organization preaches "team" before everything else.  His saying of, "53 players, 60 minutes, all you got," is ingrained virtually every day.  Andrew is the leader, either the President or Vice President depending on how he and Reggie Wayne kid each other.  We will function like we did last year with great chemistry and brotherhood and you're right, the title won in 2006 would not have happened had not the defense bounced back from a rough stretch near the end of the regular season.  Three more preseason games, and off we go.
MATT C. (from Indianapolis) I was really enjoyed watching the Colts in white jerseys at home against the Bills.  It seemed the Colts look so comfortable wearing white in the open roof at home.  Are the Colts going to wear white jerseys at home again this year (or) in the future?
A:  White or blue jerseys, we always have a very smart look.  Sunday's game was the only time we will wear white at home this year.  With feedback like yours, we likely will do it again next year in preseason.  As for 2013, we're locked in with blue jerseys for the rest of the home schedule.  Each team must declare its home colors well in advance for planning purposes by opponents.  We traditionally have worn blue at home, and I don't expect that to change.  Either way – a great look.
GRAYSEN A. (from New Meadows, ID) I am very excited for the season to get started!  If DHB is not cleared for Week 1, is there a chance we will see Griff Whalen at the #3 WR spot, or if so will he be #4?  Also, is there a chance we will see Coby Fleener line up at WR on some plays?  Imagine a 6-6 player with awesome strength and speed going up against ANY NFL corner!
A:  Darrius played Sunday against Buffalo, and he is coming along fine with his knee injury.  Griff is having a tremendous camp and is putting himself right in the hunt for a spot.  He did come out of the Buffalo game with a groin issue.  How it shakes out is very much in play and well above my pay grade.  As for Coby, he and all the receivers will be in multiple spots on the field.  He does create matchup problems.  Most likely, you would see him on a linebacker, but a corner is possible, too.  One thing for sure, we will have some creative formations. 
TOM E. (from Noblesville, IN) Sunday, it looked as if there was not a good game plan in motion.  The defense was not very good, the play-calling was very bad and they never tried to run the ball.  It's preseason and time to find out what they can do.  It is not about the score.  Now is the time to see if they do have a run game.  What do you think, or am I wrong on all counts?**
A:  No matter how you slice it, last Sunday was not a Hall-of-Fame day.  Chuck Pagano does not question the physical ability of the team, he just wants it to play sharper and smarter.  I would caution again drawing any conclusions, good or bad, this quickly.  I remember a preseason opener in the late 1980s when we sacked the opposing QB seven or eight times and rolled up 30-plus points in a huge win over a team that was pretty good the previous year.  Everyone was giddy about the prospects.  Those prospects dimmed dramatically and we didn't make the playoffs.  One thing for certain from Sunday, we need to keep opposing backs from getting outside, and we need to run it ourselves.  Those were Coach Pagano's mandates from the outset of his time here, and yesterday he mentioned the blend will be better as starters play more this week and the next week.  Front-liners did not play much last week, so I wouldn't jump to conclusions.  Let's wait for the photo album to be formed before we judge on a snapshot.  I sense you have real passion, not pessimism.  
RICH W. (from Albany, NY) How is Bjoern Werner doing so far?  Does it look like he will successfully transition to OLB and help the team?  I've followed Bjoern since his days at Salisbury School in Connecticut.
A:  Bjoern is making the transition fine.  He developed a sore knee last week and missed the preseason opener, but he is doing well and returned to work yesterday.  We'll likely keep him the majority of the time behind Robert Mathis on the depth chart, but Bjoern's talent will get him on the field.  You'll have no trouble following him with us.
MORRIS G. (from Borin, OR) Is kicker Brandon McManus related to outdoor humorist Patrick F. McManus by any chance?  Also, how and why did Edgerrin James leave the Colts?
A:  Brandon is not aware of any relation.  Edgerrin left the club in free agency after the **2005 season (click here for highlights)**.  It was unfortunate that he was not here when we won Super Bowl XLI, but Jim Irsay later presented EJ with a ring, and he was our honorary captain in 2009 for the AFC Championship game when we beat the Jets to return to the Super Bowl again.  He presented Jim with the Lamar Hunt Trophy.  Edge is in our Ring of Honor and in the hearts of all Colts fans.