 ](http://careyindiana.com)
INDIANAPOLIS – Readers of Colts.com may submit questions during the week and have a chance to have them answered during the middle of each week.  **Submit your question here**.
Here are responses to some of the questions received recently.  We thank you for your interest in the Colts.  Please make an effort to be concise when submitting a question.
BOB B. (from Deltona, FL) If I can build up the fan base in Deltona, I'm more than happy to. You're correct on having plenty at WR now that they signed Hakeem Nicks.  I would address the O-Line and defense.  The prospects in this upcoming draft are plentiful, so I know Ryan Grigson will have some good players to choose from.
A:  You're a true dedicated fan, like Robert above.  I like that you follow us like a hawk.  We've improved across a few areas through free agency, and our injured players are mending well.  We'll keep building to capitalize on the momentum of the past two seasons.  The "Lombardi" talk has been an emphasis point for Ryan and Chuck, and they speak of seeking titles in a plural way.  Ryan could pull an NFL hat trick should we get to a Super Bowl on his watch, and Chuck has been close to getting there.  It is the only focus for them and all of us.
MICHAEL L. (from Columbus, IN) We all know what we need and we have a lot of money left.  We need a safety bad.  Why not sign Bob Sanders to a two-year contract.  It would be cheap and (team him with) LaRon Landry.  He is healthy and is a game-changer.  I know his history, but I'm a fan.  What do you think?
A:  In December, you suggested making Bob our FS/DB Coach, while suggesting other past Colts players fill coaching roles.  Your affinity for Bob and other past greats is admirable.  It is matched by many fans and me, too, but I don't get the feeling Bob's playing days will continue.  When you engage in memory lane like this it's fun and Bob and LaRon would have been a lumber-laying tandem, but I think that only will be passing thought.  Thanks anyway for a fun letter.  Don't forget Jason Belser and Nesby Glasgow when you think of hard-hitting Colts safeties, but I think they're done, too. 
ENRIQUE H. (from Bakersfield, CA) I've watched Demarcus Lawrence's games a few times and he is pretty good.  What are the chances we take him in the second round?  (Cory Redding and Fili Moala are free agents next year.)
A:  I'm not privy to our thinking, but Lawrence was a pretty versatile performer at Boise State.  Some may argue his size (6-3, 251) and level of competition would be issues, but he does appear to have agility and could mature to a greater weight.  You don't know if he is ticketed for LB or DL at this level, but he is a prospect who could be used to exploit possible mismatches.  That's really about the extent of what I can about him through just casual observation.  Chuck Pagano said the other day the draft board largely is set and could have a few adjustments after pro days are finished.  If Demarcus is on our radar screen, we would have seen him a number of times.  Like you, I'll wait to see. 
R.J. E. (from Marion, IN) I hope Mr. Grigson hasn't spent too much time in the NFC East.  It would seem his ex-division foe has brought us another cast off in Hakeem Nicks.  If he manages to stay healthy and produce off of his generous one-year contract then great but if not, I sure hope Grigson has the courage to let him walk, so we don't waste more time and money not developing talent.  He missed out not getting Josh Gordon from Cleveland.
A:  A person in Ryan's position is not influenced overly by where he has been.  We have our own style and approach here and just because Hakeem Nicks came from the NFC East really doesn't mean that much.  He's a good fit for us and enhances what is a pretty solid position.  He's the third veteran WR we've brought in through free agency (Donnie Avery, DHB) in the last three years.  I wouldn't categorize either of those as busts.  While both may have wanted things to go a bit better, they did contribute.  As for keeping players around who aren't performing after a legitimate period of time, I think we're far too concerned with competing than to do that.  It sounds like you're not too keen on Hakeem.  I hope we prove you wrong, and I think Ryan's track record of landing players extends far past four franchises in one division.
JACOB S. (from Mooresville, IN) I know Chuck Pagano talked about maybe looking at the safety position, but how about the cornerback, too, like Stanley Jean-Baptiste?  Many analysts say he resembles Richard Sherman and Brandon Browner from Seattle.
A:  You are the second person to ask about Jean-Baptiste in the mailbag, and he should find some place in this league to play.  At 6-3, 220, he is being compared by some to the players you mention, and to what extent teams try to copy Seattle's approach will be interesting to watch.  Chuck Pagano would certainly know through his expertise if Jean-Baptiste could have such an impact.  You don't know that we'd get the chance to get him, but it would be fun to see that scenario.  Regardless, we'll never stop trying to have the same type of impactful secondary Chuck helped coach in Baltimore.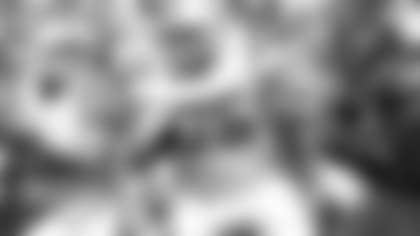 DAVE H. (from Sebring, FL) Why don't the Colts re-sign Mike McGlynn?  He played well last season and gave Luck good protection.  He can play guard or center.  I hope we have a dominant power running game this season!  When will the Colts start training camp this year?
A:  As you've seen by now, Mike signed with Washington.  I think Colts fans grew to appreciate how gritty and versatile Mike was with us over the last two seasons.  Will he make it to Canton?  No, but his effort, team-oriented style and ethic are traits seen in many players who reached there.  Mike gave everything he had and played admirably in tough circumstances.  All of us wish him the best of health and opportunity.  Thanks for providing a letter that gave me an opportunity to mention Mike in this forum.  As for camp, look for it to commence around the first of August, and we will be honing our running game around that time.  I hope you and other Colts fans make it up to Anderson University to see us.
MIKEY N. (from Springdale, AR) We are playing in a fairly easy division.  Do you think our game against either Denver or New England could decide us getting a bye or possibly home-field advantage?  Also, does Ryan Grigson know about how much Andrew Luck's contract is going to be worth after the 2016 season?
A:  Wow, what a letter.  We'll worry about contract matters for Andrew and others when the time comes.  Until then, we'll focus on what we need to do to win.  As for calling the AFC South fairly easy, I know Tennessee, Houston and Jacksonville wished they had better success in 2013, but there's nothing to say any or all of them can't in 2014.  True, we went 6-0 in the South, but we know how hard that was to do and how we had to come from behind a time or two in those divisional games.  We're taking nothing for granted, and I know Houston would love nothing more than to wrest the crown from us like they did in 2011.  It is certain each division team will look a lot different this year, possibly at the QB position.  As much as things can change in this league, I wouldn't want to assume what meaning any game will hold in 2014.  The Denver and New England games will have huge buildups and will be contests networks battle to get, but that doesn't mean those will have the impact you portray.  While I hope they do, that's pie-in-the-sky thinking in March.  We need to stay grounded and aspire for our games to hold such meaning.  Anything else would be wrong to do, and quite foolish.
CHARLES P. (from Virginia) What happened to Donald Brown?
A:  Donald signed with San Diego after playing here since 2009.  As you know, Donald was a pretty dynamic presence for us last year.  He's a great guy who we wish all the best.  Donald is reunited with Tom Telesco in San Diego.  Tom, also a great guy, was one of our personnel aces when Donald was drafted, and Tom is building a solid program with the Chargers as a second-year GM.  You often see these types of reunions in the NFL.
ERIC R. (from Miami, FL) I've heard we are planning on taking a safety in the draft.  Would we trade up to get one, or are we good where we stand?  If we do get a safety, do you know who the top five possibly are?
A:  I would never rule out a trade.  Under Ryan, we've been aggressive on that front, even on draft days.  If there is a conviction on a player that merits a move, I wouldn't be surprised to see him do so (see T.Y. Hilton).  We do know for sure we only have five picks.  There are no compensatory choices this year.  You hate to relinquish picks, but we will do whatever it takes to improve the club.  We are toward the bottom of each round where we do hold picks.  As for rating the top safeties, I don't know our thinking.  I'll have to defer to the analysts who make those lists.    
TREVOR B. (from Illinois) What are the Colts' odds of keeping Griff Whalen, who looks like a star in the making?  The depth chart for WR looks like:  1 – Wayne; 2 – Hilton/Nicks; 3 – Hilton/Nicks; 4 – Rogers.  Which WR is more talented to stay on the roster, Brazill or Whalen?  I personally say Whalen and since the draft is deep at WR, will the Colts draft one?
A:  I don't know that our coaches would have a depth chart at this point, but thanks for your opinions.  It's too early in my opinion to handicap the unit.  You can see my comments on Griff in an earlier letter, and it will be some good competition from top-to-bottom from our guys.  The draft appears to be deep at WR, as you said.  I wouldn't exclude any position from our consideration, but I do think we are deeper at receiver than some other units.  We'll keep our readers updated on the WR unit as off-season work starts in less than three weeks.  Griff certainly has his backers, and rightly so.      
CHRIS M. (from Sioux Falls, SD) Do you have any idea when the NFL will be releasing the 2014 schedule?  That date is a very important date for any true football fan, and I get to see when I'll be traveling to Indy to watch Andrew Luck and the Colts beat down Tom Brady and the Patriots.
A:  If history is any indicator, it should be sometime in the next couple of weeks.  I'd stay tuned, if I were you.  If history is any indicator also, the Colts-Patriots matchup will be a great one to see.  I think we were 1-0 in games you attended last year.  If so, let's keep it up.