 ](http://careyindiana.com)
INDIANAPOLIS – Readers of Colts.com may submit questions during the week and have a chance to have them answered during the middle of each week.  **Submit your question here**.
Here are responses to some of the questions received recently.  We thank you for your interest in the Colts.  Please make an effort to be concise when submitting a question.
DAVE N. (from Miami Beach, FL) Andrew Luck took a lot of hits last season!  Do you think the offensive line problems will be addressed in the upcoming draft?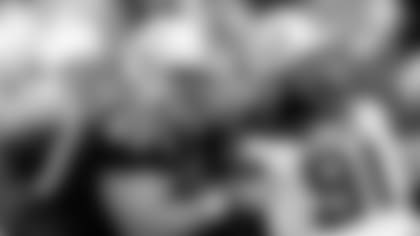 A:  There is a possibility that we would do so.  There also is the avenue of undrafted college free agents who could contribute, too.  That was a path that led to Jeff Saturday, and we think we have young talent that will improve in our program and culture.  A lot of people will be watching this aspect of the team, and I think they'll be pleased in the end.  So much of success starts up front.  We've been good, and we want to be better. 
RUSS J. (from Omaha, NE) It is exciting to see the Colts make wonderful moves in the off-season.  Will the Colts continue to address the O-line in the draft, or will we sign another FA?  What does the team think of Phil Costa?  The skeptics seem to think he is a wasted addition.  Any news on possibly picking up the center from Cleveland?
A:  We would not have made significant moves like we did unless we felt it helped our team.  There will be those who question moves and that is fine, but we feel good about the addition of Phil Costa.  He will do what all our free agents do – help make us a more solid unit.  Ryan Grigson and his staff pore over hours of tape in the evaluations so prudent decisions are made.  Like a successful hitter, you can't chase after bad pitches.  You have to wait on the ones that are best.  We've done that while being aggressive.  While there are always more options out there, you have to be smart in how you go.  The bulk of FA movement likely is over, and we have other chances in the draft.  We have some young players on hand who can develop, and we're still a relatively young team.  We feel there is a great deal to be excited about, and I bet the majority of our fans share that sentiment.
TRAV L. (from Gridley, IL) What are the Colts' odds of keeping Griff Whalen?  He seemed to show flashed of talent during the latter part of the season.
A:  Griff had a pretty solid year in 2013 and as I've said before, he always has taken advantage of opportunity to get where he's gotten.  Griff is one of our best workers.  He prepares well in every phase, and he's a tough bird.  He'll continue to do that, and he's sharpened himself well in the eyes of the coaches.  We'll have good competition at the WR positions this year.  It's a solid bunch.  Griff will be there doing all he can.  I don't want to place odds, but it is a full guarantee that he won't leave any effort unmade in trying to make the team.
ERIC V. (from Morelos, Mexico) I like all the moves the Colts are making, but I'm really worried about our kick returning.  Do you see any player that can help us in the draft?**
A:  We probably haven't had the consistent dynamic production from returns that we are seeking.  We went through a number of approaches last year and had some flashes.  Last year, Kerwynn Williams was a pick spent with that in mind to a degree.  We could do that again, but don't take that as a definite.  I don't know our thinking on that or any position.  We do have a handful of guys on hand who have done it, but I do know we want consistent burst in the returns.  It's part of the "halfcourt offense" philosophy we have with our specialty units.  I'm sure this is on Chuck Pagano's and Tom McMahon's radar screen.
GILBERT M. (from Salt Lake City, UT) I am praying for Jim Irsay.  Colt Nation must give Jim our support.  Remember that Robert (Irsay) and Jim brought the Colts to Indy in March 1984.  Remember that Jeff George, Peyton Manning and Andrew Luck were drafted, that Jim gave us a Super Bowl ring and then hosted the SB game in Indy.  Jim loves the Colts.  We want you back.
A:  Thank you for a truly nice letter.  Your sentiments are very well-said and reflect those of so many of our fans that I thought it was the perfect one to run.  You've been a fan for years (you wrote us many letters in dedication before this forum existed), and we appreciate it.  Your heart for Jim and the Horseshoe is evident, as it is in others. 
JOE M. (from Indiana) I would like to weigh in on the question Terry W. (Fla) had about Ben Tate and Jared Allen.  For starters, we don't need Tate.  Coby Fleener has made big strides since his rookie season.  Dwayne Allen was sidelined last year, as were many other players.  To label him as an oft-injured player is unjust.  Allen has as much upside as anyone of the team.  A lot of us believe he would've been the Colts' second choice had Fleener not been Luck's teammate.  Cut him some slack.  I'm sure he's got a lot of great football years ahead of him.
A:  Way to get fired up.  Ben Tate is a good player, but we have guys here to get the job done.  Dwayne and Coby are two definite building blocks for the offense.  We're lucky to have them, and year three could be big times for them.  Dwayne was the NFL's leading rookie TE in receptions in 2012.  Coby doubled his receptions from 2012 to 2013.  They are starting to hit their most productive times in maturity, and you want to retain players who are doing what they're doing.  Thanks for commenting on other writers' letters.  It's healthy discussion, and I encourage that.  That is what this forum is all about.
TOM B. (from Indiana) Have the Colts considered bringing back DHB as a special teamer?  He seems more comfortable at ST than at WR.  What are the chances for him to get a shot at DB?  Sometimes a guy can switch positions and have a tremendous career.
A:  I have heard no discussion on that.  DHB was a popular player last year in our locker room.  He showed his dedication and selflessness by playing well on special teams.  You are the latest to ask about a possible return for him on defense, we've had others do it before.  It's probably not in our plans, nor is it a typical conversion for a player to go from receiver to defender.  The skill sets are not apples-to-apples, and I don't see this being the case.  DHB is the type of guy you pull for, but that would be gambling on a tough transition for a player.  Whatever the future holds for him, we wish him all the best.  Could it be here?  Who knows?
GEORGE C. (from Sanford, ME) Protect Andrew Luck is priority number one so say Grigson/Pagano.  Donald Thomas has played in 45-of-96 games.  Phil Costa has played in 26-of-64 games.  Khaled Holmes has hardly played with ankle injuries at USC/Colts.  How you can be upbeat about our interior O-line when Andrew Luck has been hit 22 more times his rookie year than any other QB, 83 total and 78 times total and 25 times more than any other QB last year?
A:  I can't vouch for the numbers you recite, but protection is a key concern (as always), and it has to do with more than just the offensive line.  Donald returning and adding Phil will help us.  Khaled was drafted with big designs, and those haven't dimmed.  A training camp ankle injury altered last season.  He didn't get the chance for the amount of play as a rookie as did Hugh Thornton.  As you know, we incurred some debilitating injuries across the offense, but the weapons we have around Andrew will help, as will his continued maturation.  We still have the draft and collegiate free agency after that.  I'll take the glass half full approach because I feel that way as it relates to our linemen.  Time will tell, and we never stop looking for ways to better the team.  Thanks for the concern.
ROBERT G. (from Baltimore, MD) I am a Trent Richardson supporter 110%.  I believe he will breakout next year with an entire off-season with the Colts and prove everyone wrong.  Please tell him Colts Nation is behind him 100%.  When do the Colts start OTAs and working out?  I'm very excited for the upcoming season!**
A:  I'm sure you and others will see a different player this year in Trent.  I think he senses people are pulling for him.  Our players will start the off-season program on April 21.  There will be a conditioning phase that gives way to more structured work.  The draft is May 8-10, and there will be a rookie camp just after that.  The OTAs will lead into a full-team mini-camp that runs from June 16-18.  Training camp rolls around at the start of August.  We're not far away for people needing their Colts fix.  With a 23-11 overall record for the past two years, there should be excitement.