 ](http://careyindiana.com)
INDIANAPOLIS – Readers of Colts.com may submit questions during the week and have a chance to have them answered during the middle of each week. **Submit your question here**.
Here are responses to some of the questions received recently.  We thank you for your interest in the Colts.  Please make an effort to be concise when submitting a question.
TOM P. (from Indiana) What happens with a player like Hakeem Nicks when jersey number 88 is retired here?
A:  Jersey number 88 is not retired at the moment.  Marvin Harrison wore it after John Mackey made it popular during a Hall-of-Fame career.  Hopefully, Marvin joins John in the Hall of Fame, but the number is not retired.  Hakeem will wear number 14 with us.  It will be a new look for him, but he will wear it well.  Hakeem had 27 TDs in number 88 with the Giants, so let's look forward to him eclipsing that number here with 14.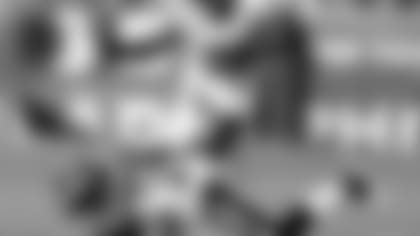 MARVIN S. (from Indianapolis) Do you think that Hakeem Nicks will take Marvin Harrison's jersey number?  I know it's fair game since it's not retired, but I'm a huge fan of Harrison and would hate to see it taken.  Do you think when Harrison gets into the HOF the Colts will think about retiring number 88?
A:  Your concerns are eased.  Hakeem will wear number 14.  As for if the team were to retire number 88, remember John Mackey had a Hall-of-Fame career in it before Marvin came along.  There are two illustrious players who have worn it here.  I have heard of no jersey retirement plans at the point.  I only recall Jim Irsay saying the number 18 never will be worn again.
BILL N. (from Hickory, NC) In the AFC South which team other than the Colts has made the biggest impact during free agency to date?
A:  I think you'd have to go with Jacksonville.  Getting ends Chris Clemons and Red Bryant, tackle Ziggy Hood and linebacker Dekoda Watson could be some solid defensive newcomers, plus the Jaguars re-signed end Jason Babin.  Toby Gerhart should help offset the loss of Maurice Jones-Drew (the club's biggest FA loss).  Jacksonville added guard Zane Beadle.  The signing of Alex Mack did not pan out.  You get a strong feeling there is a solid plan in place under Gus Bradley and Dave Caldwell.  It's not that you don't get that notion with Houston and Tennessee, but you asked me to answer your question.  Jacksonville obviously wants to join the fray and win the South title.  It's the only team that hasn't.  The Jaguars have 10 picks beyond the third overall choice, so they could look even more dramatically different after that process. Suffice to say, the South should be a tough fight among all four teams.  We notice what goes on elsewhere, but all we can truly be concerned with is being our best.
YVONNE A. (from Kokomo, IN) Is Bob Sanders coming back to play football?
A:  We've had one mailbag contributor keep bringing up Bob's name in a playing or coaching capacity, but that's all I've heard.  I fully suspect Bob is healthy, happy and retired.
LOUIS N. (from Brooklyn NY) Like Bob from Florida, I have been a Colts fan since 1958, and John Unitas was the reason.  I like the way the Colts have tried to improve their defense.  Andrew is going to put points on the board, but what we don't need is for the defense to give up more points.  I've always felt the reason Peyton didn't win more Super Bowls was he never had strong defensive teams in front of him.  Can't wait until September.
A:  How you stated things is the way we seem to be headed.  Chuck Pagano is grounded in running the ball and stopping the run.  Those truisms are his coaching roots, and we have players attuned to the process.  I wouldn't denigrate our approach from other regimes since we were successful.  There were times we didn't play at our best at the most critical time, but most teams being in that arena so many times have met the same fates.  Those were good times.  The last two years have been good times, and our philosophy now has us on a path to continue them.  Remember, we have the second-most regular season wins (162) and the highest number playoff appearances (13) since 1999.  A lot of teams would trade with us, and a lot of previous Colts teams since you've followed us did not reach those heights, unfortunately.
BOB B. (from Deltona, FL) What I like about Ryan Grigson is that he's aggressive and doesn't sit on his hands like the previous GM.  Every year when other teams were signing FAs to help improve their team Bill Polian was sitting on his hands.  Our current GM is going out and getting players that fit the team concept.  It's not going out and getting the FA everyone wants, it's getting the player that fits your needs.
A:  You certainly have the right to express your opinion here, and I've let you do it a number of times because of your passion.  Going back beyond Bill Polian to Bill Tobin, we've have solid GMs in place here since 1994.  Let's let every era speak for itself because all were successful.  Ryan has his own style, and it's working.  He's smart, selectively aggressive and along with Jim Irsay and Chuck Pagano has re-shaped our franchise without losing many games (12, counting the playoffs).  He sticks with his system, as you say, and let's watch it work.  Thanks, as always, for the weekly input.
LEVI F. (from Grand Ridge, FL) What position do you think Ryan Grigson is going to take with our first pick and who do you think it might be?  I think CB would be a good choice, and a guy like Lamarcus Joyner would fit.  He can play both S and CB.  He's a good example of what I think our defense needs.**
A:  If I were to guess, it would be a blind one.  Other than QB, kickers, LBs and CBs, I think anything could be in play.  Since I've always told readers I won't snow them on Xs-and-Os, I'll plead the fifth here as it relates to us.  I think we have a great deal of money committed on the corners, but we do like multi-positional value.  We'll know within the next 25 days or so, and I'm sure I'll get this question again.
ROB E. (from Ocala, FL) Why haven't the Colts picked up some veteran free agents for depth, veteran leadership while they are available and cheap?  Guards like Pro Bowler Davin Joseph, and Travelle Wharton are still available and would give us great depth if not push for a starting spot, same with Asante Samuel and Thomas DeCoud.  Greg Toler has never played a full season, and I don't think it would be smart to wait until someone gets injured before searching for replacements.  Thoughts?
A:  If you haven't noticed, we spent more than $115 million on free agents so far, including some key retainees.  While you would like to keep them all and shop to your heart's content, that is not the way things go.  Players like you mention likely wouldn't come with low price tags, and we have the future to contend with.  If there are bargains out there that fit a need, I'm sure we'll find them.  Until that happens, I think we're largely done in the FA process.  Surely, you've seen they guys we have gotten and kept.
J.T. K. (from Bloomington, IN) What do you think about our kick return team?  Last year David Reed wasn't productive, and we didn't seem to find a good fit until Chris Rainey.  Other than a returner, the rest of the special teams look very sharp.  Who do you think will start at RB after losing Donald Brown and Trent Richardson not being what was expected?  I'm concerned about the center.  What will the Colts do?  I feel the Colts are too stacked at TE.  Do you think the Colts will cut any TEs to save some cap space?
A:  When you had the number of returners we did last year, it tells you no one has truly established himself.  Chris had the most kickoff returns near the end of last year, while Griff Whalen did a pretty good job with punts.  I don't think the return areas are as defined as much and Chuck or Tom McMahon wants it.  I'm sure it's a priority for how returns influence field position and impact the offense.  The RB battle should be spirited and somewhat wide open.  Trent will be a different player.  We want to see the same type of work from Ahmad and a healthy Vick Ballard.  It will be watched by a lot of us.  We'll emerge at center as well, whether it's Khaled Holmes, Phil Costa or someone else.  As for TE, it's a position of strength.  We're not too stacked by any means, and you want the competition at that area.  I would place no worries on cap impact at TE.
TYLER A. (from Shelbyville, IN) I have read that former Bills QB Jim Kelly is fighting leukemia. Is there any plan for Chuck Pagano to reach out to him?
A:  It's nice of you to ask about this and though Jim was a tough battler when we faced him on the field, we all are pulling for him in his recovery.  Chuck indeed has reached out to Jim to let him know we are all praying for him and his family and to let him know he firmly believes Jim will overcome his circumstances.  Chuck does not know Jim on a personal level, but felt the need to reach out, though the natures of any two illnesses may not be the same.  I'm sure you join all of us in pulling for Jim.  He did a few of our games as an announcer after retiring, and he always was fun to be around.  Our prayers are with you, Jim.