 ](http://careyindiana.com)
INDIANAPOLIS – Readers of Colts.com may submit questions during the week and have a chance to have them answered during the middle of each week.  **Submit your question here**.
Here are responses to some of the questions received recently.  We thank you for your interest in the Colts.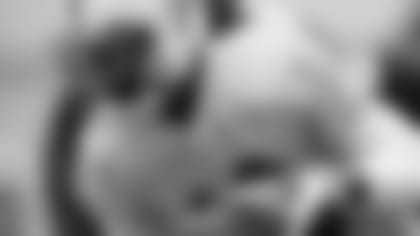 RAY B. (from Indianapolis) Da'Rick Rogers, how do you see the Colts primarily using him?  Will he be used in the return game?  Do you see him making a fast impact as another weapon in the receiving game, especially with the release of Griff Whalen?
A:  I don't believe Da'Rick will be a part of the return game.  His contribution would be as a receiver.  He's been with us all season and on the active roster for the last couple of games.  If he's ready with the offense (last time I talked to him he said he was about 80 percent fluent with it), he could get a shot.  Chuck Pagano has said he's still getting final adjustments down.  We need a bit of help to offset the coverage T.Y. Hilton is getting.  Maybe Da'Rick could be part of the effort.
JOHN B. (from Fishers, IN) With all of today's modern technology why do I still see Andrew Luck, Peyton Manning and others thumbing through photos of the previous series?  As a coach, I know that it was a very valuable resource in helping QBs, coaches and other players make in game adjustments/calls/etc., but why not use video and today's technology?  While I realize that pictures still work, the NFL is worth billions and it seems like they would have a system (iPad as an example) where they could look at video of the last series and see the whole play and not just a few shots.  If I could have an iPad versus a Polaroid picture, I think I'd take the iPad.
A:  The NFL does not allow any form of video to be used on the sidelines during the game for players and coaches.  That would be the chief reason.  Each team is allowed to take a still photo (pre-snap and post-snap) from the 50-yard line coaches' film camera and the end zone coaches' film camera.  The photos are grabbed by software developed specifically for this purpose.  iPad technology potentially could have issues with syncing or WiFi interference.  With coaches needing the product immediately after each series, the print time for each photo is less than 10 seconds, which in turn they'll receive the still photos at a faster pace.  That is what you're seeing, and it's a very effective way to operate.  I hope that answers the still photos vs. iPad question you have.  There also is no editing equipment in locker rooms either.  Thanks for a very good question, one I bet others might have, and that's a good use of the mailbag.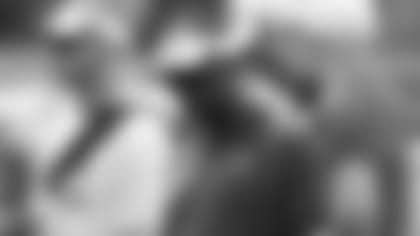 R.J. E. (from Marion, IN) I just wanted to say what a great job Pep Hamilton is doing with our young offense.  Comeback wins take a special kind of person and attitude to accomplish.  A football game is 60 minutes, and our guys are full speed ahead every second.  Go Colts!!!!
A:  Thanks for a big-picture look, and you did write prior to the Arizona game (just so readers know).  Fans know there have been portions of games when we are not as effective as we want, but there are other times we've done fine.  It's been a difficult four weeks since Reggie Wayne went down, but we are not using any personnel losses as excuses.  We all know better starts are necessary, and it's all about execution.  Without that being the case for the last four games, some of the offensive growth has been stunted, and it is led to some uncomfortable results.  We will look at everything that needs to be done to function better.  We are good shape in the standings, but not as good as we were a week ago.  We don't want to have to say the same thing a week from now.  Thanks for the supportive words.
BOB B. (from Deltona, FL) With the need for a wide receiver and some O-line help, why is Ryan Grigson signing running backs?  In my opinion, address the need.
A:  Got this letter and the two "rants" you sent Sunday during/after the Arizona game.  It was not a good day for anyone associated with the team, or for a dedicated fan like you.  You're entitled to give your opinion, but Ryan has many considerations to make in putting together a 53-man roster.  Chris Rainey may be someone who can provide something (perhaps special teams) quicker than a player at the position groups you mention.  Getting receivers on the same page with a quarterback takes time, as we've said.  Mixing new linemen in at this stage, ditto.  Believe me for as little as Ryan seems to sleep, he is on top of doing whatever it takes for us to operate more efficiently in the next five games.  As tough as it is on our fans, it is tougher on us.  We'll band together and put up the fight.
MIKE H. (from undisclosed) Not to knock on Trent Richardson, but I would like to see Donald Brown start the game to see if we can get faster starts.  I agree with playing both for the 1-2 punch, but I think if we can get Brown out there to start up the running game maybe that will help open up opportunities for Trent and the passing game earlier in the game.  What's your thought on that?  Also, I'm confused as to why Griff Whalen was cut.  He made some big plays for us and has good hands.
A:  Right now, the plans are to keep the status quo in the rotation.  We just need quicker execution in games to keep the playing field level.  In each of the last four games, we've trailed by a TD in the first five minutes.  Three times, opponents have moved for scores and the other (St. Louis) we allowed a defensive score.  Early deficits and sub-par first-half third down conversions (three-in-25 in last four games) have been eating us alive for the last month.  That has affected our offense and the run game in particular.  Getting that changed will help Donald and Trent.  It's a matter of execution, not rotation, in our opinion, but we like hearing from you.  As for Griff, he'll hang tough and work toward returning.  We need contributions in this position group as well.
CALEB S. (from New Palestine, IN) Why did the Colts sign Chris Rainey?  I know that he can return kicks, but with you guys signing Chris, you had to cut somebody, which was unfortunately Griff Whalen.  Are we going to actually give Da'Rick Rodgers a chance and let him stay on the 53-man roster for a game?
A:  Chris had a pretty good playing resume in Pittsburgh, and he has been impressive with his talents so far.  Chuck Pagano says as he learns the offense more he could see some time.  He could be ticketed for return duty, too.  Griff and Da'Rick Rogers generate a lot of interest among our fans.  Their roles are reversed now with Da'Rick on the active roster and Griff on the practice squad.  We'll see if Da'Rick can get on the field soon. 
JORGE R. (from Mexico) In my opinion, Trent Richardson is not a bad player.  The problem is that he is in a new system and with a new team.  We have to put the best players on the field.  We can't wait for him.  I feel bad because Chuck Pagano said Trent is going to take the load again.  I don't agree with Pagano.  I think it's better if Donald Brown takes the top spot.  We only have five games to play.**
A:  I can tell where your heart is and thanks for a tactful letter.  We didn't do anything in the Arizona game to alleviate our rushing game situation.  The scoreboard got too far out of hand.  Chuck is doing what he thinks is right for the team, and Trent could be ready to have a breakout effort.  Donald has been solid all year, too, but we didn't get either of them the ball enough last week.  Thanks for your thoughts, and we are just as aware that games are dwindling.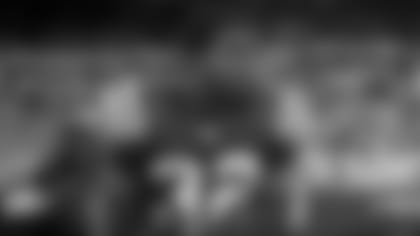 BOB M. (from Milwaukee, WI) All the hub-bub about Trent Richardson, I think he just has too many off field distractions at this point to be a really effective back.  (I don't pretend to know what those are, but I've seen it with players so many times before.)  Obviously he has all of the tools.  I remember when Edge first came up.  Too many new things to deal with were getting in his way.  Peyton and others took him under their wing and surrounded him with stability and focus.  Maybe Edge could do that for Trent.  At least point him in the right direction.  I'll bet Mr. Irsay would pay for the visit.
A:  We have a solid situation around Trent, and he's getting good coaching.  It's ironic that you mention him and Edge.  Those two do have a relationship, and it started before Trent was drafted.  He also has good communication lines with other players like Emmitt Smith.  He and Emmitt share the same high school.  Trent told me Edge has told him just to hang in there and keep banging.  It's not that Trent needed that advice, but sometimes a basic external audit helps, especially from a guy like Edge.  Trent has what he needs around him.  We just need to get some better consistency with the entire offense.  It's never on one player or coach, and a couple of our guys went out of their way to convey that Sunday night.  We've been good enough to get to seven wins.  We'll have to move ahead with some missing parts, but our guys are battlers.  They know what's at stake.  As for Edge, I don't recall any of what you said about him having distractions when he got here.  **Edge was one of the most grounded guys we've ever had.  It came with him from day one (click here for 1999 highlights, EJ's rookie season)**.
TYLER B. (from Mishawaka, IN) Now with Bradshaw and Ballard done for the year and Richardson and Brown taking the field we now sign Chris Rainey.  What are our plans for these guys in the future?  Is there going to be a carousel system in place, certain players for defenses, or are some of them going to the practice squad?
A:  None of those guys would be eligible for the practice squad.  What the approach is for next year will be handled next year.  Chris may see some time this year, we'll see.  Special teams could be an avenue for him.  Right now, what's most important is getting the most we have from the main guys we have – Trent and Donald.  They haven't had the opportunities in the past four games that we should have provided them as an offense.
DEAN C. (from Los Angeles, CA) If the Colts run the table on the rest of their games, who would they possibly play with a bye in the first round, or not who do they get?  Is it automatic they play a certain division?
A:  A first-round bye is possible with one of the two best AFC records.  The top two seeds bypass the Wild Card round.  The third- and fourth-best division-winning records host Wild Card games, even if there is a second- or third-place team in another division with a better overall mark (ie:  last year we were second in the South at 11-5 but as a fifth seed, we had to visit 10-6 Baltimore who had the fourth-best division-winning record).  After the Wild Card round, the lowest seed alive visits the highest seeded team (last year Baltimore beat us and went to Denver; third-seeded Houston went to second-seeded New England).  That pattern holds true the rest of the way and is matched in the NFC.  While there is a formula used for regular-season opponents (this year the AFC South played the NFC and AFC West), it does not apply in the playoffs.  As you can see, there is a premium for winning a division.  That's one reason that makes our game Sunday very important.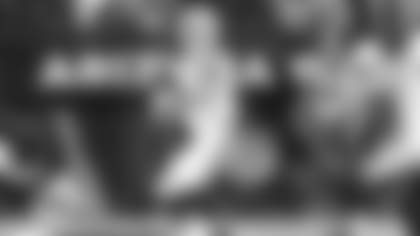 JON D. (from Phoenix, AZ) I (went) to the Colts-Cardinals game.  (It was my) first time seeing them in person.  There are times when I am watching I see Luck under center begin to call audibles just like Peyton, though not quite to the same extent.  However, there are also times when it seems as if he looks at the defense and sees what needs to be done, but doesn't make any adjustments.  Is Luck being regulated on how much he is able to change plays at the line of scrimmage?
A:  Andrew has the ability to do what is needed.  He is given options to use at the line, and there are no handcuffs on him out there.  You saw Peyton do a lot more of this as his career progressed (it really started in full-bore around his fourth or fifth year).  It's a graduated process, and Andrew is way ahead of the curve for most second-year players.  He is incredibly bright and will continue to flourish.  You'll have fun watching like the rest of us.
ISAK H. (from Mexico) Unfortunately for Colts fans, Adam Vinatieri might retire at the end of the season.  If this happens, which draft prospect looks more interesting, or do you think Pat McAfee will have both positions?  Which other draft positions may be filled in the 2014 draft?
A:  I've never heard the 'R' word come from Adam.  I see him almost every day and have not heard that topic around the building either.  I am under the impression he wants to finish here.  For his production this year, he looks far from finished.  As for Pat doing both, he is capable.  But I would not see overusing him or putting the team in the tough spot where one injury affects two positions, plus there would be a need for another holder.  It's way, way too early to even talk about next year.  We have enough concerns at the moment. 
JAMES C. (from West Chester, PA) Help me understand why you would draft a world-class QB then use him basically as a 'game manager' in a power-running scheme? We could have signed/drafted someone like Alex Smith just to hand the ball off to a company of RBs in a power-running scheme.  Luck has saved this franchise with his play in spite of our coaches' commitment to the power run, but why not set him loose?  Let's give Luck the same respect.  Lastly, T. Rich is a great talent, but if you line up in power formations every time he is in the game, he's never going to gain more than three yards.  We need better play and more creative play-calling.  Thanks and Go Colts!
A:  Andrew is anything but a 'game manager,' and I would hesitate in calling Alex Smith that, too.  I think it denigrates a player's ability.  That approach never will be Andrew's dynamic here.  I understand the frustration your letter implies, and we are doing everything to accentuate the talents in our offense.  No one has more respect for Andrew than those around him every day, and we'll get things operating better.  It has been a season that has held a wide range of moments for the offense.  The emotions for fans like you have been a little raw lately.  We aim to change that.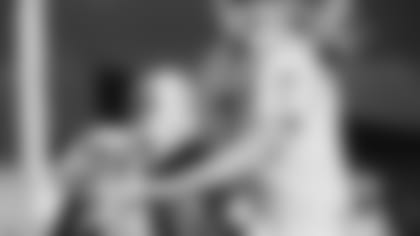 GEORGE G. (from New Jersey) I know back in the day (1970s, 1980s) the Colts gained lots of yards in running and passing from the old plays.  Are we looking at mixing old plays with new ones?
A:  The NFL has been around more than 90 years and while there is an evolution, so much of what is done has roots in the past.  Andrew Luck has said it frequently, 'Football is football.'  You always will see things from the past incorporated.  I don't know if you had anything more specific, but rarely are modern day things completely new.   Andrew does remind you sometimes of Bert Jones, doesn't he?
BRYAN F. (from Florida) It's great to see such a young Colts team excelling so quickly, especially with all the attrition this season.  I have to jump on the 'Cut T. Rich Some Slack' bandwagon.  The guy has been tossed into the deep end with a new team and system in mid-season.  Although he is not quite gotten the contribution directly with his numbers people may have expected, his indirect contribution has been huge though.  He keeps the defense honest and has helped motivate Donald Brown into the first-round pick that he is.  However, we have two more great backs on the IR, that both have starter potential.  What do you think the RB situation will be next year?  Do the Colts carry four starting caliber RBs in Bradshaw, Ballard, T. Rich and Brown?
A:  I agree completely with your early points, except one.  Donald Brown always has been a self-driven player.  He's never needed anyone else to spur him.  Donald is one of the most professional individuals we've have on and off the field.  Trent has contributed directly and indirectly as you (and he) have mentioned.  He will continue to do so, and thanks for mentioning how some attention he draws benefits others.  How next year goes is to be determined.  Vick and Trent will be back.  I believe Donald and Ahmad have business matters to address, plus Ahmad has some physical recovery ahead.  I don't have a crystal ball for you, but our intent to run well will be in place in 2014, too.  I hope you understand that my commenting on contract matters or projecting the future is not appropriate, but we all want players with horseshoe qualities.  All the guys you talked about have those qualities.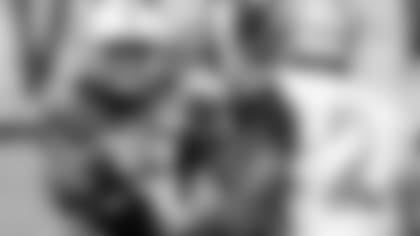 TODD J. (from Indianapolis) I know I'm looking a little into the future.  I love all of our running backs, Richardson and the Killer B's (Brown, Ballard, Bradshaw).  I think they could all be great, but is it realistic to think that they will all be with us next year?  Even if they are, there is no way they would get equal playing time.  What are we going to do with all that talent in the backfield?
A:  You and Bryan above are asking what can't be answered right now.  We all want Ahmad to return to health and hopefully to the field.  How we are constructed next year in the backfield will be a hot topic, but it's a topic for down the line.  I wouldn't call it a dilemma since that word means an undesirable matter.  It's a nice situation to have.  It will play out in the future.
DEVON B. (from St. Louis, MO) As a diehard Colts fan, I have a few things to say.  First, if you can get a message to Reggie Wayne let him know that I've got him in my prayers for a fast and speedy recovery.  It's great to see him out there mentoring the younger guys.  Next, as many others have said lately, 'T-Rich keep your head up and ignore everybody.  You are a great running back and your time will come. Just use what everyone says as fuel, show them you deserve to wear the blue and white.  I know the move has been hard and the critics make it harder but just keep calm and carry on!'
A:  Thanks for the supportive messages to both players.  They notice and appreciate it, and they have fans everywhere.  Reggie will keep rehabbing and Trent will keep grinding.  Your message to Trent is probably about the same he's hearing from Edge.
SHERRY C. (from Albany, OR) Will Reggie Wayne be coming back sometime this year?  We miss him.
A:  Unfortunately, Reggie is out for the year.  We look to getting him back as the Reggie we remember in 2014.  Like the letter above, thanks for following us from far away.
RUSSELL J. (from Omaha, NE) I am really impressed with our second round pick. Hugh Thornton has been everything we can ask for, a real road-grader on the ground. Talk a little about his progress as a rookie.
A:  Hugh has been able to start since week three and while that was not the intention, he has done fine.  Rookies who get a crash course like this have their moments both ways.  Year two won't be as steep a learning curve, and Hugh will be better for it.  Let's leave it at that as far as evaluations, but he is fitting in well here and seems to be enjoying himself.  He's brought that attitude since the week after the draft, and it's helped his development.
RICH I. (from undisclosed) It is a bit frustrating to watch injuries have such an impact on the team each year.  What metrics do the Colts track and do you know how their injuries compare to league averages?  How much of an impact does artificial turf play?  I find it a bit ironic that Jerraud Powers (played) and Greg Toler (was) out again.  I thought one of the reasons we didn't go after Powers more aggressively was because of missed games.  I understand injuries are part of the game, but it seems (annually) the Colts are hit harder than most teams.  Reality or fan perception?**
A:  It's a good question, but I can tell you our injuries are pretty much in line with the nature of the game.  Sometimes a particular year can be more harsh than others (you could argue that this year for us), but it's not a matter of our conditioning and training methods.  I would not be able to get into the metrics you ask about too deeply, but teams enter injuries into their databases and keep the information for a number of years.  The information would be available to the league office for a number of reasons.  We review every area of the operation in the off-season, but it's difficult to say how one team's injuries stack up with another's, or how one year compares to others.  It's (team-to-team; year-to-year) not an apples-to-apples comparison given the sport's nature and that injuries can happen at any time.  People ask frequently if what we are doing is the best approach.  I can assure you it is, but we're in a violent sport.  Injuries have hit across the offense and certainly in the secondary.  As for Jerraud, I'm glad he is healthy.  He had some tough breaks here, but he is a solid person.  That Greg has missed four games has nothing to do with Jerraud.  Greg will be out there soon.  I think it's perception that we're hit harder than others.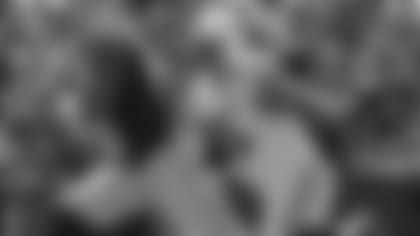 GERALD P. (from Indianapolis) Why is it that the Colts can beat good teams and lose to the bad ones?  The Colts are not the team they were last year.  Just because we lost Reggie Wayne does not mean that we have to quit playing.
A:  For one, I don't know there is a "bad" team, so to speak.  Some are better than others, but anyone can win if they play well enough.  Secondly, we haven't quit, and that word is a tough one to use as it relates to professional athletes.  I assume you are referring to our wins against Denver, Seattle and San Francisco as "good" ones.  Those were because we executed well.  That we haven't played our best in the last month is no secret, but there is no question about effort.  We just have to be sharper.  I know you weren't trying to be harsh, and neither am I.  If you're charting numbers, we were 7-4 last year at this point and fans were giddy.  We finished by winning four-of-five, and that would be a finish we might like to have this year.  I can guarantee effort, and we all hope for better execution.  I know you're on our side, too.
JOSHUA H. (from Evansville, IN) "Insanity:  Trying the same thing and expecting different results." - Albert Einstein.  With that in mind, I have listened each week as Pep Hamilton or Chuck Pagano have come forward and stated that they're not changing how they are going to approach the run game.  I have a great appreciation for the team that Chuck P. has built, but it is an unchanging mindset like that that allows organizations to fail.  In order to be successful and have a shot at a solid playoff run, something has to give.  My question to you, what will give?
A:  My assertion to that mirrors Chuck's that we just need to do what we do and do it a little better.  That doesn't mean we won't alter parts of the attack, but I don't think you're looking at a failed philosophy at 7-4.  A failed philosophy would lead to players not buying into the process, and we certainly don't see that.  We have run for healthy averages when we're playing to our capability.  We haven't done so lately, but we can do better.  We'll do everything we need to do internally to get things corrected.  That quote seems to have a popular shelf life among sports and political observers.  I like quotes, but that one is a little tired.  Keep the letters coming, and include quotes if you wish. 
M. P. (from Charlotte, NC) That was a crazy blowout.  I guess we are the team to get records set on us.  Out of all the players that are injured on our team, losing Reggie was the worst.  Losing him is showing everyone as if we do not have a real team.  I know Chuck doesn't like the word 'rebuilding,' but regardless, we are a rebuilding team.  We never were a set contender.  Since the phrase 'Next Man Up' is not working, what is the plan now?  The Titans are on our heels now and our defense is not doing their job.  We need a top ten defense to compliment Andrew Luck.
A:  Thanks for the weekly input in the mailbag, but I don't buy the 'R' word.  As for a set contender, we didn't fluke our way to 11-5 last year.  We didn't fluke our way to 6-2 this year.  We're struggling at the moment, but I think we have the character and mindset to get it done.  We were 7-4 this time last year.  This year's 7-4 has a different feel, but we do lead our division this year with that mark as opposed to last year when it was good for second place.  We're still finding ourselves with Reggie out of the mix.  Guys need to step up, and execution needs to improve.  Tennessee is closer to us than we want.  We need to play to our ability level and see what Sunday holds.  Sixty good minutes against them could get us a win.  If so, another 60 is needed and we could have the division crown.   
DAN H. (from Monrovia, IN) You have a serious problem here.  The team does not look prepared on the field at all.  Either you do not have the team ready, or the offensive plays are predictable.  You cannot use the excuse that we are all "banged up."  I can call the plays you are going to use at home most of the time.  Get your team together and look like a winning team again.
A:  We'll identify what needs to be done to reverse things, and we'll make every effort to get problems corrected.  Our guys are prepared, and we just need to apply the techniques and fundamentals on the field.  Also, we've never used personnel losses as a crutch.  That premise was floated after the Arizona game, and Chuck Pagano quickly denounced it.  We'll get it together and thanks for contributing.  I think it's your first time.
DARYL I. (from Port Perry Ontario, Canada) As long-time fan it some games are great and some are just plain awful.  Do you think the inconsistency could hurt us later on down the road?  Do you see us dipping into FA for a dependable player with good hands like Ramses Barden or a possibility of an Austin Collie reunion?  I'm very pleased with Coby Fleener's emergence.
A:  There is no sugar-coating the San Diego, St. Louis and Arizona outcomes.  Any attempt to do so would not be honest.  It's incumbent for us to do better.  Character is not the issue.  We had a late-season swoon in 2006 and bounced back.  We did also in 2004, and it seemed like a time of crisis.  What we did in both instances was to focus on what we did and try to do it better.  It's not a sexy answer, but it's the appropriate one.  Things that need correcting will get corrected.  I don't see that major acquisitions at this point would do anything.  In both those 2004 and 2006 moments, Tony Dungy told players we had the personnel to win.  My hunch is that is at the heart of Chuck Pagano's message.
AARON O. (from North Manchester, IN) I enjoy reading each week.  I watch the games and have seen the team play great different times then turn around and blow up against the Rams and Cards.  I realize the amount of injuries piling up and we are still in the lead in the division, but is it time for a shake-up?  I have faith in the coaches, except for a couple play calls, but do you think we will see them mix it up a little against Tennessee, possibly some different O-line combinations?  Da'Rick Rogers at receiver would be interesting to see considering our lack of depth.  Considering the possibility of a one and done in the playoffs, would it hurt to try something now?
A:  Please see the answer above.  I think we have the right approach, it just needs to be performed better.  If adjustments are merited at any position group, I'm sure they'll be made.  We've talked about Da'Rick already, and let's just worry about Sunday before anything else.
ANTHONY B. (from Los Angeles, CA) What happened in Arizona?  Four weeks in a row?  I read this mailbag every week but this is only my second letter (I am anxious to write something every week, though). I know our offense has been taking a lot of heat since Reggie being down but what about our defense?  I love every one of our defensive players and wouldn't trade them, but it's getting frustrating watching them get pushed. If they can get off the field more and give the ball to our offense then maybe Luck will be able to get things going.  Our defense has no players on IR, so there's no excuse and we've seen them step up before and dominate.  I know the coaches and players will fix things and get back to business.  Let's go COLTS!!!
A:  Anthony, feel free to write anytime.  Arizona was a performance like St. Louis.  It needed to be more like what we had against Seattle and San Francisco.  I sound like the master of the obvious this week, but a number of fans like you are writing in tactfully, and I wanted to run as many as I could.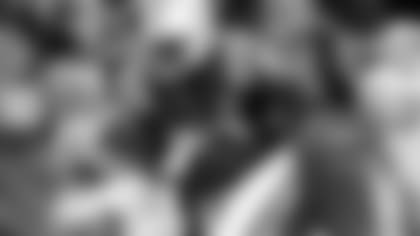 ED K. (from Wisconsin) Don't you think it's time for some changes?  I am getting so sick of the Colts starting out the way they have.  The play-calling is a mess.  I'm not real sure Pep Hamilton is an NFL OC.  The Colts don't have an O-line or a D-line, the DBs can't cover anybody.  Can you tell me how or what mistakes the coaches think they fix after each game?  It looks like they don't fix anything.
A:  I've been the PR guy here for an 0-13 start in 1986, a 1-15 team in 1991 that was out-scored personally by Washington's Chip Lohmiller (talk about tough!) and a number of others that had very difficult seasons.  It's amazing the tone of the letters we're getting at 7-4, but I know how important each season is to our fans.  It may be hard for some to believe, but it's even more important for us inside the organization.  Each season is precious, and we have a lot to gain or lose.  At 7-4 last year, fans were ecstatic.  I wouldn't try to describe the emotional range now.  We are 7-4.  It could be better, could be worse.  If we can perform a little more efficiently in a number of areas, a large part of our problems would dissipate.  I like who we have here on the coaching staff.  I believe we can win with them.  They will do what is necessary to get things righted.  I wish we were healthier (my words, not the coaches').  I'm curious about Sunday but if we can play like we can, we have a good chance. 
ADAM V. (from Fort Wayne, IN) Why can't the Colts play consistent football?  This is the second time we gotten blown out in games that were winnable and we have had problems in some of wins getting off to a good start.
A:  Adam, I have no answer that I haven't written before.  We are not playing our best ball.  Better contributions, according to players and coaches, are needed, and each guy to his credit points to himself first.  That character is one big thing we have going for us.  Thanks for a first-time letter.
SHAWN S. (from Lafayette, IN) I was born and raised a Colts fan.  I hate to see my team get beat like they did this past weekend.  I know that injuries are a factor in how were playing, but I feel the play-calling from Pep Hamilton is a big part of some of these performances.  Is that something you agree with, or do you think the problem/problems lie elsewhere?  Also can we please give Da'Rick Rogers a shot to play?  None of our other wide receivers are making plays besides T.Y. Hilton, so why not give him a shot?
A:  You're hurting like a lot of fans, and you stated your case very well.  Some others did, while others let emotions rule the moment.  Pep said last week he needs to do a better job of putting players in better situations.  Those were his words, no one else's.  Players said after the game they need to play better, too.  Again, I believe we have the right coaches in place.  I personally wish we had all our players in place, but that's not part of this year's deal.  Coaches and players will not use excuses like injuries, and it's up to everyone to find a way of performing better.  It's not a matter of one person.  As for Da'Rick, when he's ready I think he'll get a shot.  You never know where a spark can come from, and it may come from someone already playing.
JOHN S. (from Bellerose, NY) It looks like ship is sinking.  I hope Luck does not go the way of Jeff George when he took a beating.  I hate all the excuses, 'The other team played a great game.  We have to go back to film.'  My question is do we have the right coaches on both sides of the ball?  It looks like a one-and-out if we even make playoffs.  I think this week will tell the story.  By the way, you were right about Coby Fleener.  He is playing much better.  Thank you.
A:  I know fans tire of hearing things coaches say about how to improve performances, but those are the best approaches.  As I said before (even just above), I think we have the right guys here.  They're fighting like everyone else, and don't discount what they've done to get us in the position to win the division.  We're not going to back down.  We just have to step up with better play.  Let's worry about the playoffs after 16 games.  Until then, we need to grow as much as possible without Reggie, execute better early and play smartly.  Thanks for your compliment of Coby.  How he continues to play is very important.
CHRIS M. (from Sioux Falls, SD) After watching the so-called football game, why can't the Colts start fast?  I hear Coach Pagano say that they have a plan for offense, defense and special teams before every game.  Obviously the plans don't work.  Why can they just let the team go out and play Colts football without a plan?  Here's my plan – defense, tackle; offense, receivers catch the ball and offensive line, control the line and keep Luck upright; special teams, down the ball in the end zone even if you're at the goal line.  That is all for now.
A:  We may have no more dedicated a reader than you.  I didn't publish your last letter, so this one makes it.  Message received.  I know you'll be watching Sunday.
SAM L. (from Seoul, Korea) It was sad seeing Tom Moore in a red Cardinals jacket.  I think Pep Hamilton has a great offensive mind but he doesn't have over 30 years of NFL coaching experience like Tom has.  What Tom seemed brilliant at was making adjustments to maximize our players' strengths.  When Joseph Addai's skills began to diminish, high-percentage quick slants, crossing patterns and bubble screens effectively replaced our running game.  He made subs Jacob Tamme and Blair White look good.  I think the "identity crisis" talked about in post-game is we are still trying to maintain our "established hard-nosed running game" identity when injuries have decimated the personnel to do that.  We may run for over 100 yards in the AFC South but in the playoffs that "identity" with the personnel we have won't go far.  In the playoffs, minimize Hilton and Fleener and the Colts offense is mediocre.
A:  It is good seeing Tom do what he loves doing, and all Colts fans remember him warmly.  While Pep does not have Tom's long tenure in the league, it does not mean that he won't have a great career of his own.  At one point, Tom was new to the NFL.  Pep has had a very good growth path in this league and at Stanford.  Let's let it develop here.  People are being terribly rash in assessments of him, in my opinion.