 ](http://careyindiana.com)
INDIANAPOLIS – Readers of Colts.com may submit questions during the week and have a chance to have them answered during the middle of each week.  **Submit your question here**.
Here are responses to some of the questions received recently.  We thank you for your interest in the Colts.  Please make an effort to be concise when submitting a question.
TOMMY F. (from Louisville, KY) I've been reading this a long time.  I just wanted to say thank you.  I think you do a phenomenal job covering the Colts and connecting with us die-hard fans!  Love the O-line additions in the draft.  Protecting Andrew is priority number 1.  Is Vick Ballard fully healthy?  Do you think he's going to play with a chip on his shoulder this year?
A:  Thank you for the compliment.  I hope I don't get too long-winded with answers sometimes, but going on 30 years here, it's a passion.  I hope readers are served.  We drafted in areas that do not typically generate a ton of excitement, but we did add good players.  We know the importance of protecting Andrew, and we'll get it done.  As for Vick, he looks terrific.  He's worked hard and stayed around Indianapolis all off-season so not even one day would get wasted in his rehab.  I think he's poised for a big bounce-back.  A chip on his shoulder?  Maybe, but I have sensed he's always carried himself with a purpose.  He's a very mature person and takes great pride in his game.  We'll see to what degree Vick is worked before training camp, but I don't think you'll have any worries.  We have a lot of attitudes here that match Vick's, and we'll take all of those we can get.
THOMAS S. (from Logan, UT) Contrary to a lot of the opinions I'm seeing about the Colts, I think we are in a great position to win the division again this season and going forward.  What's something you're most excited to see once the team hits the field come August?
A:  I really look forward to the work of the receivers and running backs.  I think that's going to be some of the greatest competition we have.  The units are stocked relatively well and though there are some performers around the league that demand the ball, we have more team-oriented players.  It will be fun to see how the backs shake down.  I've trumpeted Trent Richardson all off-season, and I do really think he'll be a force.  It's impossible to root against Vick and Ahmad, and I think we're going to have the running game Chuck Pagano seeks.  Seeing Reggie come back will be important for all of us.  T.Y. is a star now, and Hakeem can bring a different element.  Some of our younger guys really will be competing, and that could be a daily show.  Also, just seeing how Andrew continues to take his place among the elite is something to observe.  I'm not short-sheeting the defense, but this is getting to be a long answer.  I think our strides will be evident there, and how Bjoern, Daniel Adongo and Josh McNary factor in will draw a lot of notice.  Glad you like the additions.  I think they're solid.  We need to keep the pedal down because our division has gotten a lot tougher.  We have to keep that flag planted right here.
CHRIS S. (from Indianapolis) This is not a question, but rather a statement.  First, I love the mailbag.  Secondly, I would like to say all you so-called fans downing what this organization is doing well, you are not true fans.  I have loved the Colts since I was little.  I've seen the blown call in Pittsburgh, the missed field goal here in Indy, and the muffed on-side kick return.  I've watched Captain Comeback, Manning and now Andrew Luck take snaps.  This team went from a team that no one thought would amount to anything after Manning's departure and win.  After two 11-5 seasons and trips to the playoffs, this team is just getting started!  If you claim to be a fan, show a little faith.  Otherwise, go jump on the bandwagon of the 49ers or Seahawks!  I'll stay right here and watch what this team does best – play football!**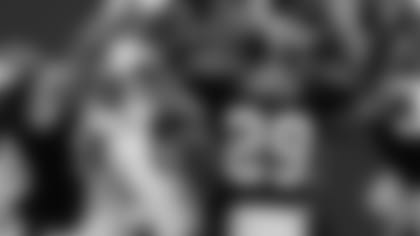 A:  Chris, I don't know who you are, but thanks.  The moments you cite show your dedication and longevity, and you have seen this team rise above some tough circumstances.  I like our fans to show opinions, that is when they're stated appropriately (even if we all don't agree).  You took your chance to address fans, and that's fine.  You did it eloquently and with passion.  We're proud of the different franchise eras, and this is one that has stories to write.  You'll be there, and I bet most everyone who contributes to this forum will be as well.  Thanks again, and let's get ready to fight in 2014.  Way to stick up for your team.
SHAWN W. (from Memphis, TX) Why did the Colts not draft the best nose tackle for the 3-4 scheme?
A:  We have added to the defensive line very liberally through free agency during the last couple of years, including Art Jones this year, Ricky Jean Francois and Aubrayo Franklin last year, and we spent a draft pick on Montori Hughes in 2013, too.  You're never set and stop looking, but we should have a pretty formative bunch there with them and other returnees.  Our picks were used elsewhere when they rolled around, and we've added some components among the linebackers who should really help the scheme.  I don't think we'll be deficient.
JON D. (from Tempe, AZ) Will there be a chance to see Daniel Adongo in more roles this season aside from just special teams?  One thing I feel I must state since seeing everyone's comments about the draft class being horrible, I recommend people search for videos of these players so they see what Ryan Grigson and Chuck Pagano saw in these players.  Jack Mewhort looks like he would be a solid addition.  Donte Moncrief looks as he has the potential to be a number 2 receiver.  Jonathan Newsome does have Robert Mathis-traits.  I believe all opposing QBs need to be afraid with him and Bjoern Werner.  After seeing what Grigson and Pagano have done in the last two years with our draft classes and the team just have faith everyone.
A:  Daniel hopes to get on the field a little more in his second year and is doing everything toward that end.  He said he's willing to serve however the team wants him to.  I think he has the ability to contribute defensively this year, and I bet you see it.  Thanks for your thoughts on our draft class.  People have no way of knowing how much work goes into every pick and while you don't control the process, you usually get talents that will contribute.  We think that's the case with our selections and to save trouble and see the clips below.  Glad you like how Ryan and Chuck are doing business.
ADAM R. (from Urbana, OH) I have read a lot of negative questions and remarks from "fans."  I am disappointed by their lack of loyalty to the Shoe.  Are you as excited for 2014 as the true fans are?  How do you think Coby Fleener's step-up role he inherited last year with Dwayne Allen's absence will be affected by Allen's return?  LET 'R' RIP.**
A:  Fans certainly have the right to express themselves, and negative opinions don't necessarily mean a lack of loyalty.  I would never say that because fans are entitled to what they believe We just want to be correct in the end, and I think we will be.  As for my excitement, it's firmly in place.  You can see one answer above about what I'm looking forward to watching.  There will be room in our offense for both Coby and Dwayne.  Coby hated seeing Dwayne hurt last year, and he will welcome him back gladly.  In Dwayne's absence, Coby did grow and have a solid year.  Dwayne says (click here to find the story) Coby is even faster and bigger this year.  We can only benefit by having them both back, and that's in terms of downfield mismatches and in-line blocking for the running game.
OWEN D. (from Brantford, Ontario, Canada) I am disappointed in the backlash from "loyal" fans about the draft.  'In Grigson We Trust' is a weekly discussion we have and while we would have preferred the secondary addressed in the draft, we (me and college buddies) have faith and have delved into researching the picks and the undrafted FAs we signed.  (Loucheiz) Purifoy was a cool signing as was (Erik) Swoope.  How does picking Moncrief affect the WRs lower on the depth chart?  My roommate loves Griff and we both worry he'll be forgotten in this corps.
A:  Thanks for coming down recently for a game, and we hope you make it again.  Fans can have any reactions they want, and we just want them to continue following us like you do.  The signing of Purifoy is interesting.  He has some talent, and Chuck stressed he has a clean slate with us.  We just came off a mini-camp where everyone was working, including Donte.  I don't want to project how any rookies will do, but we don't select them to sit.  We want everyone learning and contributing.  Donte has a world of potential.  He'll have great competition with Griff, Da'Rick and LaVon.  Thanks again for your nice words about Ryan.  I know he appreciates them, and he's plotting a great course for us.  Hope we see you here again soon.
KIEFFER G. (from Miami, FL) I'm new to the Colts' fan base, but I feel too many fans are being a bit harsh on the draft picks this year.  Getting a safety would've been a relief if (current) players can't contribute, but that wasn't the scenario.  The real question is if Donte Moncrief is going to be a redshirt or if he's going to compete for a starting position?  How are Ballard and Wayne doing on their recoveries?
A:  Welcome aboard and don't worry about those who have been harsh.  We'll just go about our business of fielding a competitive team, and our draft picks will help.  As for Donte, we don't draft players to sit them, and he looked very good during the rookie camp.  He's big, physical and fast.  He'll be a good player for us.  Reggie and Vick are doing well in coming back from their injuries.  OTAs start Tuesday and how/if they'll participate is to be seen, but if all stays on the same trend path they should be good to go in the near future.
BOB B. (from Deltona, FL) Do you think the Colts' pick in the second round has a chance to start?  He looks like he has the ability to do so.
A:  I won't predict it, but I do think Jack has a decent chance to make a quick impact (**click for story here**).  You see him work, and you see a dedicated guy who is all business and respectful of the process.  He bought in quickly at Ohio State in a regime change midway through his career.  That shows a maturity, and he says he's never been pinned down to any specific position.  He worked at guard and center with us last weekend and if he doesn't open somewhere this year, it won't be too long.  We've long heard it from fans that we need to bolster the line.  We've done it now, and it will be fun to watch Jack go.  Keep your eyes on number 75.  It shouldn't be hard.
DENNIS P. (from Beech Grove, IN) Khaled Holmes is the front runner, so why did we not give him some opportunities last year?  The two that were on the roster last year were so good we let them go.  Why would we not let Khaled get some reps?  We as fans just do not understand the thinking.
A:  Khaled had an ankle injury in camp last year that really shelved a lot of progress and development for him.  One of the things I wish last season held was for him to have the chance to play.  As intertwined as the line is, circumstances did not allow and he only had about 12 snaps.  Khaled was a big-time producer at USC.  He's a worker who can have a great future.  He's all about making it happen now, and there will be plenty of people like you asking about him and his monitoring progress.  Hope that helps your understanding.  It's a team sport and the group he plays on is the one that must be the most in sync.