 ](http://careyindiana.com)
INDIANAPOLIS – Readers of Colts.com may submit questions during the week and have a chance to have them answered during the middle of each week.  **Submit you question here**. 
Here are responses to some of the questions received recently.  We thank you for your interest in the Colts.  Please make an effort to be concise when submitting a question.
CARL (from Phoenix, AZ) With the way the season ended, it seems near the end of the season teams running well against the Colts.  Do you think Ryan Grigson would go for a big nose tackle?  I remember when the Goose was playing for the Colts, (that guy was awesome, on and off the field).
A:  There's no question we want to have a more consistent run defense, and settling the linebacking unit and adding Arthur Jones are two things we've accomplished to help get that done.  Goose had some bursts at times for us.  He certainly pointed them out when he did.  Ellis Johnson was a formidable presence, but we historically haven't had the lasting stoutness that some other teams have had.  We feel strongly we're on the right track, and the additions of Jones and D'Qwell Jackson will help our 3-4 as it enters year three.  You are correct that the end of last season did not go well when opponents ran.  It is an area that needs improvement.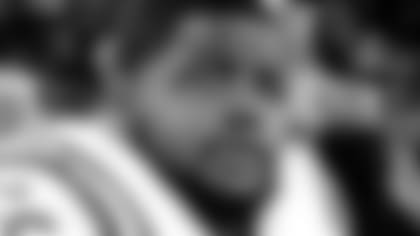 DAVE H. (from Sebring, FL) I thought that Josh Chapman, Montori Hughes and Jeris Pendleton played a lot faster when their weight was around 325-330.  Why have they all bulked up and has it affected their performance?  Glad to see Ahmad Bradshaw and Vontae Davis back, plus the signings.
A:  There have been no adverse weight concerns with the three guys you list, and all of them play at their prescribed weight ranges.  We've addressed the listing of 316 pounds for Josh when we drafted him.  I'm not sure that weight provided by the NFL ever was accurate.  There should be no concerns with these three and if we do have some with any player, our coaching/conditioning staff will handle it.  Thanks for your compliments on the signings.  I know you take things seriously with us like a bunch of fans do.  I hope you're excited.
JAMAL J. (from New Jersey) Why do the Colts continue to not make big moves in FA?  I think this team is not getting the respect they deserve.  People are always talking about the Broncos, Saints Seahawks, and Patriots.  I'm tired of hearing about those teams and not hearing enough about my Colts Nation.
A:  We've kept it lively enough this month to not only hold excitement for our fans but to improve our team as well.  The free agency period and the draft created more than a cottage industry of chatter.  You just need to limit how much it affects you.  Teams like us try to negate as much as possible.  Certain franchises draw attention, just because……  We've never really been on that sexy list (maybe we're in fly-over country), but that's not a real issue with us.  Not always, but some of the time, teams that historically "win" the off-season don't fare so well in it.  We'll take our attention level, communicate with fans and work hard so we can keep things going all fall.  Our organizational formula has worked.  Since 1999, only one team has won more than us in the regular season, and our playoff appearance total (13) leads the pack.  We have the fifth-most wins in the last two seasons.  We have made big moves.  We've made smart ones.  Hang in there. 
A.J. L. (from Evansville, IN) How does the long-term salary cap look for Andrew Luck and T.Y. Hilton when they are done with their rookie contracts?**
A:  Without getting too deeply into the matter, we have keen eyes set on where we are now and where we need to go with key players like Andrew, T.Y. and others.  Suffice to say, you don't want to hit on special talents and lose them because your financial house is not in order.  That would be a cardinal sin, one that Ryan and Chuck will not commit.
JOHN C. (from Bellerose, NY) Do you see a solid RB coming our way?  With Ahmad Bradshaw and Vick Ballard coming off IR and a young Trent Richardson not proving he can play for us at a high level yet, are we in big trouble at RB?  The best thing would be they come back and stay healthy, but is that asking too much?
A:  I don't sense that we're in trouble.  I think Trent will make big strides with us this year.  I've talked with Vick a couple of times already this spring and you see a young guy ready to return.  There is a history in this league of players coming off the type of neck procedure that Ahmad had and have no further problems.  I think we're in a good place.  We'll miss Donald Brown, but that is part of the game.  Last year, I told you I thought Coby Fleener would emerge when you were a little concerned about him.  I think you'll have concerns for the running backs subside as we get going, so stay patient.  Thanks for being a true fan.
M. P. (from Charlotte, NC) I know it's early, very, but I have some concerns.  I noticed the teams we will be facing next season made some impressive moves for free agency.  Besides taking the Baltimore Ravens players, are we doing anything else to improve our defense to stop these high-powered offenses?
A:  The additions of D'Qwell Jackson and Arthur Jones are two big ones, and don't discount what we've done in retaining our own players.  That counts as free agency, too.  We're doing what we need to do to be competitive and to prepare down the line.  Just because we're taking a long-term view of things cap-wise doesn't mean we're skimping this year – far from it.  We have the bar set high and so do others.  What else we add in free agency, who knows, but we have made strides to build things through the true lifeline, the draft.  We have some young talent that needs to develop, but we're in a good place.  We're always concerned like you are and while we've lost a few veterans, we'll come through well and have a chance to compete strongly.
DACODA W. (from deployed location) Looking to the draft, I would really love to see us go after Nebraska's Stanley Jean-Baptiste then use our other picks on OG.  I might be in a small group, but I believe Delano Howell can step it up at safety especially if we picked up Jean-Baptiste. I also feel with another year under his belt, LaRon Landry can step up his game with us.  Thoughts?
A:  I don't know where you're deployed and don't need to but thank you for your service, and I wish you and all your buddies a safe return.  Jean-Baptiste is an intriguing prospect.  You love his size and ability to play on the big stage.  I think Delano can play a significant role for us as well, and LaRon will be one of our key players this year.  We need for him to stay a bit healthier this year, but his impact was pretty dramatic last year.  Sounds like you're defensive-oriented, and there's nothing wrong with that.  I hope you can keep up with us regularly.  Again, thank you so much for your dedication, safe maneuvers and come home well.
ISAK H. (from Mexico City, Mexico) Does the Phil Costa signing rule out drafting a C?
A:  I wouldn't see that his addition would cause any change in draft plans.  Phil is a talented veteran who will be given a chance to compete.  We always look to make every unit sharp, and nothing does that better than competition.  Like always, Ryan and Chuck explore all means possible.  If there is something in May that we've scouted and like, I think we would pursue it if opportunity presents itself. 
DENNIS P. (from undisclosed) I noticed all of the signings we have done, and I am still wondering how we are going to compete when everyone is getting considerably better on defense?  We let a safety, several LBs and a center leave with no impact players to make up for them.  I know we are trying to save money and keep ourselves in good position in the future also, but some of these guys could help us immediately.  What are we doing?  What is the plan?
A:  It's true a number of former players have left, but the plan is rather obvious with those we have retained and added.  I don't need to go through all those names, but I'm not sure how much more you should expect.  We've bolstered both lines, retained help in the secondary, added a veteran receiver and kept two outstanding kickers.  I'm sure you've noticed, and we'll keep working.  We still have the draft and a number of solid players who have played before.  We'll be fine.  We've competed well and like I said earlier in the mailbag, don't focus so much on winning the off-season.  It not always is a direct correlation to winning during the season.