 ](http://careyindiana.com)
INDIANAPOLIS – Readers of Colts.com may submit questions during the week and have a chance to have them answered during the middle of each week.  **Submit your question here**.
Here are responses to some of the questions received recently.  We thank you for your interest in the Colts.  Please make an effort to be concise when submitting a question.
JOHN W. (from Nashville, TN) I understand the philosophy of drafting the best player on the board, but I don't understand why the Colts would draft a WR when we already are so deep and talented.  That makes me mad because it forces one of our young guys (probably Griff Whalen) off the 53-man roster.  What sent me over the edge was the FA signing of Greg Moore.  I'm sure he's talented, but why sign another WR?  Someone needs to tell Ryan Grigson to stop signing players that will never get on the field!
A:  I've seen draft picks strike a nerve with people before, but rarely a FA signing.  Ryan and Chuck are trying to build the best team possible.  I agree with you that we are pretty deep and talented at WR, but there's nothing wrong with adding Donte Moncrief and Greg Moore.  I wouldn't be so quick to predict anyone's departure, and I don't think we'd sign someone who has no chance (your opinion, not mine) of getting on the field.  Griff has battled numbers and odds before.  He'll do it again.  Moncrief is a terrific prospect with outstanding measurables and ethic.  We're just doing what we can to keep things going.  You're not the only one who feels strongly for Griff.  I've always been impressed by the number of people like you who are so vocal on Griff's behalf.  
JAKE C. (from Jackson, MS) I'm going to laugh when in two years we are the indisputable winners of the Trent Richardson trade.  Trent will follow the career path of Marshawn Lynch.  Johnny Manizel, the guy Cleveland got with our pick, will follow the career path of Tim Tebow.  Ryan Grigson will be hailed as the league's BEST GM.
A:  I like your thinking, but I don't wish anything bad for Manziel, and I wish Tebow could have had a better career (just for the type of person he is).  I'm not sure there's a real need to adjudicate a winner or loser in what became the Richardson-Manziel transaction.  The best trades are win-wins.  We felt strongly enough about Trent to get him, and here's hoping he blows by the 950 yards he got as a rookie, and does so here for years.  I'm sure people will keep tabs on the trade, and I can't fault them.  I've done that for years, too, because it's interesting to see what becomes of picks gotten in trades.  (Do people remember we got a draft choice for Jeff George that produced Marvin Harrison?)  I'm more interested, though, in Trent being all he can be, and thanks for the note.  
GRAYSEN A. (from New Meadows, ID) Is anyone getting a head start in OTAs for the job to replace Robert Mathis?  I think Bjoern Werner will prove that he was a worth first-round investment.  Also, does Pep Hamilton plan on playing Hakeem Nicks over T.Y. Hilton in two-receiver sets?**
A:  While we got great work done in OTAs and are winding up mini-camp, it's a bit too early to draw conclusions.  We've seen a few things on the practice field with the line and linebackers, and we'll get by when Robert is out.  We've had guys step up before big-time in adverse situations.  Bjoern will have his chance when that time comes, and he'll easily validate his draft spot.  How we delineate the receiving duties, just like other positions, is something we'll hash out down the line.  You're asking legitimate and interesting questions.  It's only June and we have some time, but the work we've seen and participation we've had has been rewarding.
ZEQUAN U. (from Beloit, WI) Donte Moncrief is my cousin, and I am going to go to Ole Miss and be a WR and get drafted.
A:  I wish you the opportunity Donte's had (**read this story on him**).  It came with hard work on his part.  His ability will translate well to this level by maintaining his ethic.  I wish you good luck competing in the SEC.  Donte calls it the "baby NFL."  You'll give yourself the best chance if you duplicate his example.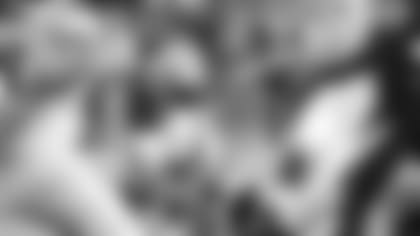 NICK S. (from Bear, DE) I have seen some impressive videos of Pat McAfee kicking field goals from VERY deep.  If Adam Vinatieri were to retire after this season would the team seriously consider letting Pat hold both punting and FG kicking duties?
A:  I don't think Adam plans on retiring any time soon.  We know Pat has a big leg.  He was wide the other day on a 65-yard attempt in practice.  Our special teams coach Tom McMahon says Pat has proven his ability in practice, but that game situations are much different.  Having one player do both is not common at this level for a number of reasons.  Adam is the kicker, according to Tom.  Having an ace like Pat in your hip pocket for unseen problems is a good security blanket for us.  My opinion, having any player do both is too dicey in the event of a game injury. 
RUSS J. (from Omaha, NE) How is the offensive line looking with new additions?  With Fili Moala being out how does that change our defense?
A:  Jack Mewhort was working with the first-team offense last week at LG as OTAs concluded.  He is doing well and is adapting fine.  Hugh Thornton was at RG and is showing the typical maturation of a second-year player.  Khaled Holmes is doing fine, too.  He will be in the spotlight, but he'll give a solid accounting of himself.  Khaled is getting compliments from his teammates.  Donald Thomas continues to mend on schedule.  How he factors into the interior bears watching.  When it's all decided in camp, I think the concerns fans have had so far will subside.  Fili's loss on the interior is pretty significant.  It could push more opportunity in Montori Hughes' direction.  We wish Fili (and Corey Lynch) the best in recovery.  It's really tough to get hurt in OTAs.
MICHAEL N. (from Lenoir City, TN) Robert Mathis will be out the first four games.  Some suspensions don't allow a player to practice during the suspension and some do.  What type is this one?  With the limited number of first-team reps and preseason playing time, what is the coaches' philosophy to get both Mathis and the first-week starters ready?  This might also make a great full article at some point soon.
A:  Robert can work fully with the team through preseason before the suspension takes place.  He will be back after the fourth game and will be ready to go.  It is a separation in full between those times.  Coaches have not addressed plans in specifics.  It's a bit early for that, and we will have details at the appropriate time (as the last part of your question requests).  I bet Robert will get his usual reps in camp and preseason.  The team finishes mini-camp tomorrow and has been given the full implementation of what we're doing in all phases, so guys will be ready.  We'll work Robert's replacement(s) accordingly and will have things set for Denver.  I know people are interested at this point, but we're still five weeks from camp.  Give it time.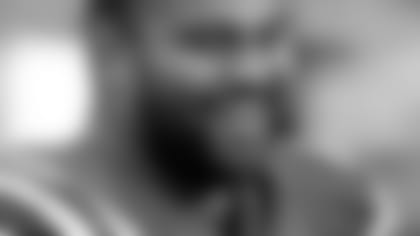 MATTHEW V. (from Indianapolis) Just some feedback for the Colts.com site, I was disappointed to find out about Fili Moala's injury via a headline on ESPN rather than the Colts' home site.  This is important information for Colts fans and it would be nice to know that any information or significant announcements about the team can be found first on the Colts' homepage.
A:  We always appreciate feedback on how to be better, but roster moves always are posted on our site first and likely are tweeted before it is released as news.  In this case, I was standing with our media at practice when they learned of the news.  We already had it on our entities.  It is standard procedure for us.  It was unfortunate news, but news is reported first on our properties.  We can't help where people surf, but they should try us first.
PAUL C. (from Illinois) I noticed Andrew Luck spent time in Europe this offseason, talking to both European and American media about football and futbol (soccer).  Is he part of the NFL's plan for promoting the league in Europe?  I know he grew up there, so he has a natural connection.  With Luck and Bjoern Werner on the team, are the Colts popular in Germany?  Will they be playing a game in London soon?  If so, it better not be a home game.
A:  I don't have numbers to reflect the popularity of Andrew and Bjoern in Europe and Germany specifically, but it has to be about as great for them as anyone in the league.  While their profiles are high and there is a natural connection, nothing to my knowledge has been done in the NFL's marketing plans.  There are no international games scheduled for us at the moment.  Should that come, we'd be fine to represent our league over there, but not at the expense of a home game.  We want our 10 homes games to be played in Lucas Oil Stadium.
BOB M. (from Milwaukee, WI) I record most games and re-watch individual performances usually lost when you follow the ball.  I enjoy seeing Mathis double-teamed and then run the play down, our LT's first step off the snap to protect Andrew or better yet, Trent blasting a blitzing LB on a pass play, but I was disappointed last year with Josh Chapman.  Maybe I was expecting too much from a young guy coming off a knee injury.  He did not dominate, was doubled and looked slow to the ball.  I would love to see him return to form, as your article about him suggests.  I will vote him MVP if he can get a push in that middle.  He doesn't have to make the tackle, just be disruptive.
A:  Though it was Josh's third year here, it was his first year on the field.  You'll see a jump in his play, as well as with others on the unit.  It's been an adaptation process to the 3-4 defense.  Josh feels very comfortable in it (**click here for the article**), and his teammates see an emerging player.  Keep your eyes on Josh this year, and I bet you'll add him to the descriptive list you had in your letter.  Glad to have fans like you on board.
DYLAN B. (from Chicago, IL) I know the Colts signed undrafted FA safety Dewey McDonald, how is he doing?  Is it possible he will make the roster, especially with Corey Lynch going on IR during OTAs?
A:  Dewey is in there learning the process just like everyone else.  He's a heady guy with physical size, but we'll get the real snapshot in training camp.  Corey's loss was tough.  We added an experienced veteran in Mike Adams, but Dewey will get his chances in camp.  Like a lot of readers, you are intrigued by how we're going to look.  We've worked hard to this point, and camp will be a competitive time on a lot of fronts.  Chuck told me the other day while people have focused on the line, WRs and RBs, he feels very good about competition on all units.  It's what he and Ryan set out to do.
ISAK H. (from Mexico City, Mexico) Could the Colts keep Wayne, Nicks, Hilton, Whalen, Moncrief, Brazill, Rogers and keep three RBs (Ballard, Richardson, Bradshaw), and only Fleener and Allen at TE, and with FB Stanley Havili helping at RB and TE if needed, or even Mario Harvey?  The seven WRs could help way more than four RBs, or another TE who will never see the field.
A:  I don't think we'll be constructed like you ask.  Having that many receivers on the active roster probably would not serve our best competitive purpose.  People will have their feelings on the WRs and interest will be intense, but I'd look for closer to five WRs than seven.  It's not a dilemma for us, just a good competitive situation.
RICHARD W. (from Tulsa, OK) You don't see this formation often in the NFL.  Do you think the team will run any three-back sets in 2014-15?
A:  The last time I saw us run with a three-back set was in 1988 when we ran the wishbone as a supplemental attack in about 10 games.  I haven't seen it since, nor do I think it's in the plans here.  Some people think we don't throw enough already with Andrew at the controls.  If we were to do what you're asking, it really would set them off.