 INDIANAPOLIS – Readers of Colts.com may submit questions during the week and have a chance to have them answered during the middle of each week. **Submit your questions here**.
Here are responses to some of the questions received recently.  We thank you for your interest in the Colts.
PHIL D. (from Los Angeles, CA) I like our acquisitions and our roster looks pretty good, but John Abraham is still available.  I'm sure he can help us out.  What's the possibility of us signing him?  That would be a good look, and I think our slogan this year should be #LuckStrong!!! #colts nation everyday all day #always reppin that all blue horseshoe crew!
A:  Don't see that we would do anything at this point with a signing of that stature.  We've been very active in free agency and have stocked the roster through that and the draft.  I know all our fans have been pleased with the attention paid to those areas.  While he plays a position that can be plugged into a playing roster more easily than others, I just don't see it.  Thanks again for your strong support.
NOAH S. (from Michigan City, IN) I understand the sensitivity of personnel matters, and understand that you cannot comment in some situations.  However, I am fearing the fate of Adam Vinatieri as a Colt.  He is beginning to age and I fear that he will be released.  Is there any information that you can announce at this time?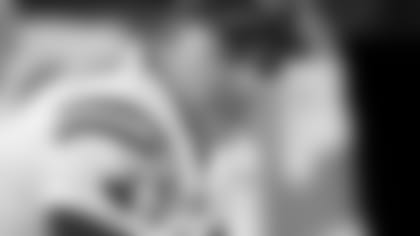 A:  Of the concerns we have as a team, I would put any involving Adam way, way down the list – and probably not even on the list at all.  Adam is a pro with one of the most solid approaches to the sport of any player I've seen in my years in the league.  I couldn't hold him in any higher regard, and he has shown no signs of letting up as a deadly accurate kicker.  I don't know where you heard things or who you've listened to, but I would disagree with any naysayer out there as it relates to **Adam**.  I would rank him with any veteran I've come across in my 28 years with the Colts. 
GRAYSEN A. (from New Meadows, ID) First off, I love the mailbag!  I'm wondering about Bjoern Werner.  At FSU he was a beast playing a 4-3 DE.  How is the transition to 3-4 OLB going?  I'm confident that his upside will make him a perennial 100-tackle machine and double-digit sack machine, but I'm worried about how effective he will be in coverage from the OLB position.  Thanks!
A:  We seem to get this question every week.  Bjoern is a gifted player with a great ethic.  He will be able to do just fine in the defense, and I think you will see him out there a majority of the time.  Coaches love high-motor guys, and that describes Bjoern.  As for 100 tackles and 10-plus sacks annually, those are big numbers.  Of the two, I would take the sacks since they are definite and not as subjective as tackles.
LARRY T. (from Scranton, ND) Why didn't we see more of Donald Brown this past year?  Will we see more or less of him this coming season?
A:  I think we will see some good ball from Donald this year.  He has fought injuries a little to this point, but I think he can make some definite contributions.  Donald had a good spring, and he very much is in his prime.  I think his skill set will fit the offense pretty well.  He's one of the guys I will be watching intently.
DAVID H. (from Sebring, FL) I get so mad when I see Sportscenter say the Colts over-achieved and they will take a big step back.  I just don't see that happening with all the players Ryan Grigson brought in.  All I see is the Colts going farther this year.  I know we have a tougher schedule, but I do believe we will shock a lot of teams and go farther this season.  (I'm) a diehard Colts fan.
A:  At least a criticism of ESPN didn't mention Mark Schlereth this time.  All outlets and pundits can say what they want.  All that matters are the opinions inside the locker room.  Just sit tight.  Outside voices like to move the needle at times, and they're entitled to their opinions.  We have less than three weeks until we start taking our next steps in getting ready.   
RUSSELL J. (from Omaha, NE) (I've been) loving the Colts since 1968.  How is Ben Ijalana doing?  Do we think he can come back?  I believe he can be a very welcomed surprise.
A:  Ben spent the spring rehabilitating from his knee injury that happened last year during the first drill of training camp.  We hope he is ready to go, and I know he is anxious as well.  Ben has had two tough and serious injuries.  We all want to see what he can do.  He's a very, very easy person to pull for.  A healthy Ben can be a boost.
JEAN C. (from Lancaster, CA) I plan to attend the game between the 49rs and my awesome Colts.  I'm a Cali native and wish to see my team during practice.  Is there an open practice viewing for Indy players while they are in San Francisco?
A:  I am glad you are getting to see us play this year.  We don't make it to the West Coast that often, and this will be the last time we play at **Candlestick** (I always hated using any other names for the stadium than that one).  I am sorry to tell you, though, we don't hold practices after we travel.  There won't be any opportunity to see us other than when we take the field on Sunday.  Thanks for your understanding and support, and we will see you then.  We know **Jim Harbaugh** will have his team ready.  I know he is as big of a battler as when he played for us.  He is fun to watch.  Colts fans will have to root against **Captain Comeback** that day, and Andrew Luck will have to slay his former Stanford head coach.  It seems every NFL Sunday has a sub-plot.
BOB B. (from Deltona, FL) I think when Jim Irsay hired Ryan Grigson, he was picking an aggressive and knowledgeable football man.  As soon as he took over the GM duties, he chose the right coach and during his first year he took the reins and started to develop a solid football team, each week taking steps to upgrade and building a competitive team.
A:  I could not agree with you more.  Ryan has a knack, grit and intellect that have served him well since his Purdue days.  To bridge GMs from Bill Tobin to Bill Polian to Ryan has been really good for Colts fans.  They all are battlers, and their leadership has led to a number of winning seasons.  Ryan is gifted and pursues things doggedly.  Just looking at the roster base from a year ago to where it is now is really something at which to marvel.  Let's hope for health and see where this year can take us.
JIM N. (from Martin, TN) I would love to read an interview with new special teams coordinator Tom McMahon.  Anything like that in the plans?  Hopefully, I have not missed it.  Does he have specific assistant coaches that he has hired?  If so, how many and what kind of titles do they have?  I'm looking for improved play on both sides of special teams this year.
A:  We wrote about Tom earlier this spring, and we should have something with him in training camp soon.  Players have been responding to his methods, and they like what they are seeing with his schemes and instruction.  We all know the critical nature of special teams and how field position/hidden yards affect the outcome of games.  We are looking for big things this year.  Tom has Brant Boyer as an assistant.  Brant was a special teams demon as a player, and he joined us last year.  We're in good shape with those two guys at the controls.
MERLE H. (from Deltona, FL) I have been a Colt fan since I met Johnny Unitas in my school back in 1968.  I was seven years old then.  Today, some 40 years later, I'm really excited about where this team is heading.  The Colts have been blessed to have QBs like Unitas, Bert Jones, Jim Harbaugh, Peyton Manning and now Andrew Luck. My question is, how does it feel to be around such an organization with all of its rich history and have the chance to add to it the way you have on a daily basis?
A:  This year will be our 61st season as a franchise and our 30th in Indianapolis.  I've been lucky to be around for 28 of those years and have come across a wide range of players and coaches.  Helping maintain the history has been one of my favorite duties, and sometimes that has led to me meeting players beyond my tenure with the organization.  From the Baltimore era, I have met John Unitas, **Raymond Berry**, Gino Marchetti, Bert Jones, **Lenny Moore**, Jim Parker, Don Shula, Weeb Ewbank, Art Donovan and John Mackey, among others.  It was such a pleasure meeting all of them, and all were gracious beyond words.  Maintaining records and artifacts is critical for any company, and cultivating knowledge along the way has been a blast.  We've had a number of notable players in our Indianapolis era, and keeping up with them is just as fun.  Long answer short, I have been very fortunate to be with a team with a rich heritage (as you pointed out so well at just one position).  I hope I can draw on that to help educate/entertain franchise followers for years.  You make it your business to know as much about everyone as possible so you can use that to portray those who wore the Horseshoe.  I'm glad you've had decades of satisfaction following us.  Let's hope 2013 measures up to many that you've seen.    
RICKY B. (from Rockport, IN) When are season tickets sent out?
A:  The tickets will be sent out in about a week.  Good to know you are excited about the season.  Hope we see you in training camp.
FRED B. (from California) The Colts and Pat McAfee have about a week left to agree to a long-term contract, or else McAfee plays the season on the franchise tag at about $3 million, then is a UFA again next season.  With players like Vontae Davis, Darrius Heyward-Bey, Ahmad Bradshaw, Pat Angerer, Antoine Bethea (and others) set to be free agents as well, it might be necessary for the Colts to tag one of those position players.  So tagging McAfee again is probably unlikely.  Have there been any talks at all regarding a long-term deal for McAfee?  There certainly hasn't been any news...
A:  Fred, I know you have a passion for the team, and you have pointed out business concerns for us going forward.  Every year brings personnel challenges, but I will refrain from making this a forum for contract matters.  We know Pat's value, and we all enjoy his personality off the field.  How Jim Irsay, Ryan Grigson and Coach Pagano approach things will be seen.  We want to operate the club shrewdly, and that does mean taking care of players to the extent possible.  We've done a good job of that through the years, but the last thing we want is to have cap constraints that hand-cuffed us last year.  The popular figure was about $38 million in dead money.  We'll roll well.  Thanks for submitting a question that certainly was good enough to publish, but one I really don't want to delve into with detail.
EXTON C. (from Indianapolis) Any updates on Josh McNary?  Will the Army release him in time for him to start training camp on time?
A:  We still are waiting for Josh's duty to reach its end.  There is nothing to update you on at this point.  We still have more than two weeks until players report, but the most important thing is for him to complete his military obligation.  When that time comes, Josh will hit the ground running here with us.