INDIANAPOLIS — Each week, Colts.com readers can submit their questions to have a chance of them being answered in our Mailbag series.
Missed out on the party this week? Not a problem — you can submit your question(s) for next time by clicking here.
Let's jump right into this week's questions:
» Marcus M. (Reno, Nev.): "Maybe I'm crazy but I am pretry high on Spencer Ware. I also see a lot of similarities between him and Marlon Mack. My question is how this impacts our backfield? Do you think this signing will have a Mike Mitchell to Quincy Wilson type impact on Marlon Mack? Obviously we got a guy with Marlon hopefully he can make another jump in performance"
Walker: I think Spencer Ware impacts the Colts' backfield as a guy who can come in and get yards in chunks when needed, but he's also particularly good as a receiving threat out of the backfield. We'll see come OTAs and minicamp, and into training camp, where Ware fits in the practice rotation, however, because the Colts really like what they have in Marlon Mack, Nyheim Hines, Jordan Wilkins and Jonathan Williams. But I wouldn't go as far as to say I see Ware having a Mike Mitchell-Quincy Wilson-type influence on Mack; if you'll remember right, Mack was brought into the league in 2017 with a future Hall of Famer in Frank Gore playing in front of him. I don't think you can get a better NFL education than that. That's not to say Ware won't be a valuable veteran leader; I just don't think Mack is the type of guy who necessarily needs to change up what he's been doing. If he was healthy the entire 2018 season, Mack could've had more than 1,200 rushing yards and 10 touchdowns, so with full health we'll see if he can get back to that point again in 2019.
» Peyton N. (Boonville, Ind.): "When do we learn their numbers?"
» Jack M. (Huntington, Ind.): "Love everything you do Andrew! So my first question is do you Khari Willis will eventually start his rookie year? Just thinking since that Ballard traded up for him shows that they like him a lot and since Geathers has had an injured past, i think it might happen. And finally, who do you think starts at SAM linebacker? Whether it be Adams, Banogu, etc. Thanks!"
Walker: That's very kind of you, Jack. Thank you. I can't say at this moment that I see Khari Willis being a starter at safety right off the bat, considering both Malik Hooker and Clayton Geathers are both healthy this offseason after battling through their fair share of injuries the past couple years. But you are absolutely right about what the Colts think of Willis and his future here, considering they not only traded up 20 spots to get him early in the fourth round, but Chris Ballard also said he considered taking Willis somehow in the third round the night before. Willis could be a tremendous option as a third safety in some packages, and could certainly be a guy counted on to step in and start should the injury bug hit the position again. Then again, let's check back in on this in three months and see where things stand. That goes for the SAM linebacker spot, too. It's just tough to say without seeing how the rookies fit in on the field with the returning players, you know?
» Gareth B. (Shreveport, La.): "I dont have a question,INDY is my team,the only team,the best team,ANDREW LUCK is the best QB period,I love my colts."
Walker: No, you're the best.
» Bill W. (Rockport, Ind.): "What are the Colts going to do with all the linebackers now on the roster? I understand having capable back-ups. It seems that linebacker group was in better shape than both the offensive and defensive lines going into the draft. I understand the WR receiver pick as well as the CB pick, but fail to understand why those two linebackers were picked ahead of what appears to be a greater need on both lines. There appeared to be line players as good as, if not better, at their positions than the two linebackers chosen by the Colts."
Walker: Bill, do me a favor: next year, be sure to listen to what Chris Ballard is saying leading up to the draft. People can speculate all they want about what the Colts' positional needs are, but Ballard and his crew build up a solid — and exclusive — draft board for a reason: so that on draft day, it's incredibly easy to look up and see the best player available, and then pick them. Position needs usually have nothing to do with it (but they aren't totally ignored). So I'll defer to Ballard & Co.'s judgment on the matter.
» Mitch A. (Converse, Ind.): "My last question was recently made pointless as Clark was traded to the Chiefs. So here's a new one, do you see the fact that Grover Stewart and Ndamukong Suh look almost exactly alike?"
Walker: I can definitely see what you're getting at: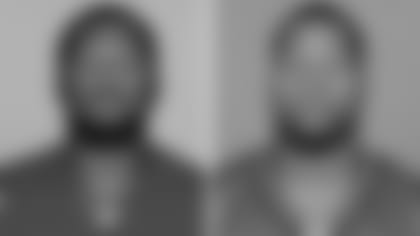 » Michael B. (New Castle, Ind.): "I can see a lot of similarities between our runningback room,and New England's.I guess my question is that do we plan on adding a fullback like James Develin."
Walker: Unfortunately for those fans of old-school power offenses and the fullback, I don't personally see the Colts adding anybody to their 53-man 2019 roster at that position. The team last year seemed to utilize tight ends and offensive linemen as "fullbacks" when the play called for one, and I wouldn't be surprised if Frank Reich used that same approach this year, too.
» Sandie S. (Mechanicsville, Va.): "OK, Andrew, who had the most juice in the Juice Contest?"
Walker: Sandie! Probably my most devoted reader. Glad to hear from you. The offense was judged the winner in the Juice Contest, but it was super close. Quenton Nelson looked like he was squeezing ping pong balls and not oranges.
» Jay F. (Mineola, N.Y.): "I am a life-long COLTS fan... Both Baltimore and Indianapolis. Shame on you for not mentioning the passing of a Great Colt Gino Marchetti."
Walker: Jay, with all due respect, the Colts had many mentions of the passing of Gino Marchetti that you may have missed. Team owner Jim Irsay tweeted out his thoughts, there was an article on the team website and dedications on the team's official Twitter and Facebook accounts. On a related note, you oftentimes wonder how effective players from the early days of the NFL could be in today's game; I have no doubt in my mind that Marchetti would've thrived off the edge as a menacing pass rusher in today's game. What a player he was.
» Mike S. (Anchorage, Alaska): "So excited for this upcoming season especially with everything that has happened thus far in the offseason. Since the draft is now over, it seems that the board fell perfectly for us in that we were able to address some areas of need. Taking into account contributions by this years rookies, where do you think our biggest strengths/weaknesses are from a roster perspective?"
Walker: As for the major strengths, I'll go with quarterback, tight end and offensive line one on side of the ball and defensive end and linebacker on the other side. As for areas in which the team might want to still improve after the draft, Colts.com's Jake Arthur wrote about that very topic recently.
» Brandon B. (Noblesville, Ind.): "Hey, so I thought of a couple questions regarding the draft that I couldn't find specific answers via google. Example, the Colts traded Ridgeway for the super late 7th rounder. Question 1) why trade for a pick so late in the draft when you would more than likely be able to sign him through UDFA? Question 2) assuming this is more of a contractual thing (ex more years initially on drafted player vs signed), does this seem to happen often? Did the Colts have potential "intel" that one of the few picks after that wanted the guy that took? I just think it's interesting to see a player traded for a pick that late in the draft, but maybe I'm missing something. Hopefully that makes sense."
Walker: Brandon, I don't think you make a trade like the Colts did, sending Hassan Ridgeway to the Philadelphia Eagles in the seventh round, if you don't have a specific player on your board you really want to get. In this case, the Colts acquired the 246th-overall pick, and ended up selecting Ole Miss interior offensive lineman Javon Patterson. That way, the team doesn't have to risk a guy like Patterson being wooed by other teams as an undrafted free agent and signing elsewhere; he's now under Indy's control for four years.
» Tom W. (East Greenbush, N.Y.): "Have been reading of Colts interest in signing Chad Kelly as the third QB. I assume the plan might be he becomes the backup when Jacoby leaves. Just wonder if they can afford a roster spot to carry him all season after a stocked draft with real competition at so many positions?"
Walker: As of right now, Chad Kelly has just been brought in on a tryout basis for rookie minicamp, despite earlier outside reports the team was going to sign him to its active roster. But whether the Colts do eventually sign Kelly or any other quarterback, Chris Ballard has said that the team has not ruled out the possibility of keeping three quarterbacks on its 53-man roster during the 2019 season (and let's not rule out the likelihood of the team considering Phillip Walker, as well). With backup Jacoby Brissett in a contract year, that's just the reality the Colts could face if they want to have someone ready to go to take his spot come this time next year.
» Wes M. (Fort Wayne, Ind.): "I love the great draft picks and free agent pickups. Will this be a year that we will see more aggressive play calling on the defense and offensive timing is everything."
Walker: I think you definitely saw the Colts featured much more aggressive playcalling on the defensive side of the football down the stretch last season, whether it was in the form of various blitzes (Kenny Moore II, especially) or the utilization of some different formations and looks. With much more comfort in the system in Year 2 under Matt Eberflus — as well as the addition of Justin Houston and the team's seven defensive draft picks — I would expect this trend to continue. Offensively, we'll see. According to NFL Next Gen stats, Andrew Luck last season finished 26th in the NFL in average intended air yards at 7.6. So, in other words, Luck attempted 639 passing attempts last year, and the intended receiver, on average, was 7.6 yards away. So that would indicate there are improvements to be made in this area, although that could really just be dependent on the playcalling more than anything.
» Anthony M. (Dumont, N.J.): "Is there a date for Freeny being inducted in the ring of honor yet?"
Walker: Not yet. Last year, the Colts announced in February that Reggie Wayne was going to be inducted into the Ring of Honor, and then announced the date of that game in late-April. So with Dwight Freeney being announced as the newest future member of the Colts' Ring of Honor in early-May this time around, the only thing I can say is just stay tuned to Colts.com and @Colts on Twitter for the latest.
» Melinda H. (Versailles, Ind.): "For the past several years, there have been towns/cities that a couple of the Colts have gone to along with Cheerleaders for a few hours. A smaller version of Colts City has been set up also. I was wondering if they are doing this again this year and if so the towns/cities, dates and times. I have attended several of these and have always enjoyed. Thanks"
Walker: You're in luck, Melinda, because the team recently released its Colts Summer Tour dates and locations, which can be found by clicking here.