 INDIANAPOLIS – Readers of Colts.com may submit questions during the week and have a chance to have them answered during the middle of each week.  **Submit your question here**.
Here are responses to some of the questions received recently.  We thank you for your interest in the Colts.
NANCY B. (from Indianapolis) When Buffalo ran back a kickoff for a touchdown, I remember thinking, "Pat McAfee is not in the game, that's why!"  Is there a reason why Colts are trying out new kickers or punters?  We need Pat to be our touchdown-saving tackler!
A:  As we've said, the Buffalo game was not the effort we were looking for, and your question stems from that same feeling, too.  Our giving Brandon McManus is typical of preseason games.  Brandon has been getting good distance on his kicks, and I'm sure you liked his 50-yard field goal at New York.  We also were missing about 18 players for the Buffalo game, including our two top gunners.  Personnel instability greatly hindered the units that day.  We were much sharper in New York.  While we've gotten too much tackling from Pat during his career, there's nothing wrong with auditioning a young kicker.  Brandon could have a future in this league.  There are only 32 jobs like the kind he is seeking. 
RICO W. (from Tulsa, OK) Long-time Colts fan going back to Johnny U days!  Do you think that the team will look for a return threat? I don't think Kerwynn Williams is the answer!  Go Colts.
A:  Try not to form judgments after a couple of games.  Yours came after the Buffalo game just like the question above.  Special teams are a work in progress.  We know the value of explosion, and Tom McMahon will field the best man for the job.  He said before camp that it likely will take the duration of preseason to fit in the right pieces.  You could ease up on Kerwynn, he's just getting his feet wet.  Sounds like you remember the days of some great Colts returners like **Joe Washington (click here for video)**, Jim Duncan and Lenny Lyles and want that "Marshall Johnson moment."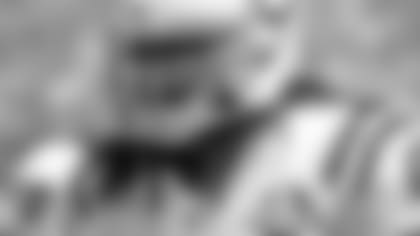 TOM S. (from Newport Beach, CA) How are Justice Cunningham's, Mr. Irrelevant, chances of making the team?
A:  Justice has had a good camp with us and improved tremendously through spring work even prior to camp.  We liked his receiving skills in the scouting process, and he has been doing well in practices.  Coaches like when players make strides like Justice has.  With the emphasis on the tight end in our offense, he needs to keep it up.  Justice is doing well so far, and he has used injuries at his position by others to step up his contributions.
CHARLIE W. (from Tennessee) I was interested in seeing number 65 Danous Estenor (OG) play on Sunday (against Buffalo).  Then I saw another number 65, Kellen Heard (DT), play on the offensive line late in the game.  How can there be two players with the same number, and is Kellen Heard an offensive or defensive tackle?  Kindly de-confuse me.
A:  When rosters are at 90 players, sometimes there is a need for duplicate jersey numbers.  Right now we have players sharing jersey numbers at 29, 34, 37, 42, 46, 56, 65, 67 and 73.  This only happens in preseason with larger rosters.  The rosters are thinned after the third preseason game (90 to 75) and after the last one (75 to 53).  At that time, there are no duplicated jersey numbers.  When the numbers are shared, they are done by players on different sides of the ball (ie:  no two offensive players would share the same number).  We would not have had Kellen playing on offense.  It can be confusing to observers, so I hope this has "de-confused" you.  I bet there are others who had the same type of question.  Thanks for writing.
ROBIN T. (from Santa Rosa, CA) Any idea when John Boyett will return to the active roster?
A:  John is overcoming knee surgeries and still is on PUP.  I have heard nothing beyond that, but he is working hard with the medical staff.  He is a tough player who could have a good future.
BRAEDEN H. (from Paris, KY) This year seems to be an interesting year for the Colts offense with the addition of a fullback and more of a two-TE set.  With Ahmad Bradshaw and Vick Ballard at running back, it seems like a rushing attack and a tight end-happy offense.  Will this decrease the amount of receptions for our wide receiving corps?
A:  Pep Hamilton and his staff will get the ball into playmakers' hands, no matter who they are.  We want to function well in all areas, and he describes us as a power running team.  Pep will find ways for Andrew Luck to feed Reggie Wayne, DHB and T.Y. Hilton.  The object is to score points, and we've shown the ability to do so with them.  Don't forget, some of the shorter, quick throws can be extensions of the running game.  We've done that for years.
ROBERT E. (from Ocala, FL) Do you think Mr. Grigson will start drafting immediate play-makers to follow Jim Irsay's mindset of winning a Super Bowl in the next three years?  Our draft class this year consisted of a second-stringer (Bjoern Werner), two injured linemen with one having a consistent injury bug (Khaled Holmes), a nose tackle who under-performed and got hurt also (Montori Hughes) and a safety who won't even get to play his first game until next year (John Boyett).  I understand injuries happen but what's with drafting guys that are already injured?  Do they think it won't happen again in a harder hitting, quicker NFL?  Go Horse!
A:  I know you're a long-time fan, and I think the draft class will prove itself over time.  A decent barometer to judge a draft is at least a couple of years.  Remember, we've only played two preseason games, and you wrote in after the Buffalo game.  Ryan's draft class last year was a big reason why the team improved dramatically.  This year's group may not provide the immediate eye-candy **(click here for video)** and immense production of last year's bunch (Would you really want that in the second year of a program being built?), but it can strengthen our depth.  I'm sure Bjoern's performance at New York helped ease some of your concerns.  The shared vision here is winning a title, hopefully quicker than in three years.  Stay on board like you always have.  Draft classes take much longer than you've given to develop, but your heart is in the right place. 
DAVE L. (from Vermont) The first preseason game of any year has your team practicing getting in and out of different formations, subbing in and out and limiting penalties.  It looked like we did an okay-to-good job.  Plus, the hurry-up offense of the Bills gave us a good test and video to learn more from.  How does the coaching staff feel about people being in the right formations, subbing in-an-out, un-needed penalties?
A:  The offense has been implemented in its entirety.  The Buffalo game was a rough night, but I trust you saw our game in New York.  That should have quelled some of your fears, and things should continue on the uptick (**love that Al McGuire expression**).  Progress is evident in a bunch of areas and the Cleveland game will be a great indicator of where we are since there will be game-planning involved.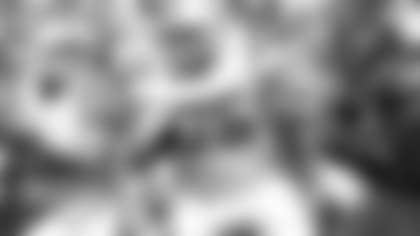 AKEEM J. (from Atlanta, GA) During the game, the commentators mentioned the fact that Andrew Luck had to face pressure up the middle.  Do you think that Ben Ijalana could play guard given the fact Anthony Castonzo and Gosder Cherilus play tackle and Donald Thomas mans the other guard spot?  After all coming out college the scouts raved about how he was strong enough and fast enough to play either guard or tackle, and how much faith do you have in Mike McGlynn?  Do you think he is the answer at guard?  #Blue and white coursing through my veins love that Horseshoe.  GO COLTS.
A:  I think we have guys where they belong, and I think the line will do just fine.  I wouldn't be so harsh on Mike McGlynn.  Mike's a battler, and he does take some knocks from fans.  He'll keep plugging, and people forget last year how Mike's versatility really helped us in the clutch when injuries hit.  Glad you love the 'Shoe.  Try giving Mike a little lovin', too.
R.J. E. (from Marion, IN) I have a question regarding our rash of injuries.  Compared to other clubs, the bug has bitten us pretty hard.  How often are our medical and training procedures evaluated to ensure we are giving the players the best treatment and prevention methods available?  Thank you in advance for all of your time spent keeping us informed and entertained with the mailbag. #ColtsStrong
A:  We get this question with every regime and believe me, there is not one part of our operation that escapes constant review.  The truth is our injuries are consistent relatively in numbers with past years and in the league currently.  It's a tough sport and while you wish they didn't happen, they do.  We have a solid program, and you're just the latest to pose this thought.  Prevention, maintenance, nutrition and hydration are constant practices for us, and we review everything prudently. 
R. SMITH (from Houston, TX) I was wondering why don't we have an all blue alternate uniform.  It would look really awesome.  Teams have all black, so I just thought I would ask.
A:  We've had a lot of uniform questions lately, but I don't see us doing anything beyond what we do.  We're in blue jerseys at home and white on the road the rest of the season.  There are no plans for throwback uniforms this year, and we've never really considered an alternate look.
We hold to a traditional look, and I hope we always do.
DAVID H. (from Sebring, FL) The Colts did a much better job with the Giants, but they still need to improve the offensive line.  They have to be more physical, and the defensive line must power through other teams.  We still must fix the problems on special teams on kickoff returns.  When we solve these, all I see is great things for this team.  From last week to this week there was a big difference.  Keep it going.
A:  Our level of play on many units was much better this past week and good teams do it on a consistent basis.  Colts fans have seen that for years with our guys.  This is a new bunch, but I think we'll see things performed consistently.  This year's group has bought into the program just like last year's did.  That's imperative in winning, and the roster is tight-knit again.  You can credit that to the types of players Ryan Grigson attracts and the coaching style of Chuck Pagano.
CLAYTON C. (from Columbia City, IN) I have been a Colts fan my entire life.  The Colts defense looked pretty solid against the Giants.  I just want to know if we will see Daniel Adongo play in the preseason.  He is a great physical talent, and I am very excited to see if he makes the 53-man roster.  Go Colts!!!
A:  Daniel has not been in action yet.  He has had a biceps issue.  He is practicing this week and could see his first action on Saturday.
JAMES G. (from Indianapolis) Has LaRon Landry been with the team in our two preseason games and if not, why?
A:  LaRon has yet to play because of a sore knee.  He could be in line for his first action this Saturday against Cleveland, but that is not definite.  What LaRon has going for him is a pretty good prior familiarity with what we're doing here scheme-wise, with terminology, blitzes and coverages.  Should he be able to go in preseason, he would not get a great bulk of work anyway.  Chuck Pagano feels the practice time missed is the issue, but that LaRon will get to full speed quickly.  Of our free agent signees, Landry's has piqued the interest of Colts fans a great deal, probably on the same level as the addition of Darrius Heyward-Bey.
JOHN C. (from Bellerose, NY) Do you think the Colts are making a mistake with Coby Fleener?  I see to many dropped balls stopping drives, does not look durable.  I would like others over him. (His) Stanford days are over.  (Andrew) Luck has new friends.
A:  John, I don't agree in the least.  Is any player perfect?  No.  Can Coby do a bit better?  Yes, and you can say that about 1,500 players in the league.  Coby said it about himself yesterday by saying he should have caught a pass last Sunday from Andrew Luck that he didn't.  Like any competitor, he will go back to work and get ready for his next chance.  I think it's way too early to draw any conclusion, and I think Coby will be a solid contributor this year.  I picked your letter over another one just like this, and I thought it was appropriate to respond.  Andrew does have new friends, and I think he will be targeting them and an older one often as well.