Kenny Moore II knew if he was going to do this, it was going to be for himself.
In the winter of 2016, Moore gathered his mother and grandparents around the kitchen table and told them: I'm thinking about dropping out of Valdosta State to try to play professional football.
It would mean putting on hold the degree he was working toward in communication arts.
"Who else have you seen do that? Who else is in your ear about that?" Moore's grandparents, who helped raise him while his mom was working, asked.
"We can't let you do that," they told him. "School comes first."
Moore couldn't think of someone who dropped out of a Division II school before graduating and made it in the NFL. He didn't have anyone in his ear. This was his choice. This was his dream.
"If I don't make the NFL, I'll just come back to school," Moore recalled thinking in a conversation with Colts.com. "I said one thing about it, school will always be there, and there's a clock on every single athlete on how long they can play and how long their bodies can hold up or how long that ultimate sacrifice can be held up.
"That was probably the first time that I went against the teachings of my grandparents."
At that kitchen table, though, Moore promised his mom and grandparents he'd still go back to get his degree. It was important to the most important people in his life, and it was also important to him.
On Saturday, Moore will receive the degree – a Bachelor of Science in organizational leadership and minors in political science and public administration – he earned from Valdosta State. He'll become a college graduate, and can add that accomplishment to a personal list that includes becoming a Pro Bowler, Walter Payton Man of the Year nominee and – later in May – a Gulf South Conference Hall of Famer.
"You come to a stopping point once you start living for others," Moore said. "If you start living for others, you come to a point where you just get tired. So whenever you have a purpose, whenever you have a standard for yourself, whenever you have this type of integrity, I don't think you can ever be stopped because it becomes who you are. It's pretty cool, honestly, to come to this point."
It wasn't the first time Moore thought about leaving Valdosta State.
Playing college football at a Division II program wasn't easy. Valdosta State didn't have the sparkling facilities of Clemson, or the coaching stability of Alabama, or the constant flow of booster money of Georgia. And making it out of a Division II school to the NFL? Only a select few guys can say they've done that.
But Valdosta, Ga., is home for Moore. Playing at Valdosta State made sense. And it forced him to take after his mother and work as hard as he could, all while following the values instilled in him by his grandparents.
"My teammates used to go party on the weekend, and I used to literally get into arguments with teammates because I was asking them, why are you out partying? We're not that great," Moore said. "We're at a Division II school. We aren't the best in the country. We haven't won a national championship. We don't have the best defense. We don't have the best offense. So why are we partying?"
Instead, Moore would go lift at the local YMCA. His thought: If you want to enjoy college like a student, just be a student. If you want to be a student-athlete, put in the work it'll take to win. And he, individually and collectively, hadn't accomplished anything yet.
"I'm proving to my teammates that I would rather do this than be out and about with them and what they're doing because even after losses, they're going out," Moore said. "I'm like bro, we're not doing that. We're not doing that. This is the mentality that we got to have, we got to work."
(Moore's new head coach, Shane Steichen, can surely appreciate the "I'm not partying, I'm going to work on my craft" mentality.)
Being at Valdosta State put a chip on Moore's shoulder, one that's benefitted him throughout his NFL career. And while he could make the personal choice to work out on his own, something out of his control was all the coaching turnover he went through.
Moore had a different defensive coordinator every year he was at Valdosta State. He hit a breaking point between his sophomore and junior seasons — his position coach, Ryan McNamara, left for the University of Florida after one season in Valdosta. Moore was in Seattle when he found out and decided – "nah, I'm about to transfer."
"This school has too much turnover, this school has too much coaching change," Moore thought. "I'm not trying to learn a new defense — like, what is going on here, these coaches just want to coach for one year and leave. I'm not doing it."
As a promising defensive back talent, Moore went on visits to several FBS-level programs – Troy, Georgia, Georgia Southern and Arkansas State were among the schools that showed interest.
But none of those schools felt like home the way Valdosta, Moore's hometown, did. And something a coach at Georgia told Moore stuck with him: "If you're the man at Valdosta State," the coach said, "you should probably stay the man at Valdosta State."
The point was, if Moore transferred to a bigger school, he risked getting swept up in the business and political side of college football roster-building. Boosters, in the pre-NIL era, wanted to see new recruits come in and play, not transfers — and if the boosters wanted to see high school recruits succeed, the head coach's job security was probably tied to the success of those recruits. Not the success of a transfer who might be there for a year or two and then leave.
"I was like, you know what, if I'm as good as I say I am, I'm just gonna stay at Valdosta State," Moore said.
So Moore stayed. He became a Division II All-American at cornerback as a junior. As a senior, James Rowe – who, in 2021, was Moore's position coach with the Colts when he earned Pro Bowl honors – stepped in as Valdosta State's defensive coordinator and, after a few injuries prior to the season, moved Moore to safety. He became an All-American at that position, too.
And after the 2016 season, Moore knew: "I'm ready to go to the next level."
Staying at Valdosta State put Moore on the path to where he is now. He had to work for it, not just in college but then in the NFL, when he caught on with the Colts as a waiver claim after the New England Patriots cut him ahead of the 2017 season. The chip on his shoulder he developed at Valdosta State paid off in the NFL, and the opportunities to be the big fish in college allowed him to hone his talents.
But would Moore have wound up in the same place he is now – heading into his seventh year in the NFL, and being inducted into Valdosta State's conference's Hall of Fame later this month – had he followed through on transferring away from Valdosta State?
"Maybe not," Moore said. "Maybe I would've just got left in the wind."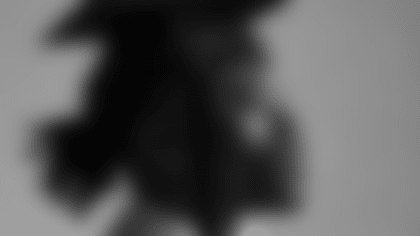 Moore began working toward his degree from Valdosta State after his rookie year with the Colts. He had to change majors, since Valdosta State didn't offer online coursework for his initial degree in communications arts. So Moore began working toward a major in organizational leadership with minors in political science and public administration.
Moore took classes in the offseasons following his first and second years in the NFL, then picked them back up after the 2021 and 2023 seasons, including two classes this spring to fulfill his graduation requirements. And taking those classes while training to play in the NFL took discipline to make sure he wasn't shortchanging either thing.
"I have to have a certain sacrifice in the offseason because I'm trying to meet deadlines or I'm trying to get a test done or I'm trying to get some work turned in, and I can't do what all the other players are wanting to do in the offseason," Moore said. "I still have to have some type of humbleness about myself or discipline to say hey, no, I have homework or I gotta finish this class right quick."
Going back to school was a humbling experience, too, reminding Moore that he doesn't know everything and needs to know when to ask for assistance. Just getting back in the mentality of taking a class was a challenge – as it'd be for anyone who's been out of school for a little while.
"I had to go get help, and I had to seek elsewhere," Moore said. "And it wasn't just about me doing this just to check the boxes, but I obviously had to go out and get the help."
That's the thing with Moore. He doesn't do anything half-heartedly. If he commits to doing something – in this case, earning his degree – he wasn't going to do it just to do it.
That's why Moore didn't even tell his mom when he started taking online classes and working toward his degree. He didn't need anyone to pat him on the back – he was going to do it, first and foremost, for himself.
Moore, of course, is elated to share with his mom the moment he becomes a college graduate this coming weekend. And it's not just his mom – he knows how much it means to so many people in the Valdosta and Indianapolis communities he calls home, like Valdosta State assistant athletic director Jennifer Grubbs, who made a significant impact on his life as a college kid.
"It's those type of relationships that have pushed me to go even further," Moore said, "because whenever I want to do something in life or whenever I want to represent people who are around me, those are the types of people I want to do good for."
Moore envisions using his degree and college experience, after his playing career is over, to become an athletic director, principal or take on some other leadership position where he can impact youths.
Before that, though, Moore still has plenty of goals left to accomplish. He wants to help push his team to win the AFC South, then an AFC title, then a Super Bowl. He wants to hit 20 career interceptions, then push for 30. He wants to be named the Walter Payton NFL Man of the Year after being nominated for the league's most prestigious honor in 2021.
But eventually, as Moore recognized seven years ago, the clock will run out on his playing career. And when it does, he'll be ready for the next step in his life.
"Someday when I hang the cleats up," Moore said, "there's more that I want to attach my name to, there's more that I want to represent."