Philip Rivers, Justin Herbert and Jalen Hurts are three completely different quarterbacks who share a couple things in common.
They were all coached by Shane Steichen, first of all. Steichen was Rivers' quarterbacks coach and interim offensive coordinator with the Los Angeles Chargers; he was Herbert's offensive coordinator with the Chargers and Hurts' offensive coordinator with the Philadelphia Eagles.
And Steichen, in coaching them, observed a singularly important quality in each player.
"They're obsessed with their craft," Steichen said. "If you can find that in a quarterback, you'll probably have some success."
Two decades ago, he was that guy. A quarterback obsessed with his craft.
Chris Jones, Oak Ridge High School's football coach, admits he was "young and inexperienced" when he said yes to an idea Steichen and a few players presented to him. Steichen, Oak Ridge's starting quarterback, wanted to do something productive with his weekend nights. And around El Dorado, Calif. – a far eastern suburb of Sacramento – there wasn't much else to do besides a typical high school party.
Steichen, though, wasn't much of a partier. Neither was his friend, star wide receiver Austin Collie (yes, that Austin Collie).
So he went to his head coach and asked: Hey, could we get the lights turned on at our stadium?
"They would rather go throw the ball around at night than go to a high school party," Jones said. "What's not to like about that as a coach?"
Jones would leave the stadium gate open on weekends and gave Steichen a key to turn on the lights. He put an immense amount of trust into Steichen – Jones never once fielded a call from someone asking why a couple of high schoolers were messing around on the field.
"They were there to work, and to compete, and to get their work in," Jones said. "And they brought similar guys along with them, which was awesome."
Collie and Steichen would occasionally poke their heads into those typical high school gatherings, but would usually bail shortly after arriving – if they went at all. They'd wear basketball shorts under their pants, and Steichen would always stash a football and cleats in the back of his truck.
"Instead of going out to a party or something," Steichen said, "myself and Austin Collie, we'd go and throw for a couple hours."
At the field, under the lights, Steichen and Collie would drill five or six specific routes. They'd rep them over and over, working to perfect their timing and develop their all-important quarterback-receiver bond.
Years later, Collie was reminded of those nights while he spent offseasons working with his NFL quarterback. You probably remember him.
"They have a similar approach in preparation to the game," Collie said. "I don't think you can be where you're at without it. I don't think you can be where Shane's at without that obsession. A lot of people I've come across or played with, they love football but once they leave the facility, that's it until the come back the next day as far as talking about it, as far as thinking about it, as far as studying.
"But just like Peyton, I'm going to go ahead and say Shane's not that way. He'll talk ball until you tell him to stop because he truly loves the game and wants to find out what level he can hit. And he understands, just like Peyton did, it's a constant quest to perfect the craft, perfect yourself." 
Jones remembers Steichen having a strong arm, but as a "long, lanky, skinny kid" who "wasn't this phenomenal athlete." Rivals.com listed Steichen as 6-foot-3, 175 pounds on his recruiting profile.
And Collie remembers Steichen being dialed in to everything, to borrow a line Steichen used in his introductory press conference, "above the neck." He was relentless in honing his technique, studying his playbook, reading defenses "better than anybody," Collie said, because while he was a good athlete, he had to set himself apart with his football IQ.
"He had to be obsessed about what his work ethic was going to be and how that all helped shape him," Jones said. "Because without that, he was going to be just another tall, skinny quarterback who could throw it a little bit. But he took a lot on being able to put the work in to get to be a scholarship guy, which he knew he wanted to be. That was evident."
Collie said he and Steichen spent "countless" nights on that field. They both worked tirelessly at their craft – a craft that landed both in the NFL. Collie as a receiver for the Colts; Steichen now as the head coach of the Colts.
"I mean, when you're choosing not to go party and drink, and instead you're going to throw the football — like, you have your mind made up what you want to do and who want to become," Collie said. "And that obsession was pretty obvious from an early age." 
The Steichen-to-Collie connection led Jones, the head coach, to scheme an offense that would pass much more than your typical high school in the early 2000s. While most teams Oak Ridge faced had two or three backs on the field, Steichen would sit in shotgun or run single-back/two-back I-formation concepts and sling the ball around north central California.
"We weren't afraid to let it loose," Collie said.
Jones' strategy was simple: First, think players, not plays.
Second, dress up the plays you do call so the intent looks more complicated than just "hey, Shane, chuck it toward Austin."
Sound familiar? It should. Steichen has said there are "endless" ways to dress up plays, to make the same concepts look completely different.
Jones, over the last few years, turned on the Eagles and watched as Steichen called for motions, shifts and disguises to make straightforward concepts look exponentially more intricate.
Just like he and Steichen schemed up 20 years ago at the high school level.
"There was a lot of window dressing," Jones said. "At the end of the day, our passing game was not the most complex thing in the world. But it sure looked like that."
Jones in October flew to Arizona to watch his former quarterback, then the Philadelphia Eagles' offensive coordinator, call plays for one of the NFL's top offenses. On the sidelines before that Eagles-Cardinals game, Steichen's wife, Nina, told Jones: "Hey, he always mentions you had a pretty big influence on him."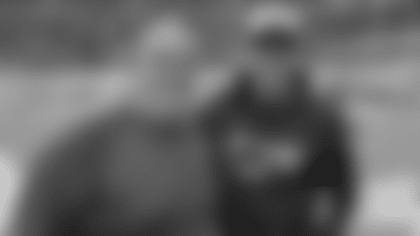 Jones appreciated the comment, but he didn't think much more about it. A few months later, Steichen was introduced as the head coach of the Colts, and made sure to drive that point home.
"I'd like to thank my high school coach Chris Jones," Steichen said. "Thank you for teaching me the game and making me foster a love for the game. I will forever be grateful for you and our friendship."
Steichen always had it in him to be obsessed with his craft, with getting better, with football. Jones nurtured that obsession. And Steichen never forgot it.
"At that press conference, that was probably the crowning moment for me to be able to hear it in that way," Jones said. "That meant so much to me just to hear that. To hear him say that was bigger and better than anything else as a teacher and a coach. So much better than anything else."
But Jones knew back in the early 2000s the kind of kid he was coaching in Steichen. Collie did, too. He saw a teenager committed to relentlessly pursuing perfection. That character trait is why Collie isn't shy about drawing a line from his high school quarterback to his NFL quarterback.
And it's why Collie has no doubt Steichen will be the second Oak Ridge High School alum to make a name for himself with the Indianapolis Colts.
"The fact that he's coaching in the NFL does not surprise me at all, and the fact he's going to have great success — I know he will," Collie said. "He's got the mentality and he's got the personality to do it. He's got the understanding of the game that not many people have and humility.
"That's the other thing — he's a humble individual, which I've found, all the coaches I've been around, the ones who are the most humble but yet the most knowledgable and the most driven are the ones, at least from my own experience, those are the best coaches."