 ](http://careyindiana.com/)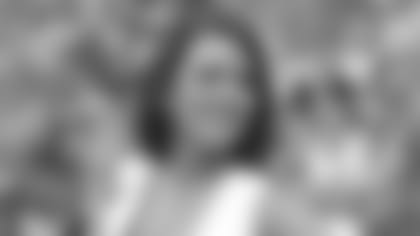 Hello Colts fans! I am excited to share a little about myself as your "Cheerleader of the Week!"
I am very proud to say this is my fourth year as an Indianapolis Colts cheerleader.  Time has flown by as I have experienced so many wonderful opportunities as a cheerleader.  Some of my favorite memories include: promoting the NFL in London, dancing live on Jimmy Fallon, interviewing celebrities on the red carpet for Super Bowl XLVI and singing the National Anthem at a Colts game last season!  I am humbled to be a part of such a wonderful organization and cheering beside the most outstanding women I have ever met.  Being a 'Sweetheart of the Horseshoe' is a tremendous honor and privilege.
I currently attend Indiana State University where I am majoring in Communications.  After I graduate I aspire to be a sideline reporter, preferably football of course, and never have to retire from my home away from home!  When not practicing or studying, I work part-time in Terre Haute, IN.  In my free time I try to spend as much time as possible with my family, friends, boyfriend and my miniature American Eskimo dog Kevin.  They mean the world to me and I am so grateful for their support!  I am very close to my family who drives three hours to attend every home game to watch me do what I love!
This week we are preparing for our first regular season game of the year!!  I cannot wait to hear all of you roaring fans on Sunday at Lucas Oil Stadium!  Game days are my favorite part about being an Indianapolis Colts Cheerleader and I am thrilled to be on the sidelines for another season!  Our game vs. the Oakland Raiders will make my 34th NFL game!  See you Sunday!
I need to have _ every day.
Music! It will instantly lift my spirits and motivate me for the day.  I like a lot of different genres but my favorites are Pop punk, rap and R&B.
What was the first concert you ever attended?
The first concert I ever attended was Garth Brooks with my dad and my grandpa.  I was a huge country fan as a child and Garth was one of my country idols, I was sure I was going to grow up to be a country singer one day!  I will never forget this concert and how excited my grandpa was to take me.
Your greatest inspiration is…
My greatest inspiration is my friend Brooke.  She battled brain cancer through our first three years of high school but always remained in high spirits and with a big beautiful smile on her face.  Brooke and I cheered together through this time and middle school and she always was encouraging and motivating.  Although Brooke lost her battle to cancer, she inspires me still to be positive and to lift others up.  It is because of her I tried out to be a Colts cheerleader and keep a smile on my face. J
What is your favorite workout?
I love taking Zumba dance classes!  I also enjoy doing 9-minute abs where I choose 9 different abdominal exercises and do each for one minute.  Such a good burn!
What is the biggest misconception you've heard about Colts Cheerleaders and how did/do you respond?
The biggest misconception of Colts Cheerleaders I have heard is that we earn a large salary.  We are compensated for games, practices and appearances however it is not quite enough for each of us to live on.  When I am approached with this question I am proud to say that each of my teammates is either continuing higher education to pursue a career of has already began their career.  I also remind fans that we are not cheerleaders because we are seeking a big salary.  We are in this business for our passion of football, performing and representing the Indianapolis Colts!  We have wonderful sponsors such as Sun Tan City, Tyler-Mason Salon & Spa, Indy Laser Hair Removal, Core Pilates and Fitness, LA Fitness, etc. that make our jobs worthwhile.  I absolutely love being an Indianapolis Colts Cheerleader and supporting the best team in the NFL!