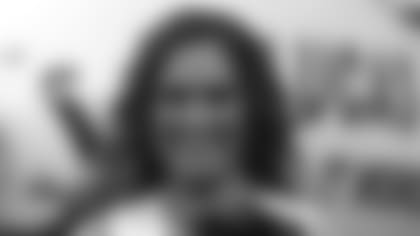 Hey Colts fans!  It's an honor to be your Cheerleader of the Week and have the opportunity to share a little bit about myself with you.  This is my third season cheering for the Indianapolis Colts; it is such a blessing to be a part of one of the best organizations in the NFL!  I have so many wonderful memories from my time with the Colts.  Some of these memories include performing live on the Jimmy Fallon Super Bowl Special when Indianapolis hosted Super Bowl XLVI, and cheering for the Madden 13 Pro-Am Celebrity Flag Football game.
For the Colts vs. Browns game, we had the band Third Day join us for our prayer circle tradition before kickoff, and also had the opportunity to be a part of the Colts Cheerleaders 30th anniversary, where I was able to perform with over 150 Colts Cheer Alumni. I am so proud to be a part of the very first team in the NFL to have cheerleaders. It reminded all of us how special this opportunity really is and to cherish every moment. All of these are wonderful memories, but they would not mean nearly as much without the amazing friends I have made along the way. The girls that I cheer with are some of the most talented and hard-working women I know. I am proud to call them my teammates and my best friends.

1.      At what age did you start dancing?  How long have you been doing it?
I didn't start dancing until I was a freshman in high school. I thought the dance team looked like fun, so decided to give it a try. Little did I know it would be one of the best decisions I would ever make because of where it has brought me today! I am currently 24 years old, so I have been dancing for roughly ten years now. 2.      What's the best compliment you've ever received?
The best compliment I've ever received was a compliment on my positive attitude. I always strive to see the up-side of situations and the good in people. I think a positive attitude is a great characteristic to possess, and something that I try to work on every day! 3.      The last movie you went to see in theatres was?
I honestly have no idea what movie I last saw in theatres! I keep pretty busy so it has been quite a while since I went to the movies. I do want to see "We're the Millers" though, so hopefully I will make it there soon! 4.      Now that the games have begun, what is the most challenging part about game day?
Game day is my favorite part about being a Colts Cheerleader, so I would not say that it is hard to get through by any means because there is always so much excitement and adrenaline. Especially since we have the best fans!! If I did have to choose one challenging part though, I would have to say waking up so early! For a typical 1:00 game we have to practice, go to hair and makeup, and do appearances before the game even starts. Most people don't know that we have to get there so early. For these games I typically wake up at 4:00- 4:30AM, but once I get that first view of the stadium as I drive into downtown it is all well worth it. 5.      Is there a particular game or event that you are looking forward to this season?  Why?
I think it's safe to say that along with every other Colts fan that what we look forward to the most this season is the Colts vs. Broncos game!  Colts fans are very loyal, and we all still have a place in our hearts for Peyton, but Andrew Luck has also come in and proved that he deserved a place as well.  The Colts community is so much like that of a family that it will make for a very bittersweet football game.  I can only imagine the excitement that is to come from the game, and the fans.  I think it will be an emotional experience that Colts fans will remember forever!