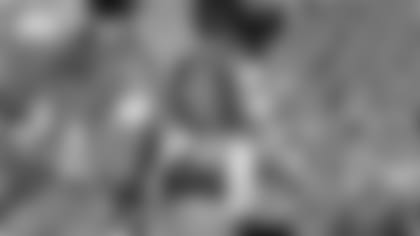 Happy Holidays Colts Nation, I am so happy to be your Cheerleader of the Week during this wonderful time of the year!
My name is Mariah and I was born and raised in Bedford, IN. (For those of you who don't know, it's a small town about half an hour south of Bloomington where IU is located, GO HOOSIERS!) I began dancing at the age of 3 and it has been one of my biggest passions ever since I took my first dance class. I danced competitively for 10 years at a studio called One Step Above.  I learned so much about being the best dancer, performer, and person that I could be. I am so proud and honored to say that this is my first season to be apart of the amazing group of women that are known as the Indianapolis Colts Cheerleaders!
Aside from being a Sweetheart of the Horseshoe, I attend school full time at IUPUI. As a sophomore there, I am currently working towards a degree in Visual Communication. Art is also one of my biggest passions. I can remember being interested in art from a very young age and I am looking forward to making a career out of it one day!
If my schedule allows me some free time, I absolutely LOVE crafting! I do anything from your typical projects on Pinterest to crafting art pieces out of duct tape. That's right, I said duct tape!! My most recent piece was for my 3D Design class and I made a hanging wall plant completely out of duct tape, everything from the flowers, leaves and even the basket it was placed in is made from different colors of tape.
I do want to say a special thanks to all of my friends and family for their amazing support! I would not have achieved half the things I have in my life so far if it weren't for any of them! I also want to thank all of the amazing Colts fans! You all are such die-hards for this team and organization and I absolutely love and admire that! I look forward to performing for all of you for the rest of the season and hopefully more seasons to come!
What is your favorite Christmas tradition?
It has been a tradition in my family to make Christmas cookies every year! They are just regular sugar cookies, but the true magic is in the shape and decoration of these delicious treats. This recipe has been passed down for four generations now and I hope to pass down this special tradition to my kids and grandkids one day!
Real Christmas tree or fake tree?
I have always had a fake tree every year for Christmas. I would honestly prefer it over a real tree for a few different reasons. To start off, with fake trees, you always have the perfect tree every year and you don't have to search very hard for it. (That is if you are organized!) Secondly, I have allergies so I think having a real tree would make me not feel so great during the holidays, and who would want that!? And Third, I am an OCD freak about cleanliness so all of the pine needles would drive me into a cleaning frenzy 24/7!
You grew up dancing to…
A whole bunch of different music! I actually don't have a favorite type of genre I listen to regularly. I tend to listen to a little bit of everything, but 80's rock (especially Journey) will always have a special place in my heart! Anything with a good beat will definitely get me dancing!
What has been the biggest challenge of your rookie season?
The biggest challenge for me this season has been adjusting to the amount of dances we learn in a season! I am so used to practicing a certain number of routines for a season and performing those at the end of the year. I do however enjoy the change and the challenge this presents to me, it has made me grow in my dance abilities and my time management skills as well.
What is one of your favorite appearances you've been on?
My all-time favorite appearance this season has been helping out with one of Blue's School Shows. I have the biggest soft spot for kids and it is so humbling and rewarding to be a figure that kids can look up to and model themselves after! I have had so many amazing mentors and role models in my life that I think I owe it to the future generation to give back in that way. Just seeing the smiles and excitement on kids' faces when the players, cheerleaders, or Blue walks into the room is enough to make my day!
I hope you have had fun getting to know a little bit about me! I'd like to wish everyone Happy Holidays and a Happy New Year! GO COLTS!