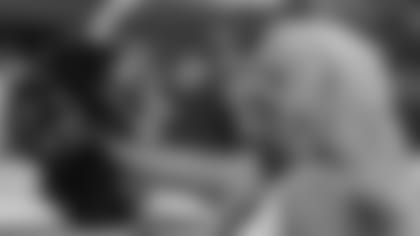 Hello Colts fans. I could not think of a better time to start off my cheerleader of the week than after that amazing win yesterday against the San Francisco 49ers! I am very proud to say this is my rookie season as an Indianapolis Colts Cheerleader. I am excited to share my story with you and hope you learn some fun facts about me.
I was born and raised on a farm in Layton, Utah. I have 3 wonderful sisters, sadly enough my dad did not have any cowboys to help with the farm duties, and we each traded our cowboy boots for dance shoes. I began dancing at the age of 3. I was on a competitive dance team growing up and won numerous award-winning titles. I have done back up dancing for Disney's High School Musical and also spent the past 5 years dancing for the Donny and Marie Show in Las Vegas.
I never would have guessed that through my life journey I would be in Indiana dancing on the field in the cowboy boots I traded in long ago. I gave up the Broadway stage for an NFL field and could not be happier with my decision. Being a part of this organization, representing the NFL, the Indianapolis Colts, and our community is an honor and just as rewarding as dancing in any professional show.
1-    The last thing I purchased was… Pumpkin spice sprinkle cookies from Blondie's Cookies. One of my Indiana favorites.
2-    What no one realizes about me is…  I am a proficient video gamer. I grew up playing Nintendo 64. While on tour, my dance partner and I became Resident Evil 5 experts, and we have Wii just dance at every family function.
3-    What lead you to try-out for the Colts Cheerleaders?
Two years ago the show I danced for spent the month of December doing our Christmas Show in Chicago. While on this tour I met a guy who was also on business from Indiana. We continued dating over the years and this past February we adventured the 19-hour drive to moving me here. I knew once I got here that I wanted to continue dancing and performing. What better way then to be dancing for all of you Colts fans?
4-    You danced for Donny and Marie Osmond. Tell us what that was like.
Dancing for the Donny and Marie Show was truly amazing. We had so many opportunities to tour all over the world, from dancing on Broadway to my last hurrah in January, which was a three-week tour of the United Kingdom. There is nothing like show business (Especially with these two who have been in the Industry over 50 years). I remember my favorite show was when Marie's shoe broke. Instead of going off the stage it became a comedic number between bare foot Donny and Marie. Each show was different and you never knew what to expect. The adrenaline of always being on your toes and performing with Donny and Marie was always such a rewarding experience.
5-    What was the biggest thing you took away from dancing with them in Las Vegas? Any special memory or lesson?
The biggest thing I took away from dancing with them is the meaning of family and the advice Marie gave me, "Always make yourself happy." She shared this piece of advice with me as we traveled to Utah to visit our families over Christmas break right before I had fully committed to not resigning my contract. I knew leaving behind the show and my friends seemed crazy to most but I had to follow my heart to Indiana and make "myself happy." I have endless memories and always love a trip down memory lane. One that stands out most to me is when Donny saved an extra seat on his plane to Utah so I could visit my family on Thanksgiving Day! All the adventures of traveling and celebrations with the cast are endless. Donny and Marie have the biggest hearts and I hope I take that lesson with me everywhere I go!