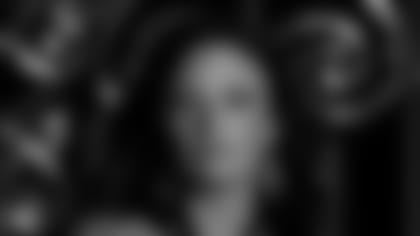 ](http://www.colts.com/media-center/photo-gallery/Cheerleaders-Lindsay-H-Calendar-Shoot/c4822a94-9cad-4814-bf5f-29df96d4e057)
Hello Colts Fans I'm Lindsay and this is my rookie year as a Colts Cheerleader! Today I started my day quite different than any other Monday, I'm taking the NCLEX exam today to be a registered Nurse! This morning I woke up at 5:00 am to review a few things I need to remember for my test and left to be at the testing center by 7:30 am! I was nervous to take the exam, and after I took my exam I didn't think I did very well. Results are posted in a few days! After I took the test, I went to work for the rest of the day. The work day seemed to go very slow, but after work I went to LA Fitness to get a good work out in….we play the Panthers this week! After I finished my workout, I practiced our routines for this week's game in the group fitness room! On my way home from the gym, I stopped at the grocery store to pick up the ingredients to make green bean casserole for my squad Thanksgiving Dinner! When I got home, I went to bed after watching "Just Married" and fell asleep!
Tuesday November 22, 2011
Good Morning Colts Fans! Today I am going to the gym before work so I can get a good workout for the day, because after work I'm going to Nichole K's house for our squad Thanksgiving! I arrived at the gym at 5:45 am and left at 7:30 to be at work by 8:00! Most of the day at work, I was wondering if I had passed my nursing boards, but I tried my best to stay focused and get everything accomplished! After work, I went home to make green bean casserole! I don't cook very often so I was a little nervous about cooking for my squad! We each made a dish to share. Besides my green bean casserole we had sweet potato casserole, homemade macaroni and cheese, buttered potatoes, baked chicken, stuffing, croissants, carmel pecan rolls, a pumpkin roll and cheesecake! We all shared something we were thankful for! As a group, we have a great deal to be thankful for.  We have all had wonderful opportunities and are truly blessed to be able to do what we do! After dinner, we watched Dancing With the Stars together!  When I got home from Nichole's house, I checked online one last time before I went to bed to see if I passed NCLEX and found out that I passed!  I called my parents right away;  they were very proud of me!  Then  I emailed our coach, Theresa to let her know I had passed my test and went to sleep with a smile on my face!
Wednesday November 23, 2011
Today I am very excited to be going home to see my family for Thanksgiving! I went to work in the morning, so happy I was officially a registered nurse! On my lunch break, I went to work out with our trainer and some of the other cheerleaders at CORE Pilates and Fitness in Carmel, IN.  Then after work, I went to Muncie to visit my family!  My mom and dad took me to dinner to celebrate passing my nursing boards!  We had a great dinner; I had salmon, one of my favorite things to eat! After dinner, my best friend from high school came to visit, and we spent some time catching up. I don't get to see her very often;  it was nice to catch up! Later, I watched television until I feel asleep.
Thursday November 24, 2011
Happy Thanksgiving Colts Fans!  I have so much to be thankful for and today I am very happy to be healthy and spending time with my family! My brother lives in New Jersey at McGuire Air force Base.  He isn't able to come home for Thanksgiving this year, but we will get to see him for Christmas. I am going with my mom to have Thanksgiving with my grandpa in the nursing home where he lives. This is his first holiday not living at home, so he is happy we will still be able to spend Thanksgiving together! After we had Thanksgiving with my grandpa we went back home; I watched football and took a long nap!  Later that evening we went to go see the Breaking Dawn.  I have been waiting to see it with my parents since the day it was released! ( I read all of the Twilight books, so I was very excited to see it!) The movie was so good, and I can't wait to see the next one!
Happy Blue Friday Colts Fans!!! Today  I got to sleep in, which was very nice!  I am wearing my Colts gear in Muncie, showing my Colts Pride and  going to lunch with my parents before I go back to Indianapolis. After lunch we went home, I packed up my things and said good bye to my parents. I drove straight to the LA Fitness in Indianapolis!  I had a good workout and practiced our routines for this Sunday's game! After my workout I went home  to watch Christmas movies and start to pack my game day bag! Good night Colts Fans!!
Saturday November 26, 2011
Almost every Saturday morning I go to a workout with my teammates at CORE Pilates, today is no different….except I have a feeling it will be a difficult one since this week was Thanksgiving! Many of the girls from our team were there, and  we had a great workout!! We all work very hard to look out best on game day!  When I left CORE Pilates, I went home to eat lunch and do laundry. Later in the afternoon, I met Erin C. so we could practice our dances for the game tomorrow!  We practiced for about an hour to make sure we knew everything perfectly!  The next to last thing I needed to do was to visit Sun Tan City to get a spray tan before the game tomorrow!  After getting my game day glow, I went home to finish packing my game day bag and get to bed as early as possible to get rest before the game! Good Night Colts Fans tomorrow is game day!
GAME DAY! I woke up at 5:00am this morning to be at Lucas Oil Stadium on time! I double checked my bag to make sure I had everything one more time before I left!  We have quite a few important things to pack on game day , and my bag is usually huge! This week we have to be in our locker room at 6:30am and ready to practice on the field at 7:00! When I arrived in the locker room, I unpacked my things in my locker and hung up all of my uniforms.  We practiced all of our routines on the field as well as the tunnel!  The tunnel when the players run out is very important to practice, because we have to have perfectly straight lines!  When we were finished practicing, Theresa met with us as a team and gave us important notes for the day, and then we ate breakfast!  After breakfast we started doing our hair and make up! I enjoy this part of the day a lot, because we get to spend some time together and we're able to laugh and talk…we have a lot of fun in the locker room on game day!  After we got ready we had appearances.  Today my appearance was to dance at the Fan Zone! I love this appearance, but unfortunately due to the weather we were unable to go!  We finished getting ready for the game with final touch ups from the beautiful ladies at Tyler Mason Salon & Spa! They help us to look our best on game day!! Then, we circled up for last notes and prayer at 12:30!  After prayer we took the field for pregame and everything went fast from there!  Today, we didn't win but the team played their hearts out!  All of our routines went  well and there were a lot of fans cheering at the game!  Even though we didn't win, it was a successful day for us because we performed very well!
Thank you for letting me share my week with you….always believe in BLUE! Go COLTS!