 ](http://careyindiana.com/)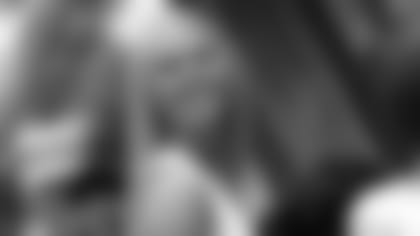 Hey Colts fans! I am very excited to be a Sweetheart of the Horseshoe for a 4th season! How about that game against the Jaguars yesterday? Our season is off to such a great start at 3-1. I hope you enjoy learning a little bit about me this week!
I am proud to say I am a born and raised Hoosier!  Like many of the other women on the team, I have danced since I was a little girl. I danced with Ballet Internationale, Gregory Hancock Dance Theater, and Performer's Edge. People would be surprised to know that I only trained in ballet until I was in high school, then I branched out and did jazz and other types of dance! I am a Carmel High School graduate, where I danced and ran track and field. Go Greyhounds! For college, I went to the Indiana University in Bloomington. I went there to get a degree in Biology, which involved lots and lots of studying! During my time there, I was very involved with IU's Dance Marathon, an organization that raises money throughout the year for Riley Children's Hospital.
Currently, I am a personal trainer at Core Pilates and Fitness in Carmel, which happens to be the Official Pilates Studio of the Colts Cheerleaders.   I really love being able to help people reach their fitness and health goals and to experience that journey with my clients. If you want a great butt kicking workout, come in and take a class! During my time as a Colts Cheerleader, I have been beyond blessed to experience a lot of opportunities. I have traveled to London for NFL UK, was on the Jimmy Fallon Show after the Super bowl when it was in Indy, was on the Sunday Night Football Pre-show before a game two years ago, and so many more fun appearances and experiences (too many to list them all)!
When I am not busy teaching class and cheering, I enjoy spending time with my cute little cat Rocky, my family and friends, and my amazing boyfriend. I enjoy cooking and trying new foods, traveling (when I can), and just relaxing, because after my busy week sitting on the couch is sometimes the best thing to do!
My favorite meal involves…Any dish with spaghetti squash as the base. I eat gluten free, so I don't get to usually eat pasta, but I love spaghetti squash! I add in turkey or chicken, with tomato sauce, lots of different veggies, and anything else I can think would be good. It's such a filling meal, but it's beyond healthy for you.My favorite snack food is…Peanut butter! I could put it on anything and everything or eat it just plain. I probably have 2-3 different kinds of peanut butter at all times, either regular, almond butter, or PB2. It's a problem!I feel most confident when…I'm dancing. There is something about performing and doing what I love that doesn't make me nervous. I love dancing in front of thousands and thousands of people. I used to be very shy when I was younger, so I believe dancing helped me become confident in myself because it was something I loved and was good at!
To me, Pink is…a symbol for empowerment, strength, hope, and the passion to find a cure for breast cancer. I love that the color pink is used because it is usually considered such a feminine color, but it just shows that there is nothing easy about fighting cancer and that the women, and some men, who have gone through breast cancer are some of the strongest people out there.The woman who has had the most impact on my life is…my great grandma Isabelle Bolt. I was very lucky to have known her for a good part of my life.  She lived her life with a strong faith and was always an advocate for helping others. She taught me to be a better person and to always keep your faith no matter what happens in your life. I can only hope she is looking down on me with a huge smile because she is proud of the woman I have become!
I'm proud to be a part of the NFL's breast cancer awareness month because…I have known a couple of close family friends who have gone through breast cancer and I am glad with the resources the NFL has, that we can raise money and awareness to find a cure. One of these days we will find a cure because of the ability to spread the awareness.