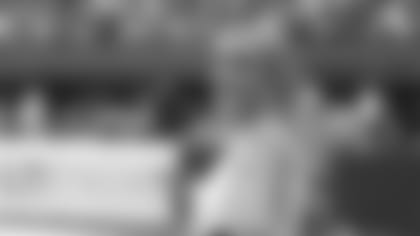 Hey there Colts nation! I'm Brittany and I'm excited to be featured as this week's Cheerleader of the Week! I don't know about you all, but I am so excited for the Colts to be back at Lucas Oil this weekend after that amazing win against the Texans on Sunday!
I graduated from Indiana University with a degree in Biology. I worked as a molecular biology assistant at the University throughout college and after graduating. After realizing that playing scientist wasn't what I was meant to do with my life, I took the position that I currently hold as a pharmaceutical sales representative. I love my job and what is wonderful about my territory is that it covers the majority of upper Indiana, so I get to visit half of the great Hoosier state weekly!
I am the youngest of six children and my parents call me their "blessing" because I wasn't exactly planned to join the family. In fact, my youngest sister closest in age to me is 12 years older. However, the advantage to having older siblings is that I have 14 beautiful nieces and nephews that put smiles on my face whenever I think of them. I have been truly blessed with a wonderful family and I wouldn't be where I am today without them.
The rest of my family lives out near Topsail Island, NC where we go once or twice a year to visit my grandma and the rest of our family. While visiting North Carolina I have been known to go floundering, pier fishing, wake boarding and attend many "pig pickin's" which you really cannot find in the Midwest. Although I love visiting NC and seeing my family I always enjoy coming home to the wonderful city of Indianapolis. There truly is no place like home.
This is my second season as an Indianapolis Colts Cheerleader and I love every minute that I get to spend with this incredible organization. It is no joke when people say that the Colts are like one big family. This organization and the fans are the best in the NFL. I have made best friends that I will have for the rest of my life and I still have to pinch myself before every game because being on the sidelines and cheering for my favorite team is honestly a dream come true.
Thank you for stopping by and reading my blog this week and get ready to BRING THE NOISE this weekend against the St. Louis Rams!

1. Where did you grow up?
I was born and raised in Greenwood, IN. I lived in the exact same house my entire life until I had to grow up and move out for my career. I love the city of Greenwood. It has a small town feel with big city roots.
2. What's the last song that was stuck in your head?
I get a different song stuck in my head almost every day. Last night I got the song "Santa Claus is Coming to Town" stuck in my head, and I was still humming it this morning when I left for work. I got to my first doctor's office and was humming it as I was getting my materials out of the trunk of my car. The car parked next to me had their window down and as I went to lock my car I noticed the person sitting inside and they were chuckling at me. I clearly already have the holidays on my mind!
3. If you could hire out one household chore what would it be?
One chore that I really don't enjoy doing is cleaning the bathrooms.
4. What lessons has being a Colts Cheerleader taught you?
I believe being a Colts Cheerleader has made me an all around better person. It doesn't matter if I am in uniform or not, I ensure that I am always acting as a role model. I feel so blessed and honored to have been selected for this incredible position and I try to live my life and truly earn this position every day. Sean, our trainer, often says this quote: "Hard work beats talent when talent doesn't work hard" and I 110% believe that to be true.
5. How is being an NFL cheerleader different from what you thought it would be?
I don't think people realize how much work performers put in to deliver the entertainment they see on game days or at appearances. I know that before I made the squad I had no idea how much work was put into everything. Being an NFL Cheerleader doesn't mean you just show up on game days and dance your heart out, it is so much more than that. Being an NFL cheerleader means you are a role model to your community, the biggest supporters of your team, and an individual that gives 110% effort every day to be the best they can be. I remember my first year I was on the team, and if we had an unexpected halftime performance added or a dance was suddenly changed we would sigh because that meant a lot of extra work for us, but our captain would always say, "that's ok, we can do it because we are professionals and this is what we do." Being a professional NFL cheerleader is by far the hardest and the most rewarding experience I have ever had in my life, and I absolutely love it.