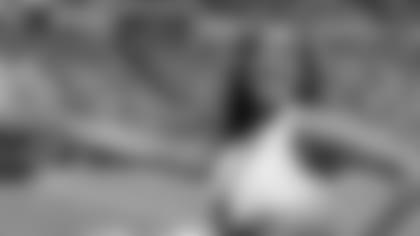 Hello Colts fans! I'm Ashley and I am more than honored to be your Cheerleader of the Week! Like most of our fans, I am ready to see our Colts take on the Arizona Cardinals this Sunday! This is my third season as a Sweetheart of the Horseshoe and I feel incredibly blessed to have the opportunity to cheer on the best team in the NFL.
I was born and raised here in Indianapolis and could not imagine living anywhere else. I have an identical twin sister, Whitney, whom I absolutely love and adore. We have no other siblings and it was perfectly fine that way as we had a very exciting childhood! We are completely different and have opposite personalities but we are truly inseparable. We are very close with our parents Tom and Glenda. I have always been a family girl and currently live right next to my parents. I graduated from Avon High School and attended IUPUI and Ivy Tech for my RN nursing degree. I never questioned my career as I always knew I wanted to be in the medical field and I wanted to help impact the lives of others.
I currently work with children at Hendricks pediatrics and I love my job! I was actually a patient at my office when I was a child and currently work alongside my pediatrician and coworkers who watched me grow up! It has been a blessing working there and I am very thankful they welcomed me with open arms. I recently got engaged to the love of my life Brandon. Wedding planning has been amazing and I love every minute of it! He has been such a huge supporter for all of the exciting changes in my life and I thank him every day for that!
I have been a dancer since the age of 3 where I began taking jazz class at Curtain Call dance studio. I knew immediately I was in love with performing and continued dancing competitively for 15 years. I was the 2000-2001 Tremaine Dance Convention Junior Dancer of the Year and had the opportunity to travel around the world with instructors assisting them and performing with them for thousands of people. It was by far the greatest experience of my life! I decided to continue my dance career after high school and have been privileged to be a Colts cheerleader for 3 seasons. I had the opportunity to cheer at the 2009-2010 SuperBowl in Miami. I have loved getting to know such an incredible group of ladies and dancing alongside them at Lucas Oil stadium.  It has been a blessing to be a Colts Cheerleader and I am very excited to continue cheering during a very exciting season!

1.     In High School I was voted for…
Best smile! I love smiling, smiling is my favorite!
2.     My greatest inspiration is…
My greatest inspiration is my mother. I strive every single day to hopefully become exactly like her. She is the strongest person I know and has shown me that throughout my life. There are no words to express to her how incredibly thankful I am for all that she has done for me and for making me the woman I am today.
3.     In my twenties I hope to achieve…
I have achieved the most important thing I wanted to in my twenties which was to become an RN and love my job, which I do! My next goal for my twenties would be to continue my education. I would like to start working towards my master's degree as a Pediatric Nurse Practitioner.
4.     What is something you think most people don't know about NFL Cheerleaders?
I think most people don't know that many NFL cheerleaders have full time jobs outside of cheerleading. I am often asked if I am traveling to the away games and how is it possible that I have a full time job. It is a very hectic and busy life that we all live but it is also something we all have in common and we encourage and push each other every day! It is a bond I will cherish forever.
5.     What has been your greatest memory of the 2013 season so far?
My greatest memory so far this year would have to be cheering at the Denver Broncos game. I had the privilege to cheer for Peyton Manning during his career with Indianapolis and now cheer for Andrew Luck. To stand on those sidelines as we honored Peyton and then to cheer on Andrew Luck to victory was indescribable. There are not many people that can say they were at Lucas Oil for the return of Peyton Manning and I am lucky to have experienced such an awesome game.