 ](http://careyindiana.com/)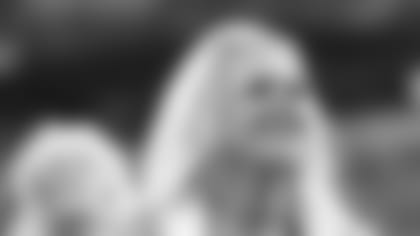 Hi Colts fans! I am beyond thrilled to be your cheerleader of the week especially after such an exhilarating victory against the Seahawks on Sunday!   I am currently in my third season as a Sweetheart of the Horseshoe and am excited to share a little about myself!
I'm originally from Centerville Ohio, home of the Centerville Elks, where I'm proud to say several NFL players attended high school!   I graduated from The Ohio State University with a degree in Psychology and Organizational Leadership.  Buckeye Football had its own permanent spot on my Saturday calendar for as long as I can remember so you can safely say football has always been a huge part of my life.  I like to think I'm savvy enough to someday be an NFL sideline reporter.   (I'd settle for first-ever female backup quarterback but we'll see...)
Dancing, singing, working out, boating, fishing, eating and watching football are some of my favorite hobbies.  I'm also partial to cats...not that fond of dogs.
I began cheering in fourth grade for our pee wee football team and it was" love at first toe-touch."  I was a cheerleader all through middle and high school and was recruited to cheer on the senior elite co-ed squad for one of the best programs in the Midwest. These experiences created in me a passion that I just couldn't walk away from.  I became a coach, a choreographer and then achieved my ultimate dream of being an NFL cheerleader.
One of the greatest highlights of being a Colts cheerleader is the front row view of every snap.  SportsCenter is an everyday priority of mine and as the commissioner of the Colts Cheerleader Fantasy League; the NFL fantasy football app eats up my iPhone battery on a daily basis. The highlights of my career so far include singing the National Anthem at the Colts vs. Titans game last season, singing for the "Salute to Military" halftime show in Super Bowl Village, filming an episode for NBC's Parks and Rec and most recently BEATING the 4-0 Seahawks.
There's no way to explain the thrill of it all and there's absolutely no one piece of this experience that I don't love!  The Colts organization, game day, my teammates and coach, the fans, the energy, the appearances, the opportunities, the dance, the music, the noise, the emotions, and the bling on my uniforms just to name a few!
1. I'm saving up for __ because __
I'm saving up for one of those turn of the century mansions on Meridian Street because I love grand old architecture of that era!
2. The best thing anyone has ever said to me is...
The best thing anyone has ever said to me is, "Congratulations, you made the squad!"
3. What no one realizes about me is...
What no one realizes about me is that I'm part of the Smucker's Jelly family.
4. My greatest memory with the Colts Cheerleaders so far is...
My greatest memory with the CC's is the post-victory locker room celebration after every single win.
5. At the end of this season I hope to have accomplished...
At the end of this season I hope to have accomplished a Super Bowl ring.