I started the week off by getting up at 8am to get ready for my first class of the week, Finance.  I am a Finance major at Ball State University and am in my senior year of school.  I have gone to Ball State all four years and have commuted to Indy for Colts Cheerleading for the last two!  After my first Finance class ends, I headed back to my apartment for awhile to hangout until I had to go to my Business Management class later in the day.  Today I just had a few small homework assignments to do between classes and ate some lunch.  After my second class I went over to the Ball State Recreation Center to run a couple miles around the track.  When I got home I did some more studying for school and then went over the dances we were going to clean on Tuesday at practice.  After that, I relaxed a little, then went to bed!
On Tuesday's I get up at 8:30am to make it to my Marketing class.  In class today we had an exam and I think I did pretty well on it!  Glad that it was over, I headed back to my apartment to eat lunch and get things together for my second class of the day.  I headed back to campus to make it to my Finance class.  After class I have a few hours to get things together and relax before I have to head to Indy for practice! The drive usually only takes me about an hour but I had to leave a little early to make sure I don't hit the rush-hour traffic!  Once I got to the Studio, I talked to some of the girls and went over the dances! Today our choreographer Michelle is teaching us part of our routines for our Veteran's Day halftime show!  The halftime show will be during the November 4nd game against the Dolphin's.  Everything is coming together nicely and it looks like it's going to be a great show! Three of our cheerleaders Allie J., Megan M., and Stefanie B., will also be signing during this halftime show. We got to hear them practice and they sound great! After practice I headed back to school to get some sleep before class Wednesday.
On Wednesday it was raining! It was hard to get out of bed with all the rain but I did and went to my classes.  On Wednesday I have the same classes as Monday and I didn't have any exams, so classes we're pretty normal.  After classes though, I had to spend most of my night studying for my finance midterm that was on Thursday.  This was a big test because it was only one of two tests during the semester.  After awhile though I needed a little break from studying so I went to get frozen yogurt with my friends from school, Kara and Allison.  I have been friends with Allison since I was really little and Kara I met our freshman year at Ball State! After we got frozen yogurt we continued to hang-out there for about an hour and talk.  When I got back home I went through all of our routines for the game on Sunday because we were auditioning them at practice tomorrow so they had to be perfect! After that I went back to studying for finance for the rest of the evening until I made it to bed.
On Thursday I went to my morning class and then continued to study until I took my test that afternoon.  It's important that I plan out my schedule and make sure I have enough time to get everything done between school and cheerleading.  After that I went over the dances we needed to know at practice and got all of my stuff together. At practice tonight we had a dress up theme where all the girls wore as much of a single color that they could and it was very funny! Practices are always fun and it's great getting to spend time with all the girls.  At practice tonight we worked on our routines for the game and then cleaned up some of our other dances for upcoming games.  After that we worked out with our amazing trainer Sean from Core Pilates to end the night.  Then I just headed back to Muncie to get some sleep!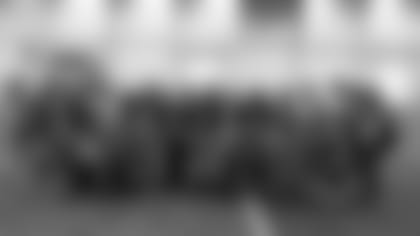 On Friday I went to my classes and then headed to my hometown of Peru, Ind. for the weekend!  When I got home I went to dinner with my family at a local new restaurant called Day & Night.  It was really nice and we ran into fellow cheerleader Megan O. and her family there because she is also from the same area.  After that I hung out with some of my friends from home that I don't get to see very often! It was nice catching up with them but shortly after I had to head home and get some sleep so I could get up early tomorrow and head to Indy.
Today I got up around 6am to get ready and head to Indy for some volunteering with a few fellow cheerleaders!  Allie J., Megan O., Nicole T., Kristin R., Stefanie B., Cortney L., and I worked with the Keeping Indianapolis Beautiful program to help do some clean-up projects in Irvington Park  on the west side of Indy.  We started out picking up trash in the neighborhood and along the trail for the first hour or so then headed down a couple blocks to paint a utility box with a cool design.  We painted for a couple hours until it was time to meet back up to end the volunteer work.  After that I headed to Allie J.'s house to get ready for our Squad 2 Captain, Nicole's wedding.  Nicole's wedding was in Shelbyville and was absolutely beautiful! After the ceremony we headed to the reception to celebrate.  The cheerleaders were on the dance floor most of the night and her reception was a blast! After hours of dancing, I had to head home and get some sleep to wake up bright and early for the Colts game tomorrow!!  Congrats Nicole K.!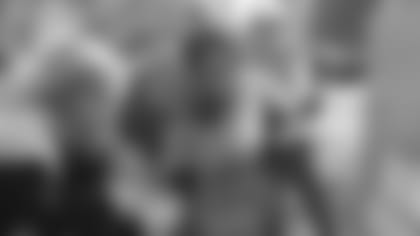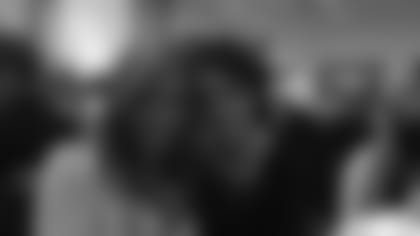 TODAY IS GAMEDAY!  I got up at 5:30am and got ready then went to the stadium!  We started practicing on the field at 7am going through all of our routines for the day and making sure they looked great.  We also adjusted our spacing and field placement to make sure we were in correct formation.  Then we went through all of our field transitions and where we stand for the National Anthem and the players' introductions.  After that we went back to our lovely locker room and ate breakfast, which is the best part of the morning. Then we have some down time to meet with our squad and talk about anything we need to before we start getting ready for our appearances around the stadium.  Today I went to the VIP Tailgate Tent for awhile to take some pictures with the fans and offered fans the chance to purchase our 2012-13 Cheerleader Swimsuit Calendar!  After that, it was time to go back to the locker room and put on our Gameday Uniform, which is pink today in support of the fight against Breast Cancer.  At about 12:25 we say a prayer before the game as a squad and then head out to the field.  The game today was amazing and couldn't have gone any better! All of our players and coaches did great! There's nothing like being on the field to watch a Colts WIN from the sidelines. What a great way to end the week!! GO COLTS! : )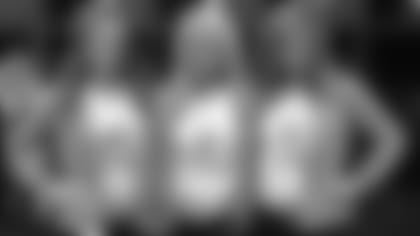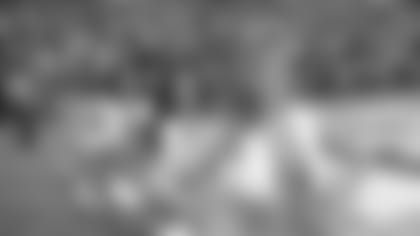 Thank you for allowing me to share a week of my life with you! Hope you enjoyed! I'll see you on Game-day!