 ](http://www.careyindiana.com)
INDIANAPOLIS – Gravely injured as a sophomore offensive tackle 21 years ago at Purdue, Ryan Grigson returns to a campus of triumph tonight by being the recipient of the Drew Brees Mental Toughness Award by the Northwest Indiana Chapter of the National Football Foundation.
Grigson and two others are being honored at the NFF's Honors Dinner – "Celebrating Our Legends IX."
An abdominal blow to Grigson against Minnesota early in the 1992 season triggered subsequent pancreatitis, kidney failure and pneumonia, a moment still fresh for former head trainer Denny Miller.
"The injury was one that occurred unbeknownst to the player, coaches and medical (staff)," said Miller.  "Ryan reported to us after the game not feeling quite right.  We immediately took him to the hospital and the diagnosis came over a time period.  He was hospitalized from that day to the week of the Bucket Game, an October-to-November (duration).  He went through a long period – bed-ridden, intensive care."
Grigson's five-week hospital stay and 30-pound weight loss was a true setback, but one that did not stop him from starting 10-of-11 games in 1993 and serving as a team captain in 1994, when he opened 11 outings.    
Grigson had a brief NFL and CFL playing career from 1995-97, then embarked on a scouting trail in 1998 that wound from the CFL, to college, to the AFL and the NFL. 
Grigson now is in his 15th season as an NFL executive.  His 14th was his first as the Colts' general manager.  Indianapolis rebounded from 2-14 to 11-5, making the playoffs and earning Grigson NFL Executive-of-the-Year honors from The Sporting News.
Grigson earning the sport's top personnel citation reminded Miller of the special player he knew years ago.
"Ryan had something different about him," said Miller.  "I think the average person who had something like that (injury) happen would say, 'Well, it's not meant for me.'  Ryan's approach was, 'This is what I want.  This is what I'm going to do.'  He had the stick-to-tiveness to get after it, stay with it and not let it get him down. 
"He recovered, came back and played, and he had the opportunity to play beyond college and has stayed with the game.  For Ryan to be able to have the mental and physical capacity, willingness and drive to recover from an incident like that speaks to his character, intensity and personality.  Ryan is where he is at now because of the person he is." 
Along with Grigson, Olympic goal medalist David Boudia and reigning Miss Indiana MerrieBeth Cox are being honored tonight. 
Long-time Purdue publicist Jim Vruggink, who worked with Grigson and has consulted with Brees on all winners since the award's 2005 inception, feels this year's honoree is only natural.
"This guy (Grigson) came back from a near-death experience and now is having a super successful life.  He fits the criteria very well," said Vruggink.  "I guess you could say he was somewhat of a no-brainer this year."
The award provides recognition to a college or professional athlete who exemplified exceptional mental attitude or toughness while competing in the NFF chapter area, including displays of high academic achievement, superior leadership, dogged determination, tenacity, moral character, bravery, humility and concern for others – in addition to remarkable athletic accomplishments.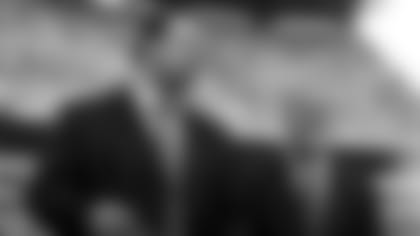 After Brees won the inaugural award, other honorees were Rob Ninkovich, Rosevelt Colvin, Nick Hardwick, Akin Ayodele, Ryan Kerrigan and Robbie Hummel.
"I would like to congratulate Ryan Grigson on an unbelievable 2012 season as general manager of the Indianapolis Colts and for being tonight's honoree and winner of the Mental Toughness Award," said Brees.  "It's been an honor and a great privilege to watch Ryan's career over the years, not only as a captain and great player at Purdue but also with his journey in the NFL.  He is doing a tremendous job.  It has taken a lot of drive and determination to fight through some tough situations to get to where he is now.  This award is well-deserved." 
Said Grigson of his Purdue career, "I'm honored to be included with this group of stellar Purdue alums that have received this award before me.  It is really humbling to say the least.  It's special to me on many levels.  I believe without mental toughness and perseverance no person, or team for that matter, can truly achieve what it has set out to accomplish.  Talent only gets you so far and when adversity hits, you have to dig down and find that inner strength to push through.  It's in those times you find out what you are truly made of, at least that's how I look at it. 
"Mentally, physically and spiritually the hurdles I had to overcome at Purdue forced me to grow not only as a player but more importantly as a person.  I have drawn from those life experiences at Purdue to push through adversity and challenges since.
"As for the award itself, I'm truly honored to be associated with Drew Brees.  His career epitomizes this award.  He is a true testament that you can't measure heart or character with a height chart or a stop watch.  The fraternity of players, coaches and personnel men hold him in very high esteem not only because he is a proven winner and clearly one of the best at his position, but because of his toughness and iron will, period."
A Purdue trainer for 30 years, Miller saw all manner of competitors.  Only the best combine mental and physical toughness.
"They go hand-in-hand.  It was a physical challenge to get back on his feet, get his strength and conditioning back," said Miller.  "That takes the mental side, and he did very well with both.  It speaks to the nature of his personality and why he's been successful.  The award he is getting is very, very appropriate.  It shows up in the kind of work he's doing for the Colts and the game."