INDIANAPOLIS — On this date exactly one year ago, Peyton Manning called it a career.
Well, his all-time-great quarterbackin' career, that is.
Manning was able to appropriately ride off into the sunset, helping lead the Denver Broncos to the Super Bowl title before taking a little time to himself to announce that his 18th season as a player in the NFL would be his last.
"I'm totally convinced that the end of my football career is just the beginning of something I haven't even discovered yet," Manning said in his Broncos retirement speech. "Life is not shrinking for me; it's morphing into a whole new world of possibilities."
In the year since he said those words, we've learned Manning isn't quite yet ready to commit to his next full-time endeavor.
In fact, he's been all over the place — and that's just fine.
While rumors have circulated about Manning's next career — will he be an NFL coach? General manager? Team owner? TV analyst? Will he transition to the college game? Will he become a delivery boy for Papa John's? — he has certainly proven that his marketability as one of the most popular figures in NFL history extends past his playing days.
Here's just a glimpse into some of the more noteworthy Peyton Manning events of the past year:
• March 7, 2016: Manning retires after 18 seasons in the NFL. He has two press conferences: one in Denver, and another in Indianapolis (11 days later), where he spent the first 14 years of his career and appeared in two Super Bowls, winning one. In all, Manning played in four Super Bowls with two victories, and left the game as the league's all-time leader in wins (200), career passing yards, career touchdown passes, game-winning drivers (56), comeback victories (45) and 4,000-yard passing seasons (14), as well as single-season records for touchdown passes and passing yards (among many other records).
• July 3, 2016: Colts Owner Jim Irsay tweets that he was using Manning's "keen insight" to make sure he says all the right things when introducing wide receiver Marvin Harrison into the Pro Football Hall of Fame in August. Manning and Harrison, of course, were the most productive quarterback-wide receiver duo in NFL history, with 114 career touchdowns thrown between them from 1998 to 2008, but Manning got a unique look into Harrison's approach on the practice field — and in his personal life.
• July 13, 2016:"Letters from Peyton," a humorous bit in which Manning's family and his famous friends read "letters" from a now-retired Peyton, airs on the annual ESPYs award show. The guy clearly has too much time on his hands. Manning also wins the ESPYs Icon Award at the event, and talks about how he's excited to enjoy sports as a fan again.
• July 14, 2016: The Colts announce local sculptor and fireman Ryan Feeney will sculpt a statue of Manning that will greet fans outside of Lucas Oil Stadium, beginning in 2017. Irsay says of the project: "(The statue) will be a destination spot for all of our fans…to leave cans of Budweiser or notes for (Manning). We couldn't be more excited about the statues. It's not too often you build statues for people, particularly in their lifetime, but we are really excited about putting this iconic statue in front of Lucas Oil Stadium where it will stand for many, many years."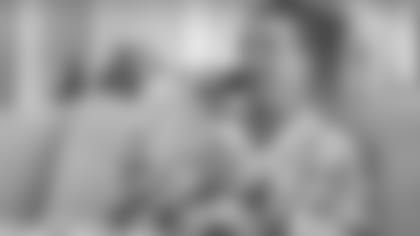 • July 28, 2016:**
With the Colts beginning training camp, Manning was in a robe watching TV. Well, that's what his newest commercial series, "Peyton On Sunday Mornings," showed, anyway. In his latest promo for DirecTV's Sunday Ticket, Manning — with the help of his brother Eli and Lionel Richie — does a bit about trying to pencil in his brother to come over and eat nachos (and, presumably, watch some TV). There's one problem: Eli is in the Giants' locker room getting ready for a game. Laughs ensue. "Oh yeah. Alright. Pencil you in for Tuesday," Peyton says as he writes "ELI" in large vertical letters in pencil in his planner. Manning continues to be a powerhouse in the world of advertising.
• Aug. 6, 2016:**
Manning and lots of former Colts teammates are in Canton, Ohio, to see Harrison and their former head coach, Tony Dungy, inducted into the Pro Football Hall of Fame. For Manning, it was perhaps a preview into his own enshrinement, which will come in five years. "The chance to play for Tony Dungy and Marvin Harrison are two of the great thrills of my football career. I wouldn't have missed this opportunity to be here and see them get inducted," Manning said. "Football is a relationship business. As you heard Coach Dungy tonight, he encouraged those relationships and he encouraged you to get involved into the community. Everybody bought into that and it's really special to be here with this great group of alums tonight."
• Sept. 5, 2016: Manning's cultural appeal was on full display, as his appearance as a featured roaster on "The Comedy Central Roast Of Rob Lowe" debuts. Lowe, of course, once infamously — and incorrectly — tweeted that his "fave," Manning, "will not return to the #NFL." That was January 2012. And while Manning had plenty to say to Lowe during the roast, he also drew plenty of laughs in his comments to fellow roasters like David Spade, Jeff Ross, Ann Coulter, Ralph Macchio, Jimmy Carr and Pete Davidson. "And, heck man, if they ever stop casting you in sitcoms, just look in the bright side: you tried to take the air out of my retirement announcement so fast, you could probably get a job as Tom Brady's ball boy," Manning tells Lowe. Zing!
• Sept. 5, 2016: The same night Manning was roasting Lowe, the NFL Network revealed its "Top 10 Peyton Manning Games." It was no easy task — once you get past the obvious five or six performances, there's probably 20 or 30 more that could've made the list — and, in the end, seven of the 10 ranked games came from Manning's Colts days. What was No. 1 on the list? Well, click here to find out.