INDIANAPOLIS —Jeff Saturday is on the list.
The great Indianapolis Colts center on Tuesday was one of five former Colts players named to a list of 108 players and coaches who made the initial cut as Modern-Era nominees for the Pro Football Hall of Fame's Class of 2018.
Saturday's listing comes in his first year of eligibility, as any nominee must have last played or coached at least five full seasons to be eligible for nomination.
The four other former Colts players on Tuesday's list have been named nominees in years past: running back Edgerrin James, center Ray Donaldson, guard/tackle Chris Hinton and linebacker Cornelius Bennett.
Safety Bob Sanders — who was named to the initial list of nominees for last year's Pro Football Hall of Fame class — was not among those listed this year.
Here's a bit on each Colts' 2018 nominee: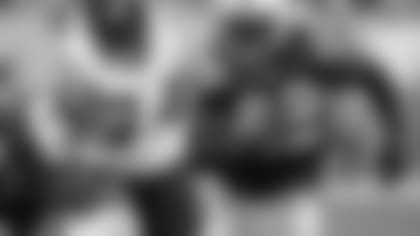 Edgerrin James
Statistically one of the greatest running backs in NFL history, Edgerrin James two years ago, in his second year of eligibility, was one of 15 finalists for the Pro Football Hall of Fame Class of 2016 — the same class that ended up including James' former teammate, Marvin Harrison, and head coach, Tony Dungy.
James played 11 NFL seasons, including his first seven with the Indianapolis Colts. In his career, James was named to four Pro Bowls and rushed for 12,246 yards, which ranks 11th on the all-time list. His 15,610 total yards from scrimmage ranks 11th all-time among running backs, and is more than Hall of Fame backs Eric Dickerson, Jerome Bettis and Jim Brown.
The Colts' fourth-overall pick in the 1999 NFL Draft out of Miami, James lit up the league from the start in his NFL Offensive Rookie of the Year campaign, leading the league in rushing with 1,553 rushing yards and also scoring 13 touchdowns on the ground and four touchdowns through the air.
He's the greatest running back in Colts history, and leads the franchise in career rushing yards (9,226), rushing touchdowns (64), rushing yards per game average (96.1), rushing yards in a single season (1,709 in 2000) and most seasons with 1,000 rushing yards (five).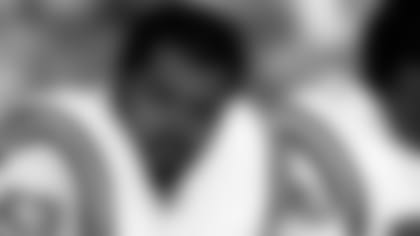 Ray Donaldson
A second-round draft choice of the Colts in 1980, Donaldson became one of the most dependable offensive linemen in franchise history, starting 152 straight games at center from 1981 to 1991 before breaking his leg during a September 1991 game against the Los Angeles Raiders. He would return to start all 16 games the following season.
Donaldson was selected to the Pro Bowl four straight seasons from 1986 to 1989, and at the time of his departure from the Colts, he had played in the third most games in franchise history (184).
Donaldson also had successful stops in Seattle (1993 and 1994) and Dallas (1995 and 1996) after his days in Indianapolis were over, earning Pro Bowl selections with the Cowboys both seasons.
Donaldson's name has appeared on the preliminary ballot for the Pro Football Hall of Fame for several years.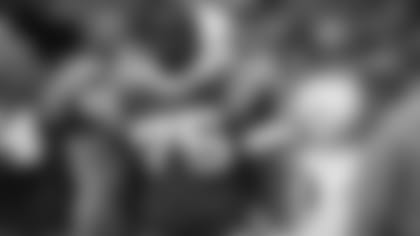 Chris Hinton
Hinton became one of the most decorated Colts offensive linemen ever during his career with the franchise from 1983 to 1989.
An All-Rookie Team selection as a guard in 1983, Hinton was selected to six Pro Bowls and was named All-NFL several times as a left tackle from 1985 to 1989.
Hinton joined the Colts in a trade that sent John Elway to the Denver Broncos and left the club in a trade with the Atlanta Falcons in 1990.
Through his career, Hinton played in 177 total games over 13 years with three teams, and was inducted into the Colts' Ring of Honor in 2001.
In Hinton's final three seasons in Indianapolis, he enjoyed blocking for future Hall of Fame running back Eric Dickerson, who joined the Colts in October 1987 in a three-team trade that also included the Los Angeles Rams and the Buffalo Bills.
Hinton has been selected to the Pro Football Hall of Fame's preliminary ballot several years running.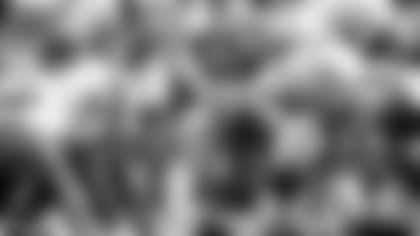 Jeff Saturday
Saturday was the anchor for one of the greatest offensive attacks in NFL history, playing along the offensive line — mostly at center — for the Colts from 1999 through 2011 before wrapping up his career with the Green Bay Packers in 2012.
Saturday's early story included perseverance; despite being one of the top collegiate centers in the country coming out of North Carolina in 1998, he was not selected in that year's NFL Draft. The Baltimore Ravens initially signed him as a free agent that April, but waived him less than two months later.
At the suggestion of former college roommate Nate Hobgood-Chittick, then-Colts general manager Bill Polian decided to give Saturday a tryout the following year. He was the team's starting center by 2000, and the rest, as they say, is history.
A six-time Pro Bowler, two times First Team All-Pro and one-time Second Team All-Pro Selection, Saturday played in 211 games over his NFL career, starting 202. He was also the starting center on the Colts' championship team in Super Bowl XLI.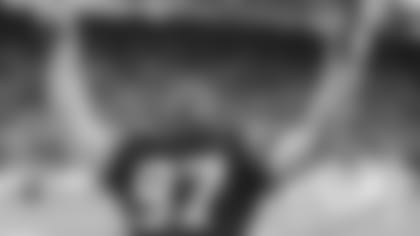 Cornelius Bennett
Bennett, a Alabama product, was selected by the Colts with the second-overall pick in the 1987 NFL Draft and spent the offseason with the club before he was traded to the Buffalo Bills in a three-way deal that sent running back Eric Dickerson from the Los Angeles Rams to the Colts.
A star pass rusher, Bennett then re-joined the Colts for the final two seasons of his career in 1999 and 2000.
A five-time Pro Bowler and three-time All-Pro, Bennett would go to win two AFC Defensive Player of the Year awards and played in five Super Bowls. In 14 NFL seasons, Bennett collected 71.5 sacks, seven interceptions, 31 forced fumbles, 27 fumble recoveries and three defensive touchdowns — one each via blocked field goal return, fumble return and interception return.
He had a combined eight sacks in his final two seasons with the Colts, playing in all 32 games with 31 starts over that span.
Like Hinton, Bennett has also been selected to the Pro Football Hall of Fame's preliminary ballot several years running.
This year's Modern-Era nominees for the Class of 2018 is comprised of 108 players and coaches, including 53 offensive players, 38 defensive players, five special teamers and 12 coaches. The Modern-Era nominees will be trimmed to 25 semifinalists in November and then to 15 finalists in January.
According to the Pro Football Hall of Fame: "Eighteen finalists will be presented to the full 48-member Pro Football Hall of Fame Selection Committee during its annual selection meeting on "Selection Saturday," the day before Super Bowl LII. The finalists will consist of 15 Modern-Era finalists, the recently named Senior Finalists, Robert Brazile and Jerry Kramer, and the Contributor Finalist, Bobby Beathard.
The Selection Committee will meet on Saturday, Feb. 3, 2018 in Minneapolis, Minn. to elect the Class of 2018. While there is no set number for any class of enshrinees, the selection process by-laws provide that between four and eight new members will be selected."
The Pro Football Hall of Fame's Class of 2018 will be formally enshrined into Canton in August.
Also, for the seventh straight year, fans can vote for their favorite Pro Football Hall of Fame nominees by visiting www.nfl.com/hofvote
MODERN-ERA NOMINEES FOR THE PRO FOOTBALL HALL OF FAME CLASS OF 2017
*Finalist in 2017; Underline indicates first year of eligibility (Players and coaches must have last played or coached at least five full seasons to be eligible for nomination. Therefore, any individual who last played or coached in 2012 are eligible for the first time in 2018).
QUARTERBACKS (5) – Randall Cunningham, Rich Gannon, Donovan McNabb, Steve McNair, Phil Simms RUNNING BACKS (10) – Tiki Barber, Earnest Byner, Roger Craig, Corey Dillon, Eddie George, Edgerrin James, Lorenzo Neal, Fred Taylor, Herschel Walker (also KR), Ricky WattersWIDE RECEIVERS (13) – *Isaac Bruce, Donald Driver, Henry Ellard (also PR), Torry Holt, Chad Johnson, Randy Moss, *Terrell Owens, Sterling Sharpe, Jimmy Smith, Rod Smith, Steve Smith, John Taylor, Hines WardTIGHT END (4) – Mark Bavaro, Ben Coates, Ferrell Edmunds, Jay NovacekOFFENSIVE LINEMEN (21) – Willie Anderson (T), Matt Birk (C), *Tony Boselli (T), Lomas Brown (T), Ruben Brown (G), Ray Donaldson (C), *Alan Faneca (G), Bill Fralic (G/T), Jay Hilgenberg (C), Chris Hinton (G/T), Kent Hull (C), Steve Hutchinson (G), *Joe Jacoby (T), Mike Kenn (T), *Kevin Mawae (C/G), Tom Nalen (C), Nate Newton (G), Bart Oates (C), Jeff Saturday (C), Richmond Webb (T), Steve Wisniewski (G)DEFENSIVE LINEMEN (11) – La'Roi Glover (DT/NT), Leonard Marshall (DE/DT), Keith Millard (DT/NT/DE), Leslie O'Neal (DE), Michael Dean Perry (DT/DE), Simeon Rice (DE), Richard Seymour (DT), Neil Smith (DE), Greg Townsend (DE/NT/LB), Kyle Vanden Bosch (DE), Bryant Young (DT)LINEBACKERS(15) – Carl Banks, Cornelius Bennett, Tedy Bruschi, Seth Joyner, Ray Lewis, Greg Lloyd, Wilber Marshall, Clay Matthews, Willie McGinest (also DE), Karl Mecklenburg, Sam Mills, Joey Porter, Darryl Talley, Zach Thomas, Brian UrlacherDEFENSIVE BACKS (12) – Eric Allen (CB), Steve Atwater (S), Ronde Barber (CB/S), LeRoy Butler (S), *Brian Dawkins (SS), Rodney Harrison (S), *Ty Law (CB), Albert Lewis (CB), *John Lynch (S), Dennis Smith (S), Everson Walls (CB), Darren Woodson (S)KICKERS/PUNTER (3) – Gary Anderson (K), Sean Landeta (P), Nick Lowery (K)SPECIAL TEAMS ( 2) – Brian Mitchell (KR/PR also RB), Steve Tasker (ST also WR)COACHES (12) – *Don Coryell, Bill Cowher, Tom Flores, Mike Holmgren, Jimmy Johnson, Chuck Knox, Buddy Parker, Richie Petitbon, Dan Reeves, Marty Schottenheimer, Clark Shaughnessy, Dick Vermeil