Before Reggie Wayne became a legend in Indianapolis, he was a standout participant in the 2001 Senior Bowl. Now, 20 years later, he was announced Thursday as one of five players who will be inducted into the Senior Bowl Hall of Fame later this summer.
Wayne will be joined by current Saints edge rusher Cam Jordan, former 49ers left tackle Joe Staley, former Dolphins/Chiefs cornerback Patrick Surtain and former Jaguars running back Fred Taylor in the Senior Bowl Hall of Fame class of 2021.
"I believe my experience at the Senior Bowl turned me from a mid-second or third-rounder into a first-rounder in the 2001 draft," Wayne said. "I am truly honored to be inducted into the Senior Bowl Hall of Fame. Playing in this game ended up being the best decision of my life."
Wayne's view of the impact the Senior Bowl made on his draft stock is certainly backed up by a dive into some decades-old analysis of his work in Mobile. On Jan. 19, 2001 — after that year's Senior Bowl practices concluded — ESPN's Mel Kiper Jr. wrote:
"Reggie Wayne from Miami has been brilliant at wide receiver. He runs exceptional routes, snatches every ball out of the air with his hands, is very quick out of his cuts and shows good burst. Along with Steve Hutchinson, Wayne might be the most impressive player in Mobile this week."
"Sure-handed wideout played a secondary role to Santana Moss over the past few seasons in Miami but grabbed the spotlight in Mobile and helped his cause immensely. He ran precise routes and caught everything thrown to him. That has him rising in a very deep wide receiver class.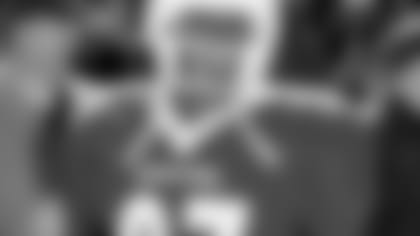 The Colts picked Wayne with the 30th overall selection in the 2001 NFL Draft. He went on to catch 1,070 passes for 14,345 yards with 82 touchdowns in his 14-year career with the Colts; he was named to six Pro Bowls, was a 2010 first-team All-Pro and led the NFL in receiving yards in 2007 (1,510). Wayne is one of three players in NFL history with at least 90 catches in the playoffs.
Wayne will join a number of football greats in the Senior Bowl Hall of Fame such as Joe Namath, Mean Joe Green, Walter Payton, Bo Jackson, Brett Favre and Terrell Owens.
See behind the scenes as Reggie Wayne and his former Colts teammates and coaches prepare for his induction into the Colts Ring of Honor.